This Paleo Creamy Potato Leek Soup is a delicious and easy meal that the whole family will love. A few simple ingredients come together to make a nourishing bowl of soup that is Whole30, dairy free, and the perfect comfort food for chilly weather.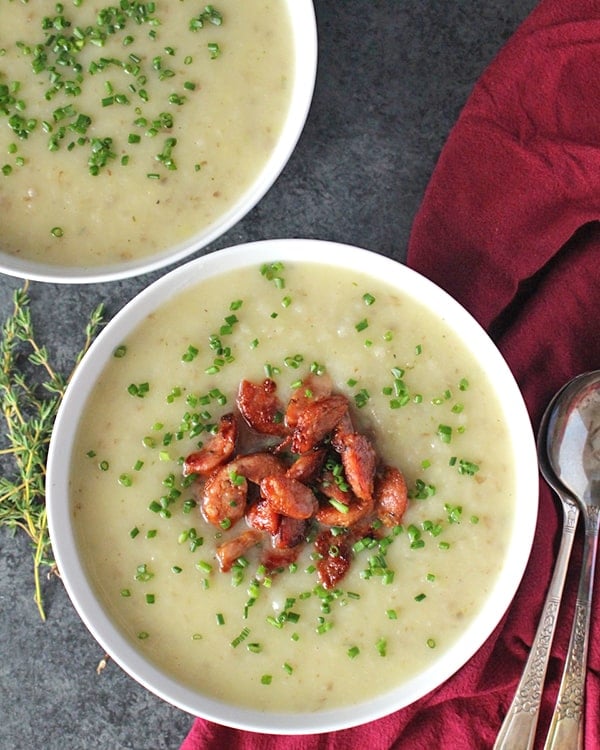 Renee from Raising Generation Nourished has such a great cookbook that I'm able to share a recipe from. It's called Nourished Beginnings Baby Food. This is not just a baby food book that has purees in it- it is filled with nourishing recipes that are great for the whole family. It covers from baby to toddler and beyond, so it's a great resource to have not just for babies. I choose to share this soup because it sounded so good (it is) and something we all could enjoy together. My 12 month old liked it and my husband and I loved it. Definitely a recipe I'll make again.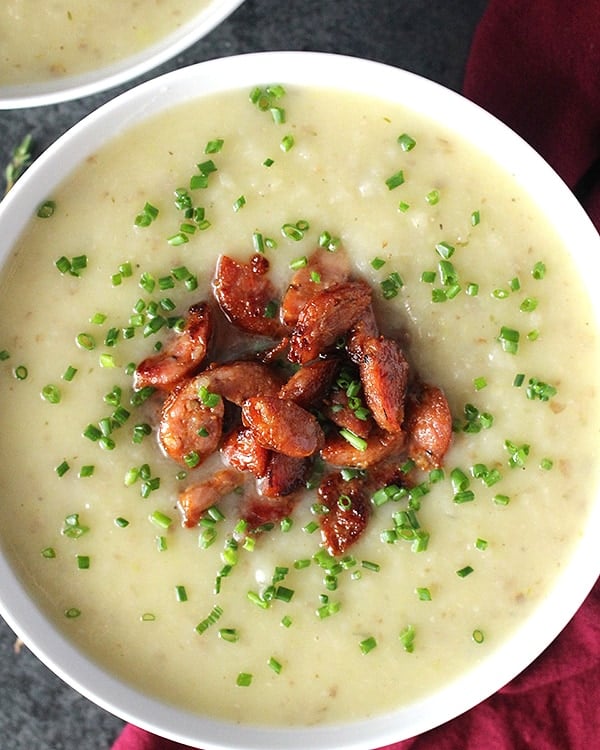 I used very little salt in the soup to make sure it wasn't too salty for my baby. My husband and I just added a little extra to our bowls.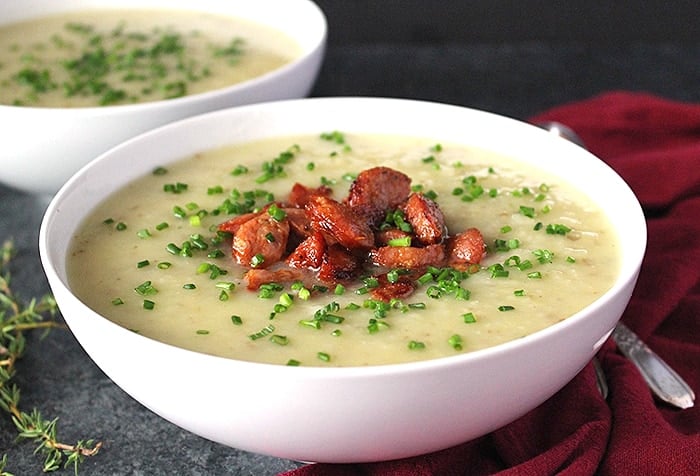 I cooked up some sausage to add to my husbands bowl because I know he would want meat to actually count it as a meal. It was a nice addition and paired well with the creaminess of the soup. And it's amazing how creamy this soup is with no coconut cream or milk. It all comes from the potatoes and it is smooth and silky.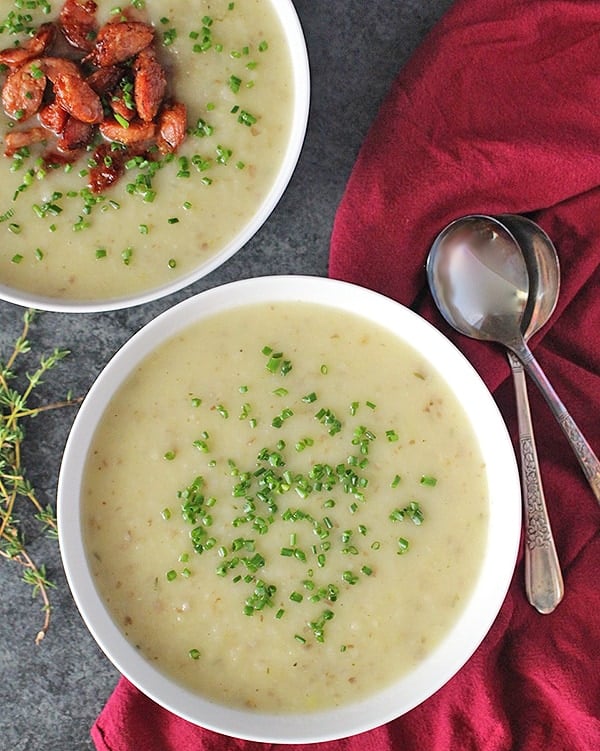 I love that this soup has just a few ingredients, but is packed with flavor. The leeks are sweeter and more mild than regular onions and the ghee gives it a rich, buttery flavor. It is a great way to incorporate bone broth in a meal where it's kind of hidden. You'll still get all the health benefits of it, but don't have to drink it plain.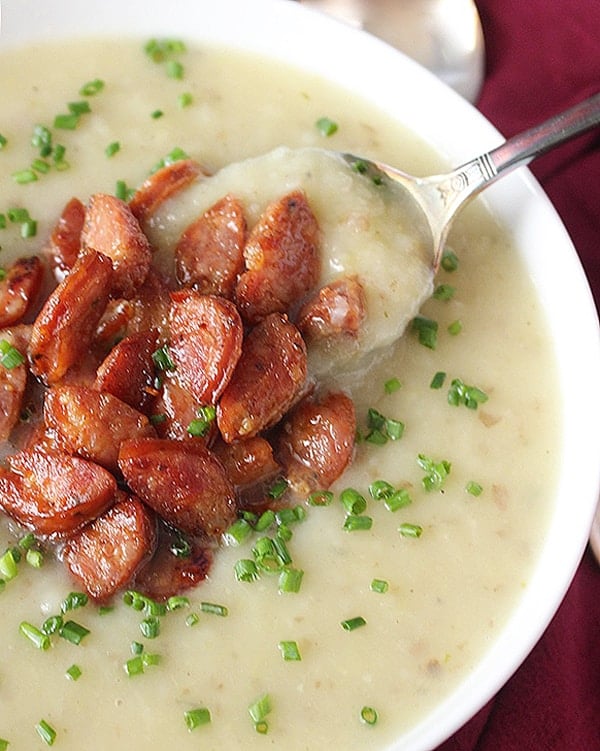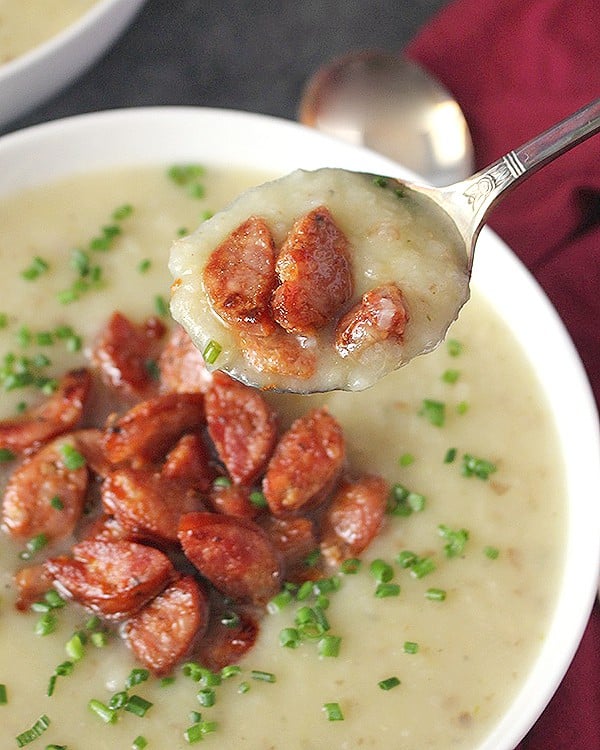 You will love how delicious this soup is and how easy it is to make. HERE is the link one more time for the cookbook. It is a great book to have if you're interested in feeding your family real, nourishing foods!
Hungry for more? Subscribe to my newsletter and follow along on Facebook, Pinterest and Instagram for all of the latest updates.
Paleo Creamy Potato Leek Soup
Ingredients
1/3 cup fat to cook in such as lard, coconut oil, tallow or ghee (I used ghee)
5 medium to large organic potatoes rinsed and cubed
4 organic leeks sliced and rinsed of sand
sea salt to taste I used 1/4 teaspoon
3 cloves garlic coarsely chopped
2 quarts 8 cups bone broth
1 1/2 teaspoons dried thyme
pepper to taste
chopped chives for garish optional
Chicken sausage cut and fried for topping (optional)
Instructions
In a large soup pot, melt the ghee and add the potatoes and leeks with the salt.

Cook on medium for about 10 minutes until the potatoes are fork tender and the salt has drawn out the juices and sweetened the leeks.

Add the garlic and cook for 1 minute.

Add the bone broth and thyme and bring to a simmer for about 5 minutes.

Turn the heat off, and use an immersion blender right in the pot to puree the soup completely.

Add the salt and pepper to taste and garnish each bowl with chives, if you'd like. Serve baby about a tablespoon right off the spoon to start with. You can use a straw for older babies and toddlers