This Paleo Pumpkin Ice Cream has all the spices of pumpkin pie and is so creamy and delicious! Only 6 ingredients, it's dairy free, naturally sweetened and easy to make!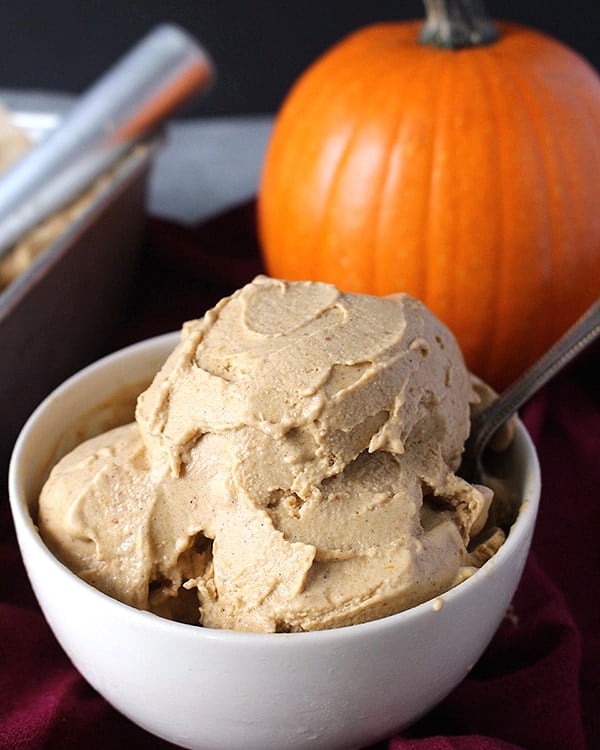 I have always loved everything pumpkin- long before it was cool 🙂 I remember when I was a teenager making pumpkin bread, cookies, cake- pretty much anything I could once fall came around. This is the first time I have tried pumpkin ice cream though and oh- it did not disappoint! All my favorite flavors packed in a frozen dessert-yum!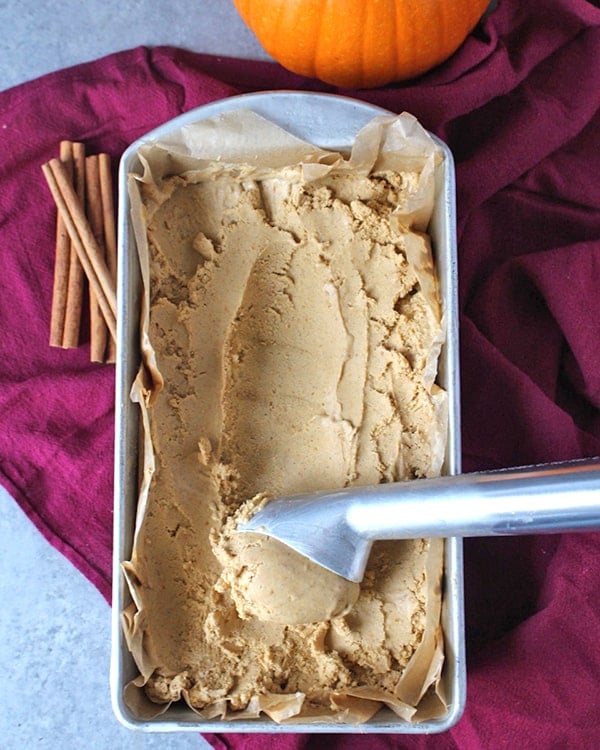 It is so easy to make- only 6 ingredients and less than 10 minutes of prep. It does have to chill in the fridge before churning so you have to plan ahead a little. Once you put it in the ice cream maker, you can eat it right away at the consistency of soft serve, or freeze it for a harder ice cream. The gelatin keeps it from getting icy in the freezer, so that is an important ingredient. I always buy my gelatin from Perfect Supplements– it's comes from grass-fed, pasture raised cows. Use code "JAY10" for 10% off your order.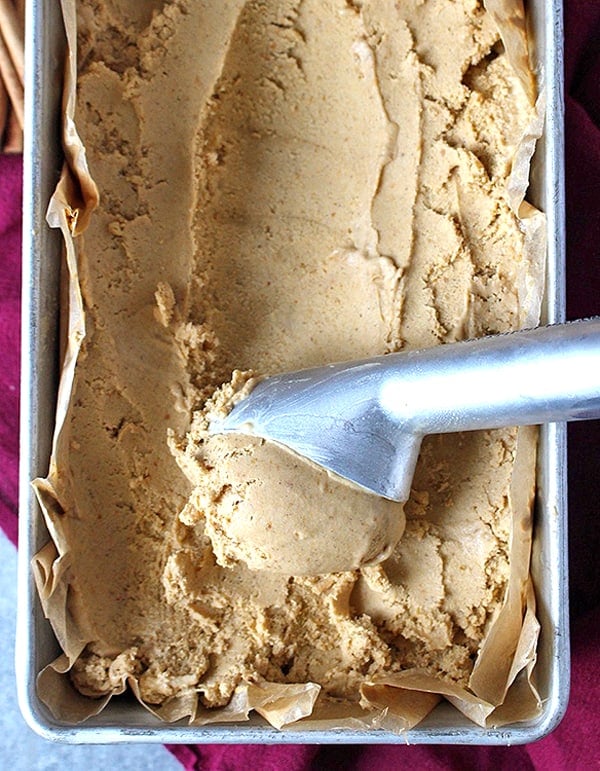 The flavor of this ice cream is incredible! It tastes just like pumpkin pie, but in ice cream form. Maple syrup is the perfect sweetener for it because it pairs so well with the pumpkin and spices. I love that I was able to share this with my 11 month old because the ingredients are all healthy. Yes, it's still a treat with maple, but I make so much stuff she can't have (with nuts or honey) that is was nice sharing with her. She absolutely loved it!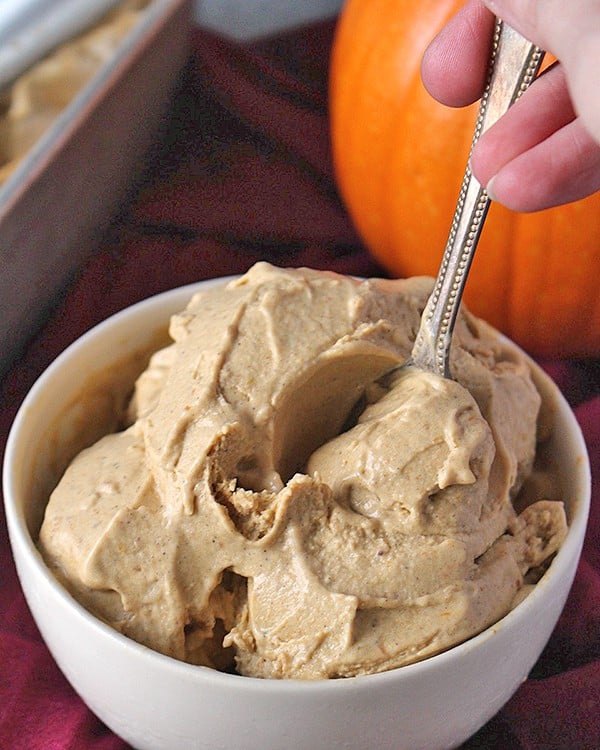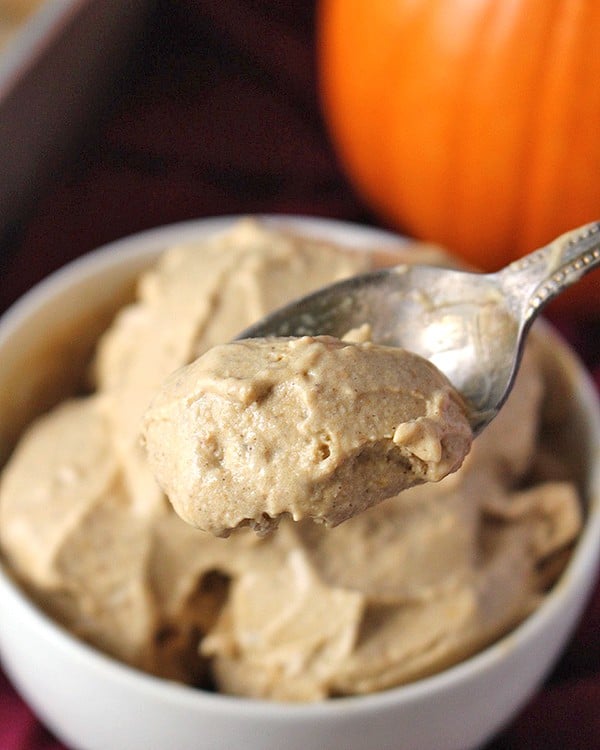 You will love this ice cream because it is simple to make and so delicious! The perfect fall treat!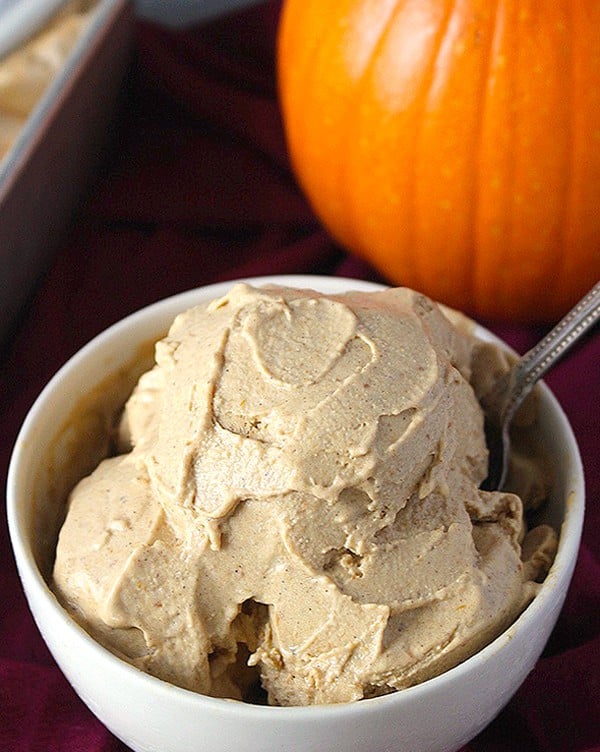 Make sure to check out my other ice cream recipe that is super popular- Paleo Chocolate Almond Butter Ice Cream.
And here are a couple more pumpkin recipes that are so delicious! Paleo Pumpkin Coffee Cake, Paleo Pumpkin Muffins, and Paleo Pumpkin Granola.
THIS is the ice cream maker that I have and love.
Hungry for more? Subscribe to my newsletter and follow along on Facebook, Pinterest and Instagram for all of the latest updates.
Paleo Pumpkin Ice Cream
Instructions
Before you begin, make sure ice cream bowl has been freezing for at least 24 hours.

In a small sauce pan, combine pumpkin, coconut milk, and maple syrup. Whisk together until smooth.

Sprinkle gelatin on top of mixture and let bloom for 5 minutes.

After 5 minutes, turn the heat on medium and whisk the gelatin in.

Add in the pumpkin pie spice and cinnamon and cook mixture until warmed and smooth. Make sure no lumps remain. It does not need to come to a boil.

Pour into a glass container and refrigerate until cool- 5 hours to overnight.

Once cooled, pour into ice cream maker and follow manufacturers instructions for churning. Mine takes about 20 minutes.

Pour into a loaf pan and keep in the freezer.

Let sit at room temperature 10 minutes before scooping to soften to scoop-able consistency.
Nutrition Information
Calories: 201kcal (10%)Carbohydrates: 17g (6%)Protein: 1g (2%)Fat: 14g (22%)Saturated Fat: 0.1g (1%)Polyunsaturated Fat: 0.002gMonounsaturated Fat: 0.01gSodium: 3mgPotassium: 39mg (1%)Fiber: 0.1gSugar: 10g (11%)Vitamin A: 17IUVitamin C: 0.1mgCalcium: 21mg (2%)Iron: 0.1mg (1%)