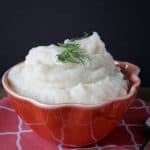 Print Recipe
Easy Mashed Cauliflower
This Easy Mashed Cauliflower is so simple and a great replacement for mashed potatoes. Paleo, Whole30, gluten free, low carb, and vegan.
Cut the cauliflower in large chunks and place in a saucepan with the garlic, salt, and broth.

Cover and cook for 25 minutes or until a fork can be poked in to the cauliflower easily.

Remove from heat and using an immersion blender, blend until no large chunks remain.

Add in ghee/coconut oil and blend again.

Keep blending until completely smooth- 1 to 2 minutes.