This Lemon Buttermilk Sheet Cake is so amazing! It melts in your mouth and has the most delicious crunchy topping that keeps you coming back for more.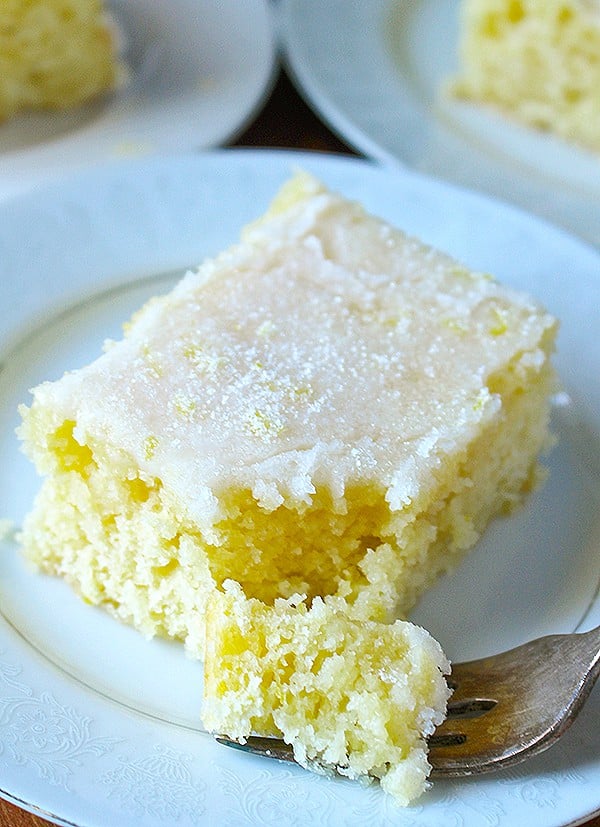 Let's talk about this cake. It has a burst of lemon flavor without being overpowering. The cake itself is fluffy and light, yet moist. It's glazed while it's still warm and gets sprinkled with lemon sugar. The glaze soaks into the cake a little, but hardens on the top. It's the best contrast of textures. When you take a bite it literally melts in your mouth. So good!
Personally, I'm a lemon girl all the way. Given the choice I will always pick lemon over chocolate every time. Crazy, I know! There's just something irresistible about the freshness of lemon. I can't get enough!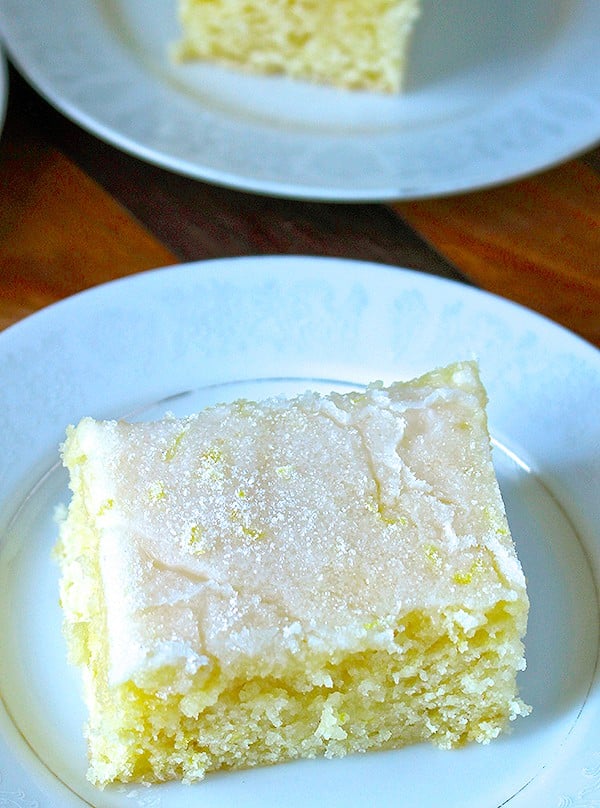 Two very important things that make this cake perfect are buttermilk and cake flour. I love buttermilk in breads and cakes because it adds moisture and tenderness. The cake flour, which is lower in protein and gluten than all purpose, makes the cake soft and light. Even though I had cake flour, I wanted to try using the alternative which is all-purpose combined with cornstarch. I know most people don't keep cake flour on hand. It worked beautifully.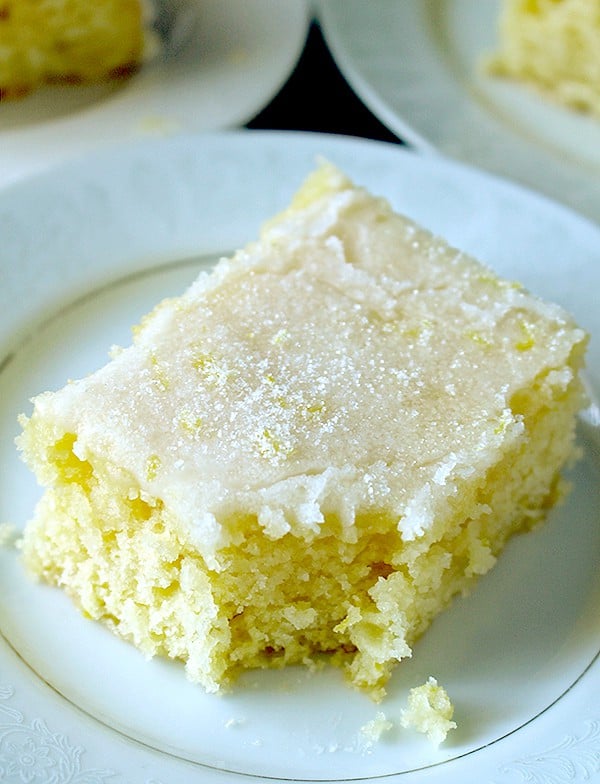 It's baked at a lower temperature to keep it flat which is important for glazing. You don't want a domed cake that would make all that glaze to fall to the edges.
I highly recommend getting a microplane zester. I held off for years and I regret it. When I finally bought one I was amazed at how fast and easy I could zest lemons. No more grated knuckles on my cheese grater! Here's the one I use: lemon zester
This cake is totally worth the few dirty bowls it makes. Great for springtime and perfect for Easter.
Recipe from Cook's Country
Hungry for more? Subscribe to my newsletter and follow along on Facebook, Pinterest and Instagram for all of the latest updates.
Lemon Sheet Cake with Crunchy Topping
Ingredients
CAKE
2 ½ cups cake flour OR 2 cups plus 3 tablespoons all purpose flour and 5 tablespoons cornstarch
1 teaspoon baking powder
½ teaspoon baking soda
½ teaspoon salt
zest of 3 lemons
1 ¾ cup granulated sugar
¾ cup buttermilk at room temperature
¼ cup lemon juice
1 teaspoon vanilla
12 tablespoon 1 ½ sticks butter, room temperature
3 eggs plug 1 egg yolk room temperature
GLAZE
3 cups powdered sugar
3 tablespoons lemon juice
2 tablespoons buttermilk
Instructions
Preheat oven to 325° and grease and flour a 13x9 pan. Or line the pan with parchment and grease.

In a large bowl, combine cake flour (or all purpose and cornstarch), baking soda, making powder, and salt together. Mix and set aside.

In a separate bowl, mix zest and sugar together until moist and fragrant, about 1 minute. Transfer ¼ cup of that mixture to a small bowl and set aside for later.

In a liquid measuring cup, combine buttermilk, lemon juice, and vanilla.

Add butter to remaining sugar mixture and beat until light and fluffy. About 2 minutes. Beat in eggs and yolk, one at a time, until incorporated.

Add flour mixture ⅓ at a time, alternating with buttermilk mixture until all is incorporated and smooth.

Pour mixture into prepared pan and bake for 35-40 min (mine took 39).

Let cool for 10 minutes. I set a timer for this so I wouldn't forget.

While cake is cooling mix glaze ingredients together.

Gently spread over warm cake and sprinkle with reserved lemon sugar.

Let cool for at least 2 hours before serving.
Nutrition Information
Calories: 340kcal (17%)Carbohydrates: 60g (20%)Protein: 4g (8%)Fat: 10g (15%)Saturated Fat: 6g (38%)Polyunsaturated Fat: 1gMonounsaturated Fat: 3gTrans Fat: 0.3gCholesterol: 55mg (18%)Sodium: 228mg (10%)Potassium: 59mg (2%)Fiber: 0.5g (2%)Sugar: 45g (50%)Vitamin A: 329IU (7%)Vitamin C: 3mg (4%)Calcium: 41mg (4%)Iron: 0.4mg (2%)