This Paleo Whole30 Balsamic Chicken Strawberry Salad is an easy meal filled with fresh berries and flavorful chicken. A homemade dressing that doubles as the marinade keeps it simple. It's gluten free, dairy free, and low FODMAP.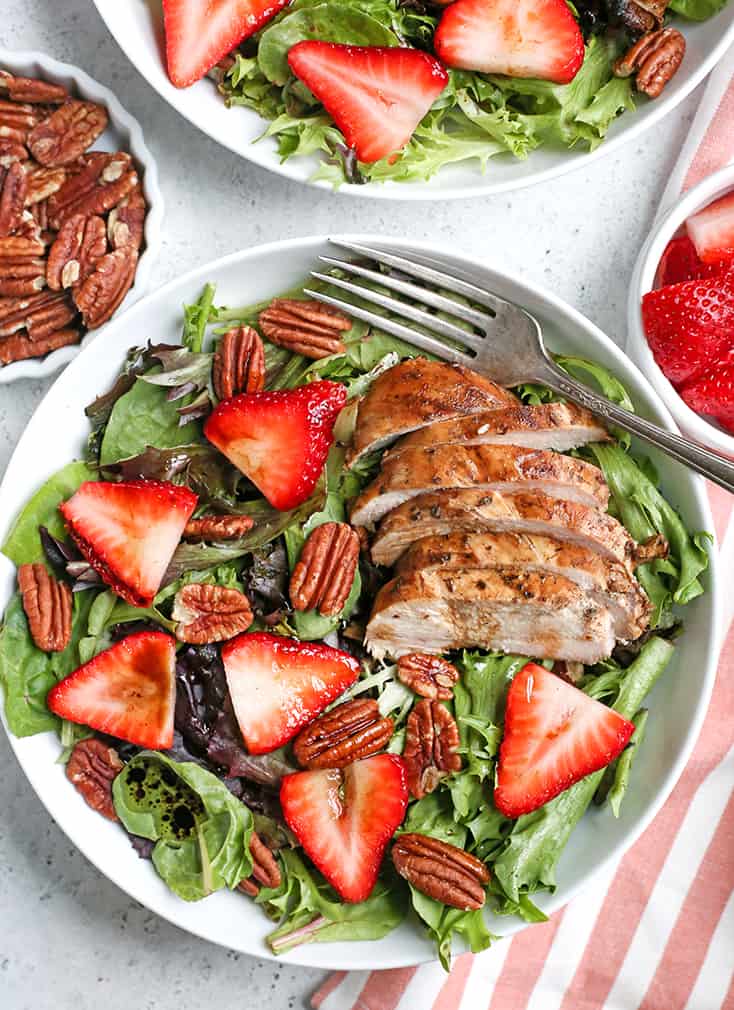 I was watching The Pioneer Woman and she was making this delicious looking salad/wrap and I knew I needed to recreate it and make sure it was paleo. It was simple to do and it's such a great summer salad.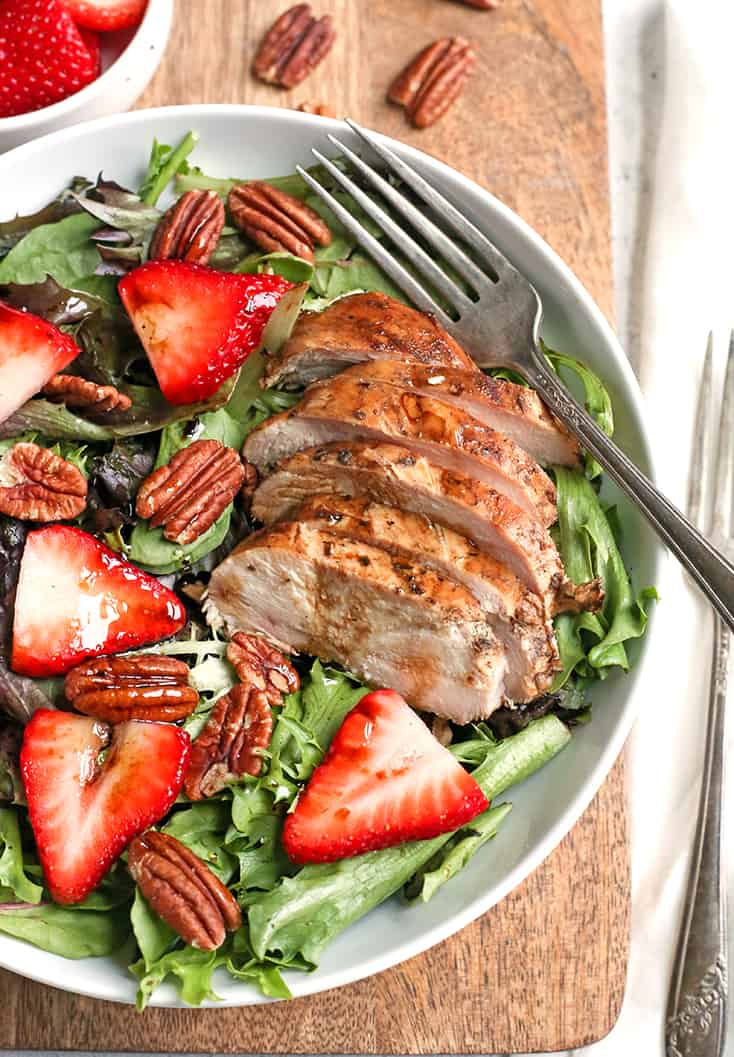 Low FODMAP Salad
This salad is easily kept low FODMAP without compromising flavor. The marinade doubles as the dressing which makes it quick and easy. A mix of garlic and avocado oil, balsamic vinegar, coconut aminos and salt and pepper. That's it! The pecans and strawberries are naturally low FODMAP and green onion adds great onion flavor.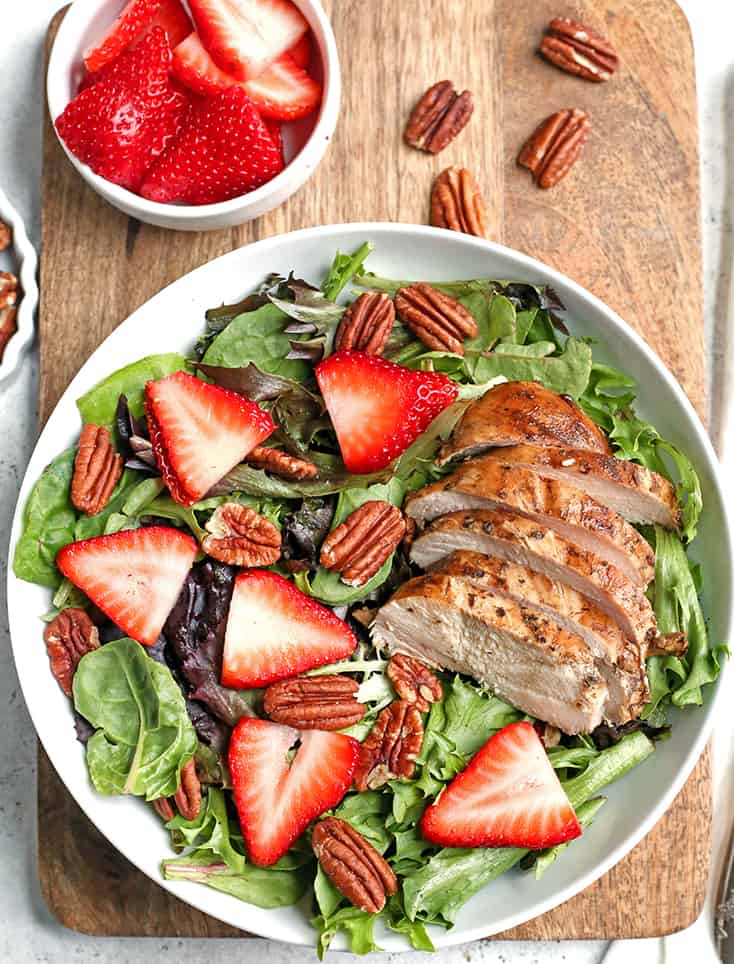 The sweet, savory, crunchy salad is so delicious! Use whatever greens you like the most. Butter lettuce, spinach, romaine, or a mix of greens all work great.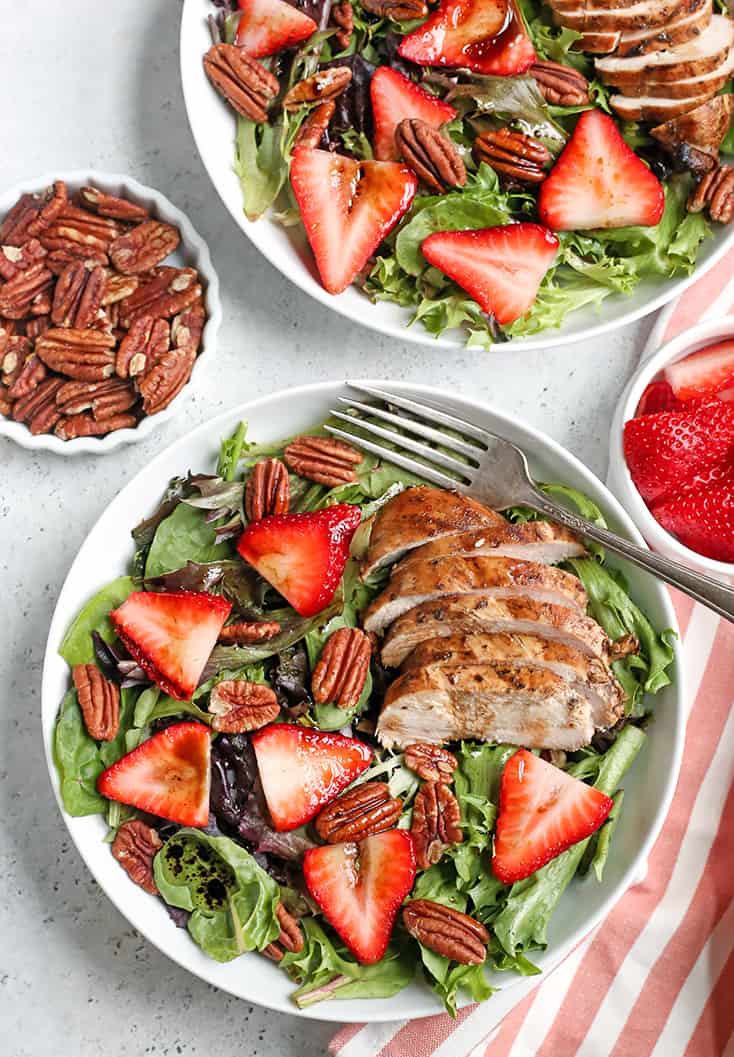 The chicken can be made on the grill or baked. To bake the chicken, cook for 20-25 minutes at 375°. This time will vary depending how thick the breasts are. I like to use the thin chicken breast so it cooks more evenly.
I toasted the pecans in the oven to give them extra flavor. You can use raw, but toasted is so good! Drizzle a little oil and sprinkle some salt on if desired. Bake at 350° for 8-10 minutes, until fragrant.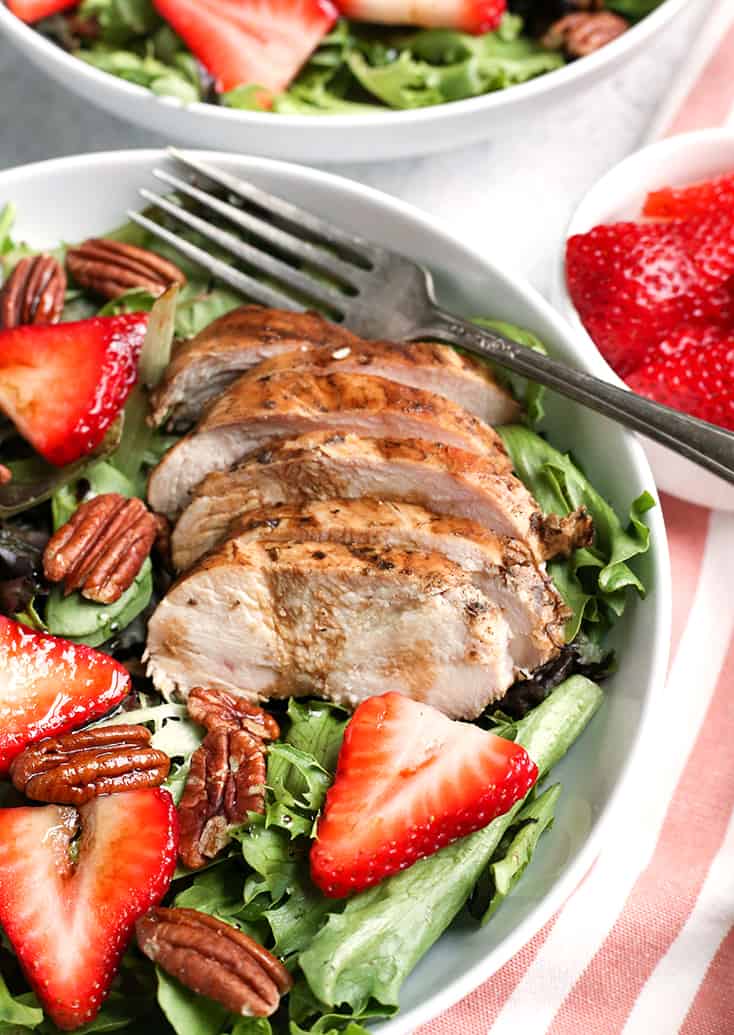 Although this salad can be made anytime of year, it is definitely best when strawberries are in season. Feel free to also try it with raspberries or blueberries- also delicious!

I hope you try this Paleo Whole30 Balsamic Chicken Strawberry Salad because it's easy and so great for summer! Here are some more salad recipes you will enjoy: Paleo Whole30 Taco Salad, Paleo Whole30 Greek Chicken Salad and Paleo Whole30 Chicken Shawarma Salad.
Hungry for more? Subscribe to my newsletter and follow along on Facebook, Pinterest and Instagram for all of the latest updates.
Paleo Balsamic Chicken Strawberry Salad
Ingredients
Salad
around 10 cups your favorite greens- spinach, butter lettuce, or a mix
1 pound sliced strawberries
1 cup toasted pecans
¼ cup chopped green onion
Instructions
Make the marinade. In a small bowl or measuring cup, combine oils, balsamic vinegar, coconut aminos, salt and pepper. The best way to measure the oils is to add 2 tablespoons of garlic oil and then enough avocado oil to make 1 cup. Mix well.

Place the chicken in a small glass container and pour ⅓ of the marinade mixture over it. Save the rest to use as the dressing. Let the chicken marinate at least a couple hours or overnight. Grill chicken or cook at 375° for 20-25 minutes, or until cooked through. Cook time will depend on thickness of chicken. 

Assemble the salad. Place greens in a bowl, top with sliced strawberries, pecans, green onion and sliced chicken. Pour dressing on top and enjoy.