These Paleo Cashew Protein Bars are savory, salty, and crunchy. A great on-the-go snack that is full of protein and healthy fats.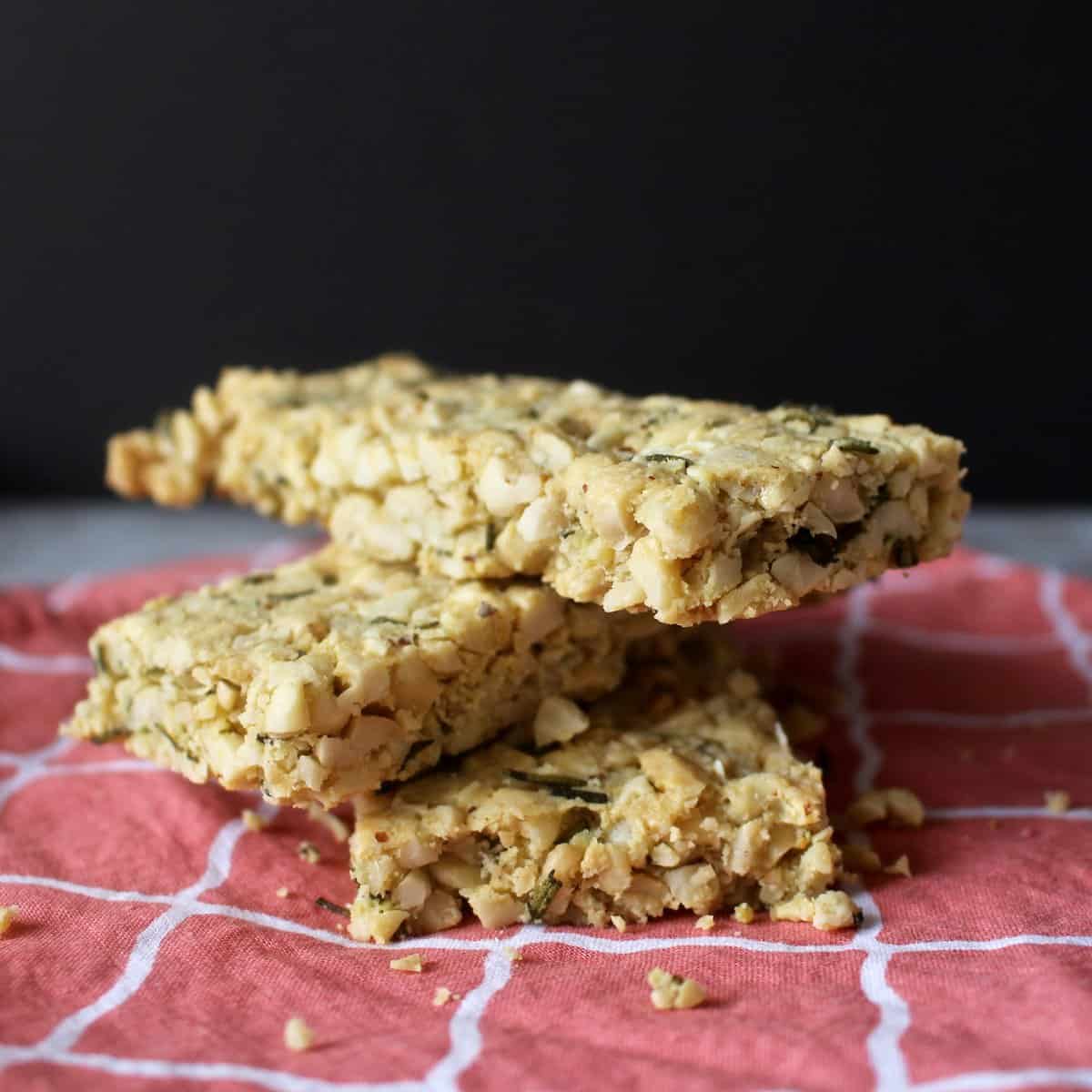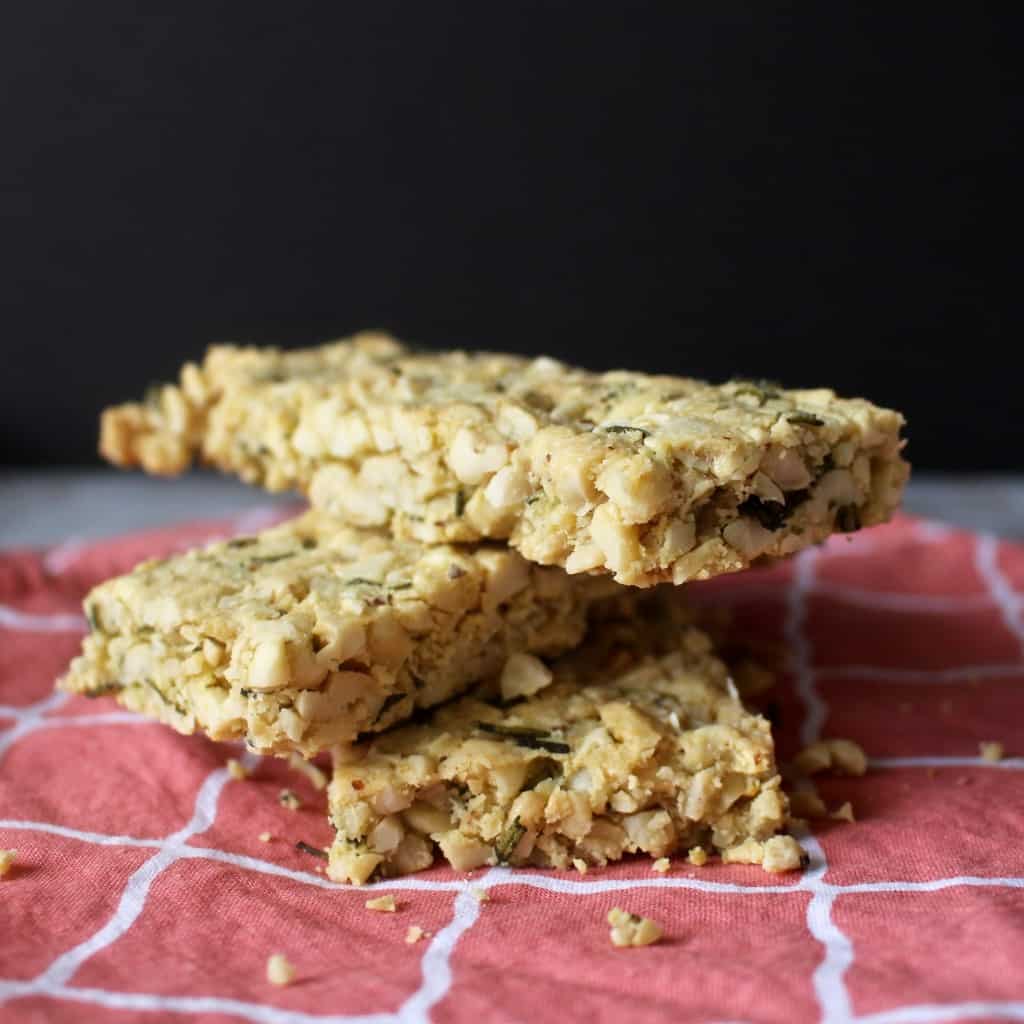 I came up with these bars out of necessity, but guess what? They also taste amazing! My husband has blood sugar issues and needs to eat on a regular basis to keep his sugars under control. We have found that nuts are the best thing to carry and cashews are the only nut he can eat without getting a stomach ache, but buying large amounts of cashews can get expensive! Cashew pieces are much cheaper so I decided to make a savory bar with them. There are some paleo bars that can be bought, but most are heavy on the sugar or are super pricey. These are quick to make and last up to two weeks. They may actually last longer, but that is how long it took him to finish them. He brings them to work for a mini meal between breakfast and lunch and they work out great. Each bar has 10 grams of protein which is the perfect amount and he really enjoys them. 
The most time consuming part of this recipe is chopping the nuts. You can give them a rough chop on a cutting board with a knife or you can put them through a nut chopper. Either way, it should only take 10 minutes tops.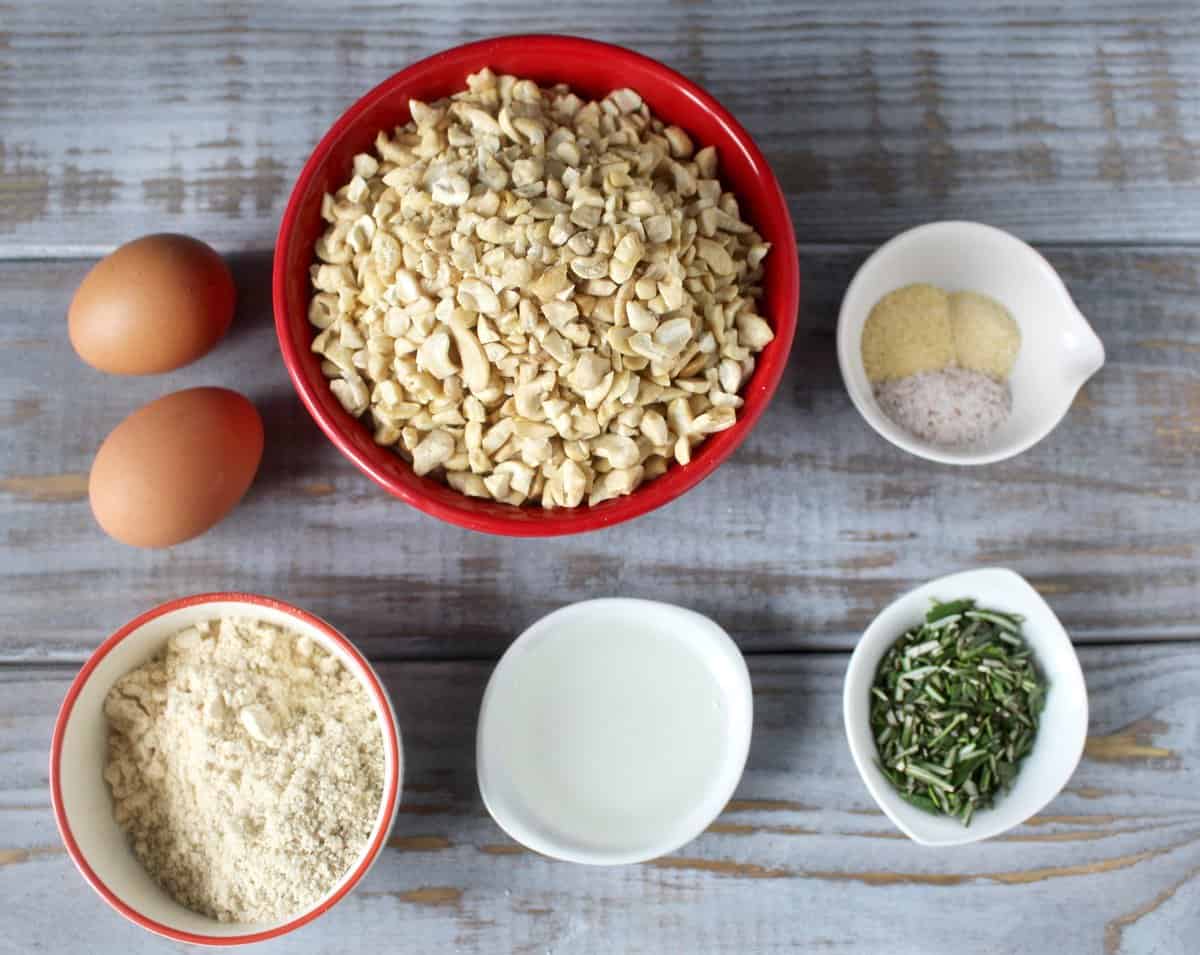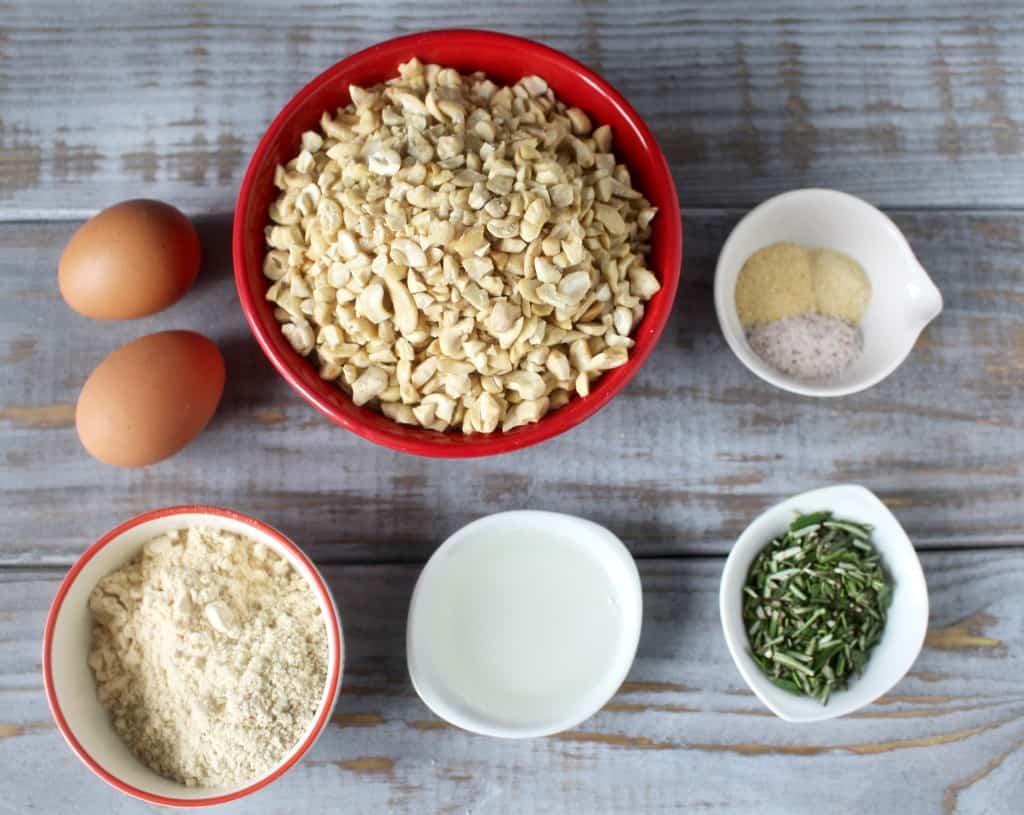 Here are the ingredients you'll need: 2 large eggs, 3 ½ cups chopped raw cashews, salt, onion powder and garlic powder, coconut and almond flour, melted coconut oil, and fresh rosemary.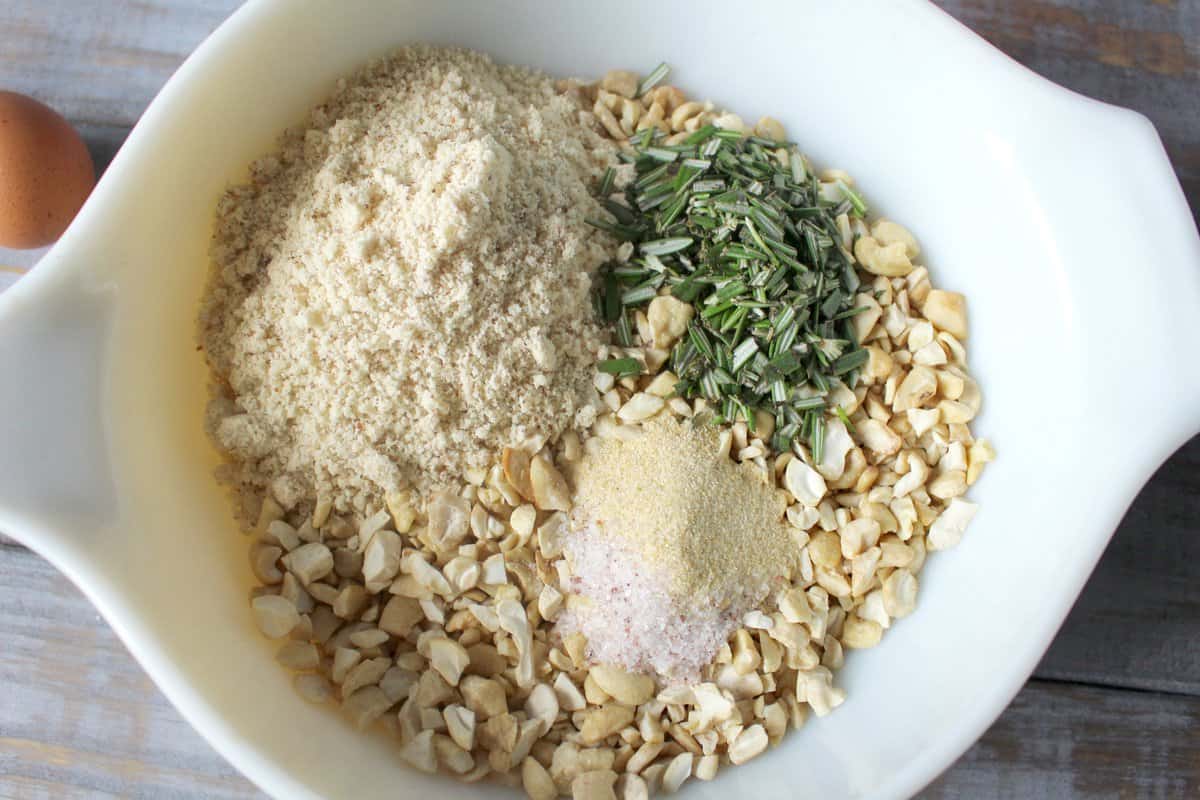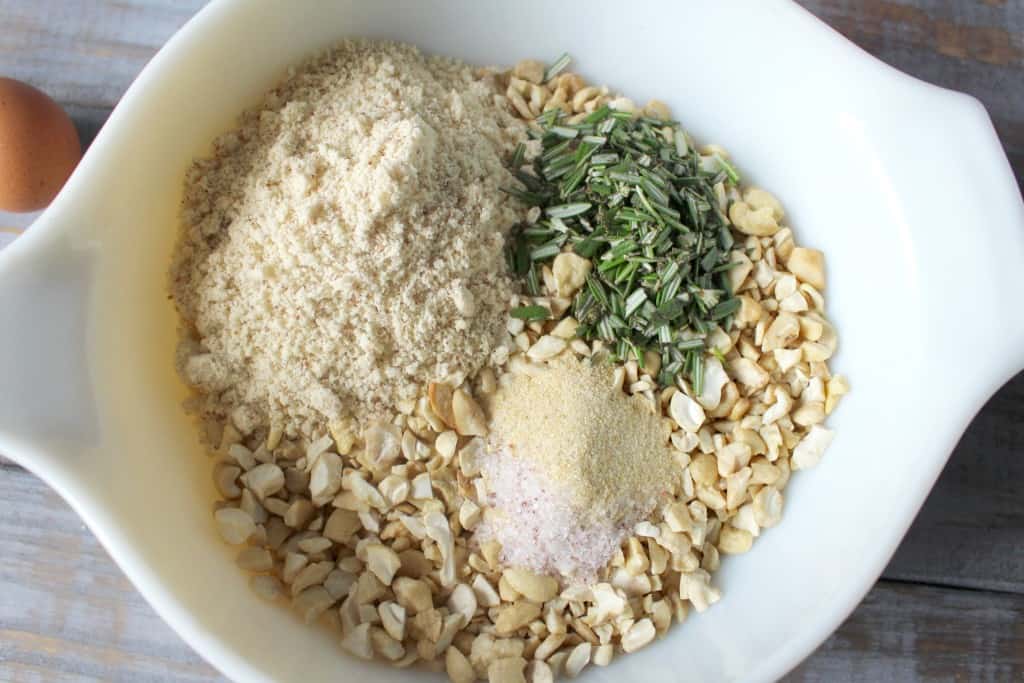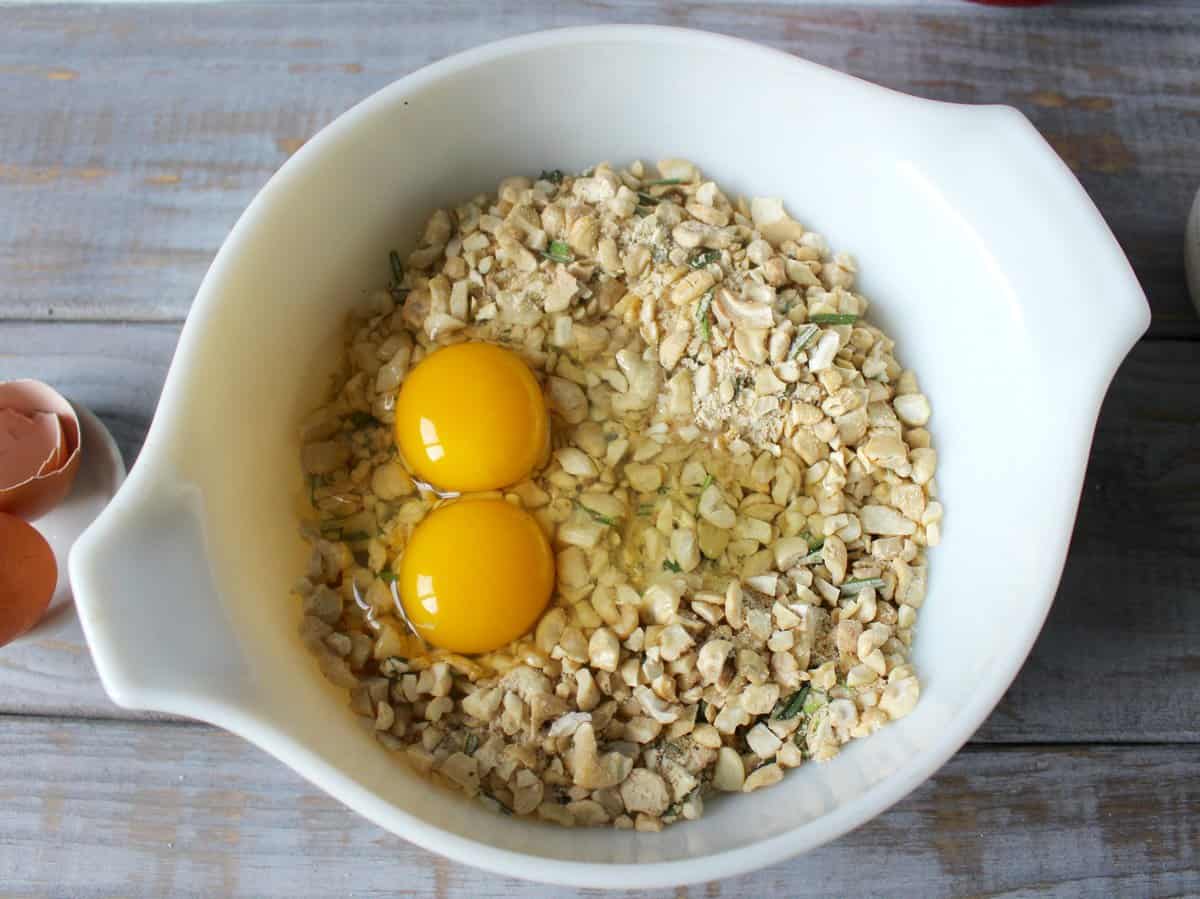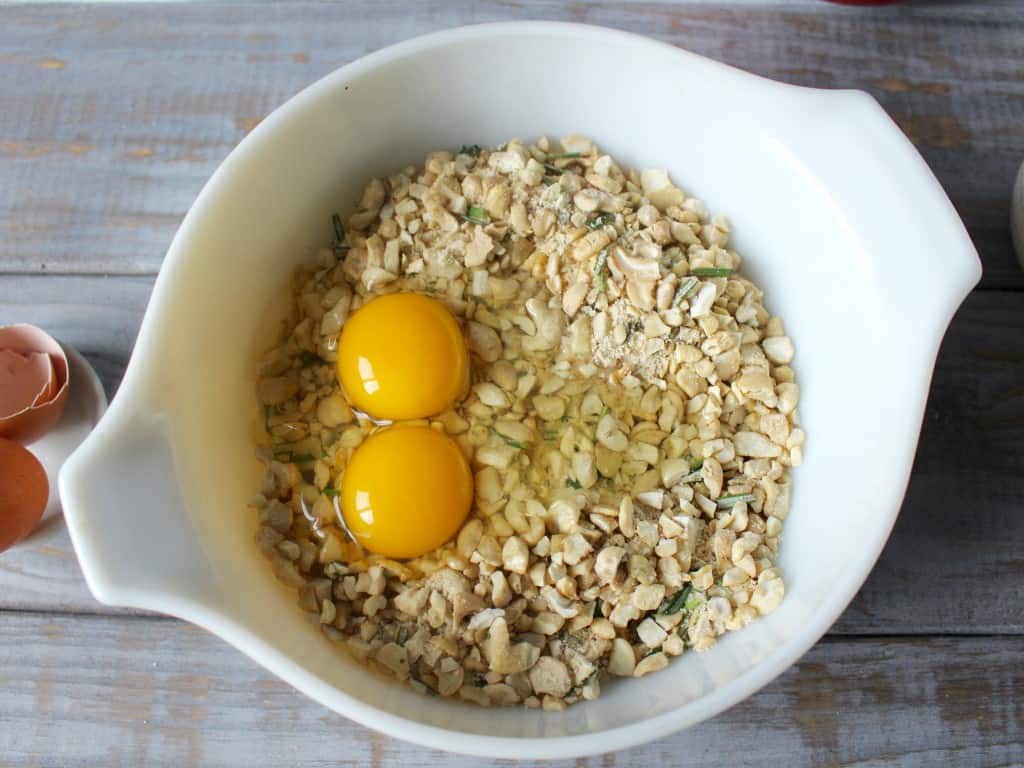 Mix all the dry ingredients in a medium bowl, then add the eggs and coconut oil.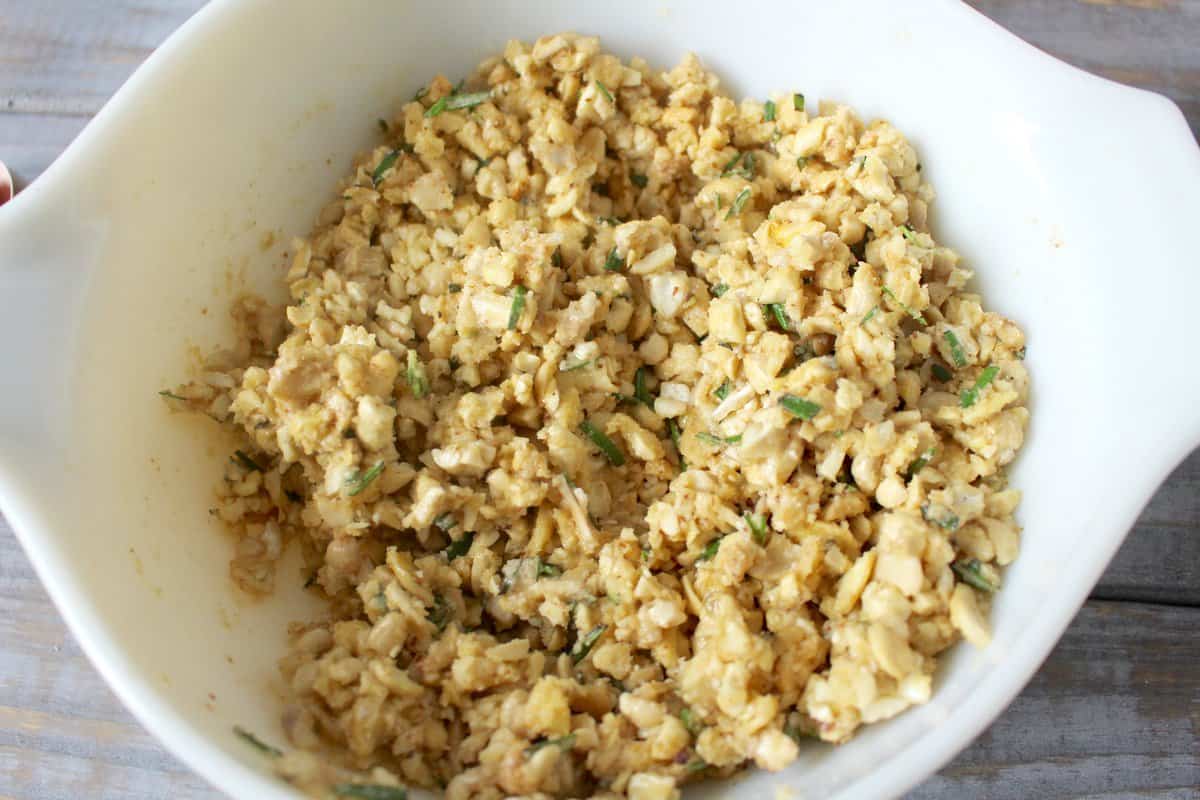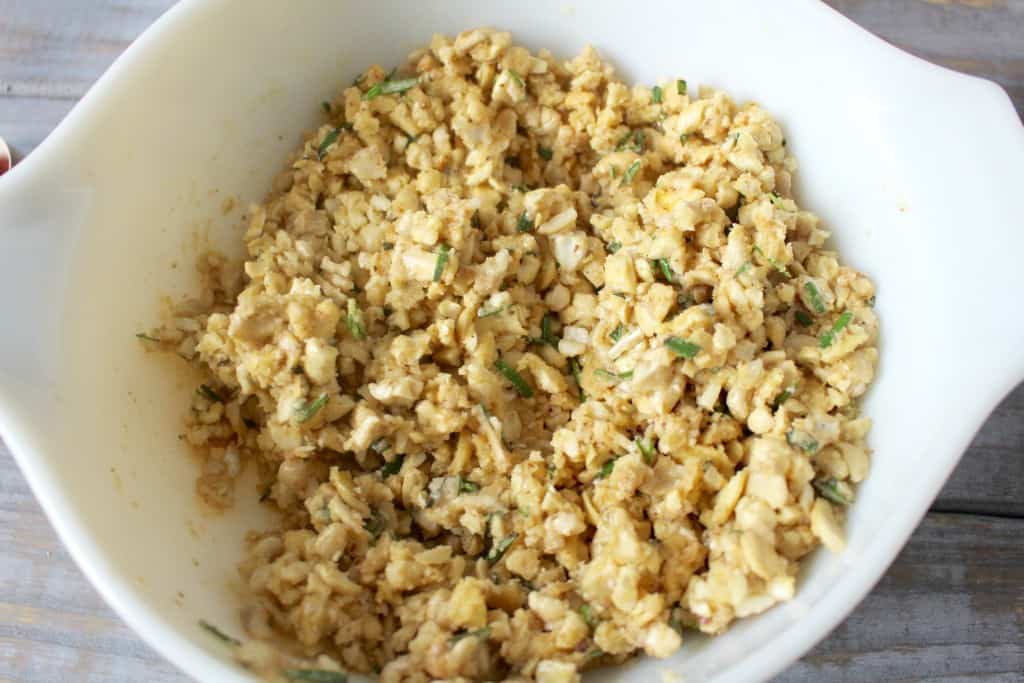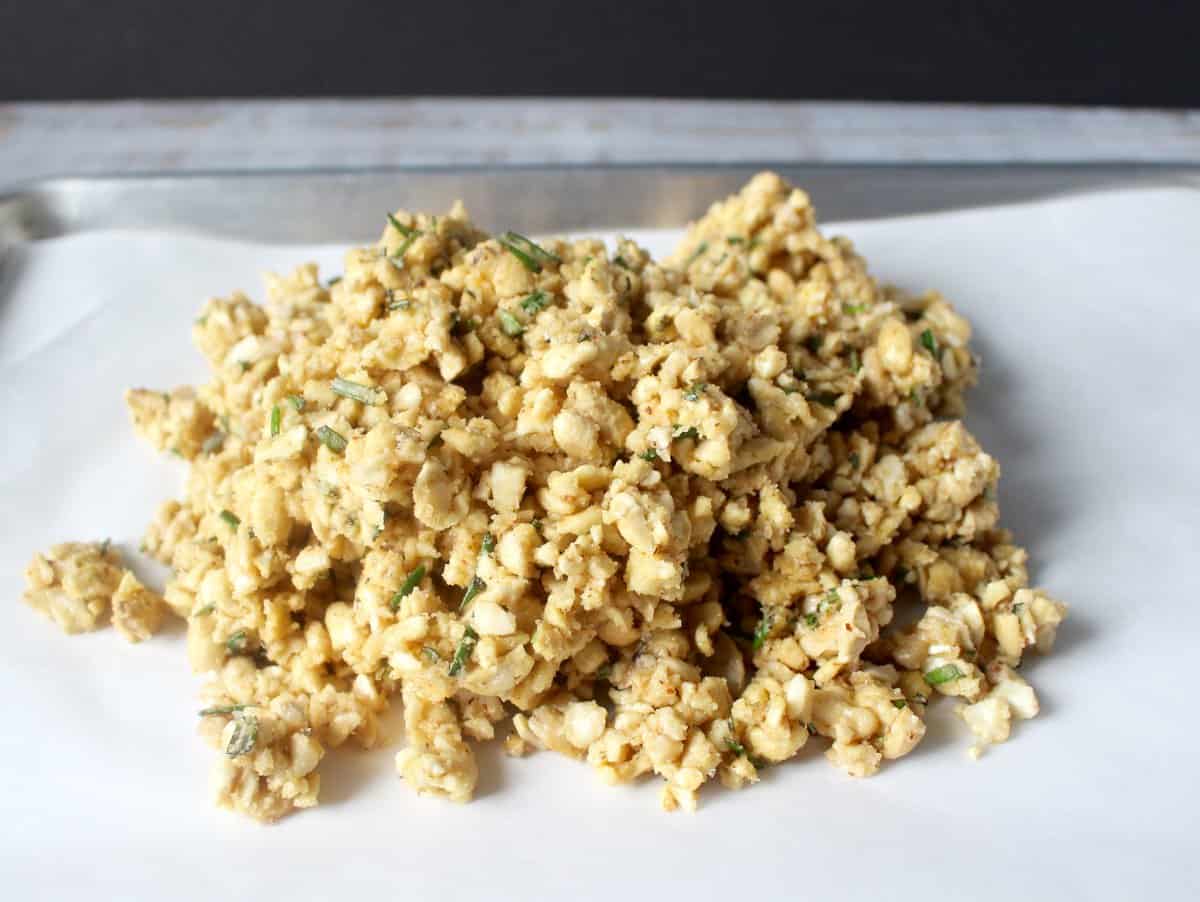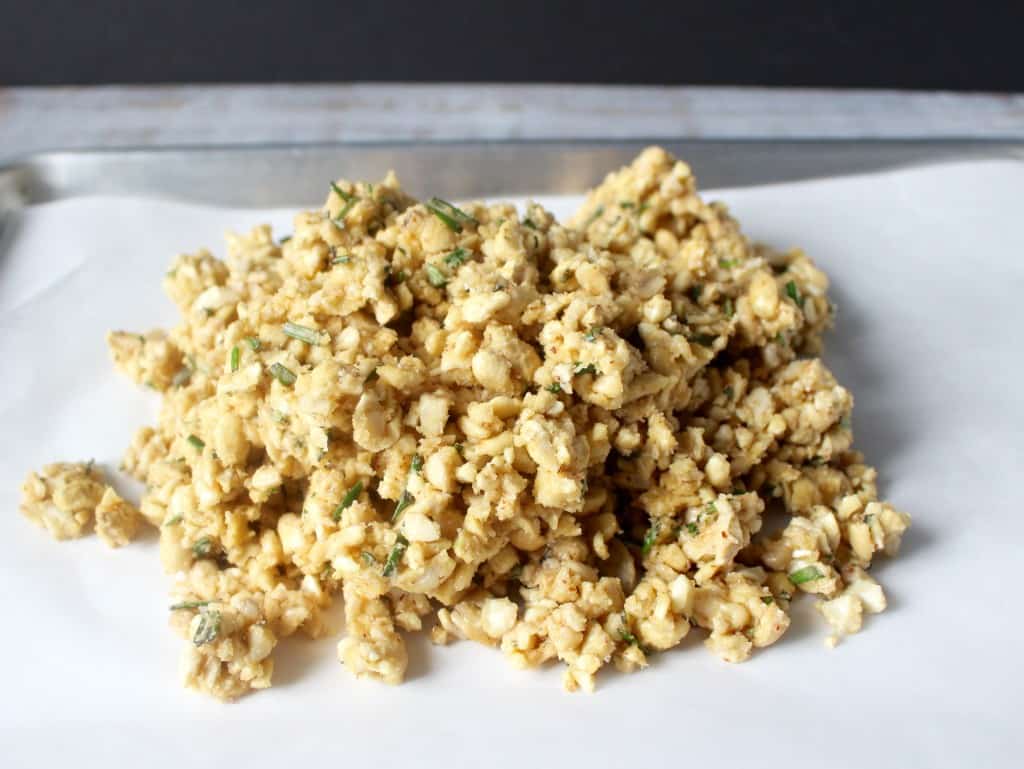 Mix it until it is fully combined and dump it onto a sheet tray.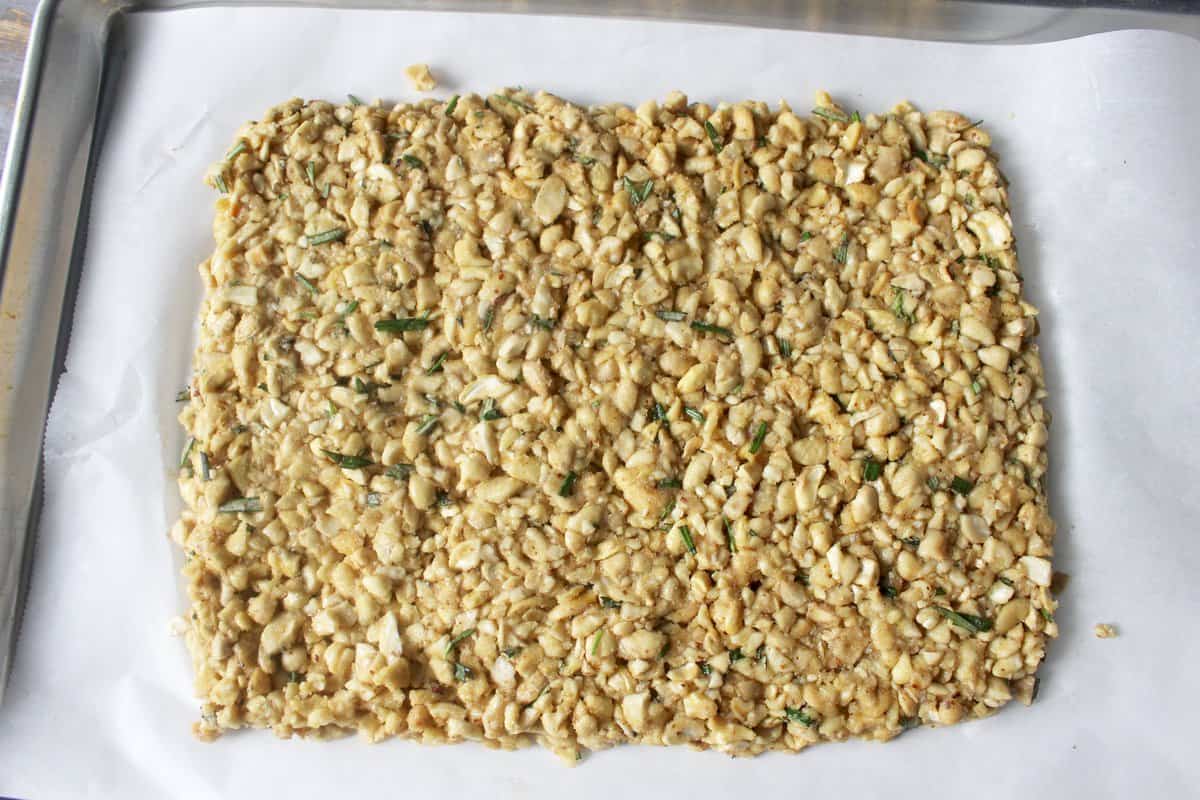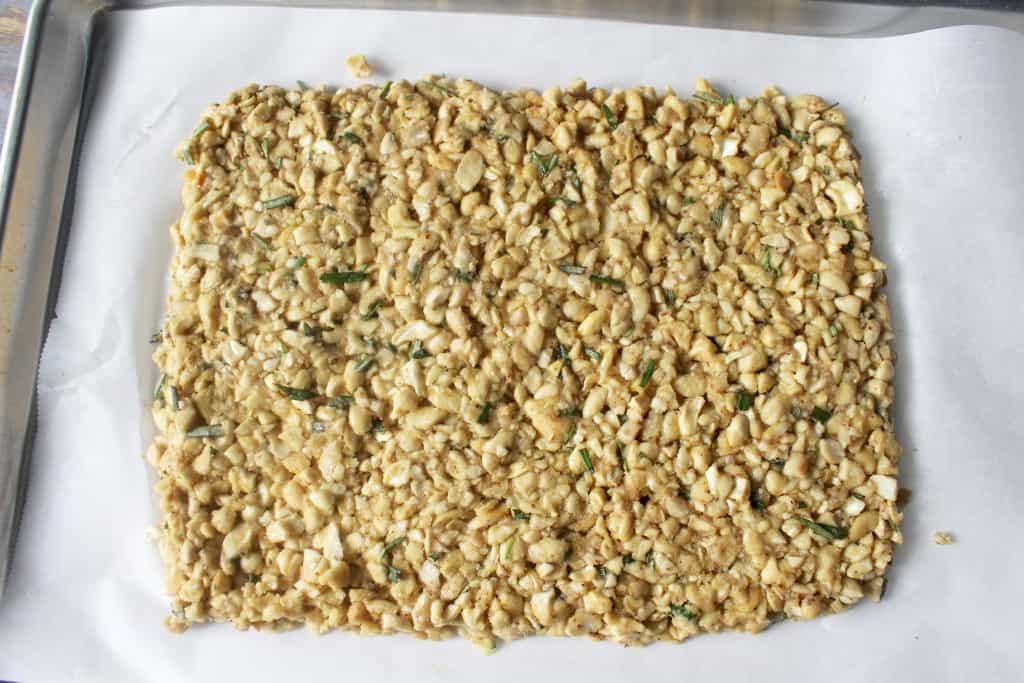 Shape into a 10x8 rectangle. I find using my hands for this is the easiest. Try to make the thickness as even as possible so it cooks evenly. Bake it for 25 minutes, remove from the oven and cut into 12 bars while they are still warm. Place back in the oven for 5 more minutes, let fully cool and store in a closed container for up to 2 weeks.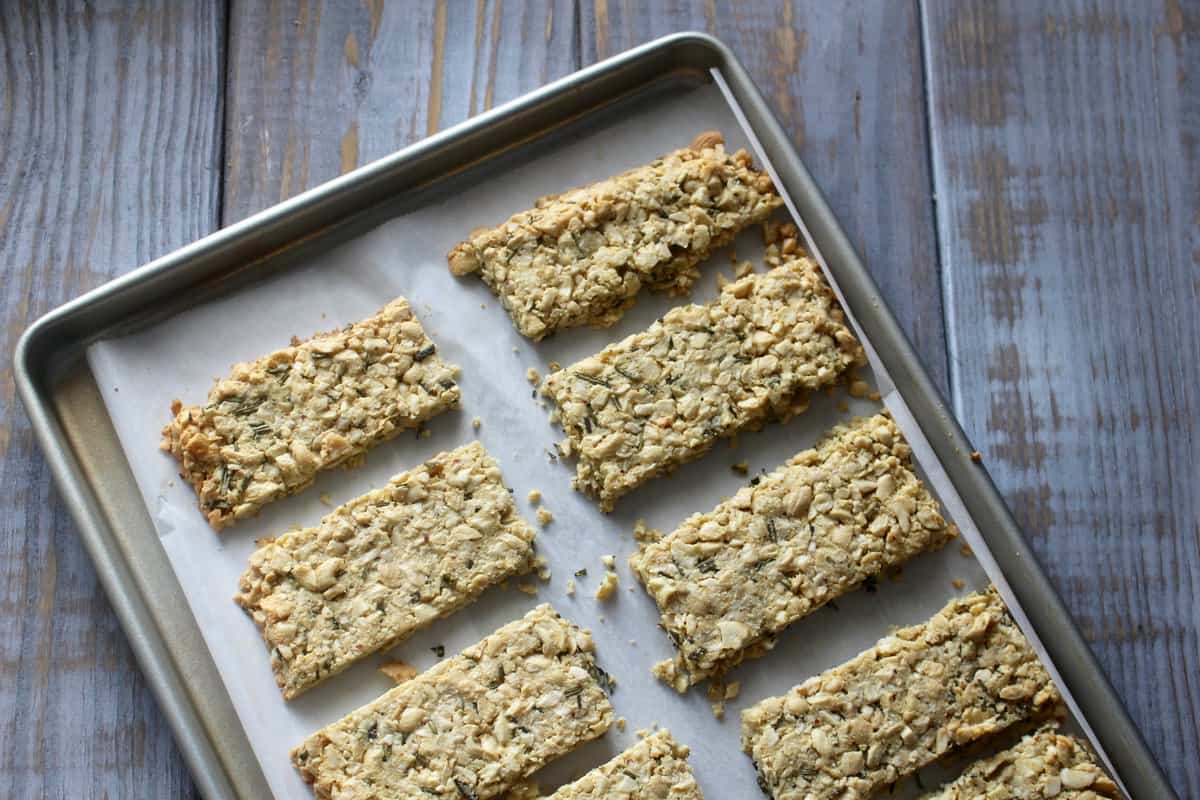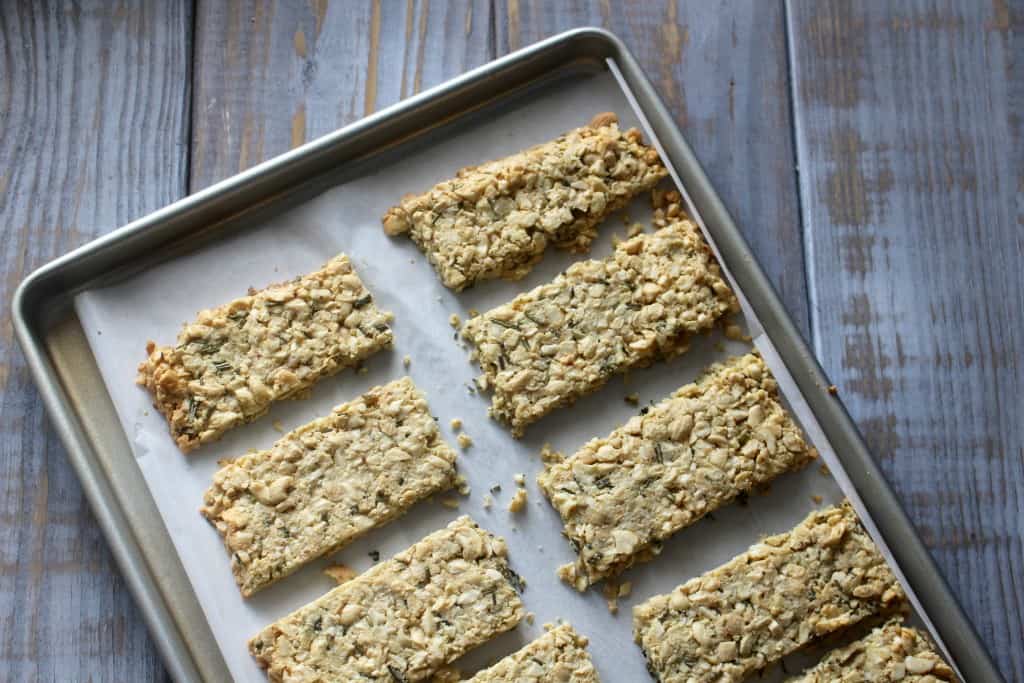 A couple things to keep in mind:
If you don't use raw unsalted cashews then you need to leave the salt out. They will be too salty if you add the written amount.
I find the easiest way to cut these is with a bench scraper. It makes nice, even cuts- if you don't have one then I suggest using a large knife.
You could also break this up and serve it as a savory granola.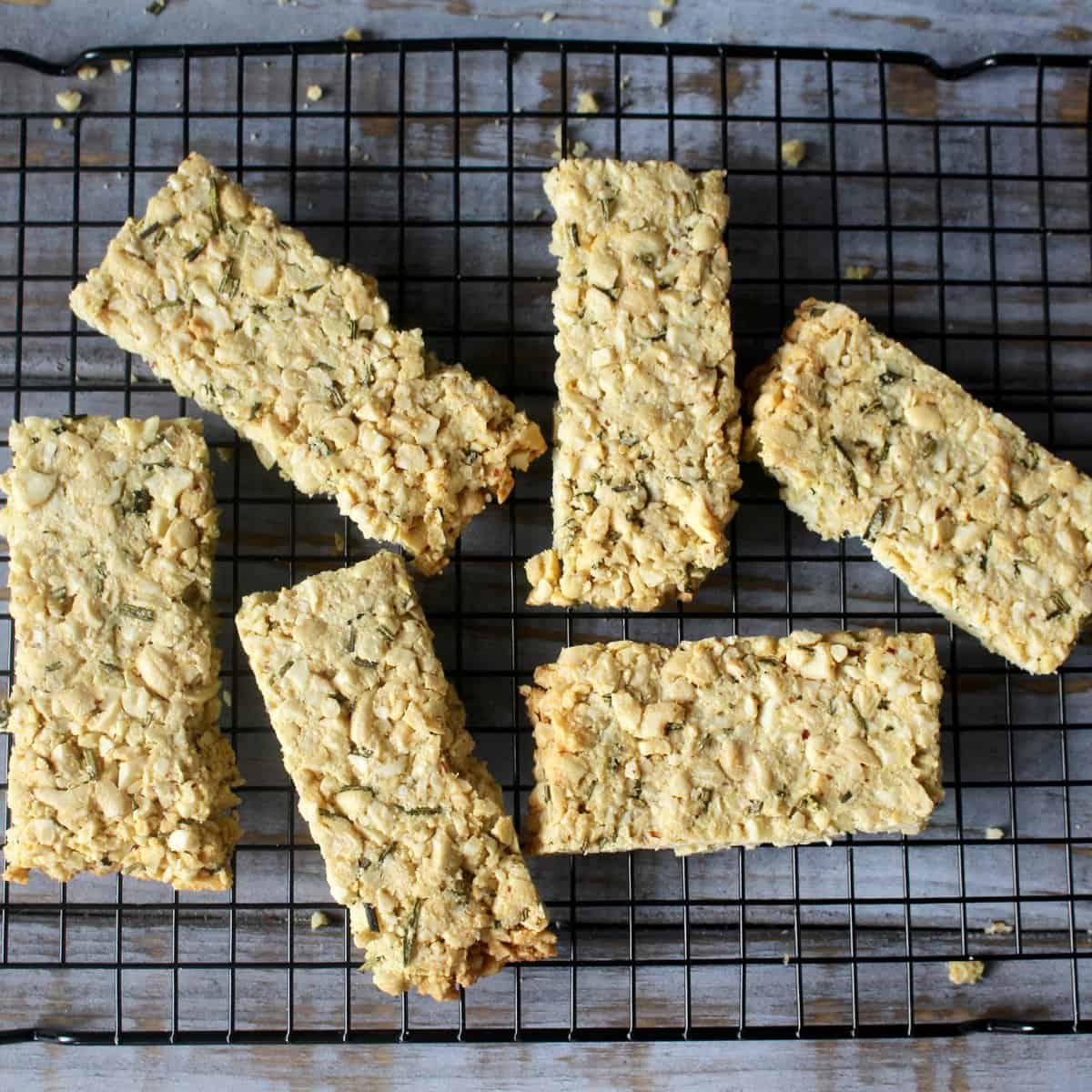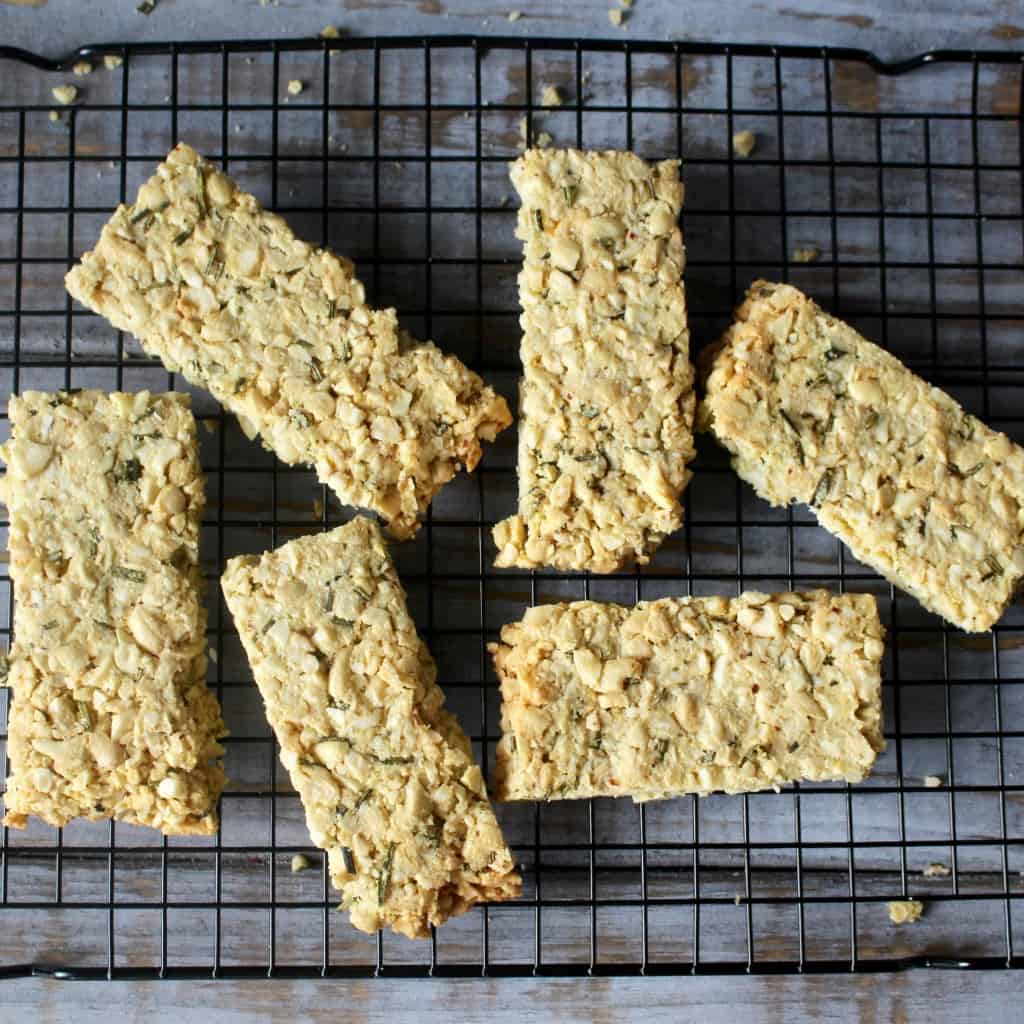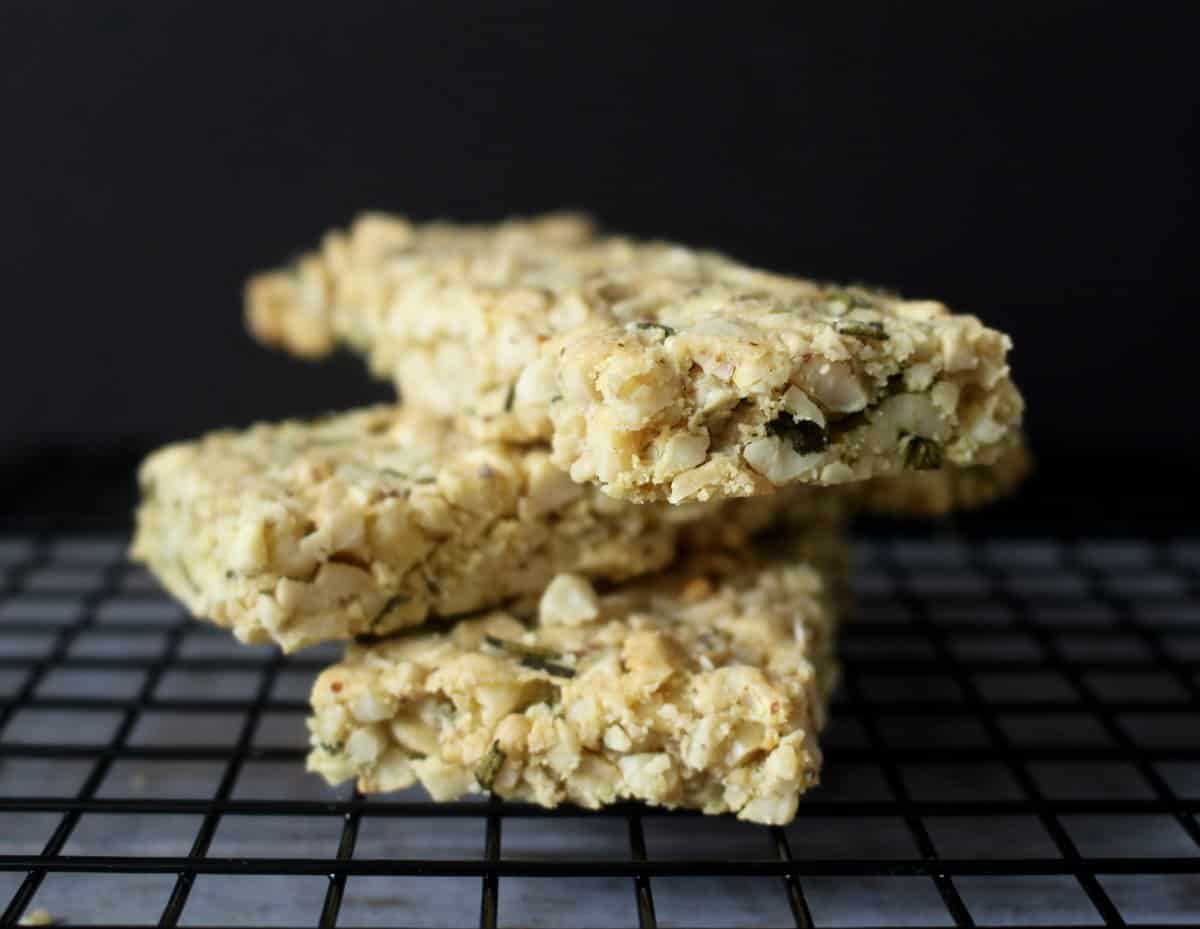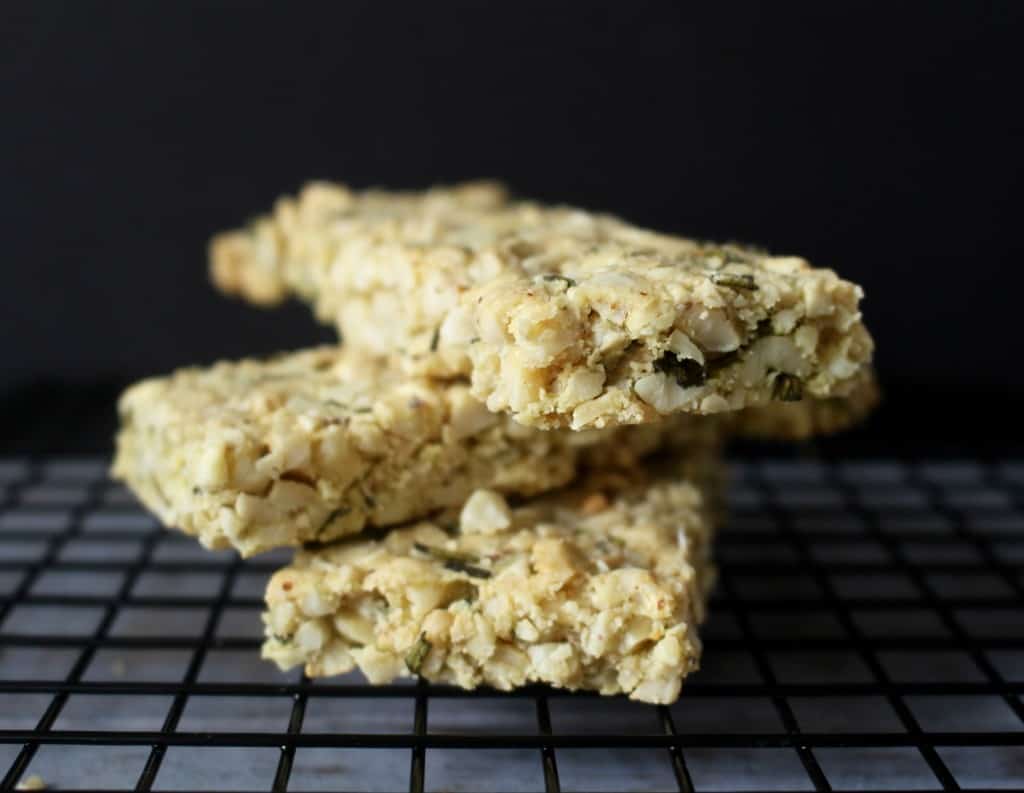 You will love the freshness of the rosemary, the light garlic and onion flavor, and the crunch of the cashews. These paleo cashew protein bars are great to keep on hand. Keep one in your car or in your purse for a quick snack for those busy days.
Hungry for more? Subscribe to my newsletter and follow along on Facebook, Pinterest and Instagram for all of the latest updates.
Paleo Cashew Protein Bars
Ingredients
3 ½ cups chopped raw cashews
2 tablespoon coconut flour
½ cup almond flour
2 tablespoons fresh chopped rosemary
1 teaspoon garlic powder
1 teaspoon onion powder
1 ½ teaspoons salt
2 eggs
3 tablespoons coconut oil
Instructions
Preheat oven to 300° and line a sheet tray with parchment paper.

In a large bowl, combine chopped cashews, coconut flour, almond flour, rosemary, garlic, onion powder, and salt. Mix until combined.

Add in eggs and coconut oil and combine until mixture is fully wet.

Dump onto the sheet tray and press into a 10x8 rectangle.

Bake for 25 min or until lightly brown around the edges. Take out and cut into bars.

Place back in the oven for 5 minutes.

Let fully cool and store in a airtight container for up to two weeks.
Nutrition Information
Calories: 310kcal (16%)Carbohydrates: 15g (5%)Protein: 10g (20%)Fat: 26g (40%)Saturated Fat: 7g (44%)Polyunsaturated Fat: 3gMonounsaturated Fat: 9gTrans Fat: 0.003gCholesterol: 27mg (9%)Sodium: 308mg (13%)Potassium: 263mg (8%)Fiber: 3g (13%)Sugar: 3g (3%)Vitamin A: 40IU (1%)Vitamin C: 0.2mgCalcium: 40mg (4%)Iron: 3mg (17%)