This Paleo Sweet Potato Casserole is the perfect Thanksgiving side dish. Smooth, creamy sweet potatoes with a sweet crunchy pecan topping that is gluten free, dairy free, and naturally sweetened.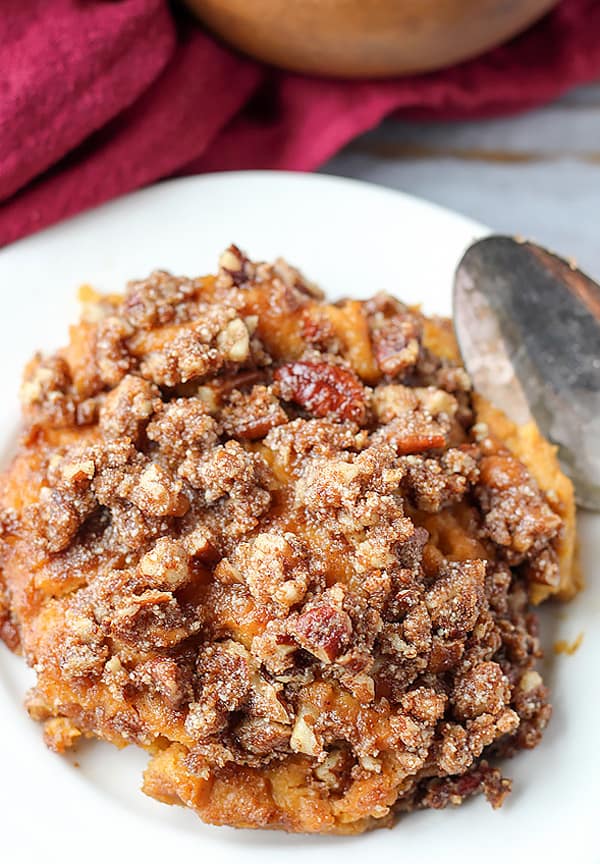 Growing up we always had sweet potato casserole at Thanksgiving. I think most people do- and it is usually packed with sugar. The version we made was with canned sweet potatoes that have corn syrup and sugar added (!!) and then we proceeded to add more sugar. Needless to say it tasted good, but was more like dessert than a side dish.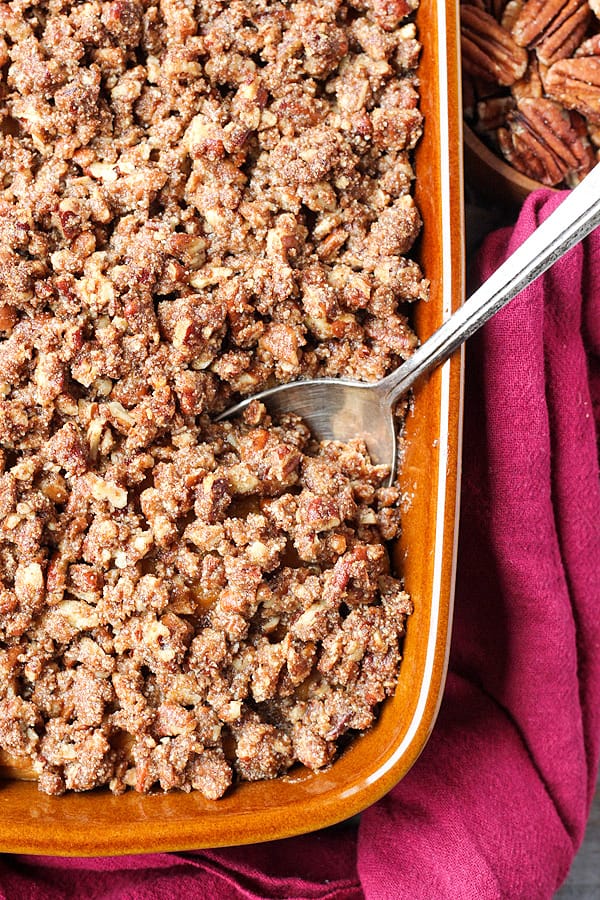 This made-over healthier version is still sweet, but not over-the-top sweet. I used coconut sugar since it's low glycemic, more than honey or maple. It also has an amazing carmel-y brown sugar flavor. Real sweet potatoes take place of the canned kind. They are cooked and mashed with some coconut oil, almond milk, coconut sugar, and cinnamon. Then a couple eggs are added to help bind it all together.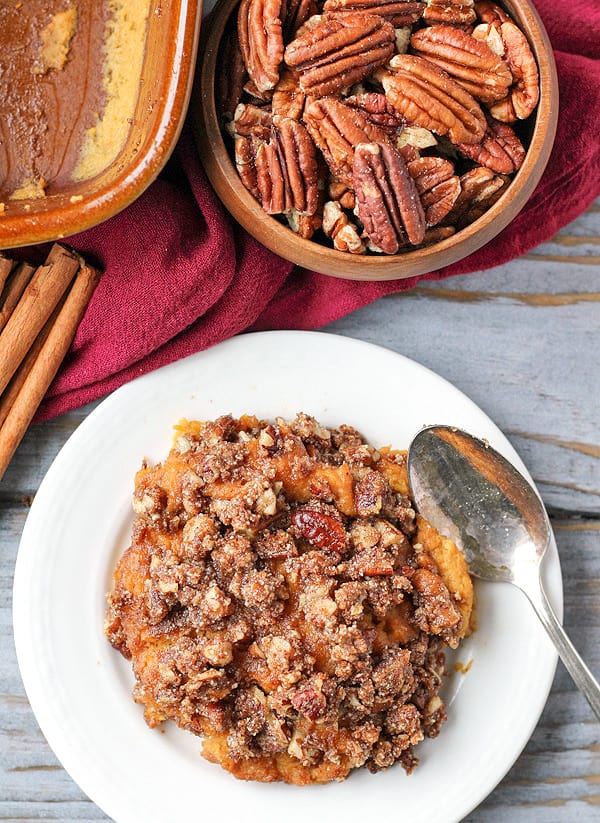 When making the sweet potatoes you have option on how to cook them. I really wanted to use my Instant Pot, but know not everyone has one so I went with the traditional stove-top. So here are the ways:
Stove-top: Peel and cut sweet potatoes into large chunks. In a large pot cover them with cold water, bring to a boil, reduce to simmer. Cover and cook until fork tender- about 20-23 minutes. Drain and add back to pot.
Oven: Preheat oven to 450° degrees. Wash potatoes and place them on a baking sheet. Bake until soft and a fork easily goes through the center- about 1-1 1/2 hours. Let cook enough to handle and slice in half. Scoop the inside out into a bowl and add the rest of the ingredients.
Instant Pot: Peel and cut sweet potatoes into large chunks. Place in Instant Pot and add 3/4 cup water. Place the lid on and close the valve. Hit the "manual" button and reduce it to 8 minutes. Quick release and drain.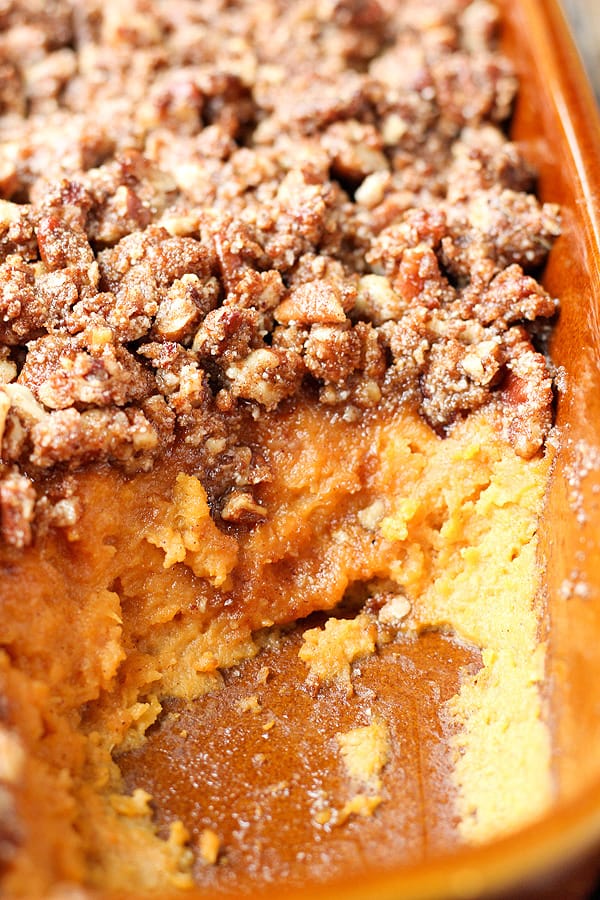 Now lets talk about the star of the dish– THE PECAN TOPPING!! Pure deliciousness! It gives a much needed crunch to the soft sweet potatoes. It is basically candied pecans and the most delicious topping ever! You will love how easy it is to make, just a mixture of chopped pecans, almond flour, coconut sugar, cinnamon, and coconut oil. When it bakes it turns into irresistible clusters that are sweet and crunchy. Like a streusel topping and it's so good!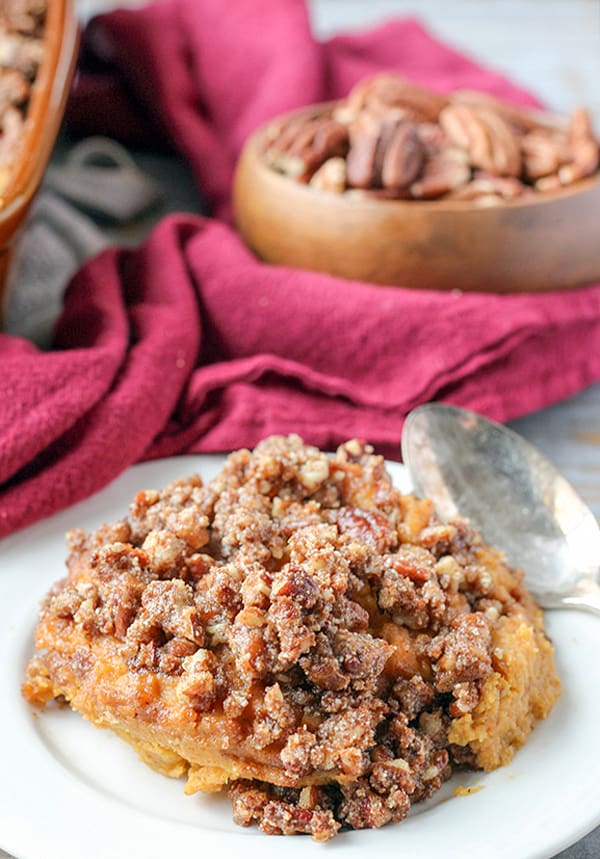 This dish can be made partly ahead of time. The sweet potatoes can be cooked, mashed with all their ingredients and put in a baking dish then refrigerated. When ready to bake, remove from the fridge for at least 30 minutes, top with pecan mixture and bake. That should make your Thanksgiving so much easier! You can even have most of the pecan mixture ready by chopping the pecans and measuring out the almond flour.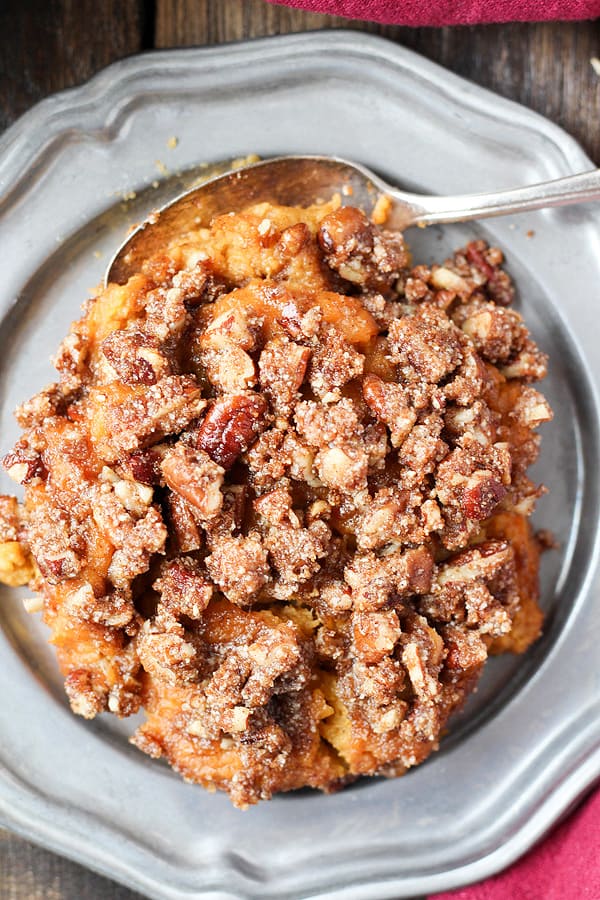 You will love this version of the traditional side dish. It will be a great addition to your Thanksgiving meal.
Here are my other Thanksgiving recipes that you'll enjoy: Paleo Whole30 Mashed Potatoes, Paleo Whole30 Green Bean Casserole, Paleo Whole30 Cream of Mushroom, Paleo Pumpkin Pie Bars, and Paleo Pumpkin Coffee Cake.