These Paleo Magic Cookie Bars are a healthier version of the classic dessert. A shortbread crust topped with shredded coconut, chopped pecans, chocolate chips and a homemade sweetened condensed milk poured on top. They are gluten free, dairy free, naturally sweetened with a vegan option.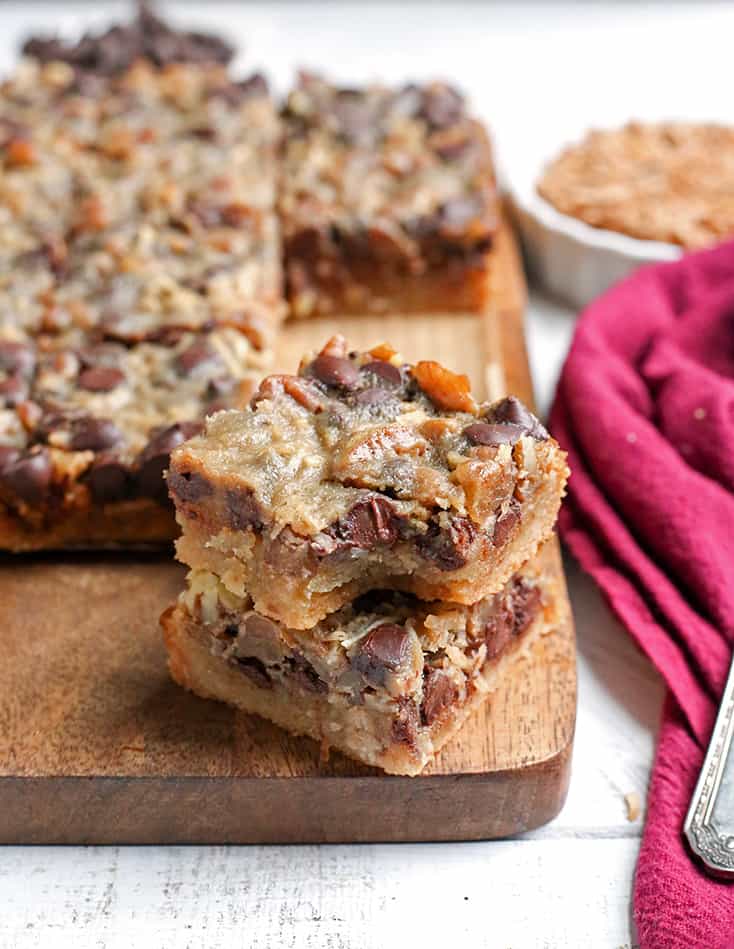 This post is sponsored on behalf of Fair Trade Certified. All opinions are 100% my own, of course! Thank you for supporting brands that help make Real Food with Jessica possible!
About Fair Trade
October is Fair Trade Month and I am so honored to be able to not only share a delicious recipe with you, but to also share why buying fair trade is so important. What is fair trade? When shoppers see a product with the Fair Trade Certified seal, they know that:
It was made according to rigorous social, environmental, and economic standards. These standards help ensure that the people behind Fair Trade Certified goods work in safe conditions, protect the environment, and build sustainable livelihoods.
Producers earned additional money, called the Community Development Fund, through the sale of the product. This money is deposited into a producer-controlled bank account. From there, the producers decide together how to spend the money to best meet their unique community needs, such as education and healthcare.
When you choose fair trade for your holiday table, you're not only preparing a festive dish for
your loved ones; you're also giving to the producers behind the Fair Trade Certified ingredients.
Fair trade gives farmers and workers around the world dignity, hope, and capacity to overcome
struggles like poverty and climate change that make it hard for them to earn a living, put food on
the table, and ensure a brighter future for their children. It's a win-win.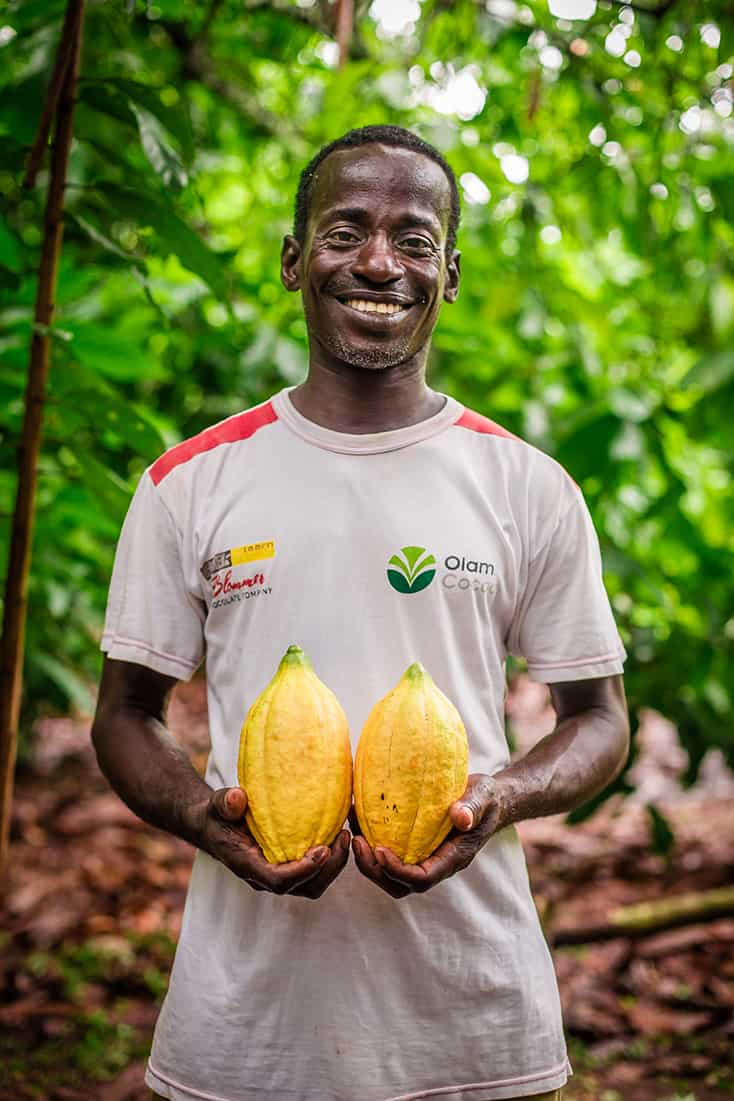 I also want to share a story with you about a cocoa farmer.
Georges Kouakou Kouassi is a cocoa farmer affiliated with COOP-CA-REFSI, a Fair Trade Certified cooperative in Côte d'Ivoire.
 "We have been Fair Trade Certified for 5 years now," says Georges. "Thanks to our certification, we have had the opportunity to build a new school for our families by using Community Development Funds received through our partnership."
 Georges takes care of his family of twelve and looks forward to providing his children with opportunities to study.
 "I want to send all of my children to school," he says. "They will be able to have great jobs in the future."
CLICK HERE to learn more about fair trade and where to find products.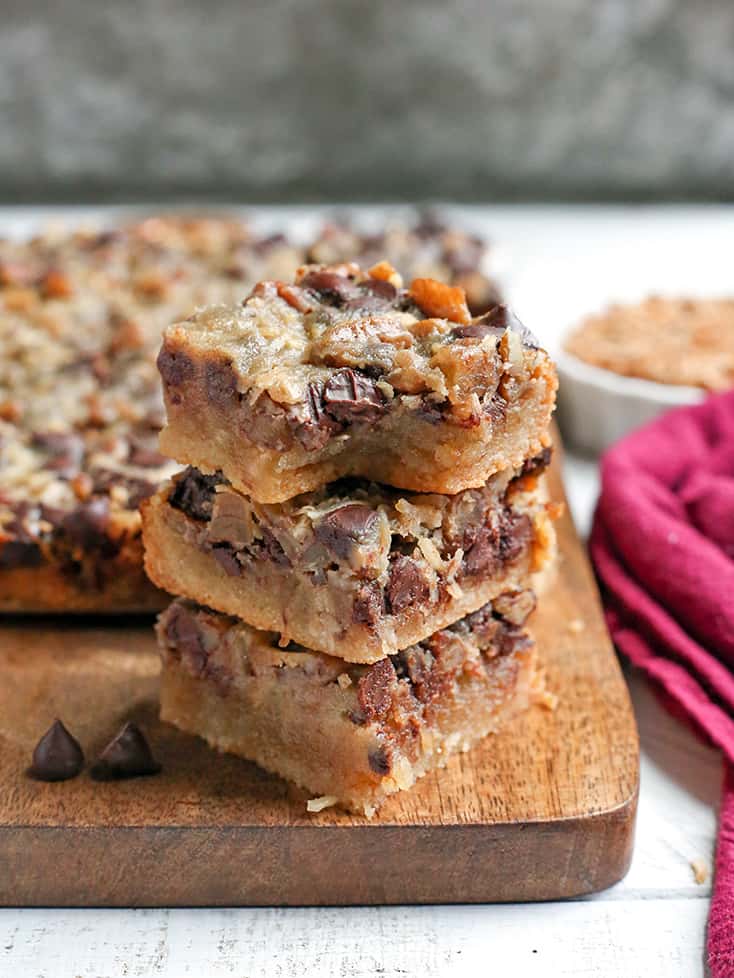 About these Paleo Magic Cookie Bars
These have been on my list to make for a while and I finally was motivated when I saw the Fair Trade Certified products that were sent to me. Shredded coconut, coconut flour, chocolate chips, and honey all come together to make these so delicious and just like the traditional version. These are also called 7 layer bars, but these technically don't have 7 layers so I can't call them that.
The Fair Trade Certified products I used for these bars:
Simple Truth Coconut Oil
Guittard Extra Dark Chocolate Chips
Simple Truth Organic Unsweetened Coconut Flakes
Wholesome Organic Honey
Arrowhead Organic Coconut Flour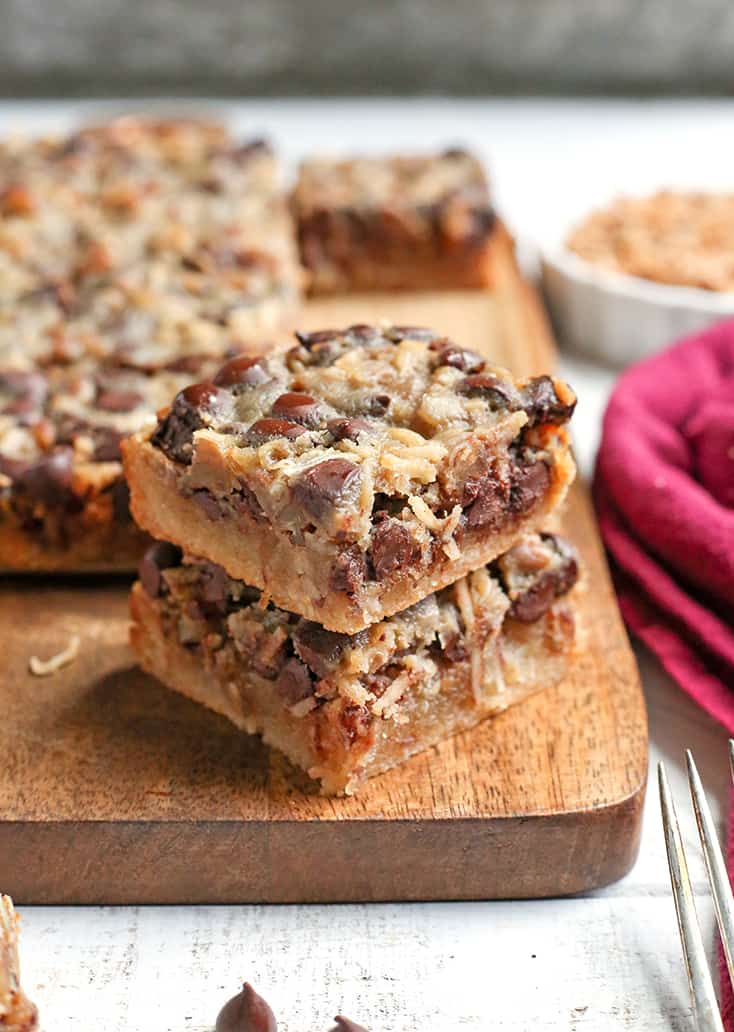 Homemade Sweetened Condensed Milk
You do need to make your own sweetened condensed milk for these bars and that sounds intimidating, but it's not at all. If you can boil water, you can make this milk. Just combine full fat coconut milk, honey (or maple for vegan) and a pinch of salt together on the stove top until it's thick and reduced down. No need to get it to a certain temperature or anything. This gets poured over the pecans, chocolate chips, and shredded coconut to make it all come together as one delicious treat.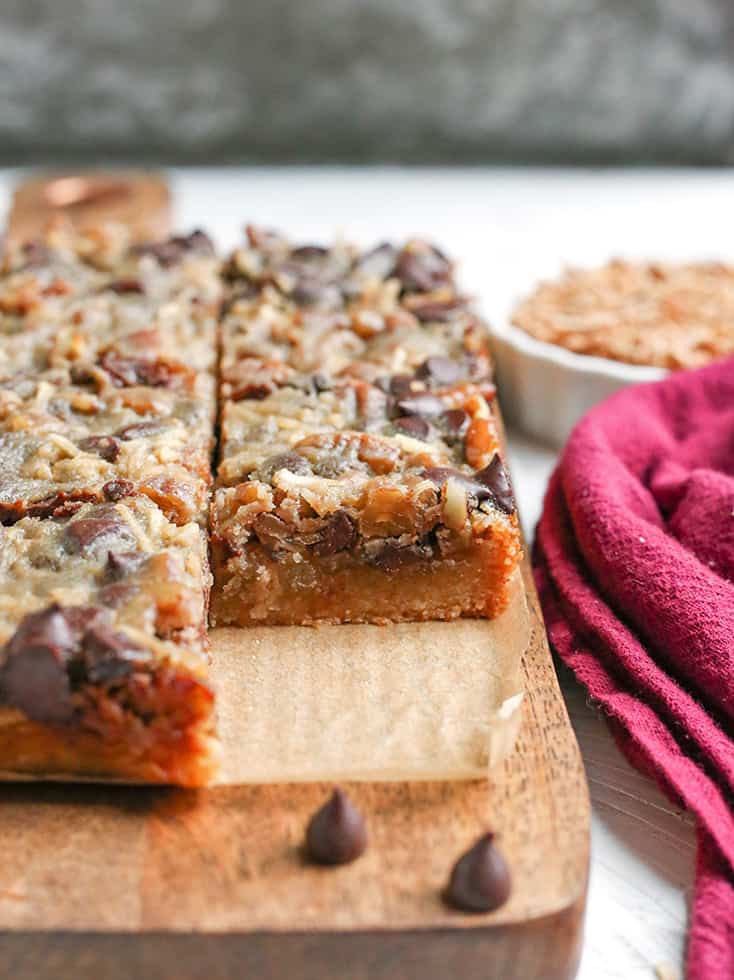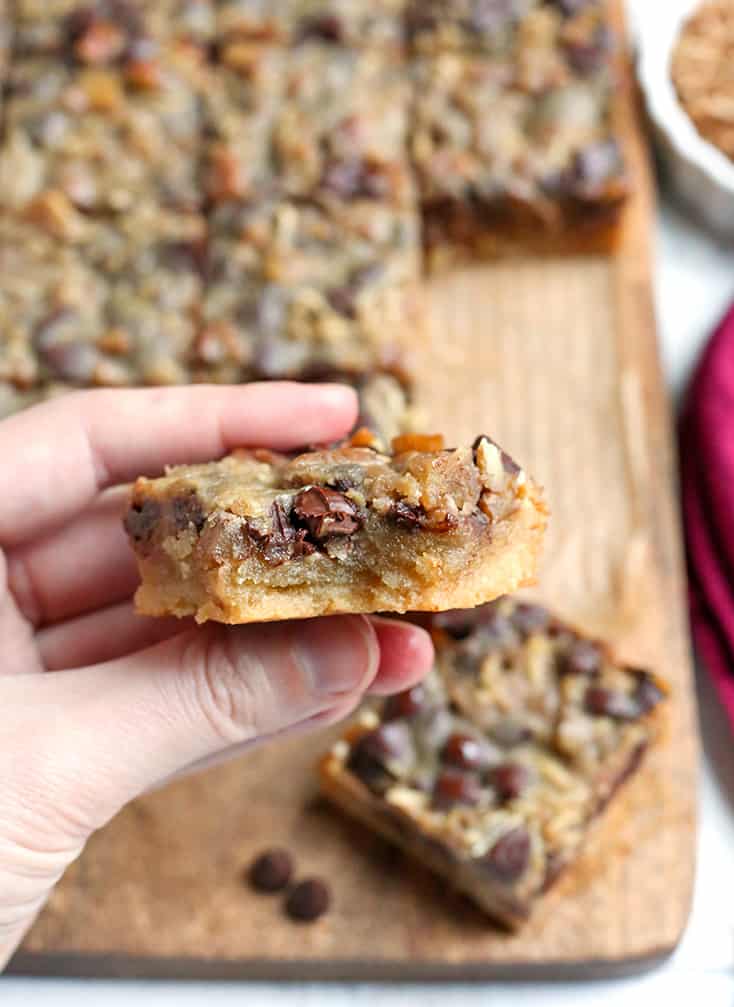 You bite into these and get the soft shortbread, crunchy pecans, sweet chocolate chips, slightly toasted coconut all held together with a sweet sauce. They are so incredibly delicious and I know you will love them!
Make sure to check out this Holiday Recipe Guide with so much helpful information about Fair Trade items. Everything from food to buy when making recipes to gifts to give. I have already gotten some great ideas from it.
Hungry for more? Subscribe to my newsletter and follow along on Facebook, Pinterest and Instagram for all of the latest updates.
Paleo Magic Cookie Bars
Ingredients
Shortbread
2 cups almond flour
2 tablespoons Fair Trade coconut flour
⅓ cup melted Fair Trade coconut oil
⅓ cup maple syrup
1 teaspoon vanilla
½ teaspoon salt
Toppings
½ cup Fair Trade unsweetened shredded coconut
½ cup chopped raw pecans
1 cup Fair Trade dairy free chocolate chips
Homemade Sweetened Condensed Milk
Instructions
Preheat oven to 350° and line a 8x8 (or 9x9) pan with parchment paper. Set aside.

In a medium bowl, combine the almond flour, coconut flour, coconut oil, maple syrup, vanilla and salt. Mix well until no dry spots remain and it's evenly combined. Press into the bottom of the prepared pan, making it as even as possible. Bake for 15-17 minutes, until the edges are lightly brown.

While the crust bakes, make the sweetened condensed milk. In a saucepan, combine the coconut milk, honey, and salt. Turn to medium heat and whisk until boiling. Reduce to low and simmer until thickened. It should take between 25-45 minutes, depending how low your setting goes. You want it to be about measure 1 ¼ cup when done.

Mix the coconut, pecans and chocolate chips in a bowl. Remove the crust from the oven and top with the toppings from the bowl. Pour sweetened condensed milk over top slowly, making sure all the toppings are covered.

Bake 25 minutes and then let cool before cutting.
Notes:
* Use maple syrup for vegan. I tried them with maple syrup and they came out great. 
Nutrition Information
Calories: 346kcal (17%)Carbohydrates: 25g (8%)Protein: 8g (16%)Fat: 27g (42%)Saturated Fat: 9g (56%)Polyunsaturated Fat: 1gMonounsaturated Fat: 2gSodium: 95mg (4%)Potassium: 48mg (1%)Fiber: 5g (21%)Sugar: 17g (19%)Vitamin A: 2IUVitamin C: 0.1mgCalcium: 88mg (9%)Iron: 2mg (11%)