A collection of all the Paleo Thanksgiving Recipes that you will need. Many are Whole30, not including the desserts. All are gluten free, dairy free, and the desserts are naturally sweetened.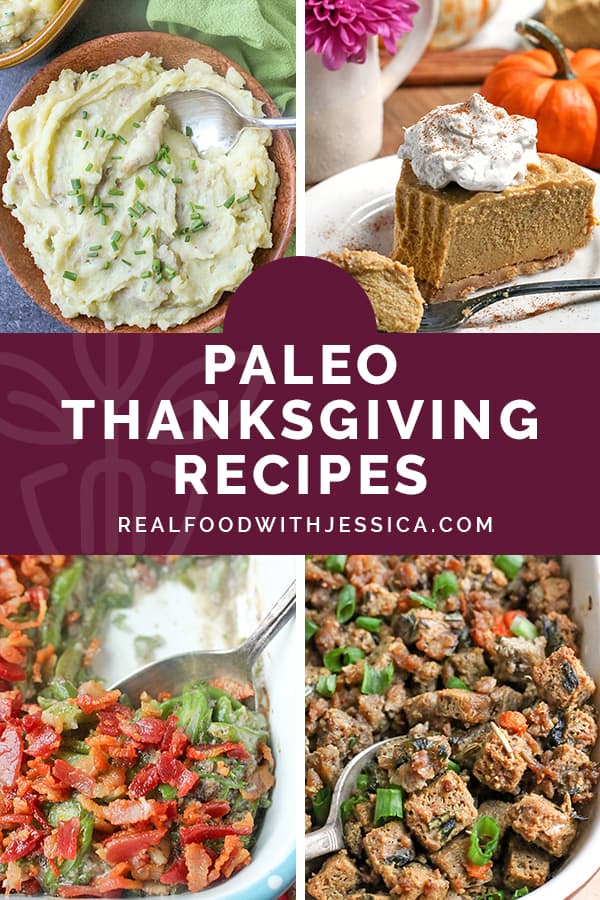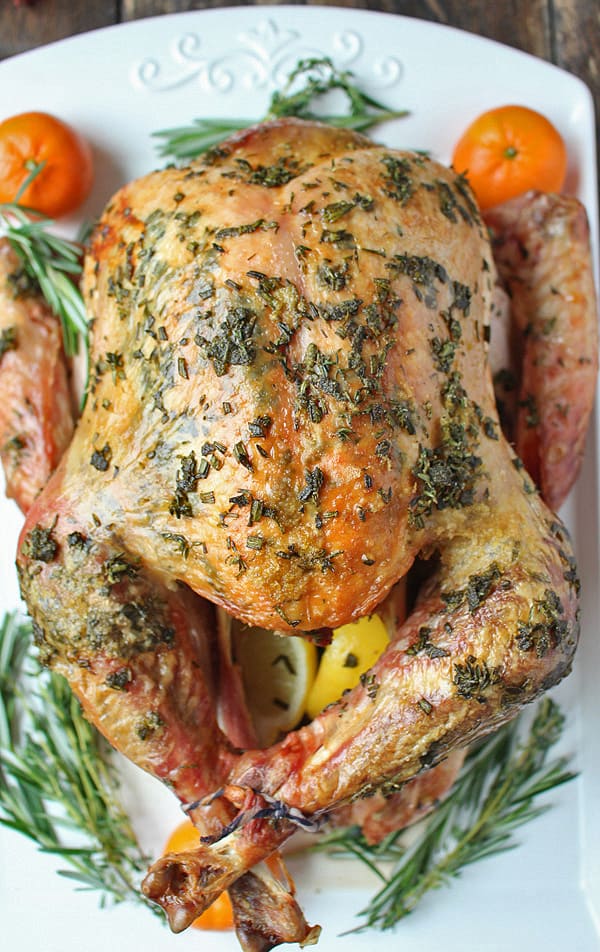 It's not Thanksgiving without a turkey and this one is a crowd pleaser. Easy and delicious! Low FODMAP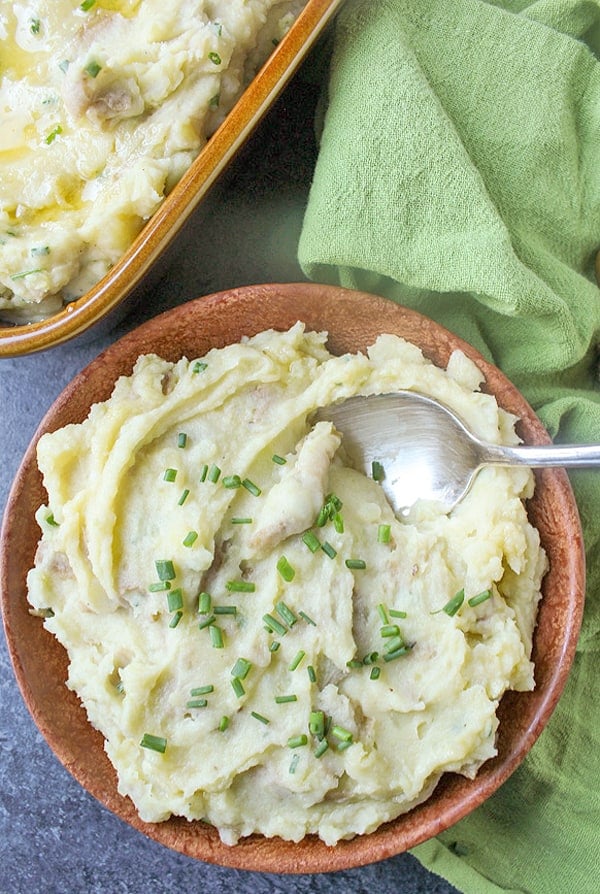 Creamy potatoes mashed with ghee, almond milk, and garlic oil with no peeling required. Low FODMAP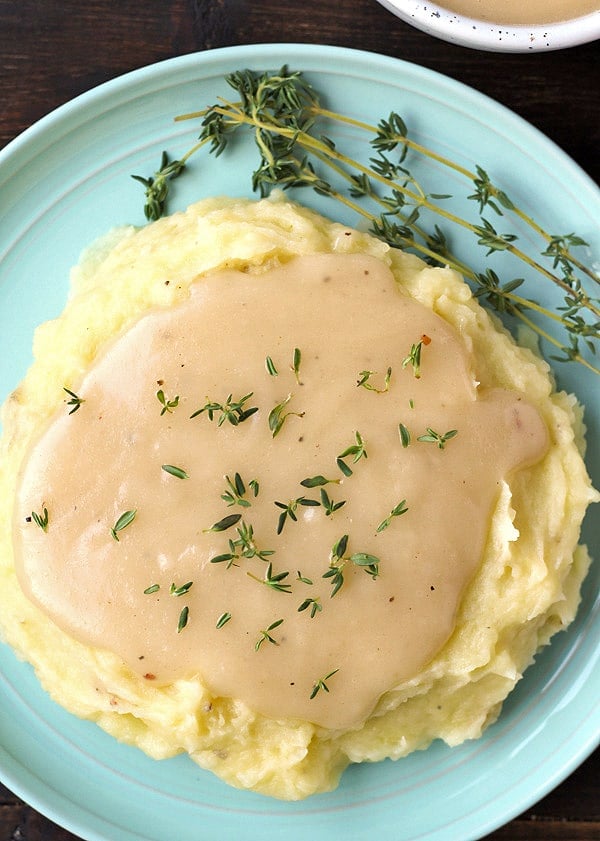 This comes together so quick and is great poured over the potatoes and turkey.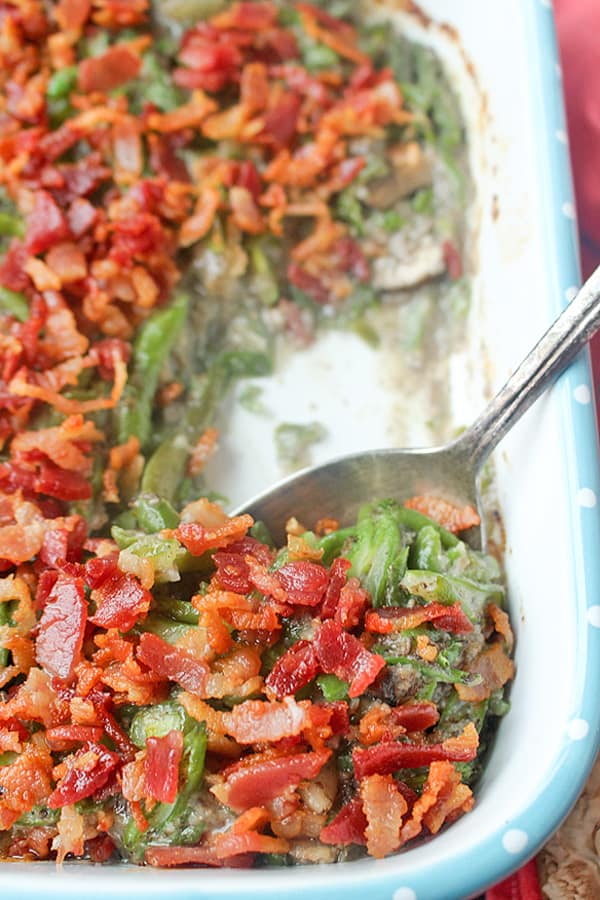 Paleo Whole30 Green Bean Casserole
Homemade cream of mushroom soup combined with the green beans and topped with bacon. This is a remake of a classic!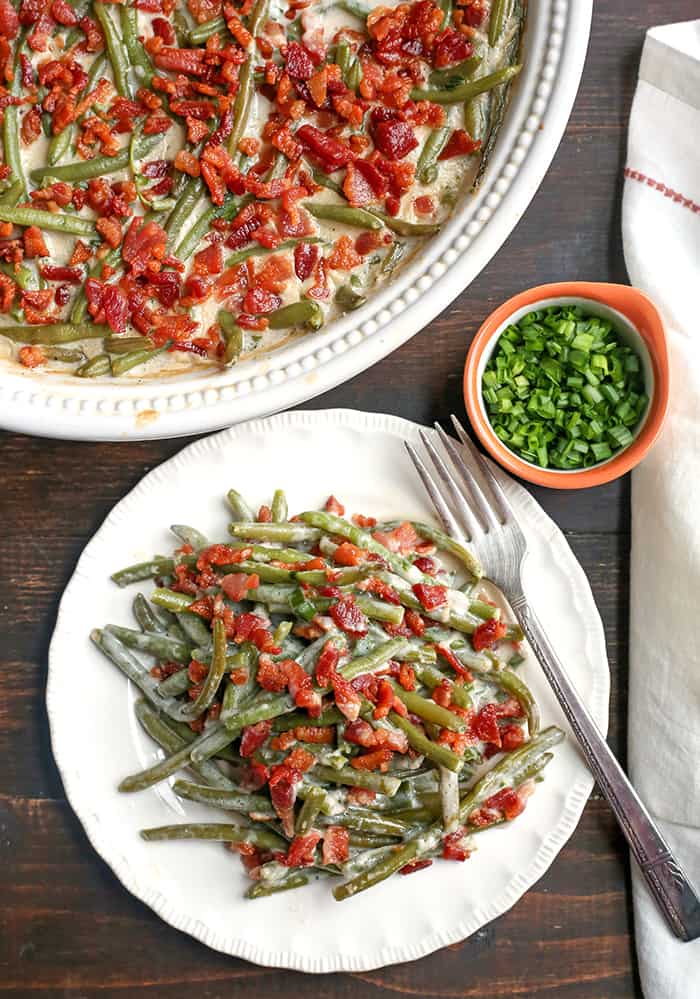 Paleo Whole30 Low FODMAP Green Bean Casserole
Still creamy and topped with bacon, but made with a low FODMAP cream sauce. Still comforting and flavorful.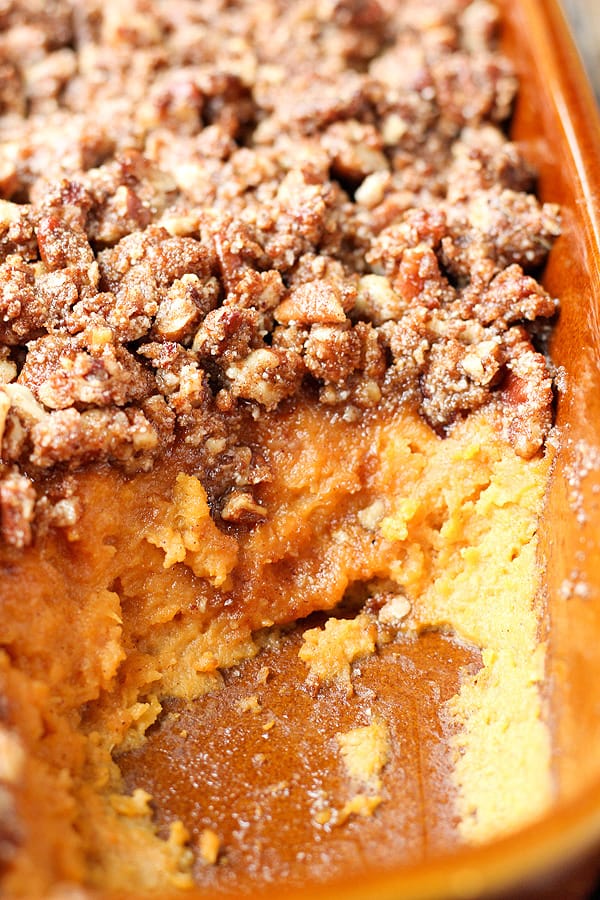 Creamy sweet potatoes topped with the most delicious  pecan topping ever! This is a must-make for your Thanksgiving.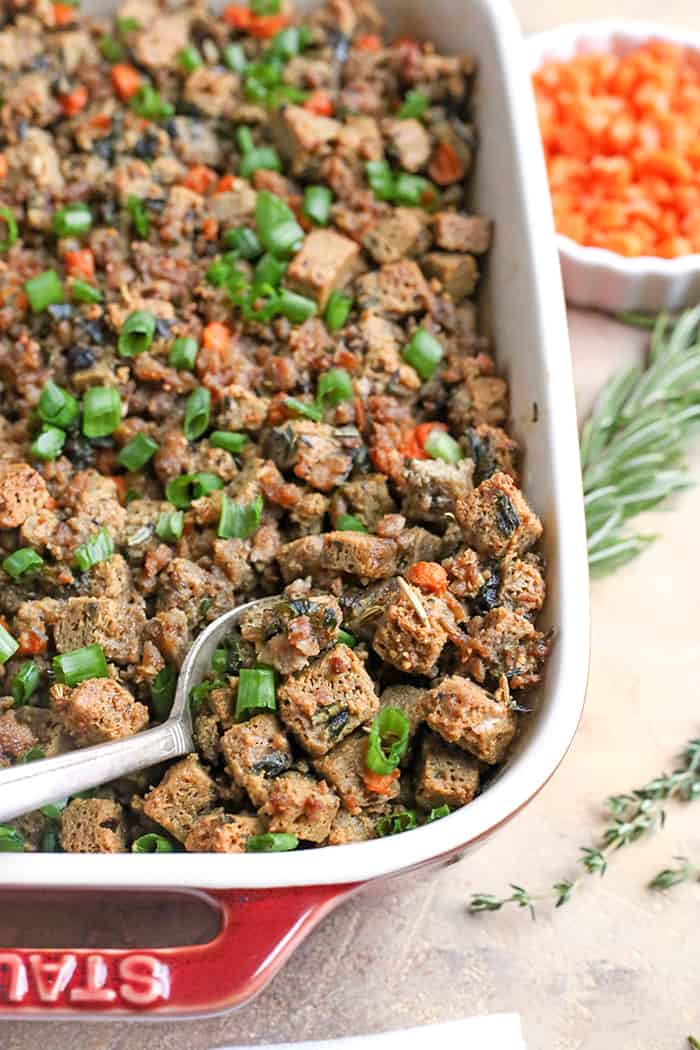 Paleo Low Carb Sausage Stuffing
Made with nut-free bread, sausage, veggies, and herbs- this tastes like the real deal! Low FODMAP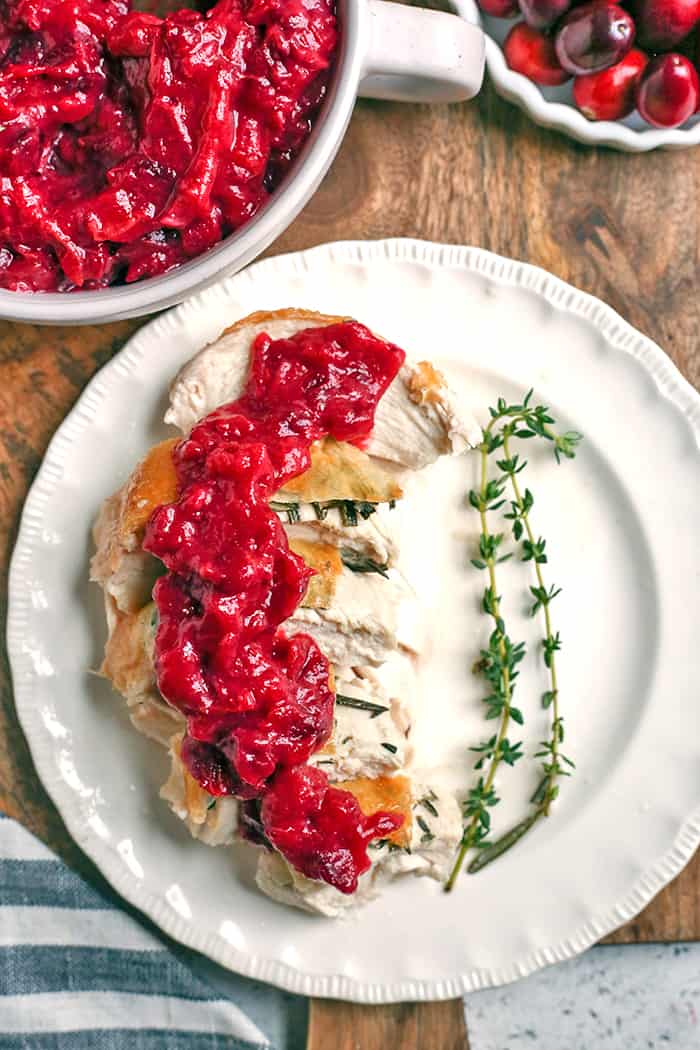 Paleo Whole30 Easy Cranberry Sauce
A thick, chunky sauce that is sweetened just with fruit. So delicious  paired with the turkey.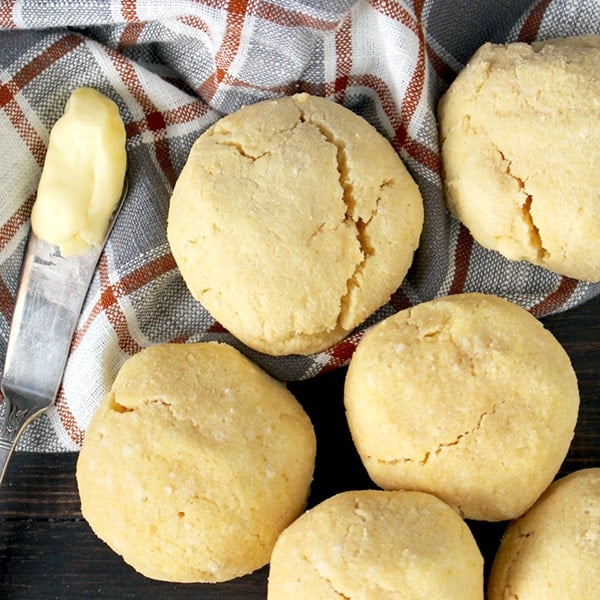 Coconut flour based and tender and delicious! Nut free option.
Desserts
A graham cracker- like crust and creamy pumpkin filling that is naturally sweetened. These are a healthier take on the pie my mom used to make.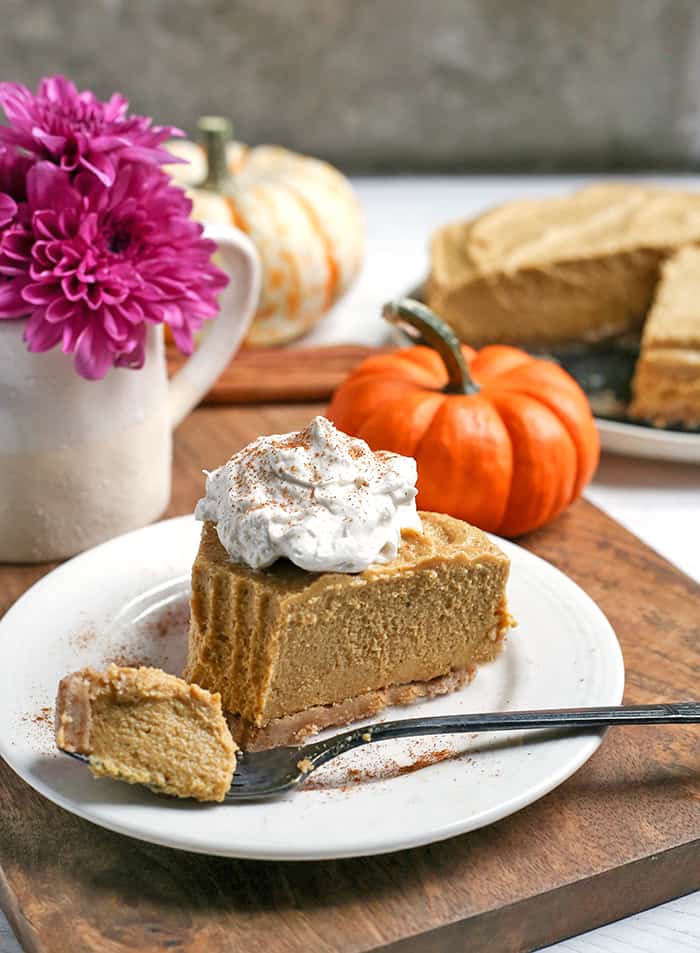 Paleo Vegan Pumpkin Cheesecake
A cashew-based cheesecake that is spiced just right. Almost no-bake besides a few minutes the crust bakes.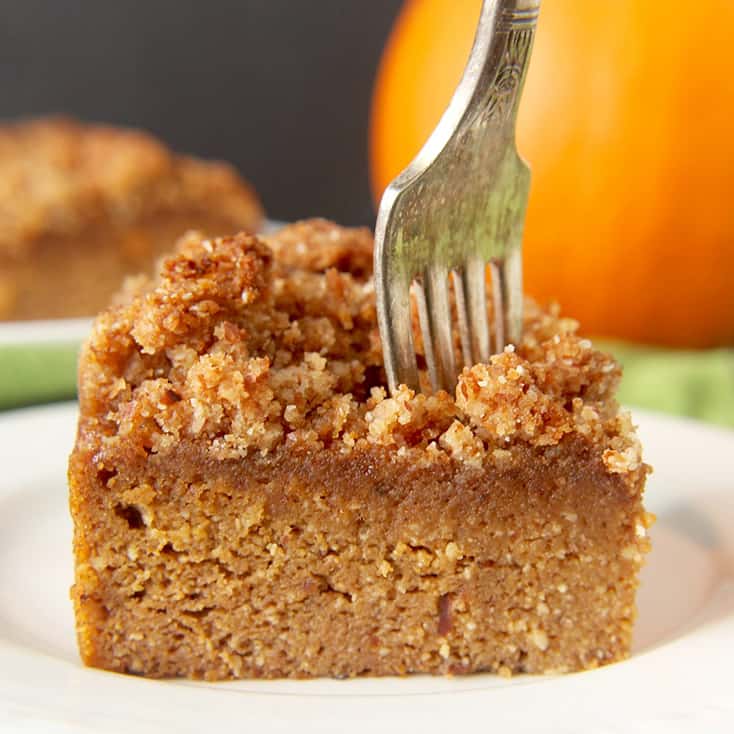 One of my most popular recipes! A tender cake with a irresistible crumb topping. Everyone will love this dessert!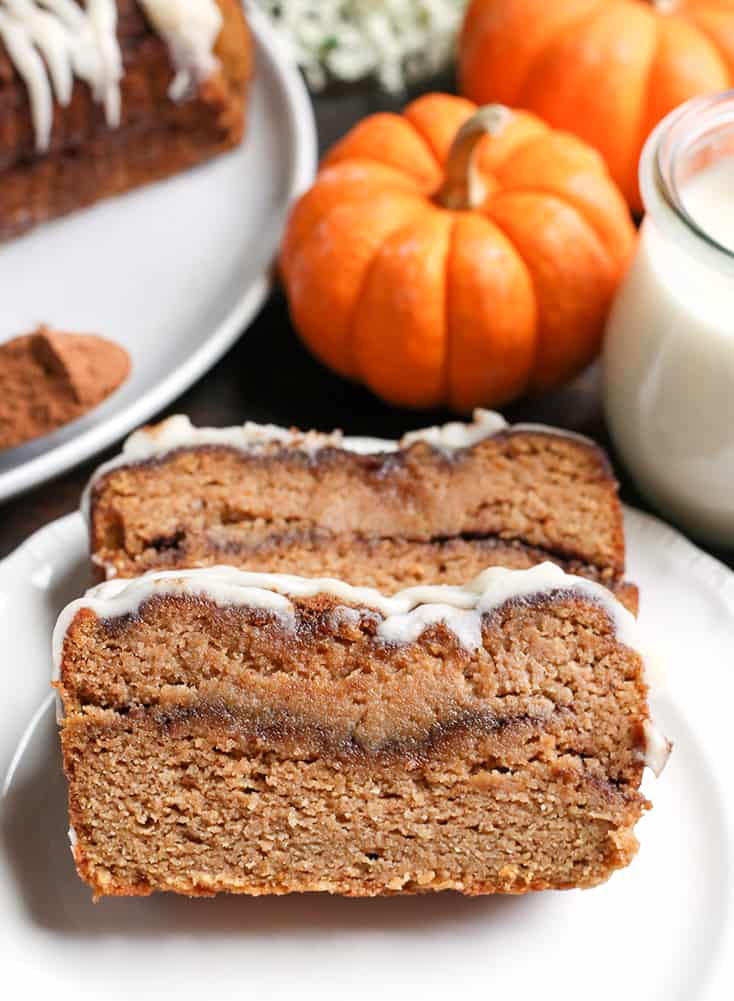 Paleo Pumpkin Cinnamon Roll Bread
A tender bread, a thick cinnamon swirl and a sweet glaze. A great breakfast or dessert.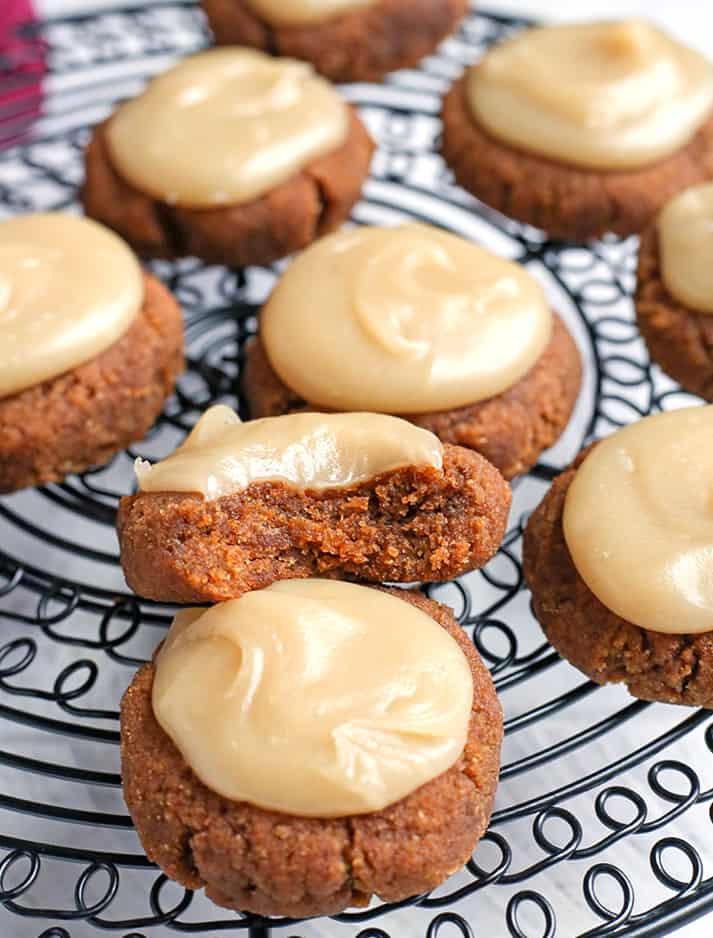 A thick cookie, spiced just right and topped with a sweet frosting. The only cookie you need this Thanksgiving.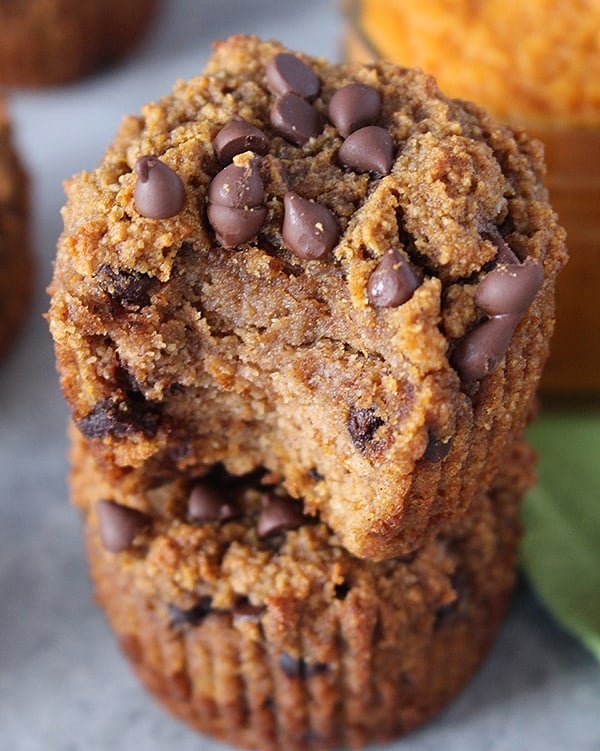 The texture of these muffins is a cross between pie and muffins- dense, sweet, and so tasty.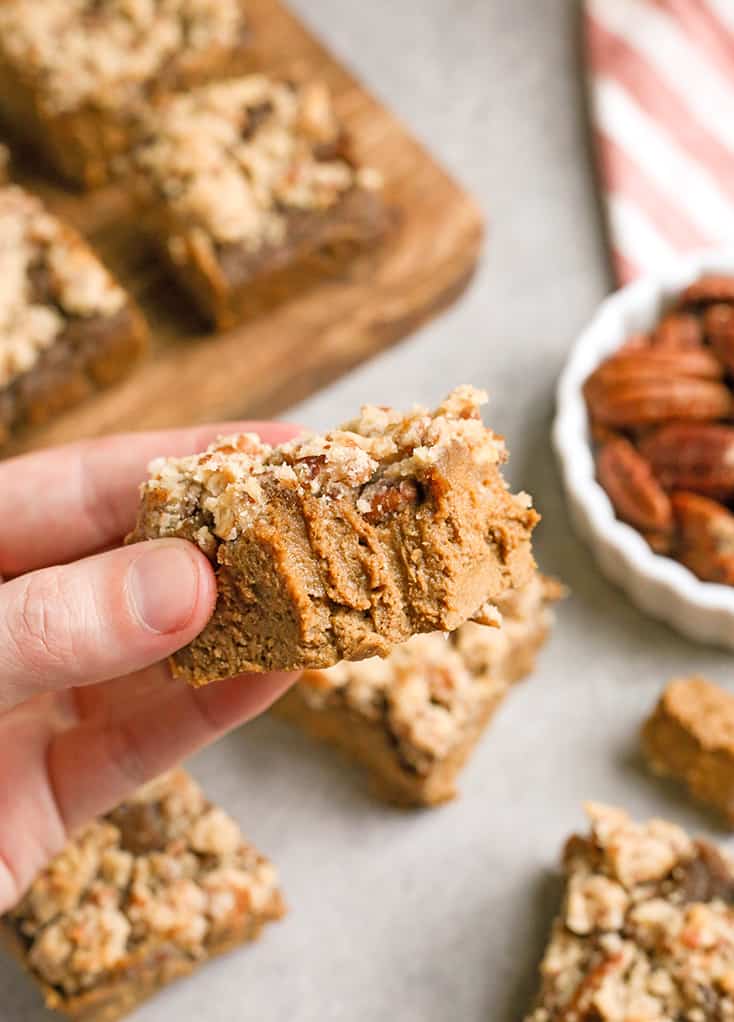 These bars have the texture of pumpkin pie with a scrumptious crumb topping. They are nut free and low FODMAP.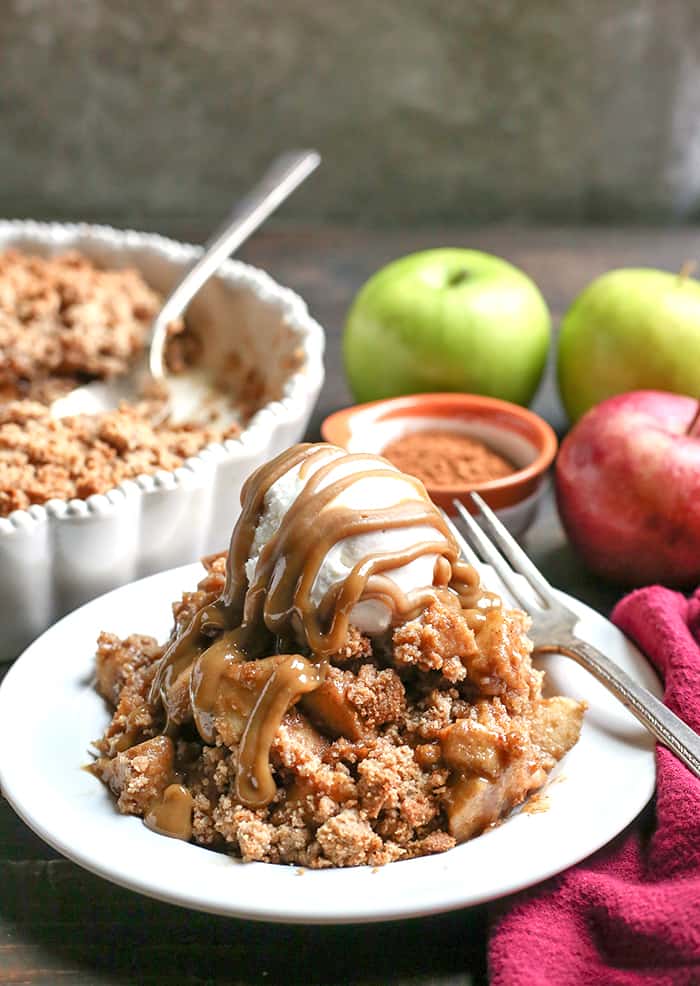 Paleo Vegan Caramel Apple Crisp
A simple caramel mixed together with the apples and topped with a sweet crumb topping. Perfect with a scoop of dairy free ice cream and more caramel!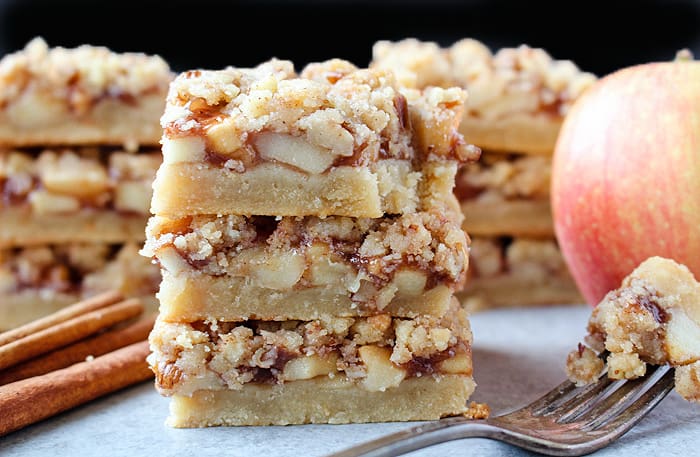 Caramelized apples are layered on top of a sweet shortbread crust and then topped with a delightful streusel topping.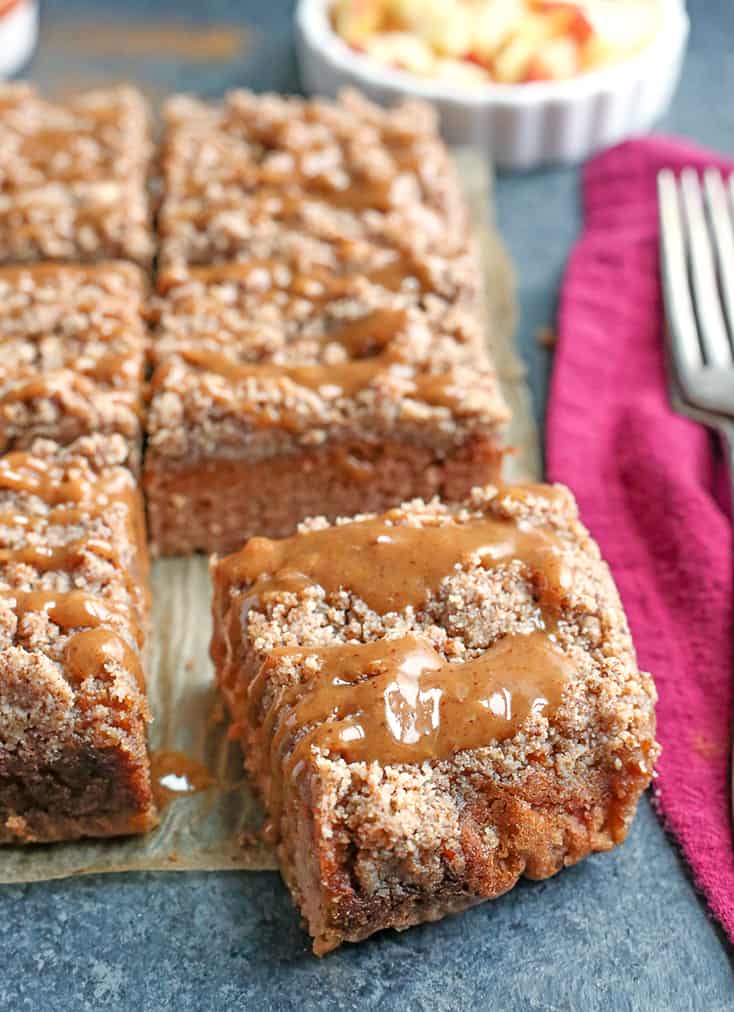 Paleo Caramel Apple Coffee Cake
This cake is tender, moist, with the best crumb topping and a sweet drizzle of caramel.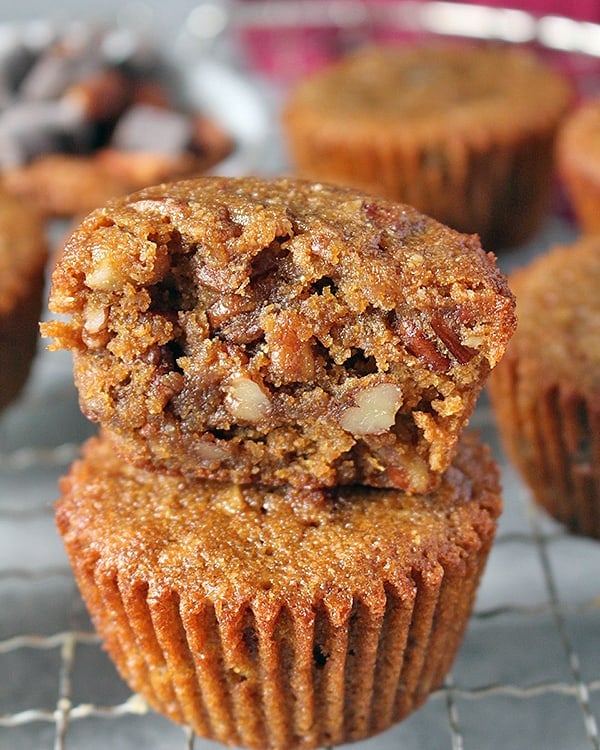 These muffins are so easy to make. They are rich, sweet and full of buttery pecans.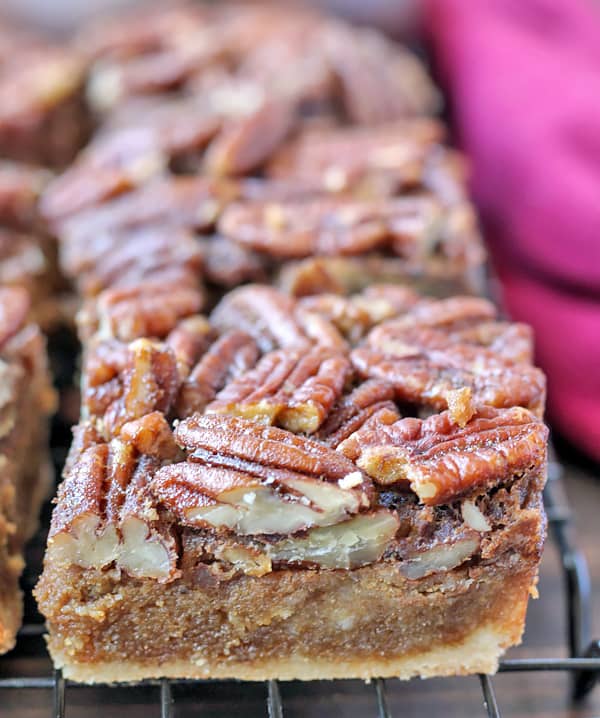 These bars have all the flavors of pecan pie, but made easier and in bar form. A simple shortbread crust, a soft, sweet filling, and packed with pecans. They are the ultimate holiday dessert!
I hope these paleo Thanksgiving recipes have inspired you to make a delicious meal that everyone can enjoy!