This Paleo Low Carb Sausage Stuffing is hearty, flavorful, and no one will know it's healthy! It has all the flavors of traditional stuffing, but made nut free, gluten free, dairy free, and low FODMAP!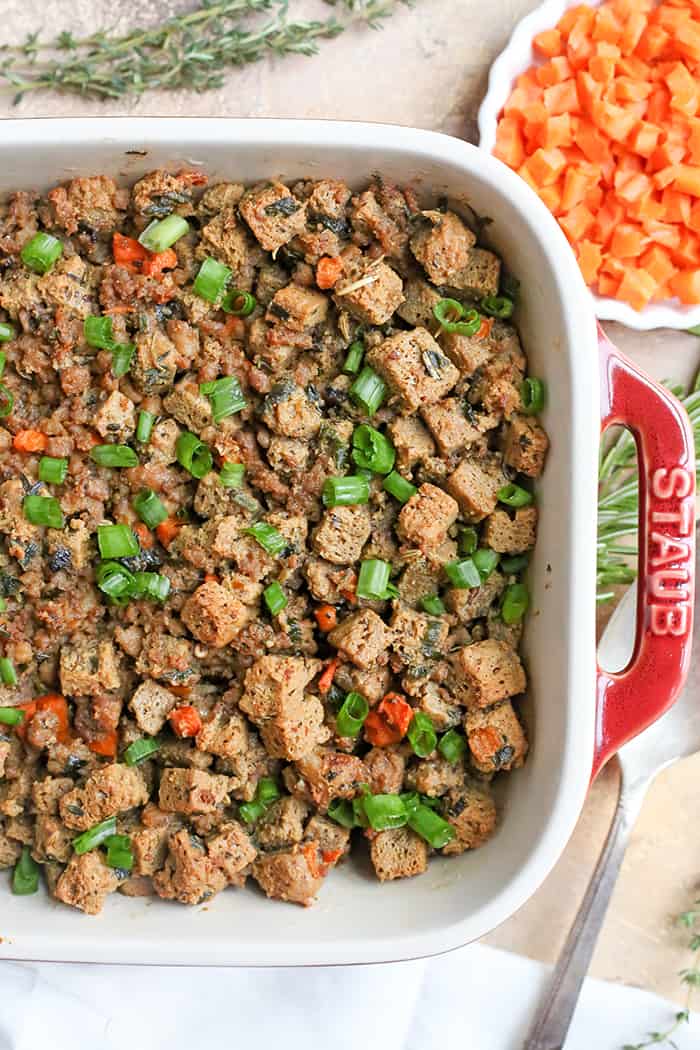 I have a lot of Thanksgiving recipes on my site, but I've been avoiding this one because I wanted to make sure I had the perfect one to share. Stuffing is such a loved side dish so I knew it had to be really good and live up to peoples expectations. This does! I admit- I don't like stuffing (!!) and I like this. Maybe because I grew up on boxed stuffing mix that was super mushy, but it ruined me and I have never cared for it at all. This one is so flavorful and has a little crunch on top, but soft inside.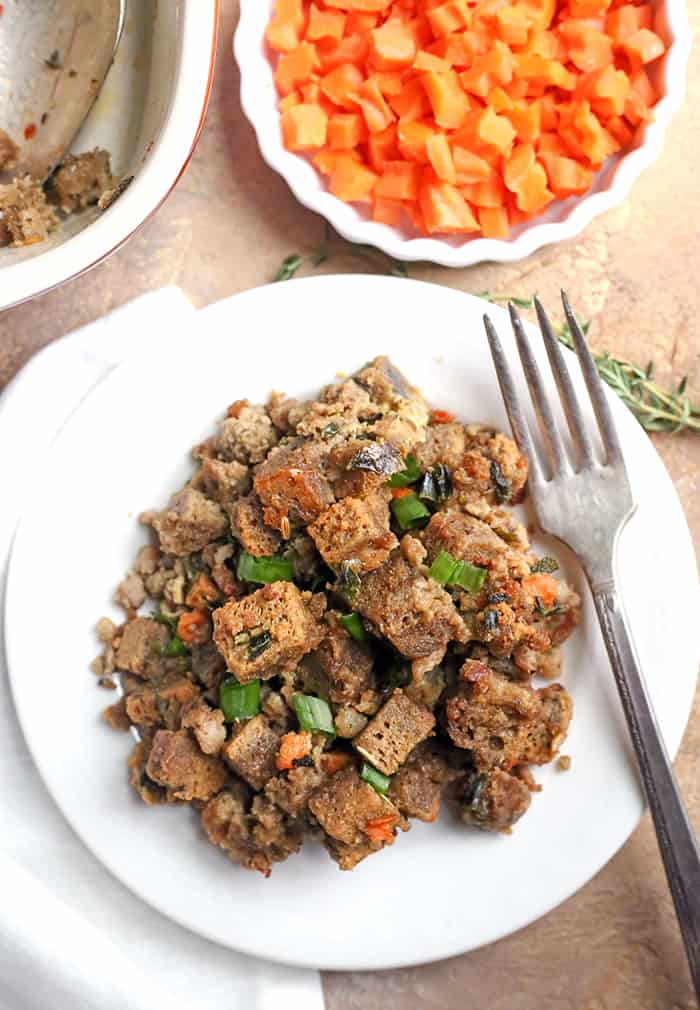 This is a little more time consuming than my recipes usually are. It's a labor of love and so worth it!! Making paleo stuffing is more difficult because you can't just buy a bag of bread cubes, you have to make the bread. It's not hard, but it's an added step. I used my Paleo Nut-Free Low Carb Bread that is made with SunButter and it worked so great. It toasted up perfectly and held up to all the mix-ins.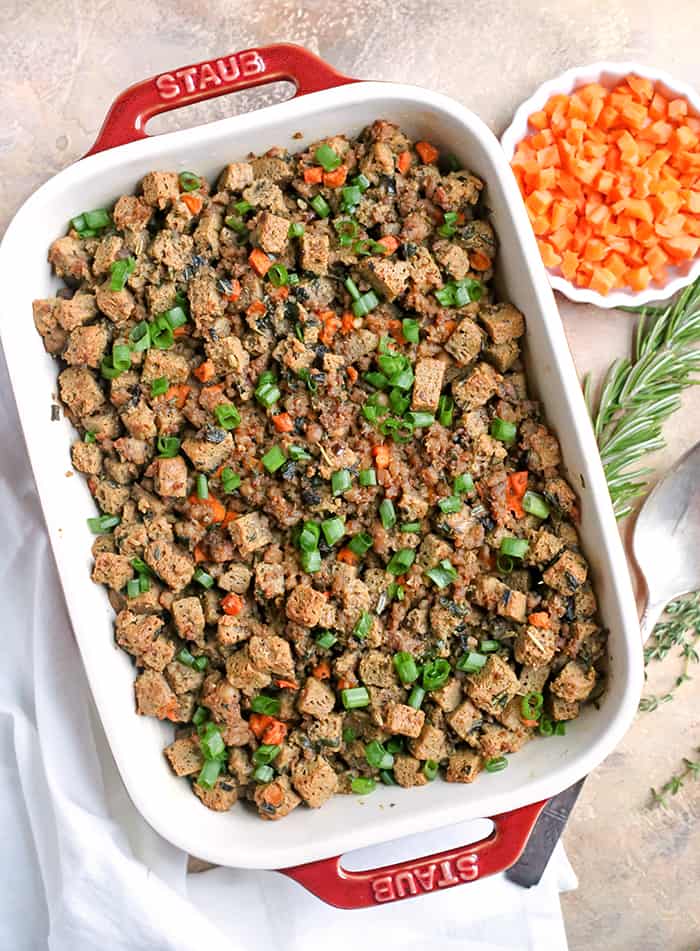 Low FODMAP
This is also a low FODMAP recipe which means none of the traditional onions, celery, and mushrooms that are commonly added. I decided on some diced carrots and they add nice color and a touch of sweetness. Green onions give it great onion flavor and of course garlic oil as well. This means I had to make low FODMAP bread and sausage which isn't hard, but those 2 ingredients need to be low FODMAP in order for this to be. I also used Bone Broth Powder that has only 1 ingredients (Organic Chicken Bones). Of course you can make your own broth or use water, but this powder mixes with water quickly and adds flavor. Use "JAY10" for 10% off your order if you decide you want to try it.
If you don't need it low FODMAP feel free to use store bought sausage and add any veggies you like.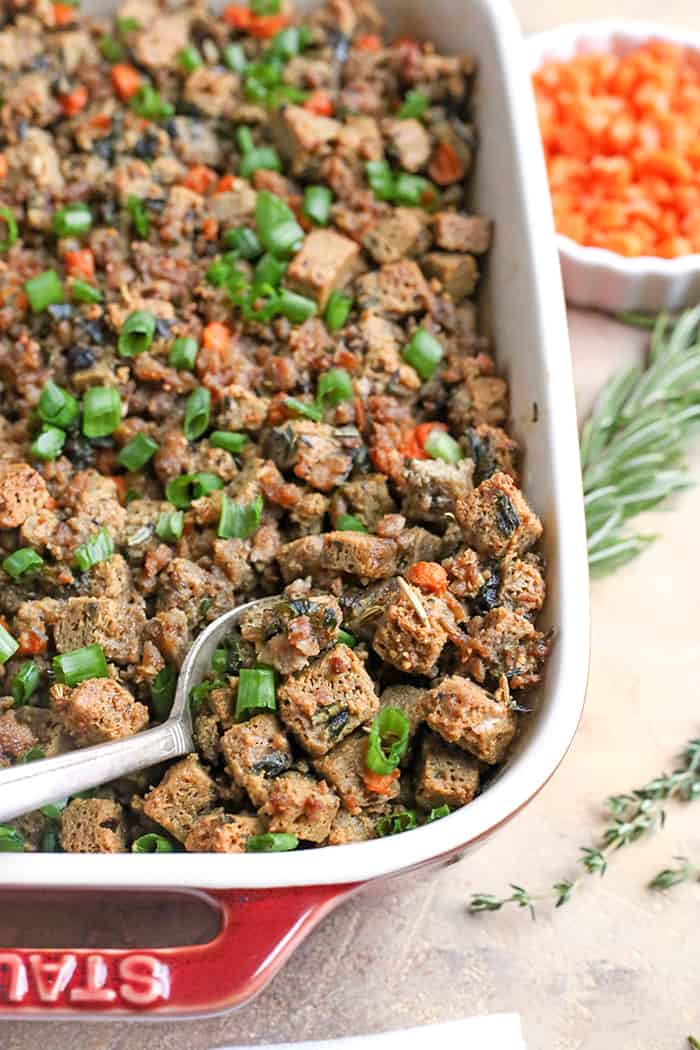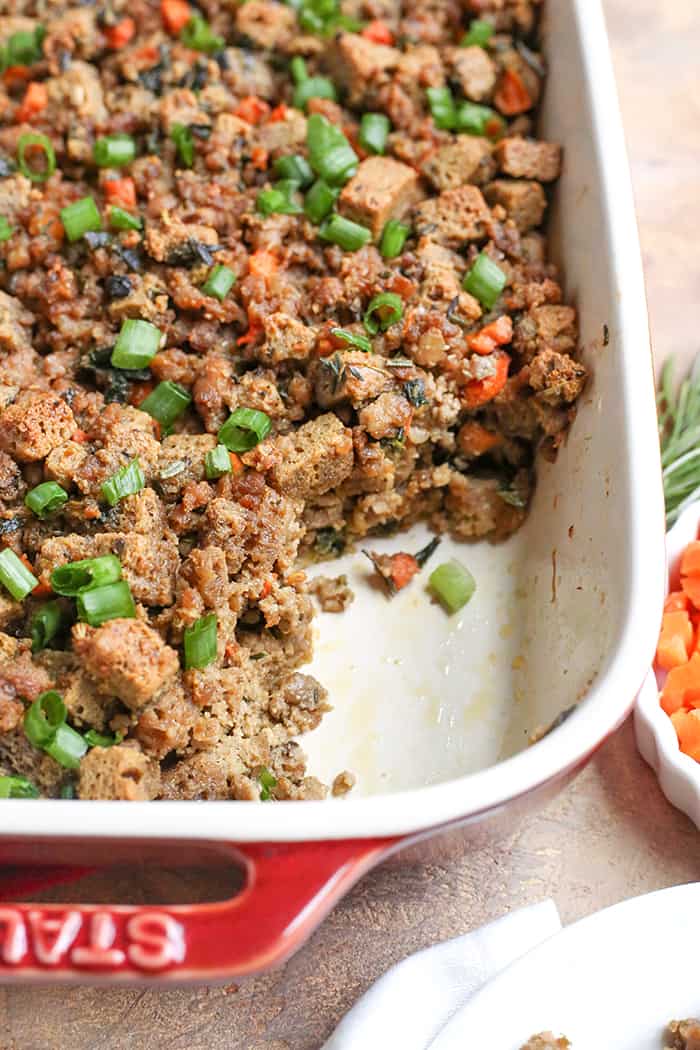 Tips to Save Time
Make the bread 1-2 days in advance. I even think you could cut and toast a day in advance, but I haven't tried it.
Make the Italian Sausage a day in advance
Chop the carrot and herbs and store them in the fridge so they are ready to use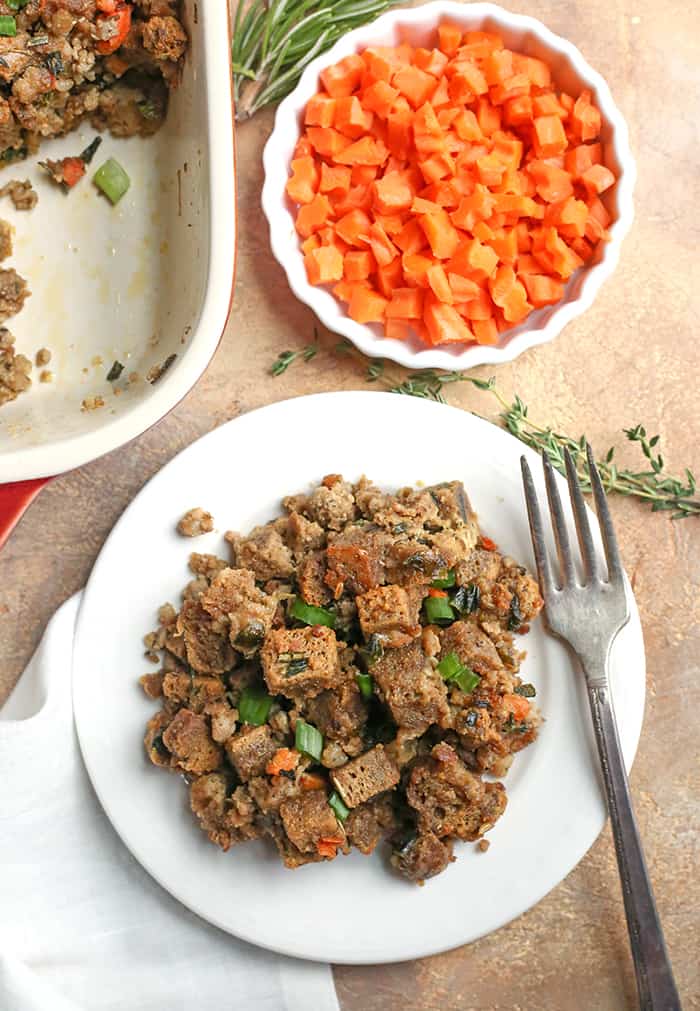 This stuffing is a must for your Thanksgiving table! A hearty, comforting side dish that everyone will love.
CLICK HERE for all my Paleo Thanksgiving recipes including turkey, gravy, mashed potatoes, green bean casserole, and desserts.
Hungry for more? Subscribe to my newsletter and follow along on Facebook, Pinterest and Instagram for all of the latest updates.
Paleo Low Carb Sausage Stuffing
Instructions
Preheat the oven to 300° and line a large baking sheet with parchment paper. Set aside.

Cut the Paleo Bread into small ½ inch cubes. Make sure they are all about the same size. Spread evenly on the baking sheet and cook for 35 minutes, stirring every 10 minutes.

While the bread toasts, cook the Italian Sausage. Brown in a pan over medium heat until cooked through. Stir regularly to break up. Drain excess fat if needed and place in a large bowl.

Make the carrot mixture. You can make this at the same time as the sausage if you want, or after. Add the garlic oil, carrots, green onion, thyme, rosemary, sage, salt and pepper to a large skillet and cook over medium heat for 5 minutes.

Add 1 cup of broth and cook another 5 minutes, until the carrots are tender. Turn off the heat and add that mixture to the same large bowl with the sausage.

Once the bread is done toasting, remove it and increase the oven temperature to 350°. Grease a 8x11 pan (2 quart) and set aside.

Add the toasted bread to the large bowl and gently stir to combine. Add in the beaten eggs and extra broth as needed. Stir carefully so you don't break up the bread. You want the mixture to be moist, but not soggy.

Dump mixture into prepared pan and bake for 30 minutes.