This Paleo Nut-Free Low Carb Bread is super easy to make and so delicious! It is moist with a crunchy crust and ready for all your favorite toppings. Gluten free, dairy free, flourless, low carb, and low fodmap.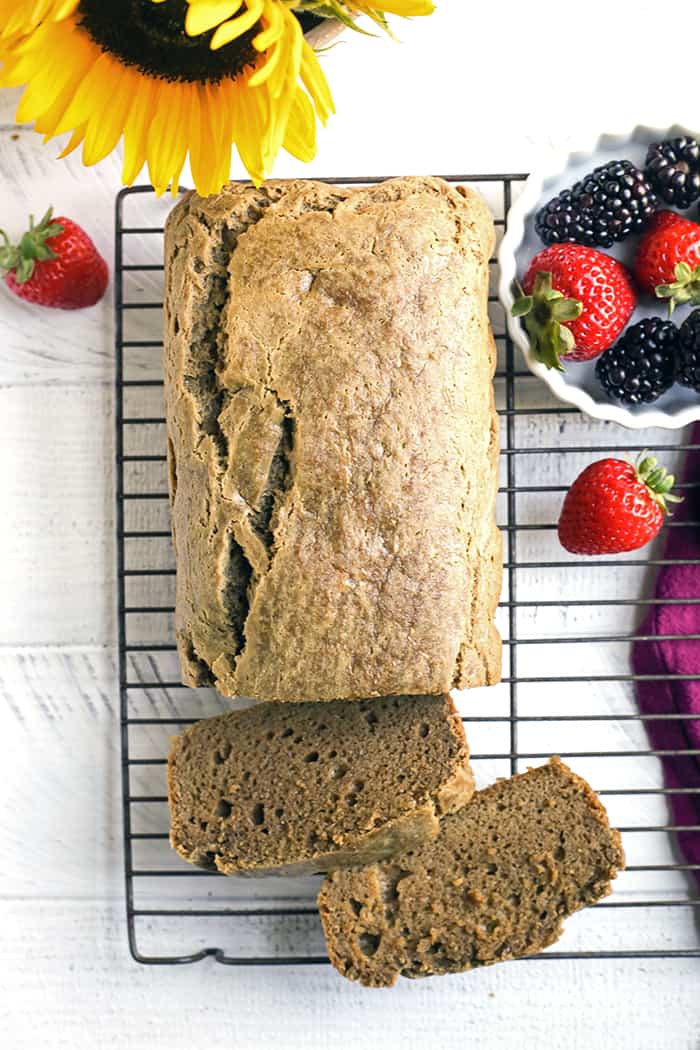 This post is sponsored on behalf of SunButter. All opinions are 100% my own, of course! Thank you for supporting brands that help make Real Food with Jessica possible!
This bread is amazing and I'm so excited to share it with you! I made it 3 times in 4 days and not one piece went to waste. I have seen other paleo bread recipes, but haven't wanted to try them because I hate getting my blender out and will only do so if I have to. I am all about hand mixing and that is what this bread is. So easy, all mixed in one bowl, no special tools required, made in just minutes. Using SunButter keeps it so easy!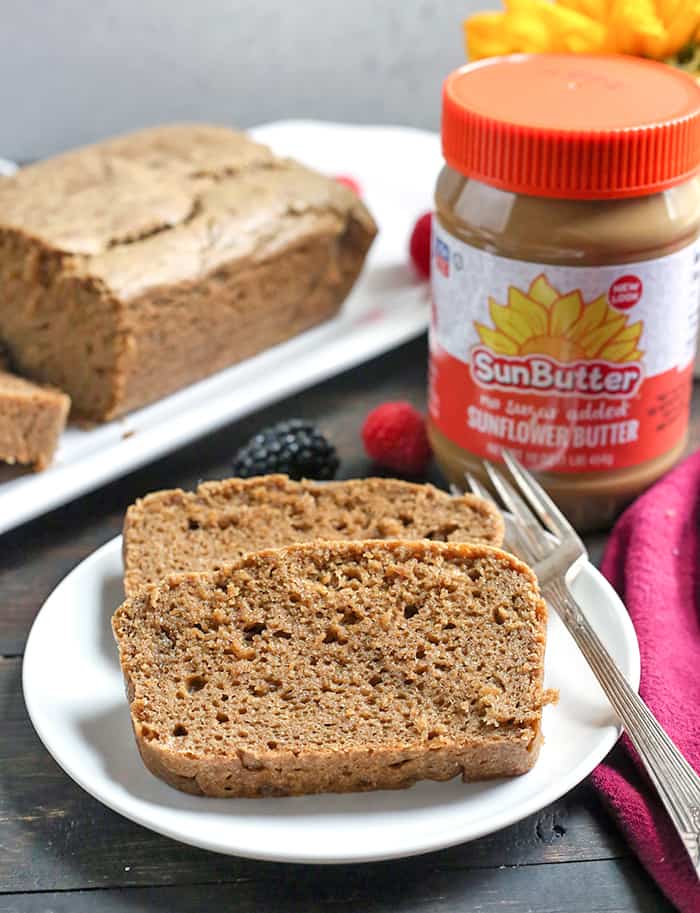 The texture is perfect. Moist, a little chewy, not eggy or dry at all. It almost has a banana bread-like texture, but different flavor. The SunButter is mild and not overpowering and the perfect base for toppings or even if you wanted to add a little sweetener. It's toasts up wonderfully and is great with some ghee on it.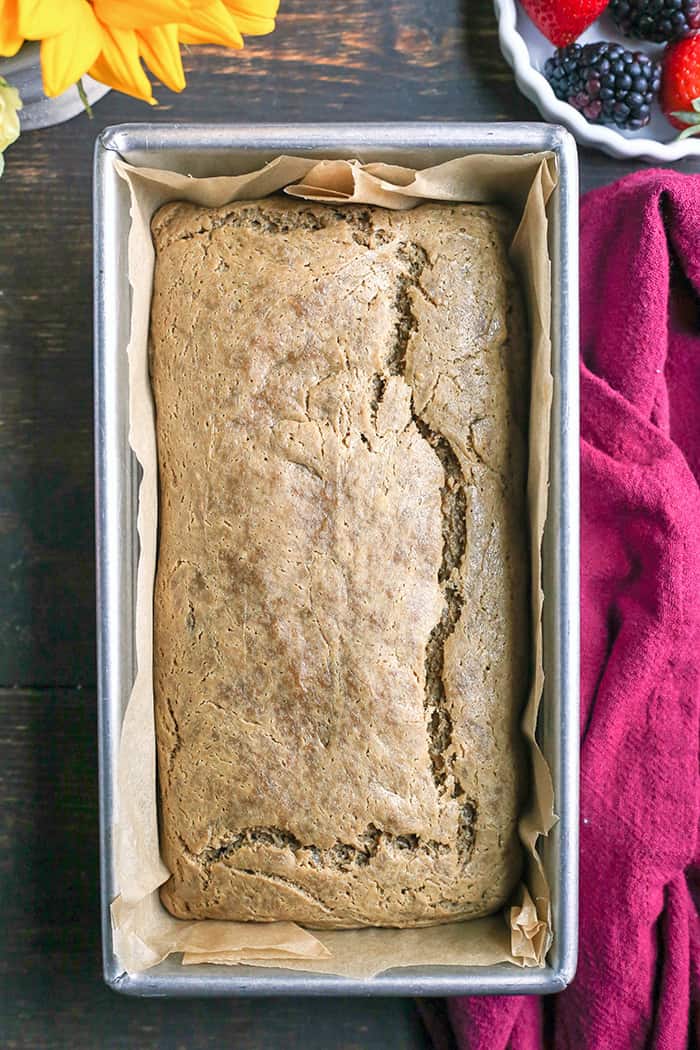 Nut Free
I am always getting requests for nut free recipes. I love baking with almond flour, but my husband can't have it at all and I do best when I limit it. Using SunButter means we can both enjoy as much as we want. Of course this would be perfect for anyone with a nut allergy or for your child to take to school.
I know I'll get asked if something can be used in place of the collagen and the answer is maybe. I made this 5 times to get it perfect so I didn't test out other ingredients. Let me know if another ingredient works for you.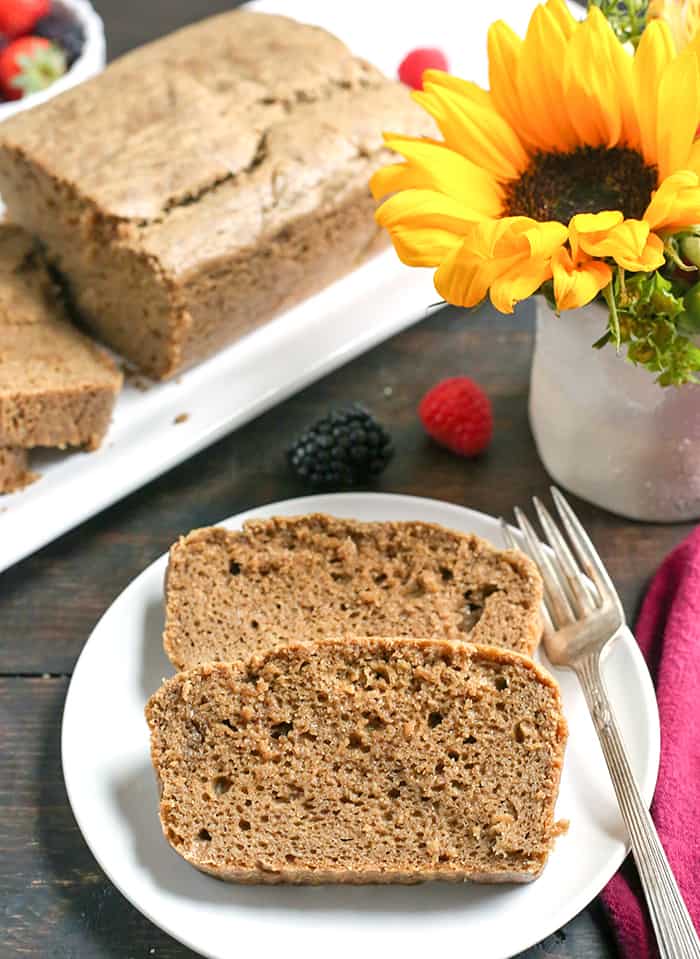 Baking Powder not Baking Soda
One big mistake, if you want to call it that, was the first time I tried this recipe I used baking soda and the loaf turned green. I knew this was a characteristic of SunButter, but I thought since I added vinegar it would be okay. It wasn't, but it still tasted delicious. We ate that loaf and I researched how to fix it: baking powder. That sounds easy, but baking powder is not paleo. So I made a paleo version and I promise it's easy and totally worth it for this recipe. If you are just gluten free then find a good one you like, but I will include the baking powder recipe for those that need it. It makes enough for at least 5 loaves.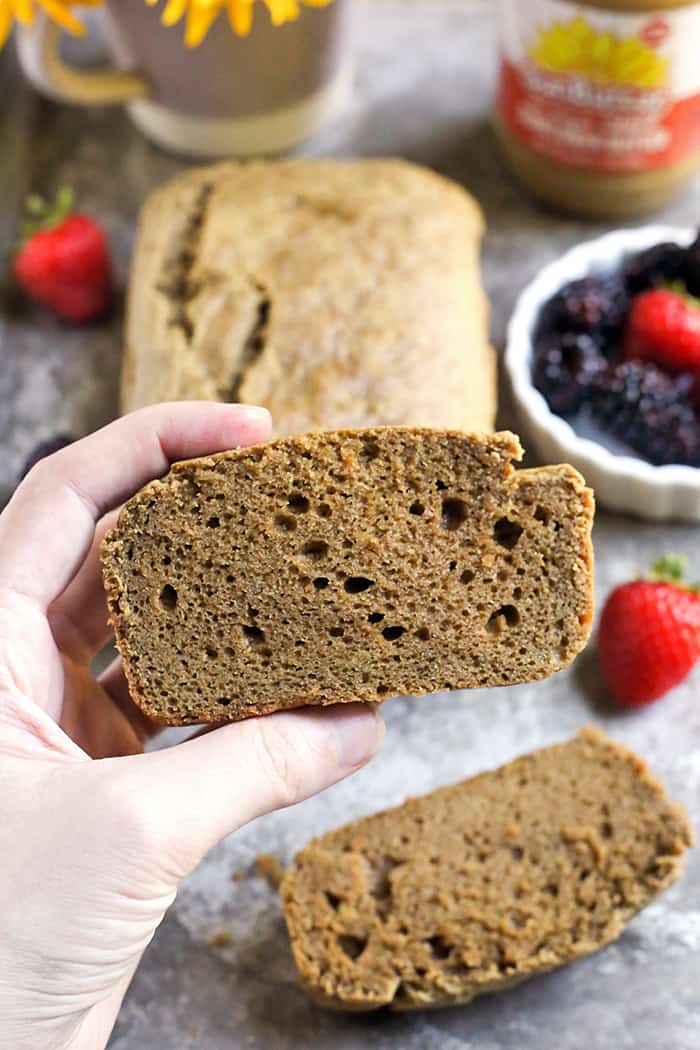 Low Carb Bread
Since this bread is flourless and uses No Sugar Added SunButter as the base, it is low carb. And I'm actually going to share the nutritional facts which I never do because that only seems fair if I'm labeling it low carb. This is if you cut it into 12 pieces. Calories:194, Fat:16g, Carbs:3g, Fiber:1g, Sugar:1g, Protein:10g It is quite a hearty bread that will keep you full.
I think you will love this bread as much as my family does. It is simple, hearty, and so tasty! It would go perfect along side some soup or toasted up for breakfast.
Hungry for more? Subscribe to my newsletter and follow along on Facebook, Pinterest and Instagram for all of the latest updates.
Paleo Nut-Free Low Carb Bread
Instructions
Preheat the oven to 325° and line a 8.5x4.5 loaf pan with parchment paper. You can also use a 9X5 and the bread will just not be as tall.

In a medium bowl, combine the SunButter, water, eggs, and ghee. Mix well. The mixture will be sticky and take a little mixing to come together, but it will be smooth after about several stirs.

Add in the collagen, salt, and baking powder and mix again. Add in the vinegar and stir and then pour into the prepared pan. The dough will be thick and scoop-able. Spread as evenly as possible and bake 35 minutes.

Serve warm if desired, store leftovers in an airtight container on the counter then in the fridge after 2 days.
Nutrition Information
Calories: 201kcal (10%)Carbohydrates: 6g (2%)Protein: 15g (30%)Fat: 14g (22%)Saturated Fat: 3g (19%)Polyunsaturated Fat: 0.3gMonounsaturated Fat: 1gTrans Fat: 0.01gCholesterol: 53mg (18%)Sodium: 97mg (4%)Potassium: 33mg (1%)Sugar: 0.05gVitamin A: 79IU (2%)Vitamin C: 1mg (1%)Calcium: 34mg (3%)Iron: 1mg (6%)
Hungry for more? Subscribe to my newsletter and follow along on Facebook, Pinterest and Instagram for all of the latest updates.
Paleo Baking Powder
Instructions
Mix all together and store in a small air-tight container.