This Paleo Whole30 10 Minute Gravy is so simple and perfect for topping turkey and mashed potatoes. Made with just 4 ingredients and so flavorful. Dairy free, gluten free, and just as delicious as traditional gravy.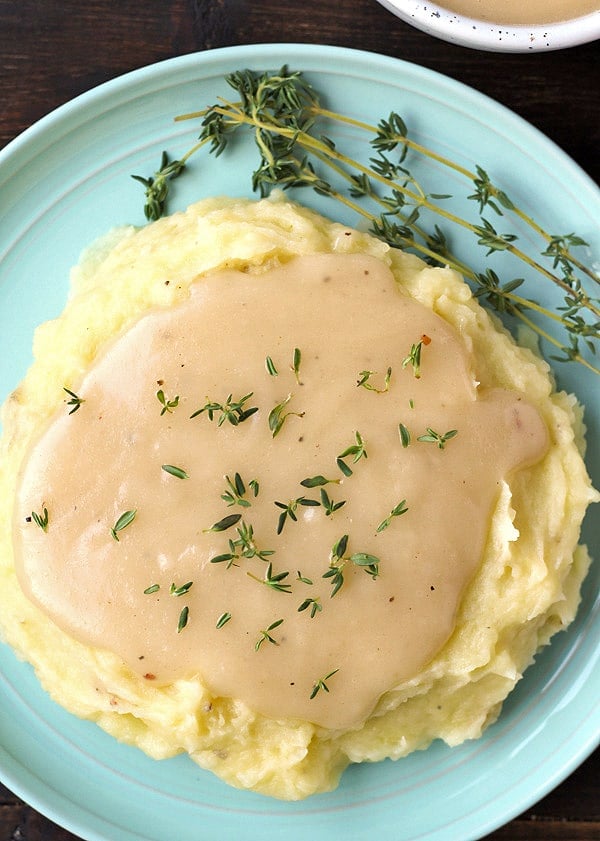 You can't have Paleo Whole30 Roasted Turkey and Paleo Whole30 Mashed Potatoes without some good gravy. This one is smooth, thick, and incredibly easy to make.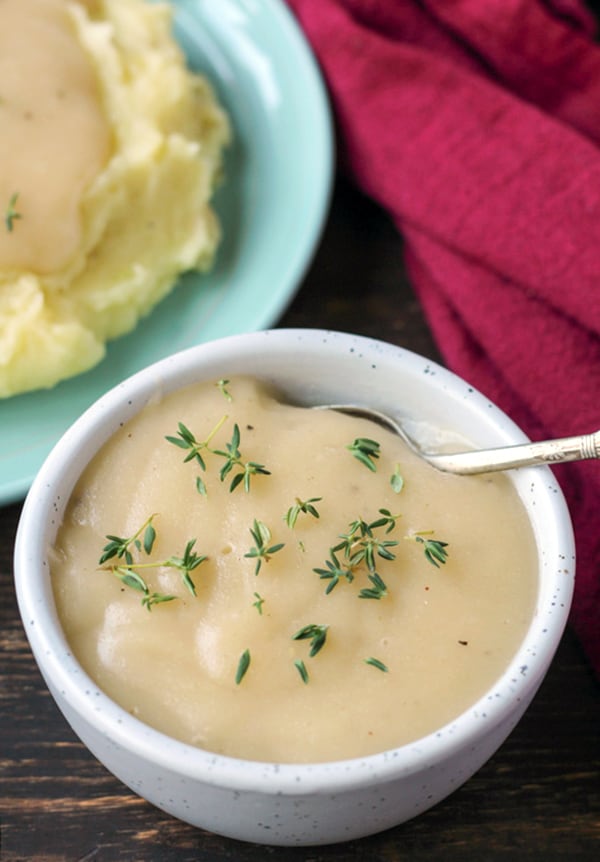 The four ingredients of this gravy are ghee, cassava flour, bone broth and salt & pepper. Now you have some options here with the broth. Bone broth is super easy to make, but does take a little time and planning ahead. There are some good brands now that are easily found in stores. The nice thing about using broth is you don't have to wait until the turkey is done cooking to make the gravy. It can actually be made ahead of time and reheated on the stove.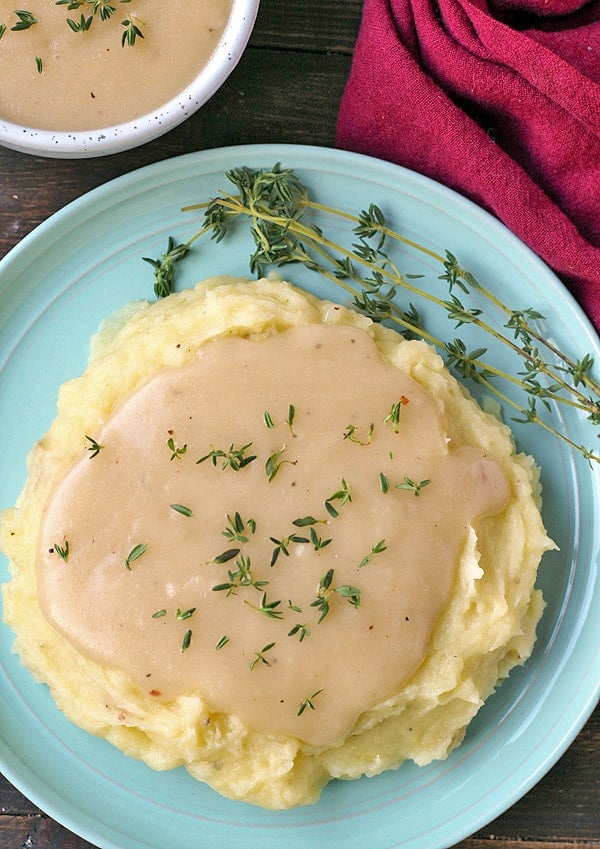 I had to make homemade broth since my husband is still not doing onions or garlic and every brand contains those ingredients. If you're needing low FODMAP, like us, use a whole chicken, green onions, fresh herbs, carrots, and garlic oil. Let cook for 40 minutes with the chicken, remove chicken and keep cooking for another 30 minutes. Strain and store in fridge.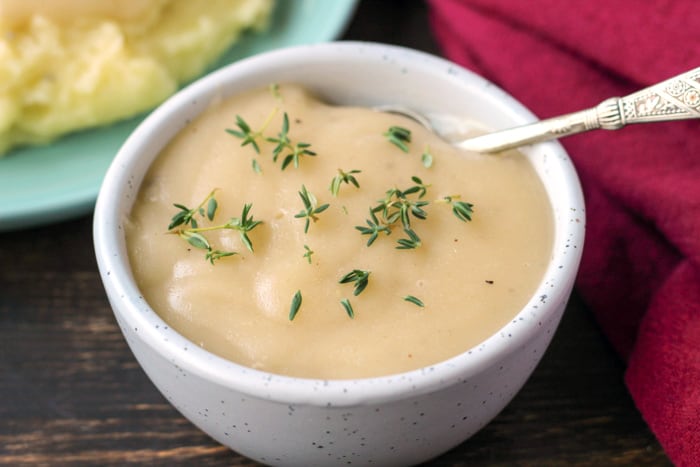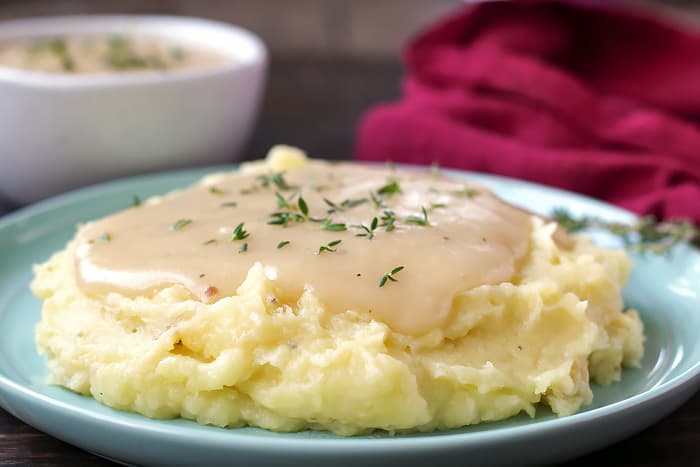 Cassava flour (here is the brand I love) acts so much like regular flour so it makes this gravy super easy. The ghee (or grass-fed butter) is mixed with the flour until it combined and cooked a little. Then the broth is added and whisked until thickened. That's the most time consuming part- whisking for about 6 minutes until it's creamy and spoonable.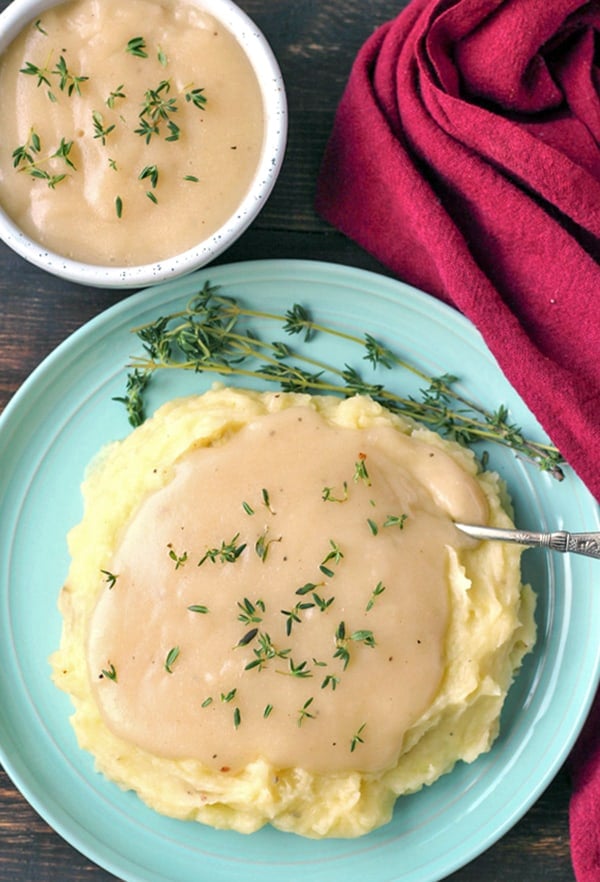 The salt and pepper is to taste since that will vary greatly depending on the broth you use. Just taste as you go.
Ditch the jar in place of this super simple homemade gravy. You will love it and it's ready in 10 minutes.
Here are my other Thanksgiving Day recipes: Paleo Whole30 Roasted Turkey, Paleo Sweet Potato Casserole, Paleo Whole30 Mashed Potatoes, Paleo Whole30 Green Bean Casserole, Paleo Pumpkin Coffee Cake, Paleo Pumpkin Pie Bars.
Hungry for more? Subscribe to my newsletter and follow along on Facebook, Pinterest and Instagram for all of the latest updates.
Paleo Whole30 10-Minute Gravy
Ingredients
½ cup grass-fed butter or ghee (for Whole30)
½ cup cassava flour
4 cups bone broth store bought or homemade
salt and peper to taste
Instructions
In a medium sauce pan, combine the ghee and cassava flour over medium-low heat, stirring constantly until fully mixed. Cook for about 1 minute once mixed to help the flour taste cook off.

Add in the broth, turn the heat to medium, and whisk continuously until the mixture thickens up. This should take about 6 minutes. If you're making a half batch it won't take as long.

Season with salt and pepper to taste.
Nutrition Information
Calories: 113kcal (6%)Carbohydrates: 5g (2%)Protein: 4g (8%)Fat: 9g (14%)Saturated Fat: 6g (38%)Polyunsaturated Fat: 0.3gMonounsaturated Fat: 3gCholesterol: 23mg (8%)Sodium: 36mg (2%)Potassium: 1mgFiber: 0.1gSugar: 0.2gVitamin C: 0.3mgCalcium: 9mg (1%)Iron: 0.3mg (2%)