This guide on how to make bone broth is so easy and so helpful. It tastes amazing and has many health benefits. I always have some in my fridge, not only for drinking, but also for making meals come together quickly.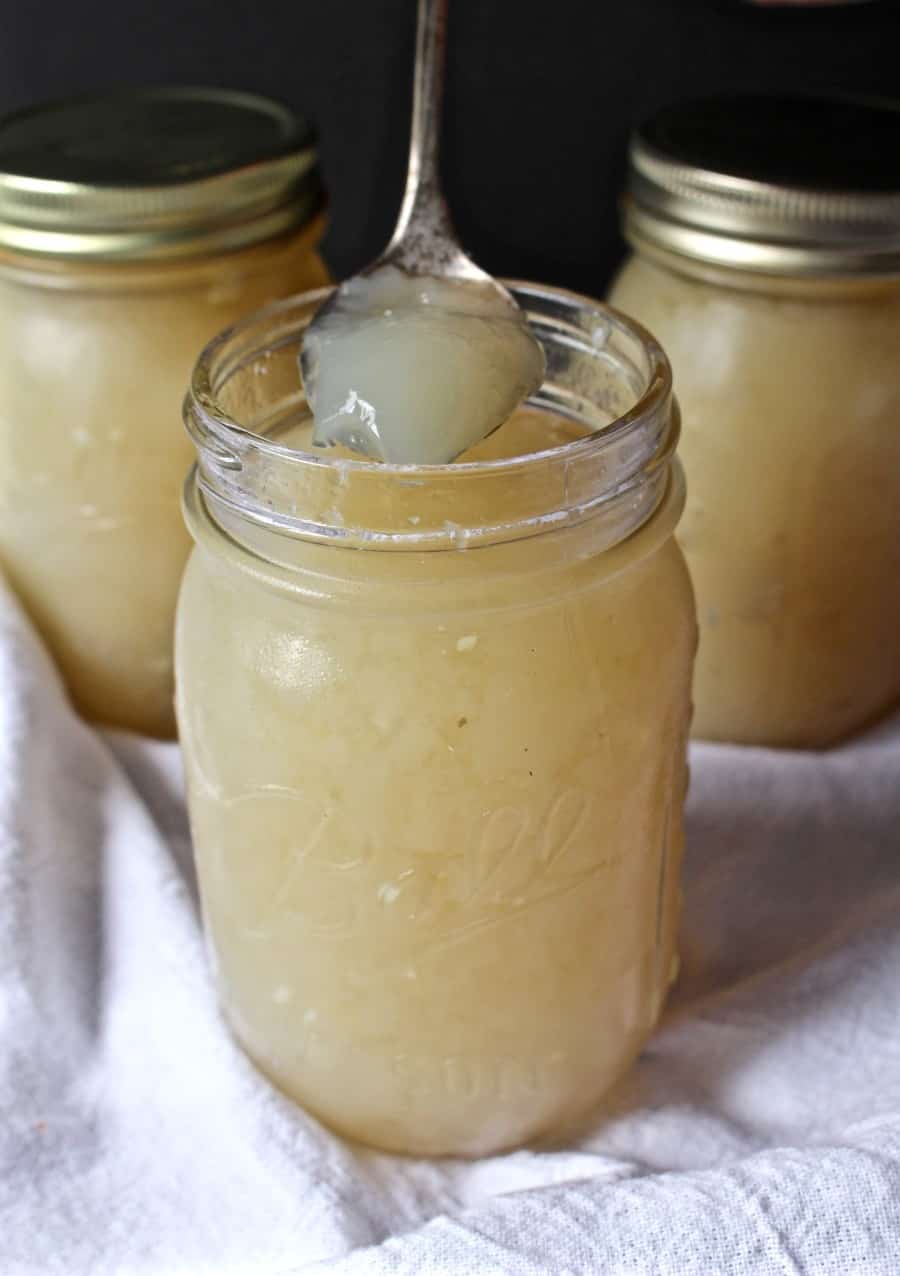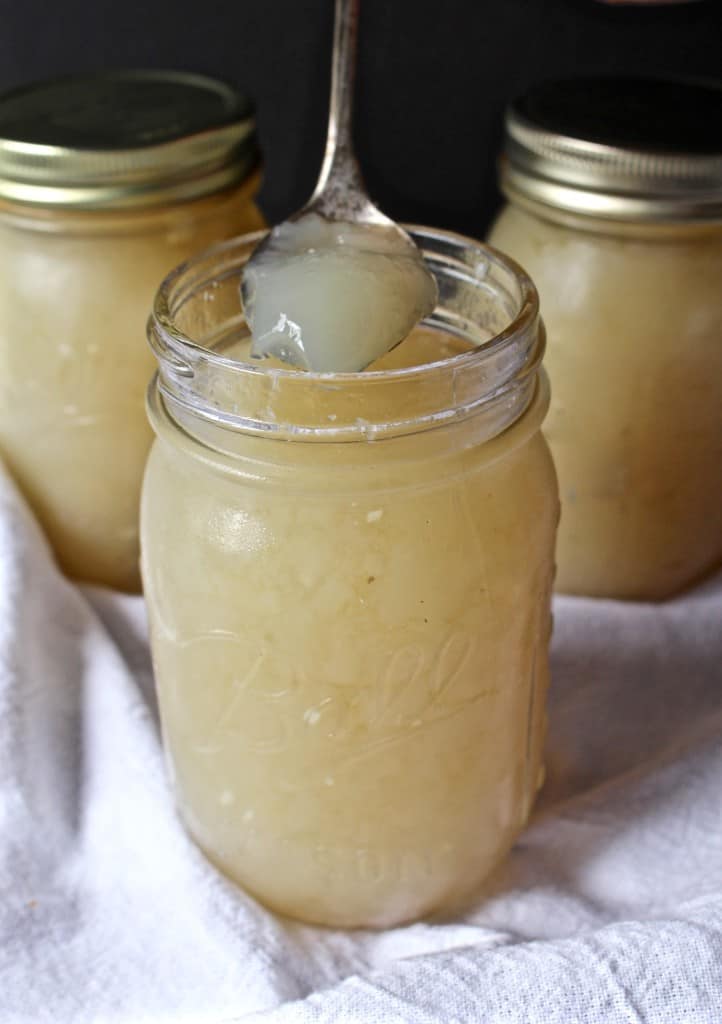 Now that you know how to poach a chicken, you have the start of some delicious broth. Don't dump all that out! Remove the meat and put the bones back in the broth and keep cooking as long as possible. I usually do this on the weekend and let it simmer until an hour before bed.
I am not claiming to be a health expert, but here are some health benefits from drinking bone broth:
Reduces joint and muscle pain
Fights infections
Reduces inflammation
Helps digestion
Strengthens bones, joints, and ligaments and helps with arthritis
Helps to heal autoimmune disorders
Smoothes skin and helps eliminate cellulite (from the collagen)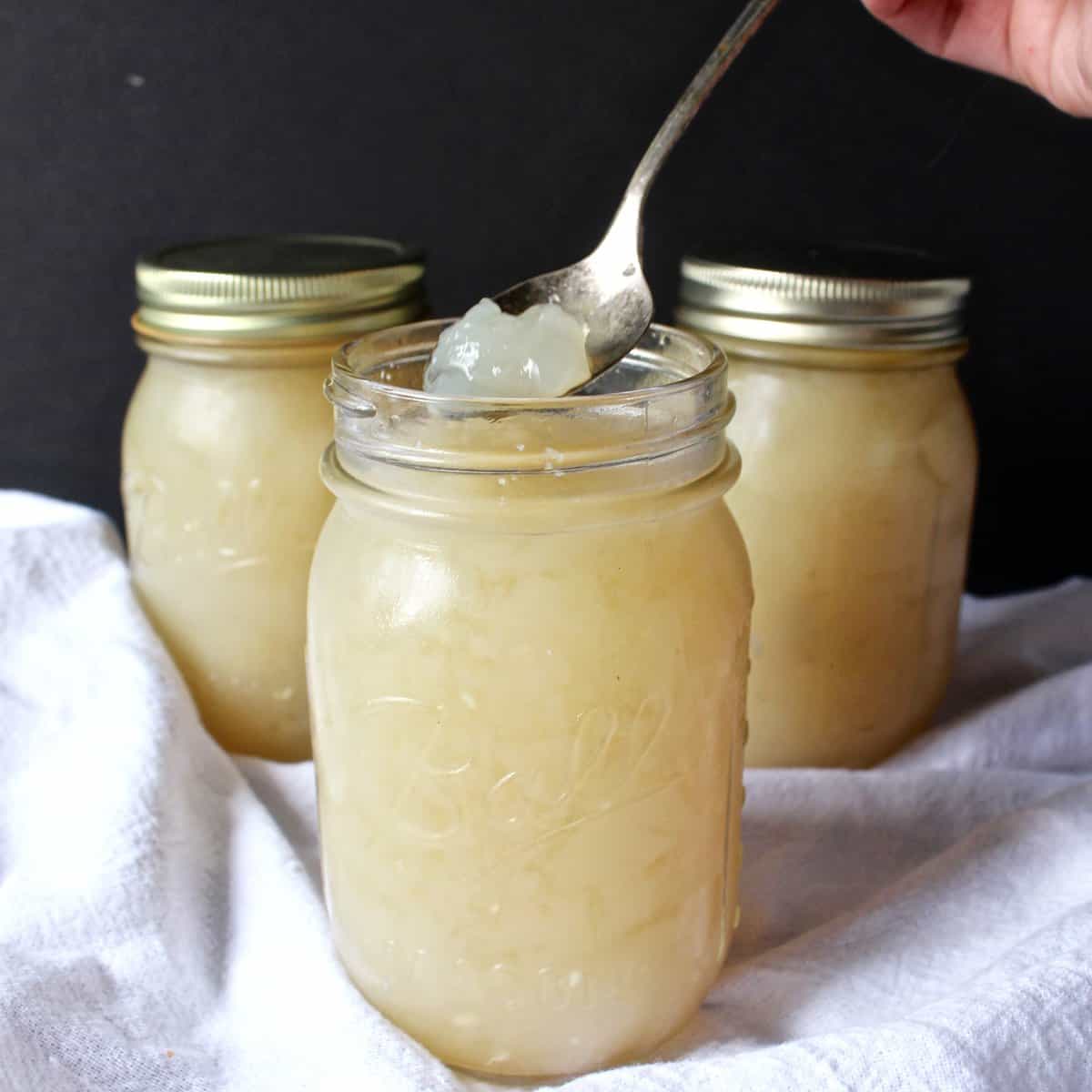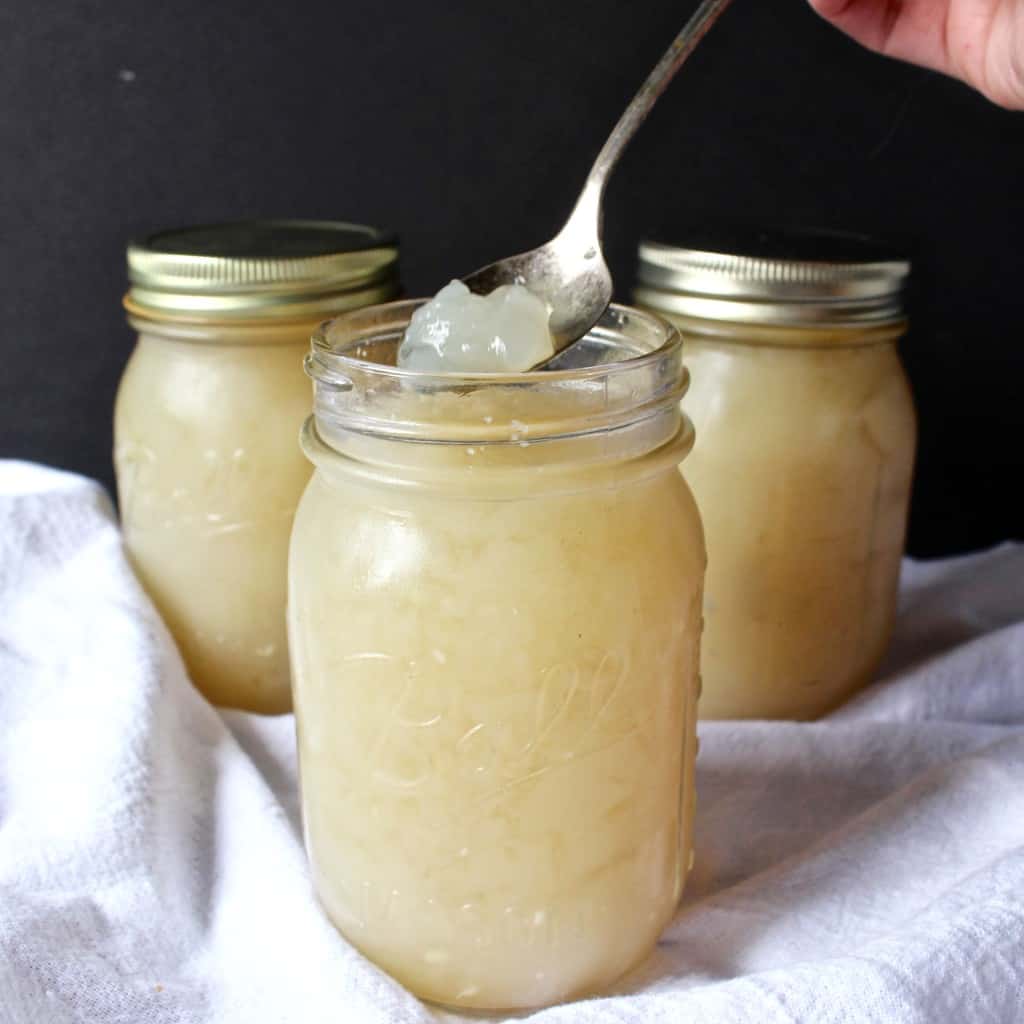 Bone Broth Details
What bones?- I mainly use chicken and beef bones, but lamb, pork, and turkey can also be used. I like adding chicken feet to mine which really helps it gel.
Reuse the bones- you can use bones up to three times. I usually don't do this with chicken because I don't have room for them in the freezer, but I always use my beef bones again. I just let them cool, then put them in a gallon bag back in the freezer.
Add vinegar- vinegar plays an important role. Adding it helps draw all the minerals from the bones as they cook. You will notice the bones breaking down as time passes- that is exactly what you want to happen.
Low and Slow- a low and slow process is best for extracting all the nutrients from the bones. 
Fat removal-After it is done cooking, I strain it in to a large bowl and refrigerate over night. The next day, I remove the fat from the top and discard it. This is optional, but I find the broth to be a little greasy when I leave it.
Storage- after I remove the fat I divide it up into mason jars using a large spoon and store it in the fridge that way. That makes drinking it so much easier because it is already portioned out and ready to be warmed up.
Freeze- if you have more broth than you'll drink or use, freeze it for later. I like putting it in a mini muffin tin so it freezes in disks. Once froze, I put them in a quart bag. They can then easily be added to dishes or warmed up to drink. 
Better than store bought- not only is this broth much tastier, but it is also much healthier. Store bought broth can have gluten, msg, and other preservatives in it. It doesn't have the health benefits of homemade and is much more expensive. Homemade is the way to go!
*You can also make it in the slow cooker. Add the bones and cook 24-48 hours. My slow cooker automatically turns to warm after 10 hours, so I just reset it every time it does that. This is a great way to make it without worrying about being home.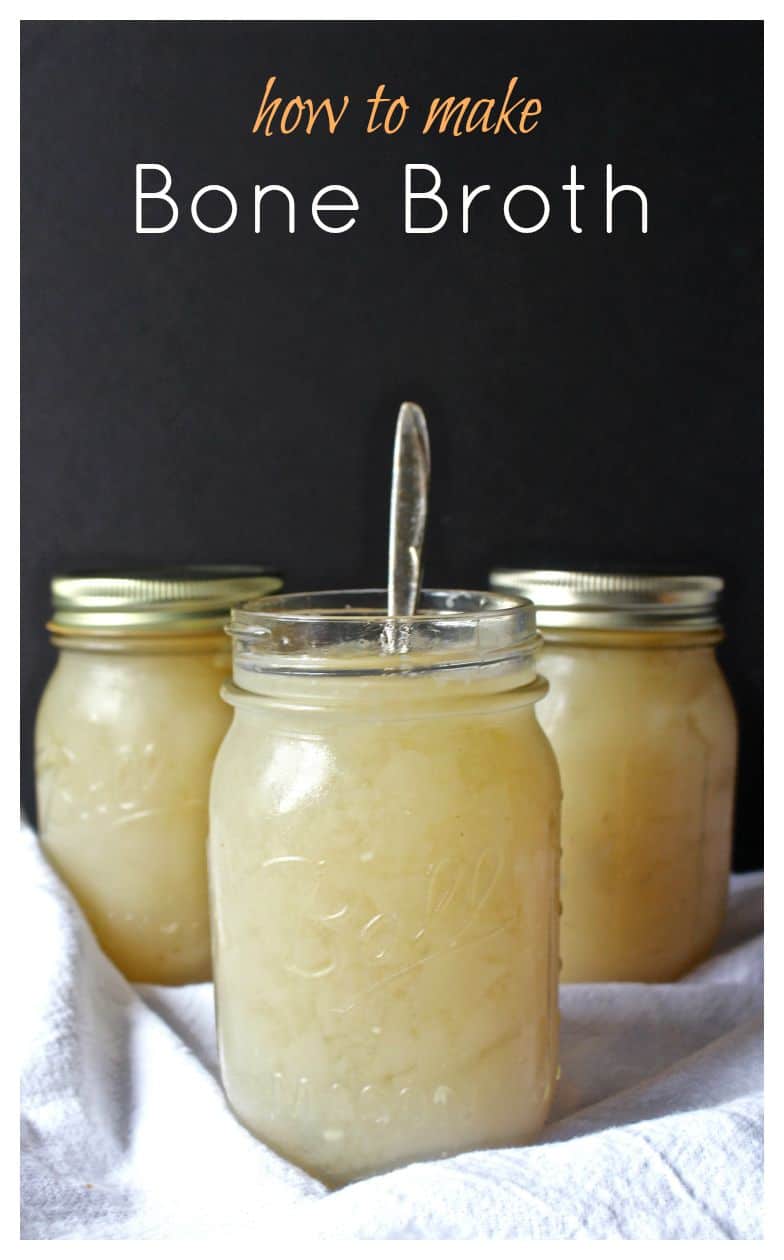 Besides just drinking it, here are some recipes I use bone broth in:
Hungry for more? Subscribe to my newsletter and follow along on Facebook, Pinterest and Instagram for all of the latest updates.
How To Make Bone Broth
Ingredients
Bones from 1 or 2 chickens feet if possible, or 2-3 lbs of beef bones
1-2 onions
4-5 garlic cloves
rosemary or thyme optional
2 tablespoons coconut vinegar or apple cider vinegar
Salt to taste
Just enough water to cover all ingredients
Instructions
Place all ingredients in a large stockpot and bring to a boil.

Reduce to simmer and cook on low for 8 hours minimum, but as long as possible. I like to start it in the morning and let it cook all day.

Once done cooking, remove the bones and let cool to use again. Once cool, place in a gallon zip bag and freeze.

Place a fine mesh strainer over a large bowl and carefully pour the broth through the strainer. Discard all the solid bits.

Cover and refrigerate overnight.

Once fully cooled, a layer of fat will be on the top. I always remove it and throw it away, but that is optional.

Divide into mason jars and store in the fridge.

This can also be frozen. I like freezing it in a mini muffin tin, then once frozen, putting them in a quart size bag. This makes adding them to dishes very easy.
Nutrition Information
Calories: 6kcalCarbohydrates: 1gProtein: 0.2gFat: 0.02gSaturated Fat: 0.01gPolyunsaturated Fat: 0.01gMonounsaturated Fat: 0.001gSodium: 1mgPotassium: 21mg (1%)Fiber: 0.2g (1%)Sugar: 0.5g (1%)Vitamin A: 0.3IUVitamin C: 1mg (1%)Calcium: 5mg (1%)Iron: 0.04mg