This Paleo Vegan Pumpkin Cheesecake is super creamy with a graham cracker-like crust and a filling made with cashews. It is gluten free, dairy free, vegan, naturally sweetened and almost completely no-bake. A dessert everyone will love.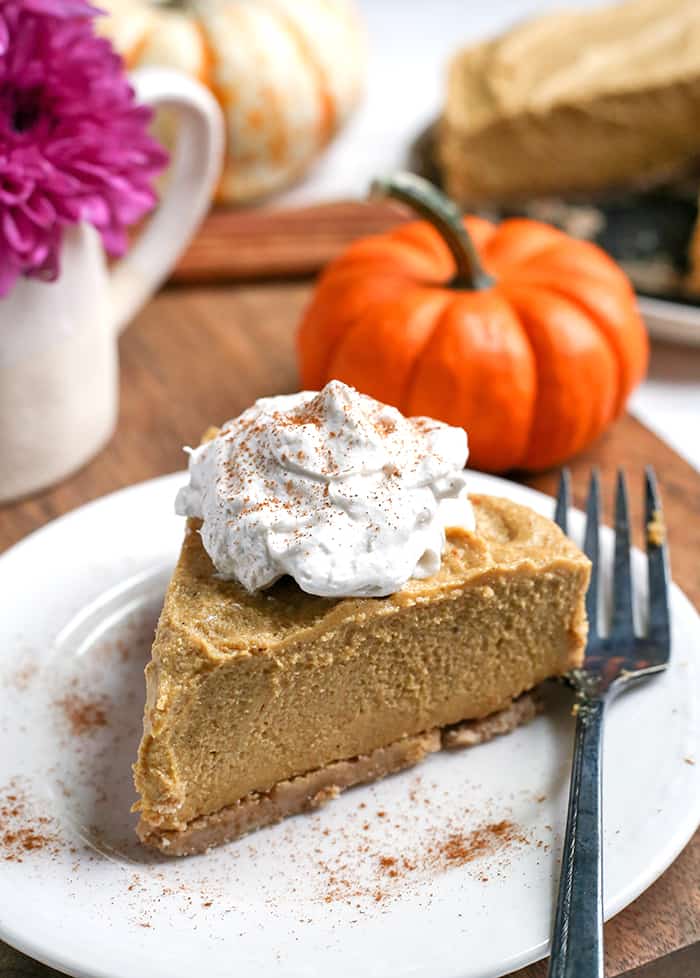 Hello September! I am so happy fall is here (unofficially), even if it does stay hot for another month. I am ready for all things pumpkin and apples. Starting with this tasty dessert.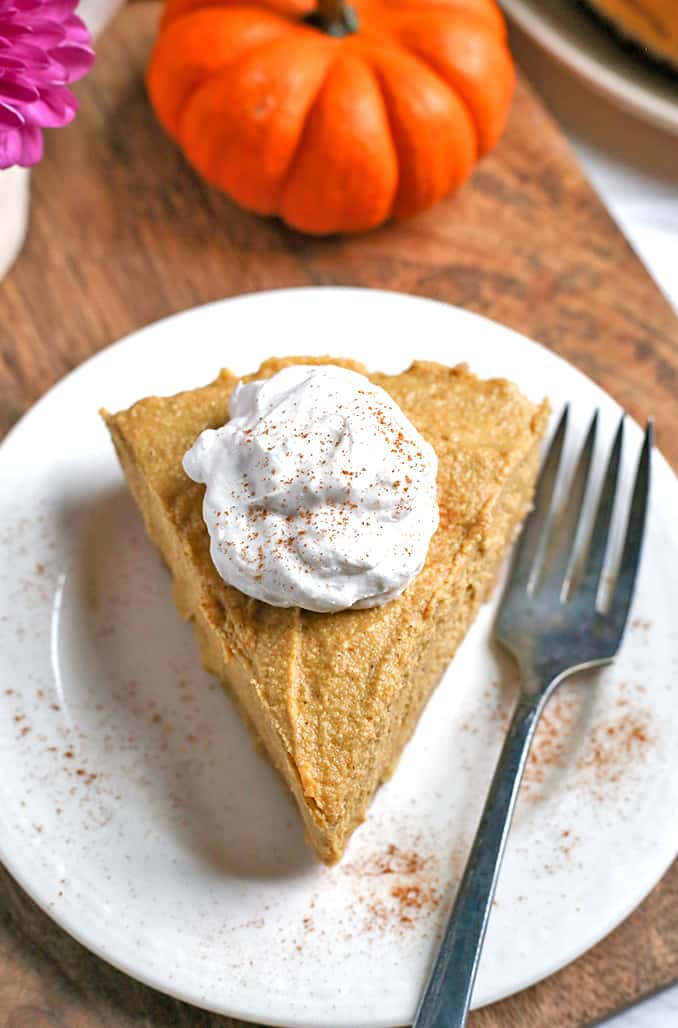 This pumpkin cheesecake is amazing and you will absolutely love it! Let's talk about the super easy layers. First the crust. I decided on a graham cracker-like crust because pumpkin and graham cracker just go together. You do have to bake it for 7 minutes though so if you're wanting this to be completely no-bake then you can use the crust from THIS cheesecake I made. It's a combination of nuts and dates blended up.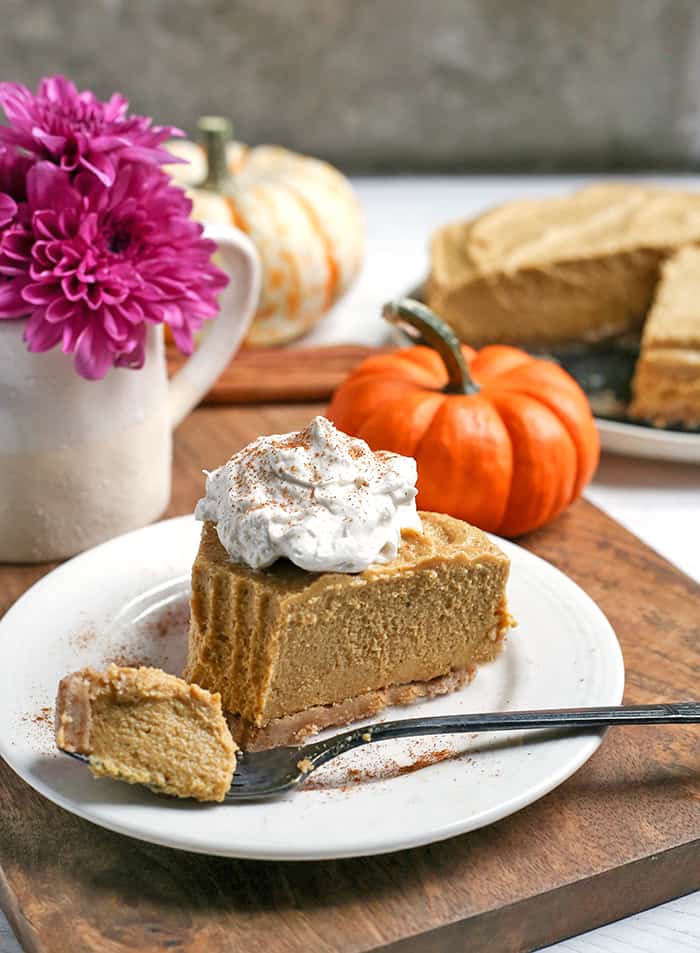 Next is the super creamy cheesecake layer. I am sure you are no stranger to cashew-based cheesecake and that is exactly what this is. Soak some cashews over night and then blend with the pumpkin, maple syrup, and spices and you have a thick, creamy filling that is so perfect. It reminds me a lot of pumpkin pie- in taste and texture, but there is no baking involved which is so nice. A little note about the vinegar which may seem like a weird ingredient. I tried the mixture before adding it and it was missing that classic tang like cream cheese gives, so a little vinegar gives the filling just the slightest tang making it taste more like cheesecake.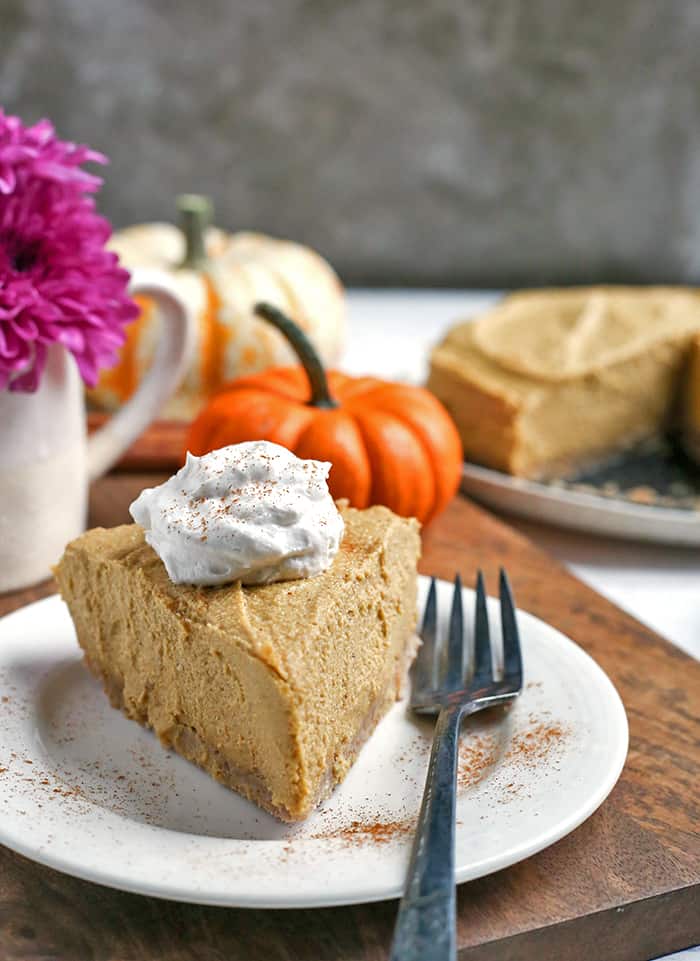 Vegan, Dairy Free, Egg Free and Naturally Sweetened
This cheesecake is vegan since there are no dairy or eggs used. The crust does call for coconut oil or ghee, so use coconut oil to keep it vegan. I tried it both ways and they're both good. It's dairy free by using soaked cashews instead of cream cheese for the cheesecake part. You will not miss the dairy- I promise! It's naturally sweetened with just maple syrup which is my favorite sweetener to use with pumpkin.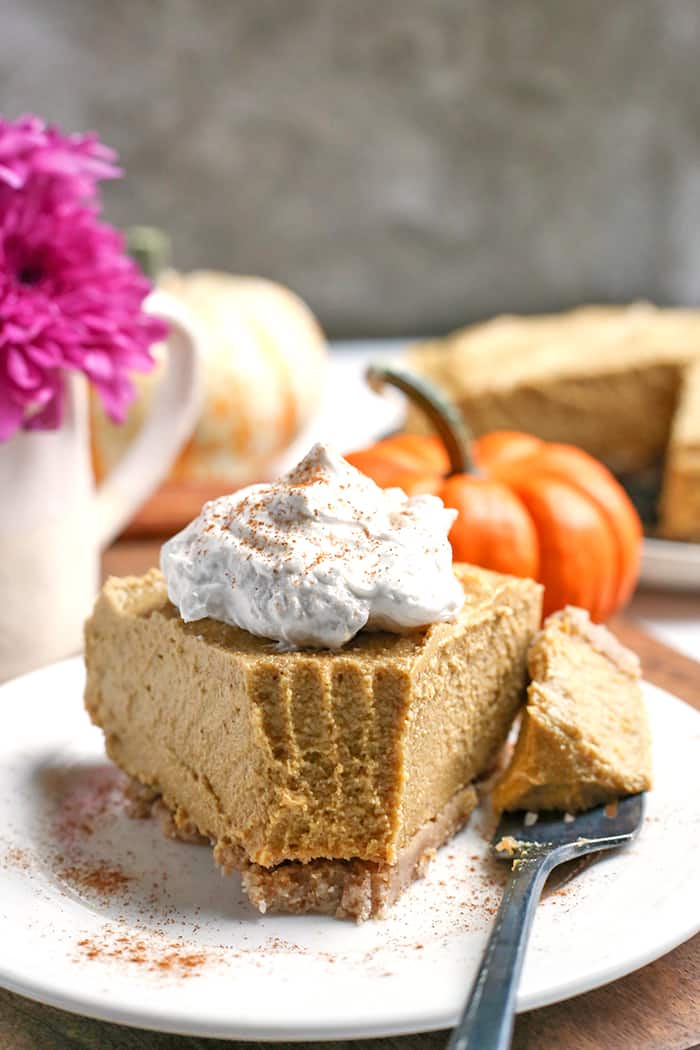 You can see that the crust separated from the filling a little and that was completely my fault. You'll want to cut it when it's cold- straight from the fridge. I had it sitting out for a little while setting up for the pictures and it got a little too soft. The pieces I cut cold held together perfectly.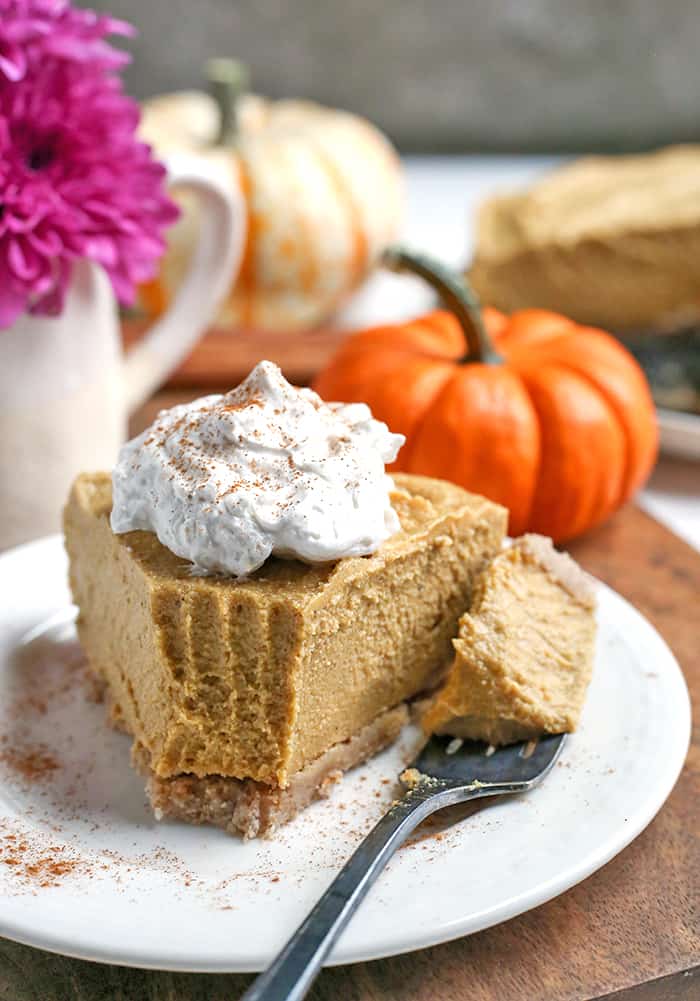 You will love this pumpkin cheesecake because it is easy to make, perfectly sweetened and spiced, and incredibly delicious! Everyone will love it- paleo or not!
A couple tools needed: a 7-inch springform pan and a high powered blender or food processor, I have a Ninja and use the blender attachment.
Looking for more pumpkin recipes? Try my Paleo Pumpkin Coffee Cake, Paleo Pumpkin Muffins, Paleo Pumpkin Pie Bars, and Paleo Pumpkin Chocolate Chip Blondies.
Hungry for more? Subscribe to my newsletter and follow along on Facebook, Pinterest and Instagram for all of the latest updates.
Paleo Pumpkin Cheesecake
Instructions
*Before beginning, make sure you have soaked the cashews 8 hours in cool water or 3-4 hours in warm water. This will ensure a creamy cheesecake.

Preheat oven to 325°

In a small bowl, combine almond flour, coconut sugar, cinnamon, salt, and coconut oil (or ghee). Mix well until mixture holds together when squeezed. Press into the bottom of a 7-inch springform pan. Bake for 7-8 minutes.

While the crust is baking, make the filling. Drain the cashews and place them in the blender. Add the maple syrup, pumpkin, coconut oil, salt, pumpkin pie spice, and vinegar. Blend until completely smooth, stopping and scrapping down the sides as necessary. The timing of this will be different depending on what blender you are using, but it took me 1-2 minutes.

Let crust cool 5-10 minutes after coming out of the oven. Then pour pumpkin mixture into the pan and spread it out evenly. Place in the fridge 6-8 hours before serving.

Store covered in the fridge up to a week.
Nutrition Information
Calories: 660kcal (33%)Carbohydrates: 45g (15%)Protein: 15g (30%)Fat: 51g (78%)Saturated Fat: 17g (106%)Polyunsaturated Fat: 4gMonounsaturated Fat: 13gCholesterol: 22mg (7%)Sodium: 309mg (13%)Potassium: 433mg (12%)Fiber: 6g (25%)Sugar: 24g (27%)Vitamin A: 6357IU (127%)Vitamin C: 2mg (2%)Calcium: 124mg (12%)Iron: 5mg (28%)