These Easy Paleo Biscuits are so delicious, healthy, gluten free, dairy free, and low carb.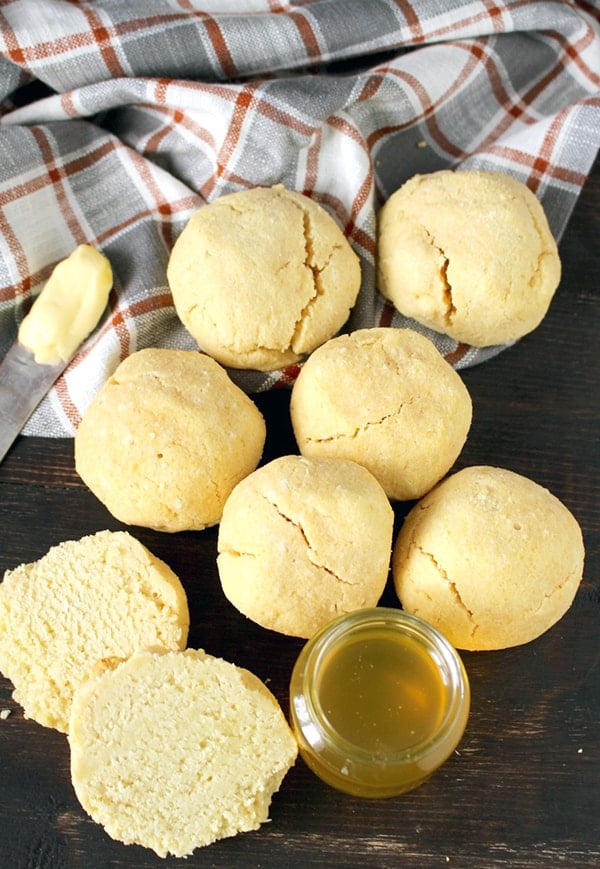 Perfect with dinner or with a little jam for dessert.Oh, these biscuits are so good!! I wanted to make something that would be perfect along side a hearty soup or meal. That's what fall and winter are all about, comfort foods, and that's exactly what these biscuits are! They are so easy to make and are in the oven in just minutes. There is no excuse to not make these for dinner tonight.
Don't let the look of them fool you- they are moist, soft, and light. They are a little delicate, but that won't matter once you take a bite and see how delicious they are. The inside it exactly like a regular biscuit and so perfect. You will love it!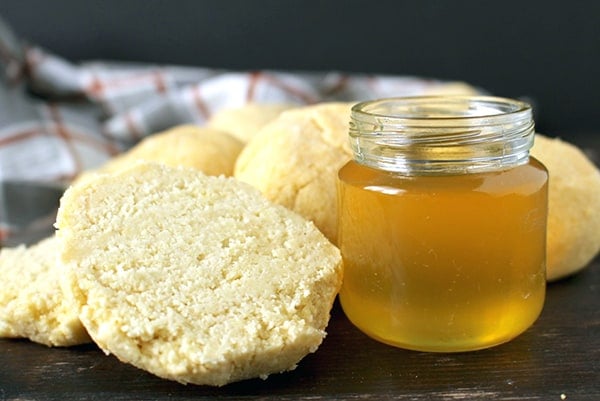 I made a couple batches of these- one with coconut oil and one with Fatworks Pastured Pure Lard. Both worked great, but the ones with lard were more moist and didn't need any ghee after they were baked. Most likely, your grandma used lard in her biscuits and she knew what she was doing. I highly recommend getting your hands on that stuff and using it- you can thank me later. 🙂
I'm thinking these would be perfect for Thanksgiving! Yeah, I know they would. Maybe with some Mashed Cauliflower, Roasted Delicata Squash (what I'm bringing to our meal) and of course the Turkey. Serve some Paleo Pumpkin Coffee Cake for dessert and you have one delicious meal!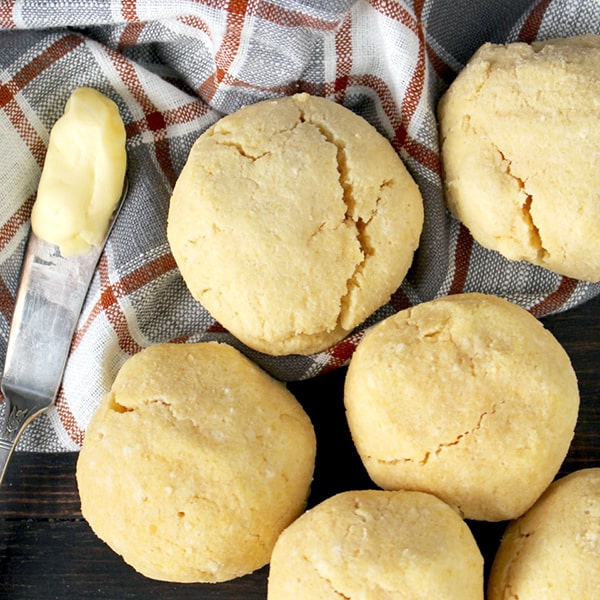 The recipe only makes 4 biscuits- perfect for a small family. So if you're feeding more or if you want leftovers, just double the recipe. I have made a double batch multiple times and I can fit all 8 on one tray at the same time. No changes need to be made with the baking time.
These are the biscuits to make next time you find yourself craving a little bread to go with dinner or breakfast. You will love how easy they are while still being healthy. I hope you have a great Thanksgiving and enjoy time with your family!
Hungry for more? Subscribe to my newsletter and follow along on Facebook, Pinterest and Instagram for all of the latest updates.
Easy Paleo Biscuits
Ingredients
½ cup coconut flour
¼ cup lard or coconut oil
2 large eggs
¼ cup almond milk or coconut milk
½ teaspoon baking soda
¼ teaspoon salt
Instructions
Preheat oven to 350° and line a baking sheet with parchment paper.

In a medium bowl, mix coconut flour and lard (or coconut oil) together until crumbly.

Mix in eggs and almond milk. Stir until smooth.

Add in baking soda and salt and mix well.

Divide mixture into 4 equal portions and roll into balls.

Place on the sheet tray and lightly press down on each one.

Bake for 18-20 minutes.