This simple method of how to cook Delicata Squash will make it easy for you to prepare and enjoy! Uncomplicated and super delicious- this will become your new favorite winter squash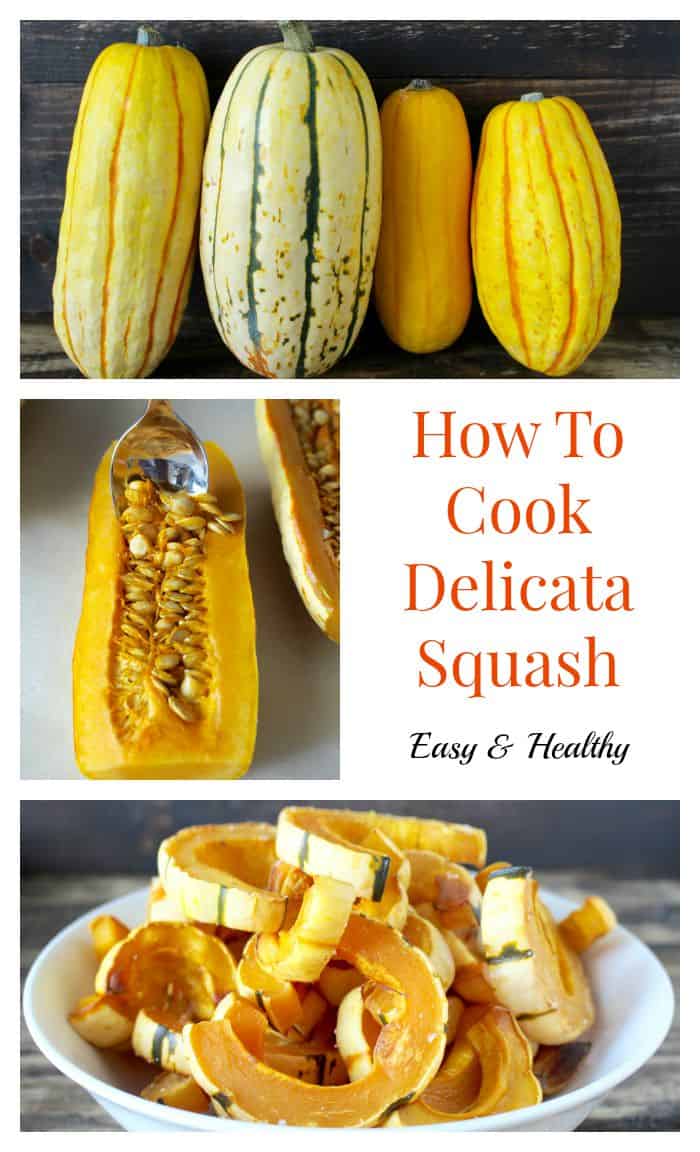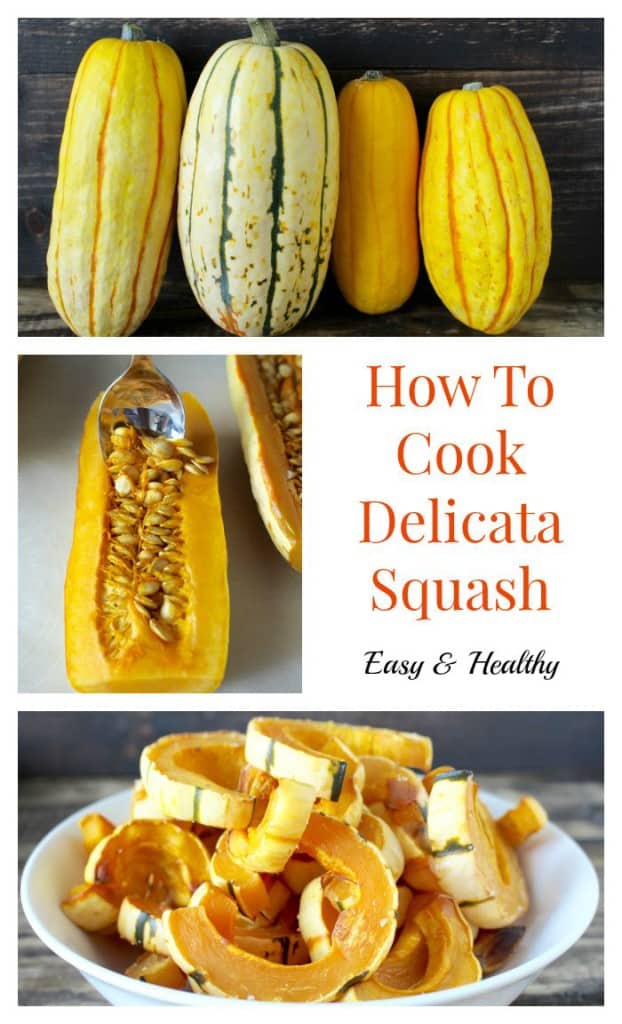 . Delicata is my favorite squash for a couple reasons. First, it's easy to prepare (that's more my reason since he never prepares it). They're on the smaller side which means cutting them aren't as hard as some bigger varieties. Second, it is so delicious!! I never add anything to them except salt and they are so sweet and tasty. The skin is edible which is convenient. Technically the skin on a lot of squash is edible, but it's just not that good. The skin on this is perfect- it gets tender and is easily eaten.
I brought a whole tray of this squash to Thanksgiving last year with my in-laws and everyone loved it! None of them had ever heard of it, but they were amazed how delicious it was. I like how my sister compared it to fries because they are perfect to eat with your hands. Now, I'm not saying they're identical to fries, but they are a fun and healthy alternative!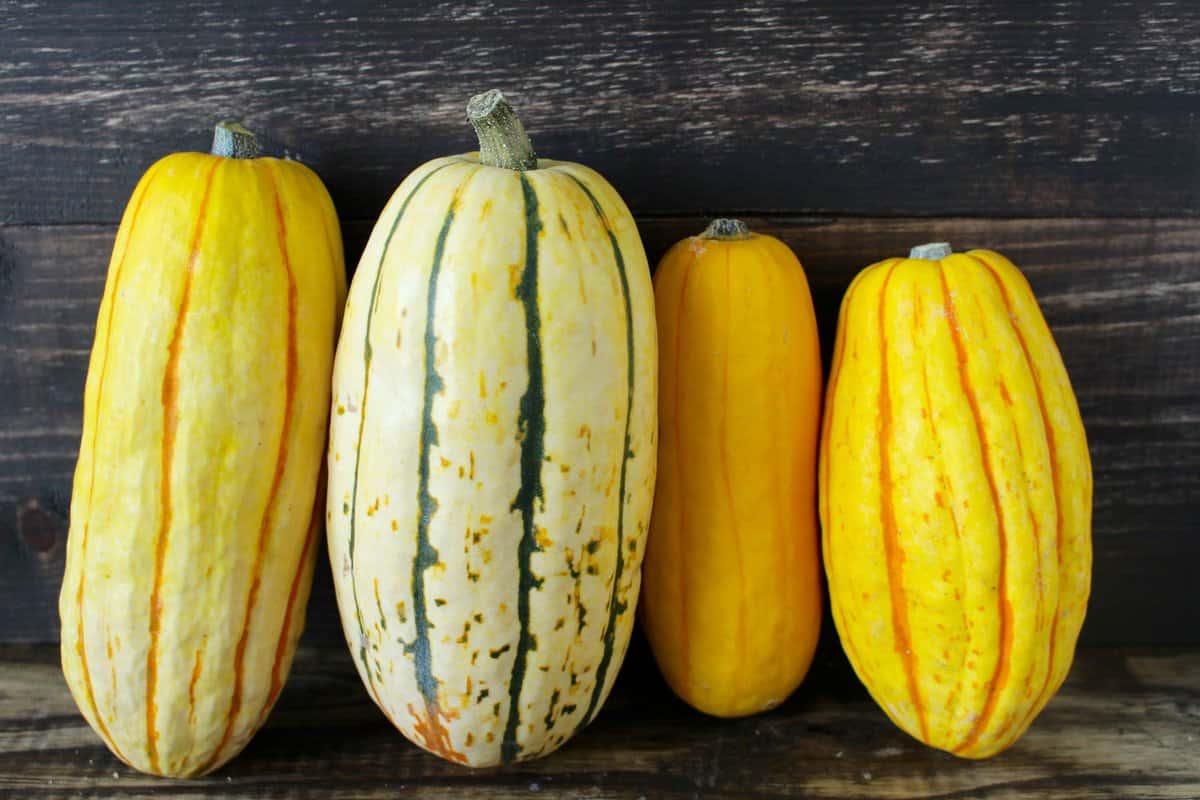 Here is what they look like. They can vary slightly in size and color, but they're pretty small. Those nice little grooves on them make them super easy to cut.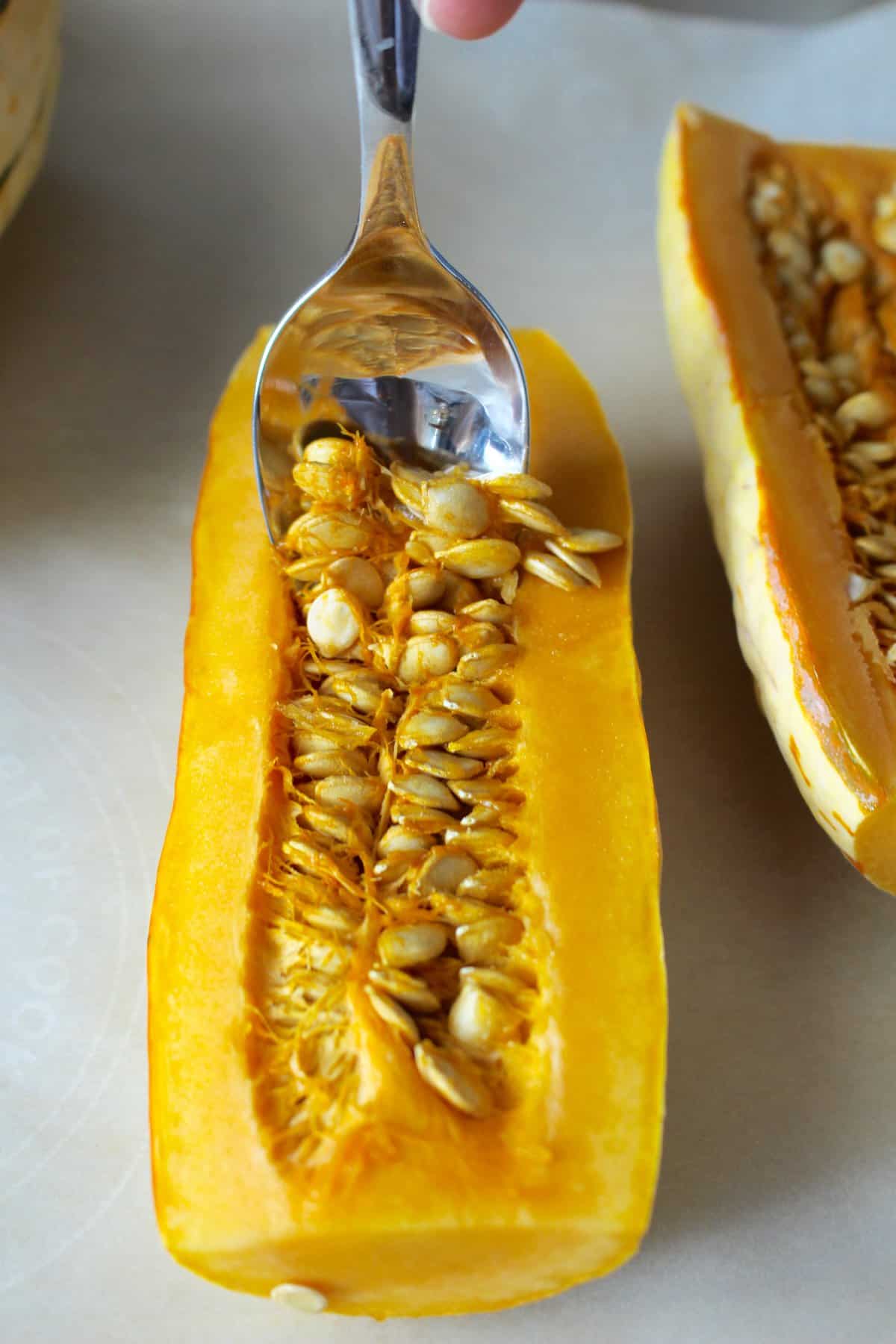 Cut the top and bottom off, cut it in half the long way, then scoop the seeds out. If you're feeling particularly ambitious you can roast the seeds. They are delicious!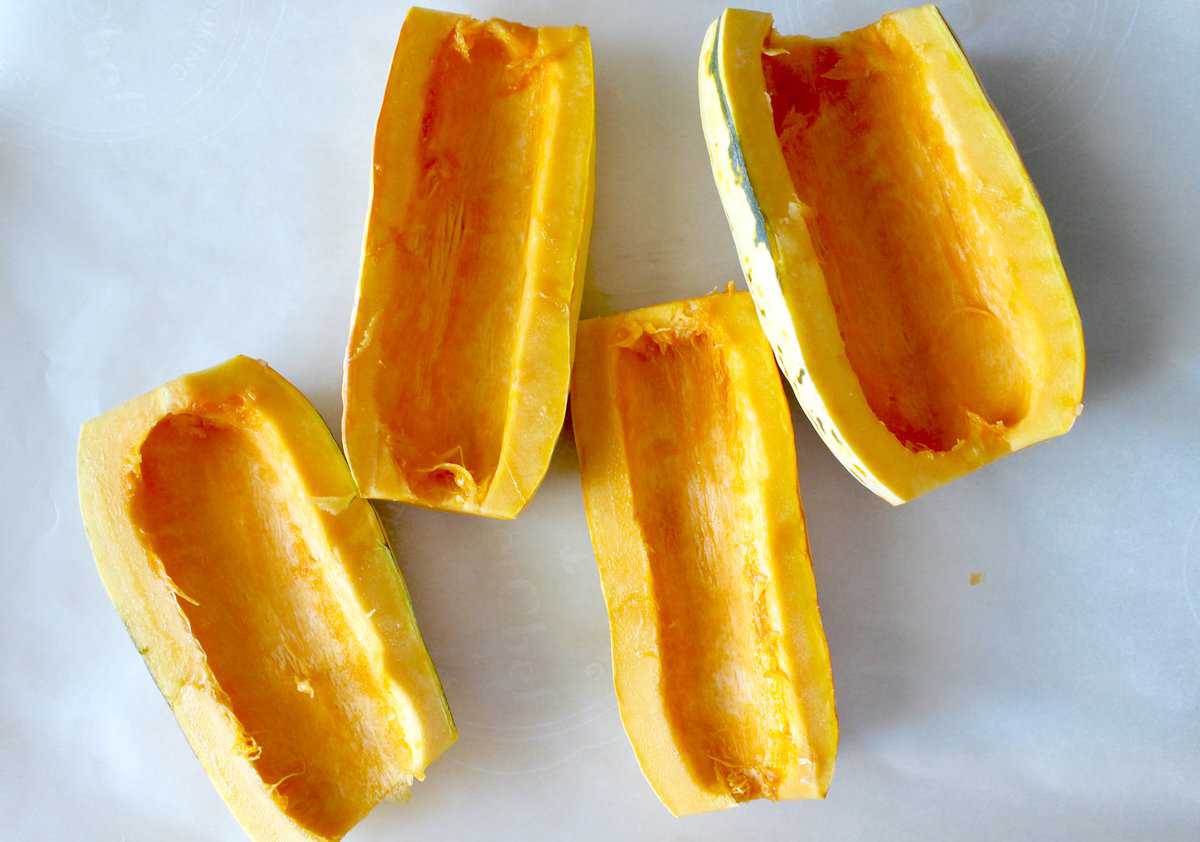 Here they are all cleaned out, laying on the parchment lined pan. You can also roast them like this and stuff them.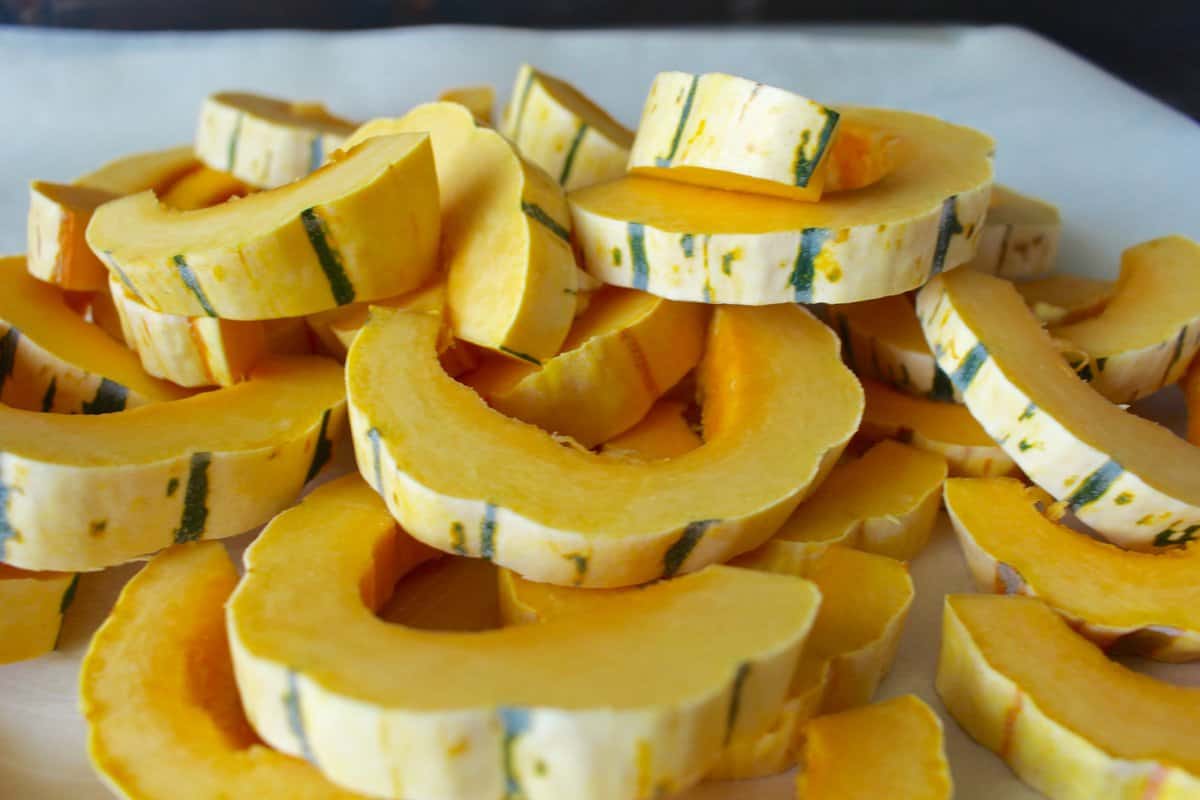 Cut into ½ inch pieces. They don't have to be perfect, but try to get them as even as possible so they cook at the same speed.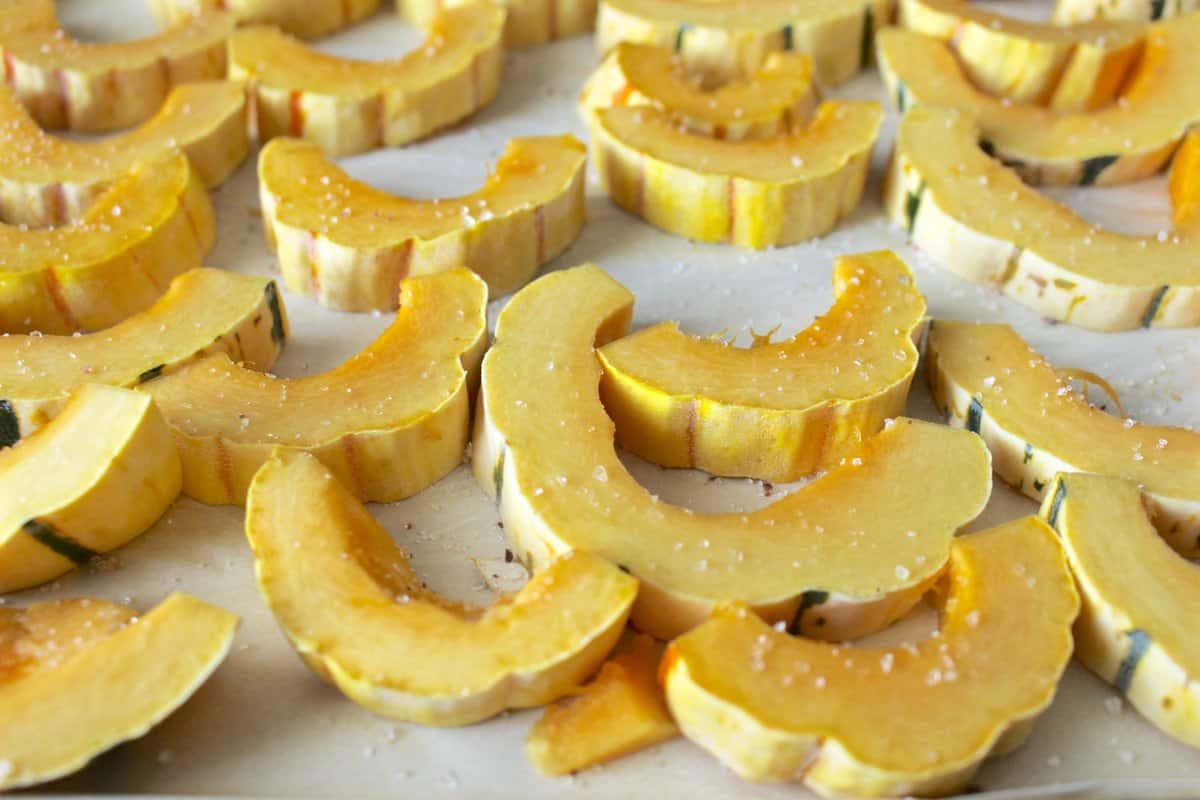 Lay the squash in a single layer on the tray and sprinkle with salt. Bake for 25 minutes, flip all the pieces over, and bake for another 15-20 minutes.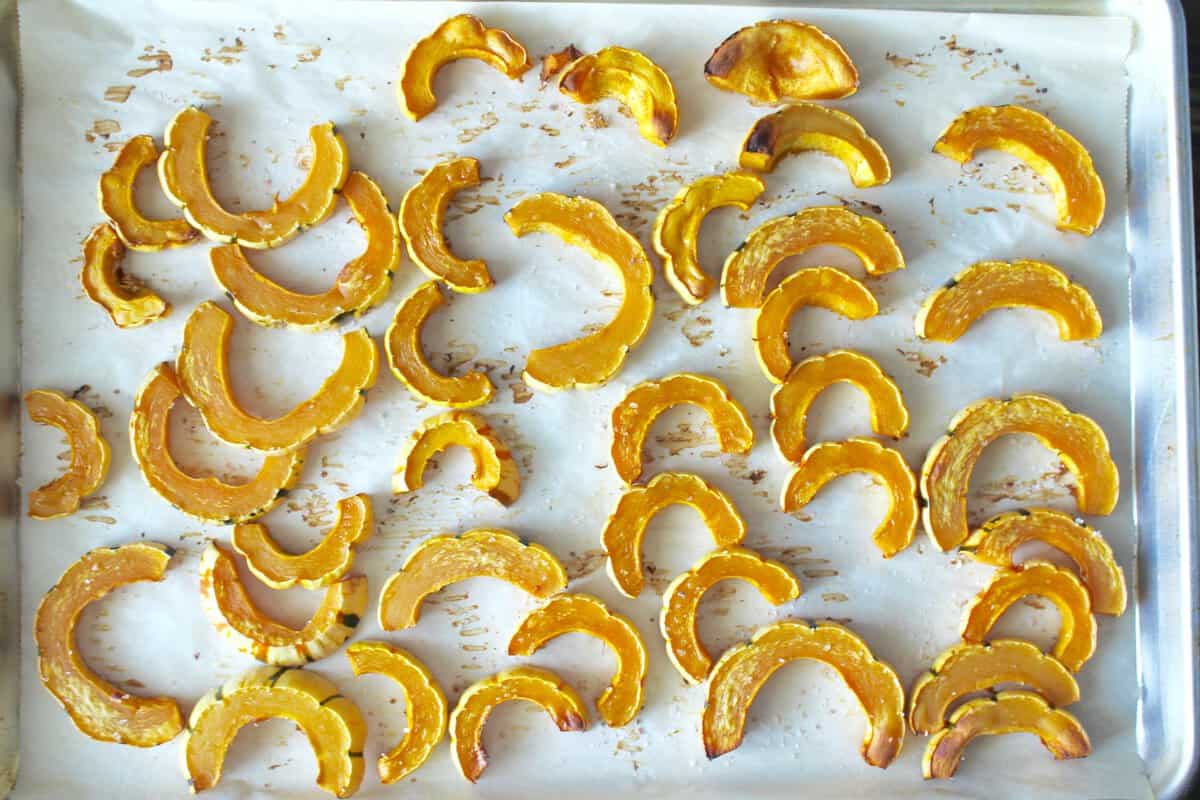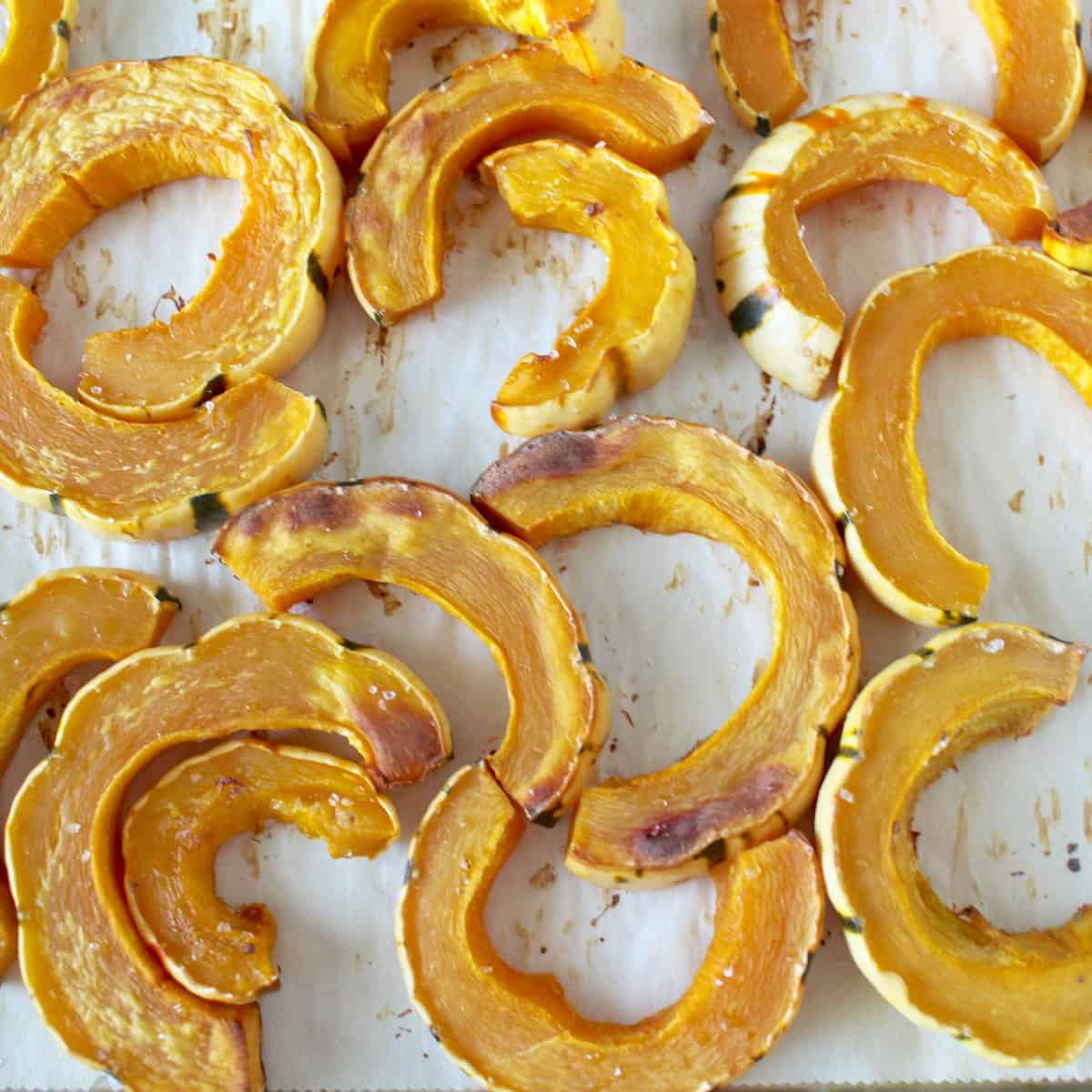 Here they are all roasted and delicious! Here is a quick overview:
Taste: Sweet, creamy, mild flavor
Other names: peanut squash, Bohemian squash, and sweet potato squash. I always see it called Delicata in stores though.
Ease of preparation: very easy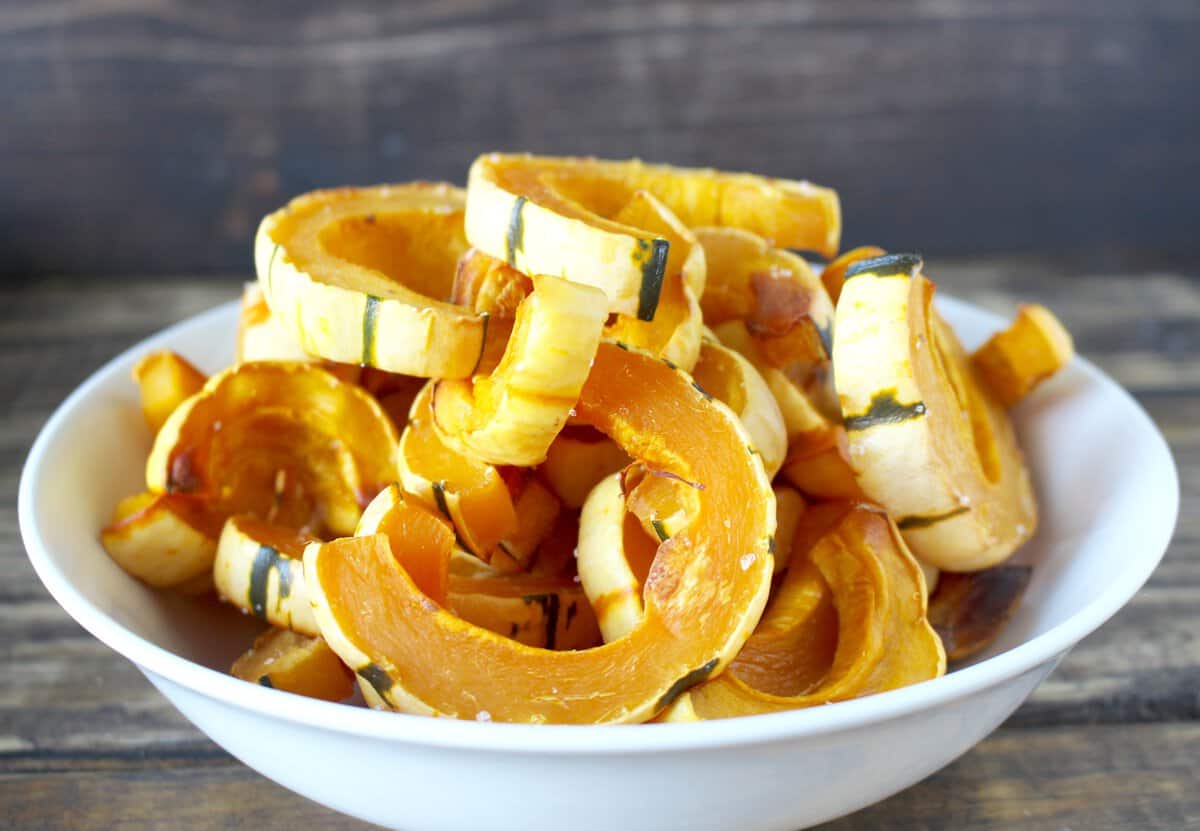 I haven't seen them at big stores, but I can always find them at farmers markets and health food stores. They are worth searching for and they are usually very affordable! I really hope you find some and try them. You won't be disappointed!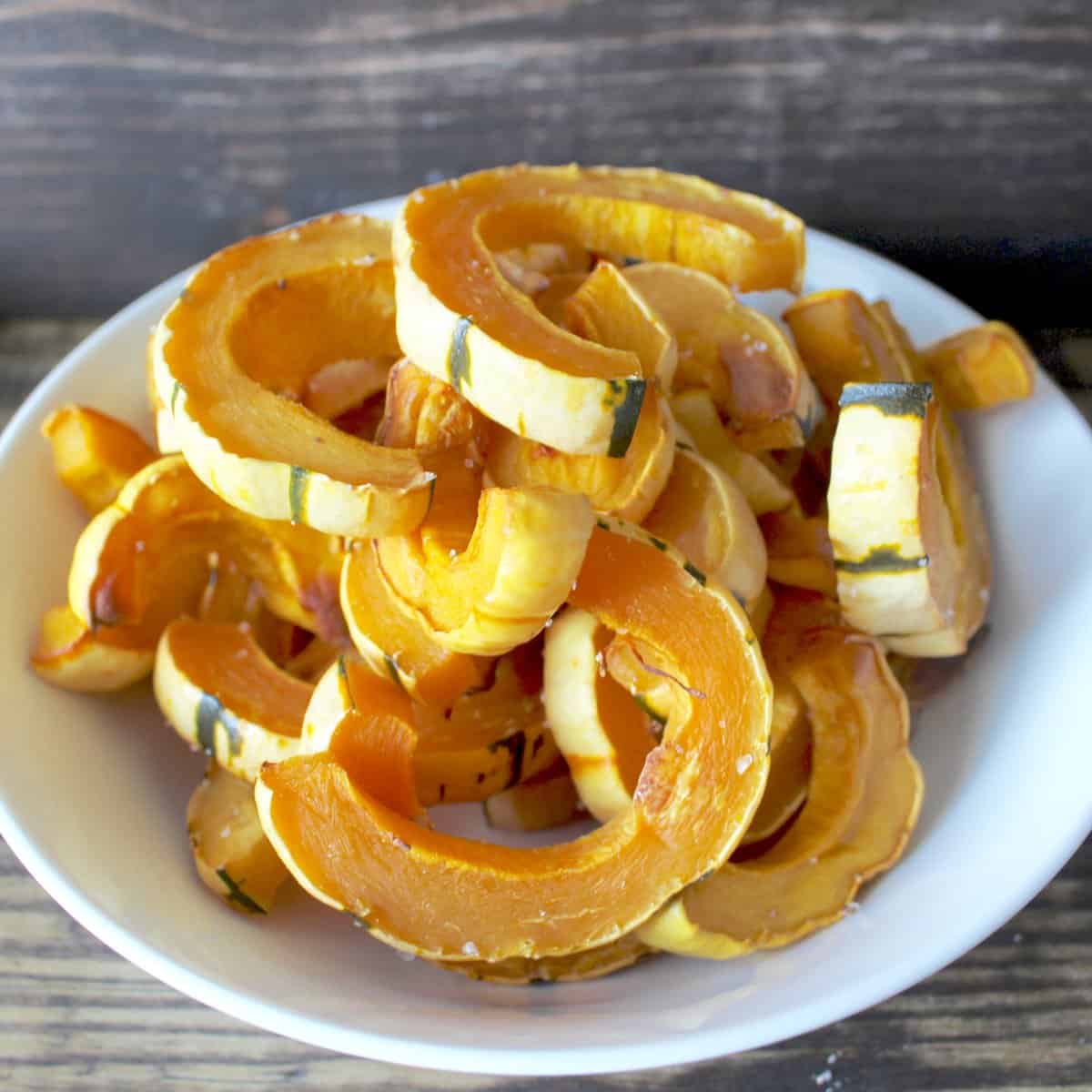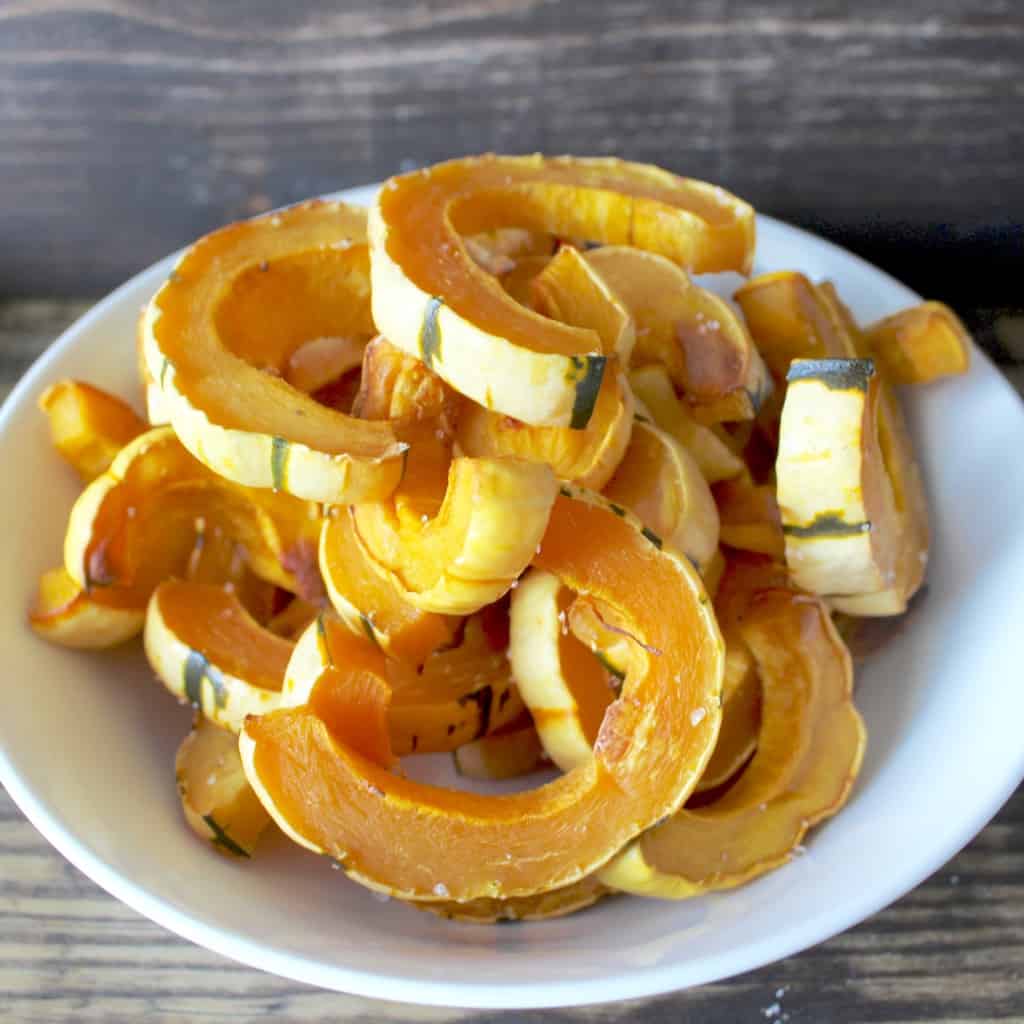 Looking for more squash recipes? Here's a simple way to cook spaghetti squash that makes extra long noodles!!
Hungry for more? Subscribe to my newsletter and follow along on Facebook, Pinterest and Instagram for all of the latest updates.
How To Cook Delicata Squash
Instructions
Line a sheet tray with parchment paper and preheat the oven to 400°

Cut the top and bottom off the squash, then cut into ½ inch slices.

Lay down on the sheet tray and sprinkle with salt.

Bake for 25 minutes, flip them all over and bake another 15-20 minutes.
Nutrition Information
Calories: 77kcal (4%)Carbohydrates: 19g (6%)Protein: 2g (4%)Fat: 0.3gSaturated Fat: 0.1g (1%)Polyunsaturated Fat: 0.1gMonounsaturated Fat: 0.02gSodium: 9mgPotassium: 793mg (23%)Fiber: 3g (13%)Sugar: 5g (6%)Vitamin A: 3096IU (62%)Vitamin C: 28mg (34%)Calcium: 63mg (6%)Iron: 1mg (6%)