This super simple method of cooking spaghetti squash results in extra long noodles. The perfect replacement for pasta in your favorite recipe.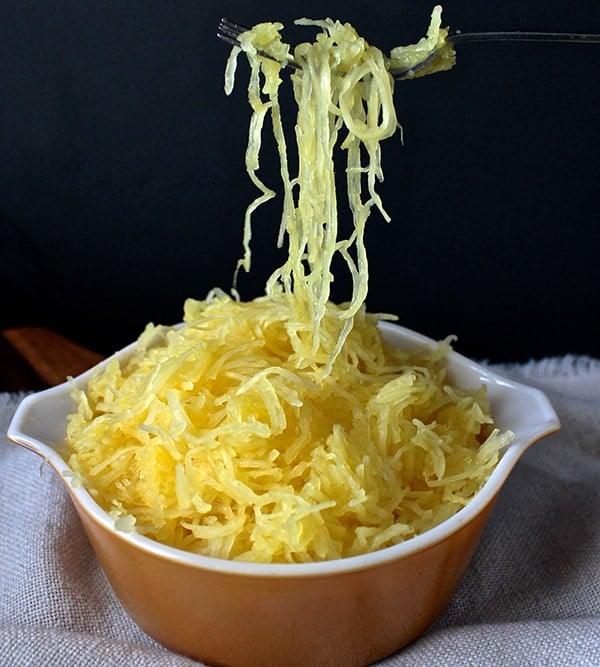 This isn't exactly a "recipe" as much as it's a "how-to". Cooking spaghetti squash isn't hard at all and getting those long pasta-like noodles is the best. My husband and I use this as a replacement for our pasta all the time and it's so delicious!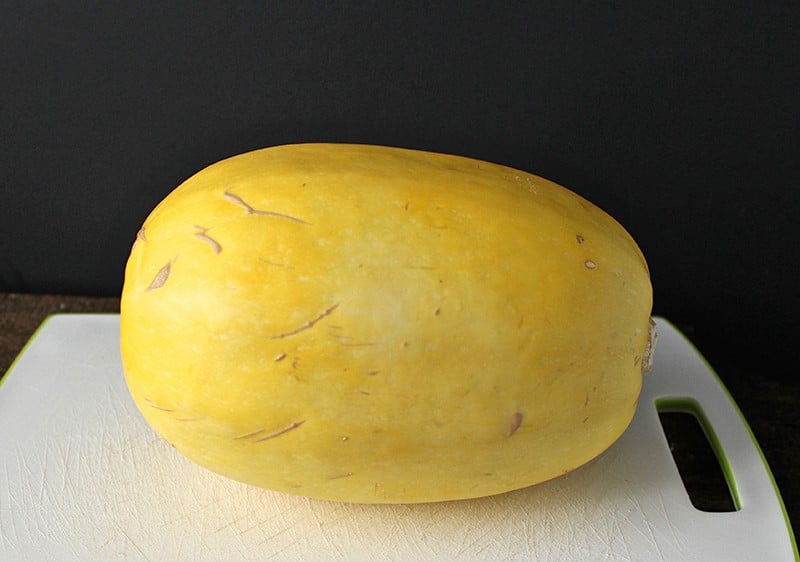 These are a great substitute for pasta because they're naturally gluten free and paleo, they're low in calories, and they're a veggie- so they're packed with vitamins and fiber.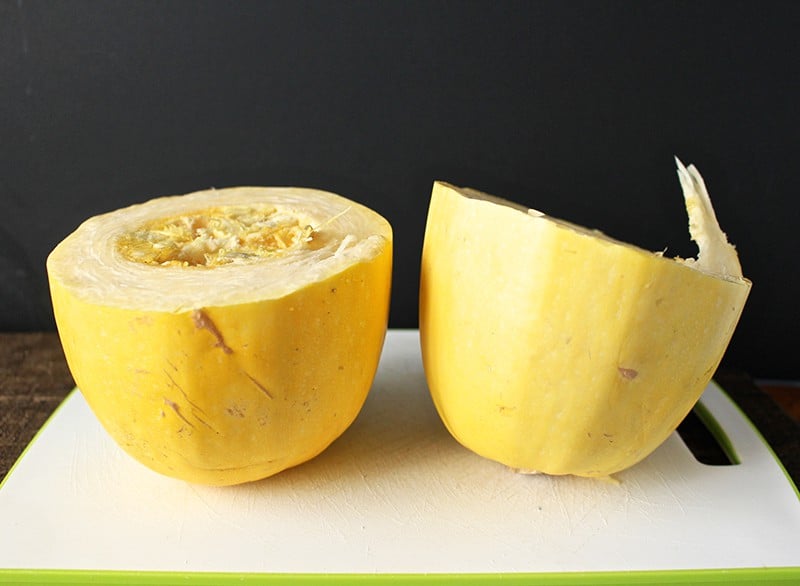 Start with the squash on the cutting board then choose your weapon. A big, sharp, preferably non-serrated knife works best.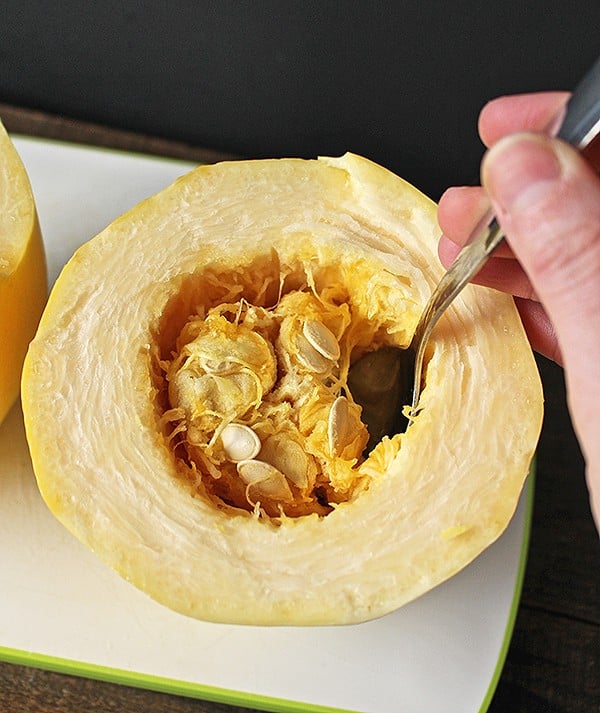 Cut it in half right down the center. It is so much easier to cut this way than the long way- the knife goes through it pretty easy. Cutting it this way is also what creates the long spaghetti noodles.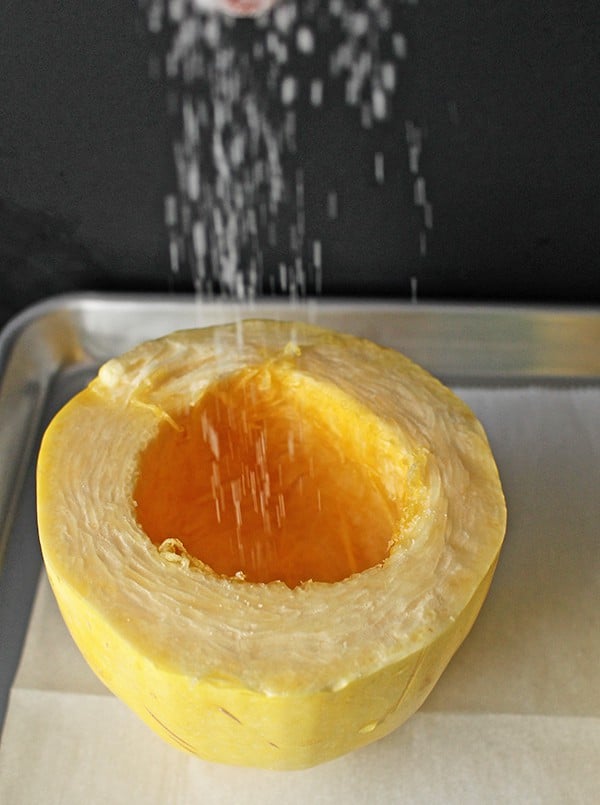 Scoop out all the seeds with a spoon and throw them away.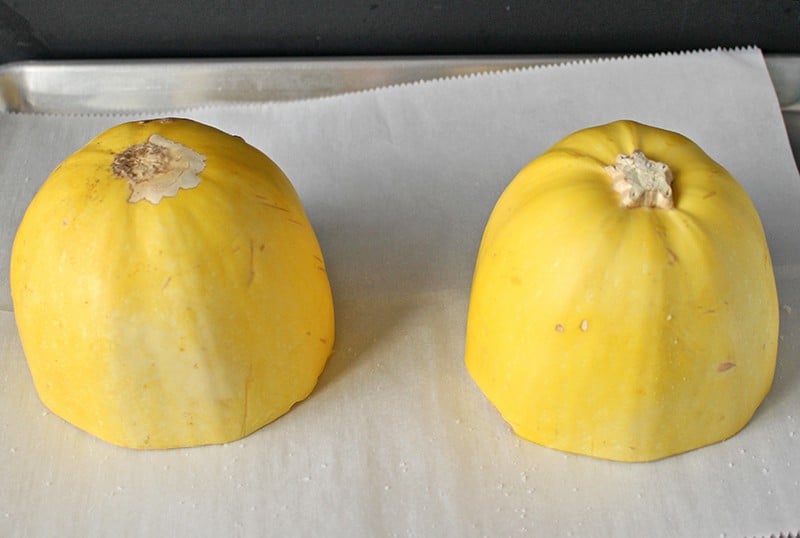 Salt both sides. Make it rain.
Place them cut side down on a pan lined with parchment paper and bake for 35 min at 425°.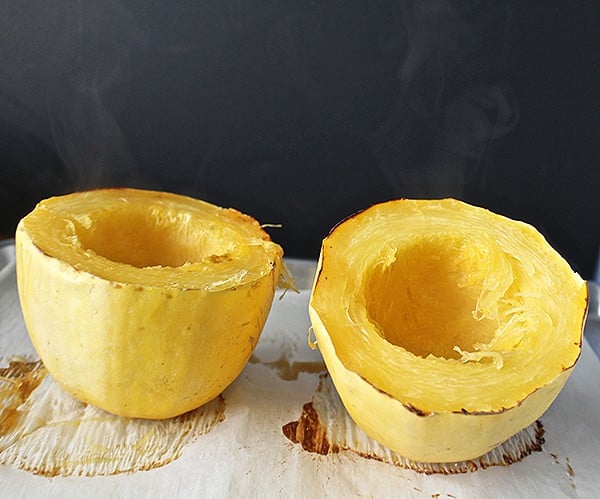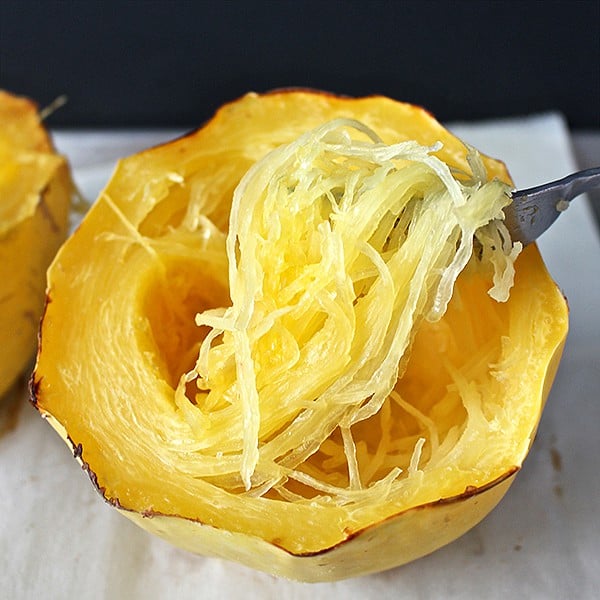 Once they come out, flip them over with a fork to let the steam out and to cool off a little.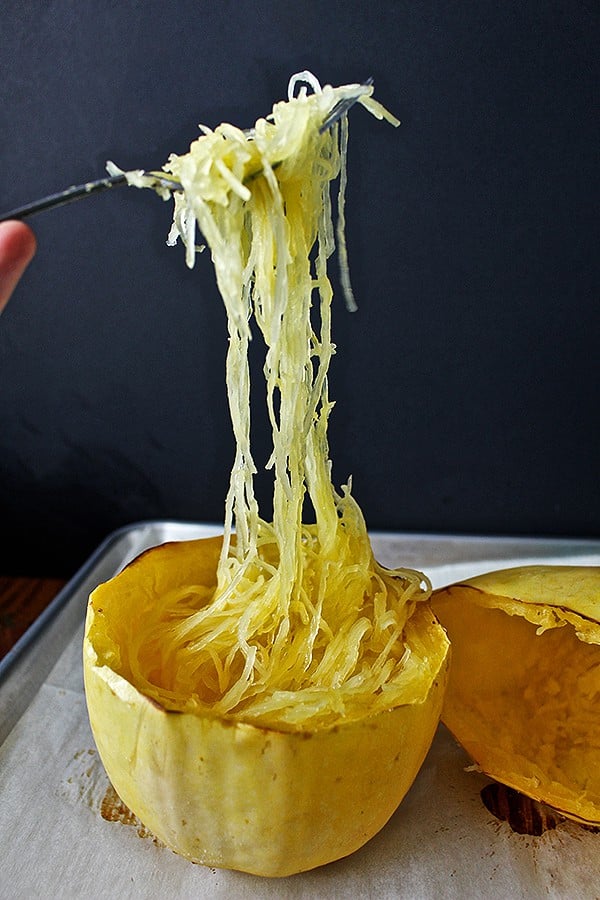 Let cool for about 10 minutes then pull strands away from the skin with a fork.
Just look at those noodles!! Now use them however you want. Cover them in tomato sauce, or garlic and butter, or pesto, or cheese- there are so many options.
Just twirl them right into your mouth!
It's important to note that if you're going to bake with them, like in a casserole, to squeeze the excess water from them. They retain a lot of moisture that can make the casserole watery.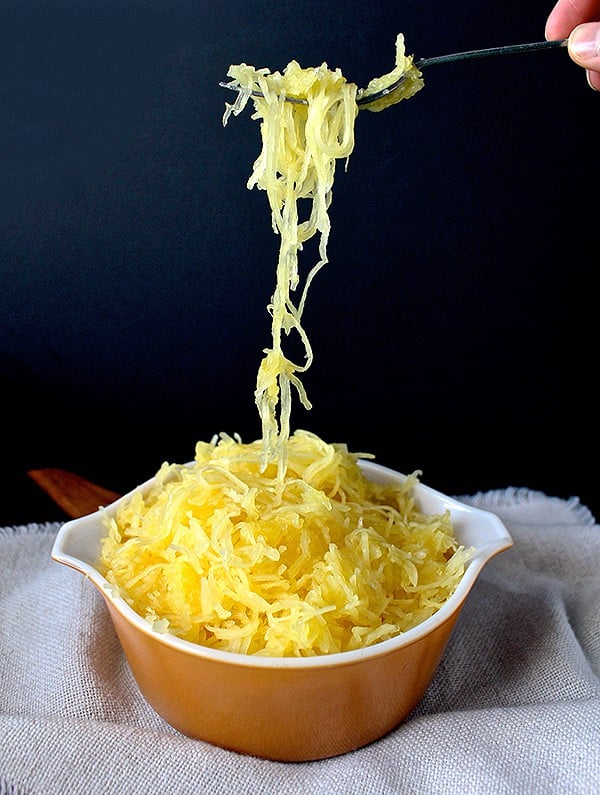 If you've never had spaghetti squash and not sure what it tastes like, they're very neutral tasting. It takes on the flavor of whatever you top it with. You will love it and how easy it is to make!
Here are my favorite ways to use it: Paleo Whole30 Buffalo Chicken Casserole, Paleo Whole30 Barbecue Chicken Casserole, and Paleo Whole30 Spaghetti Squash Breakfast Casserole.
UPDATE: Instant Pot instructions now included in the notes!
Hungry for more? Subscribe to my newsletter and follow along on Facebook, Pinterest and Instagram for all of the latest updates.
How To Cook Spaghetti Squash
Instructions
Preheat oven to 425° and place a piece of parchment paper on a sheet tray.

Place spaghetti squash on a cutting board.

Using a large, sharp knife, cut it in half the short way. For example: instead of cutting it end to end, cut it right down the center. Each half will have an end piece. This is what creates the long strands that resemble spaghetti noodles. Cutting it the other way results in short noodles.

Using a spoon, scoop out all the seeds and throw them away.

Sprinkle a little salt on each half and place cut side down on the sheet tray.

Bake for 30-35 minutes or until skin can be easily pierced with a fork.

Once out of the oven, flip each side over to release steam and let cool.

Let cool for about 10 minutes and pull strands away from the skin using a fork.

Top with tomato sauce, ghee and garlic, pesto or whatever you want!
Notes:
*Instant Pot Instructions: Follow steps 2-4 then place the squash in the Instant Pot on the steam rack. Add ¼ cup of water, put the lid on, and make sure the valve is closed. Hit the "manual" button and reduce the time to 8 minutes. Once done, hit "cancel" release the pressure and remove with tongs. Shred and use as desired. 
Nutrition Information
Calories: 150kcal (8%)Carbohydrates: 33g (11%)Protein: 3g (6%)Fat: 3g (5%)Saturated Fat: 1g (6%)Polyunsaturated Fat: 1gMonounsaturated Fat: 0.2gSodium: 82mg (4%)Potassium: 521mg (15%)Fiber: 7g (29%)Sugar: 13g (14%)Vitamin A: 579IU (12%)Vitamin C: 10mg (12%)Calcium: 111mg (11%)Iron: 1mg (6%)