These Paleo Blackberry Pop Tart Bars have a shortbread cookie filled with a fresh blackberry filling and topped with a glaze. They are vegan, gluten free and naturally sweetened.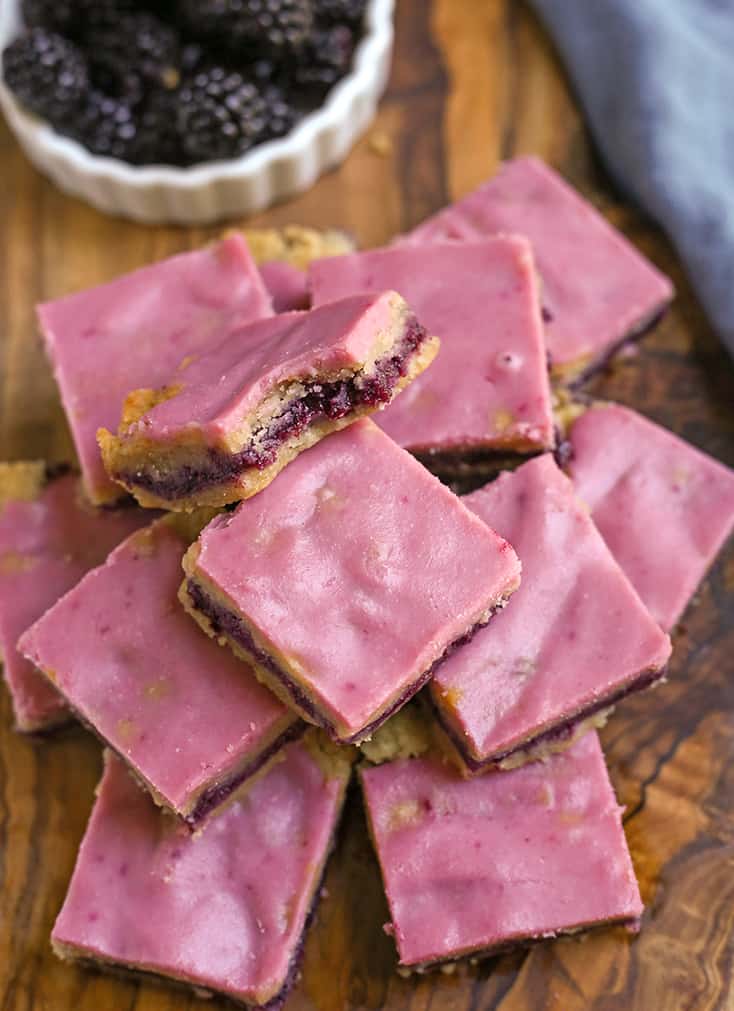 Shortbread Cookie
This shortbread recipe is my tried and true go-to that is melt in your mouth good and sweetened just right. Half is pressed into the pan, then the blackberries go on top, and the remaining shortbread goes on top of that. Don't worry if it's not perfect, it will be frosted so little cracks are okay. I love how easy this shortbread is to whip up and I think you will too.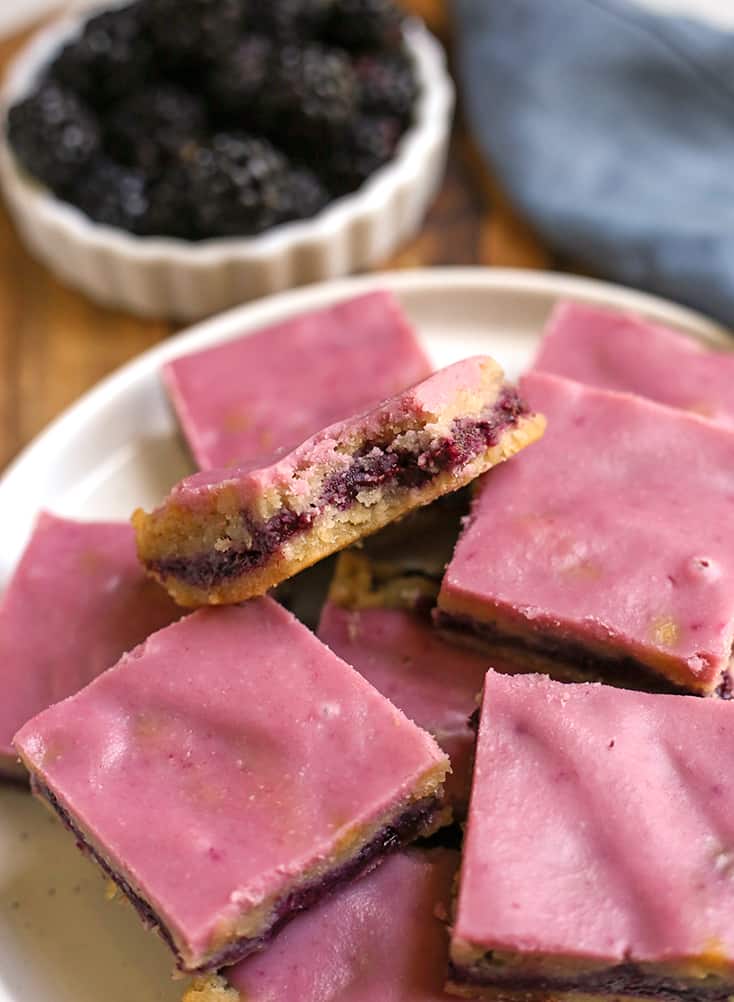 Blackberry Filling
This filling is a little different than my strawberry pop tarts because it uses fresh berries that are cooked down into a sauce. You could use a blackberry jam if you'd like, but the end result will probably look different. The fresh blackberries are so good and just sweetened a little, making this a not too sweet dessert. Making the blackberry filling first is important to let it cool a little before layering.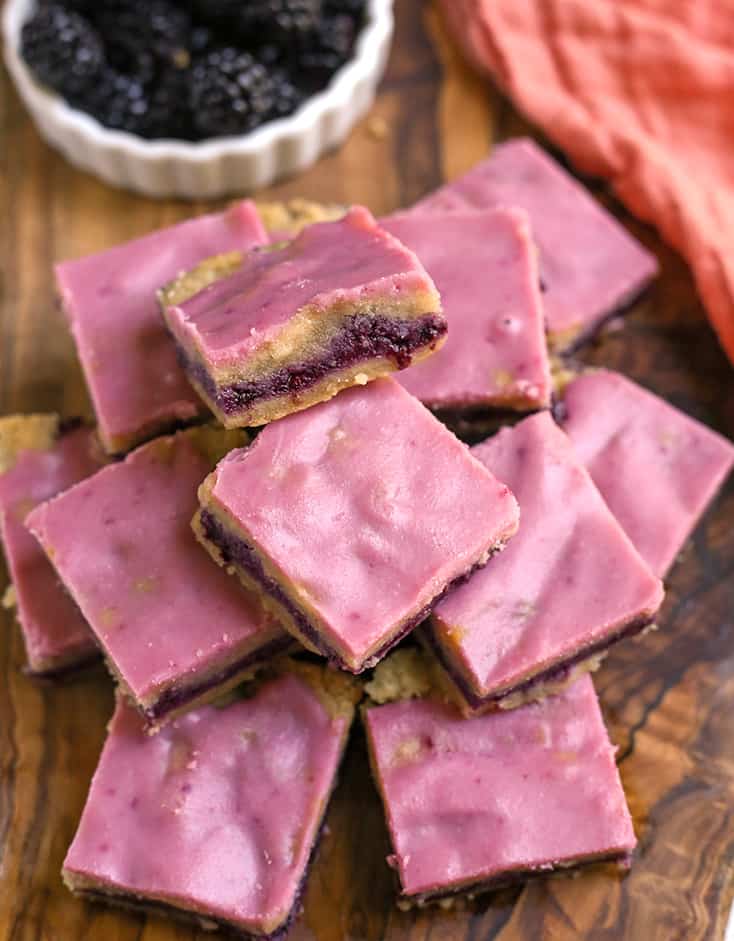 Paleo Frosting
The base of the frosting is what I use for most of my desserts, a mix of coconut butter (or manna), maple syrup and a little water to thin it out. I wanted the pretty blackberry color so I cooked down a few berries, strained them and added that mixture to the coconut butter, giving them a pretty pink color. A little lemon juice is added too which is optional, but adds a nice little tartness. The frosting is sweet and just makes the best topping.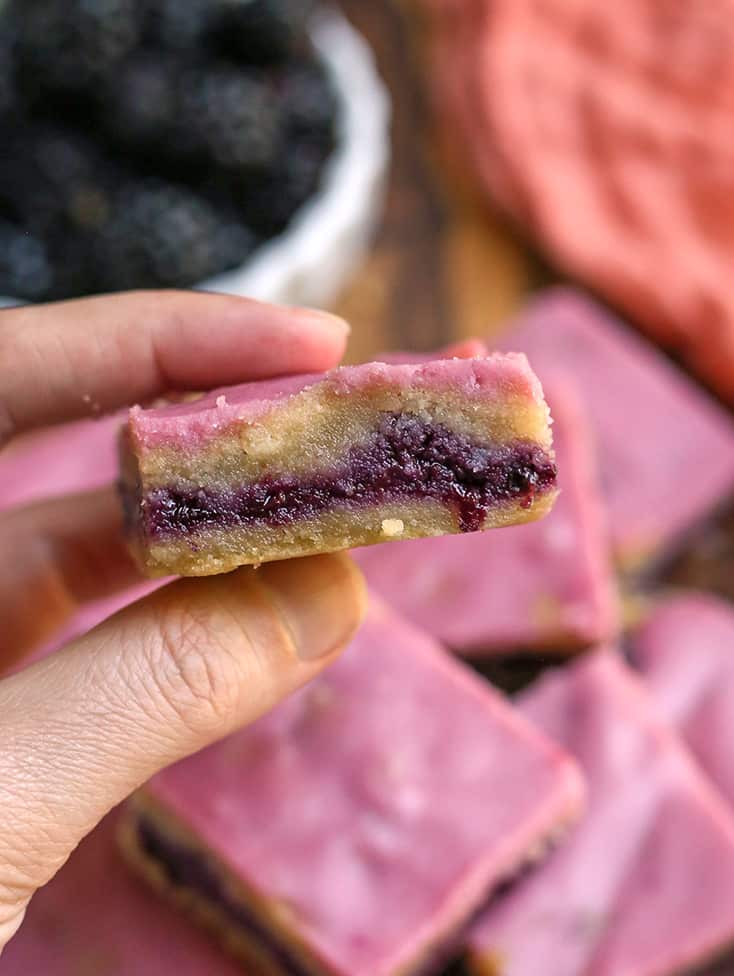 These are best stored covered in the fridge. I haven't tried warming them up- like a pop tart so let me know if you do try that! They are definitely softer and more moist than a traditional pop tart which isn't a bad thing.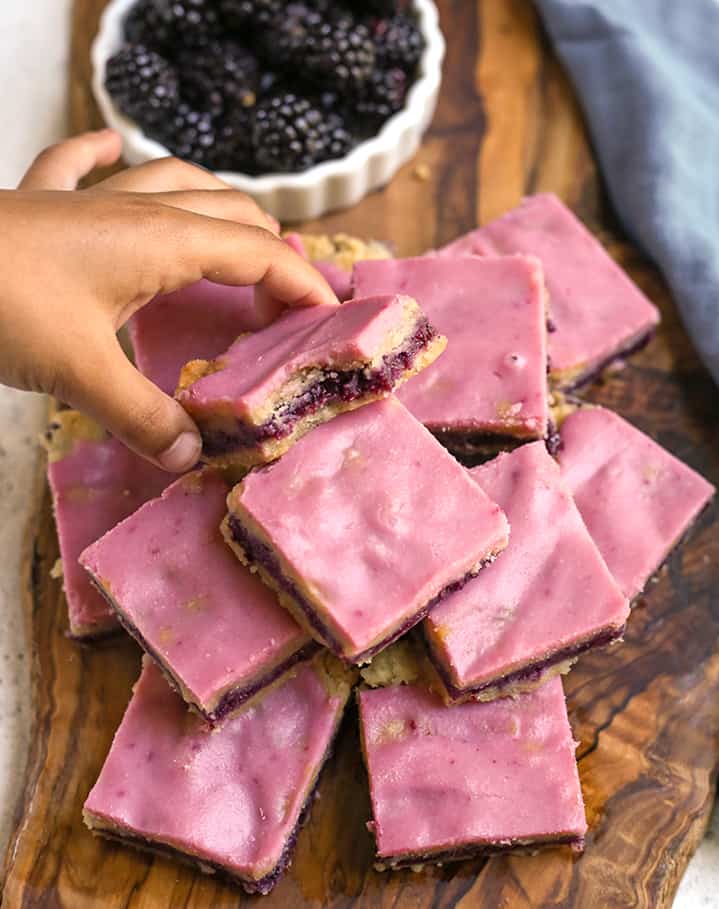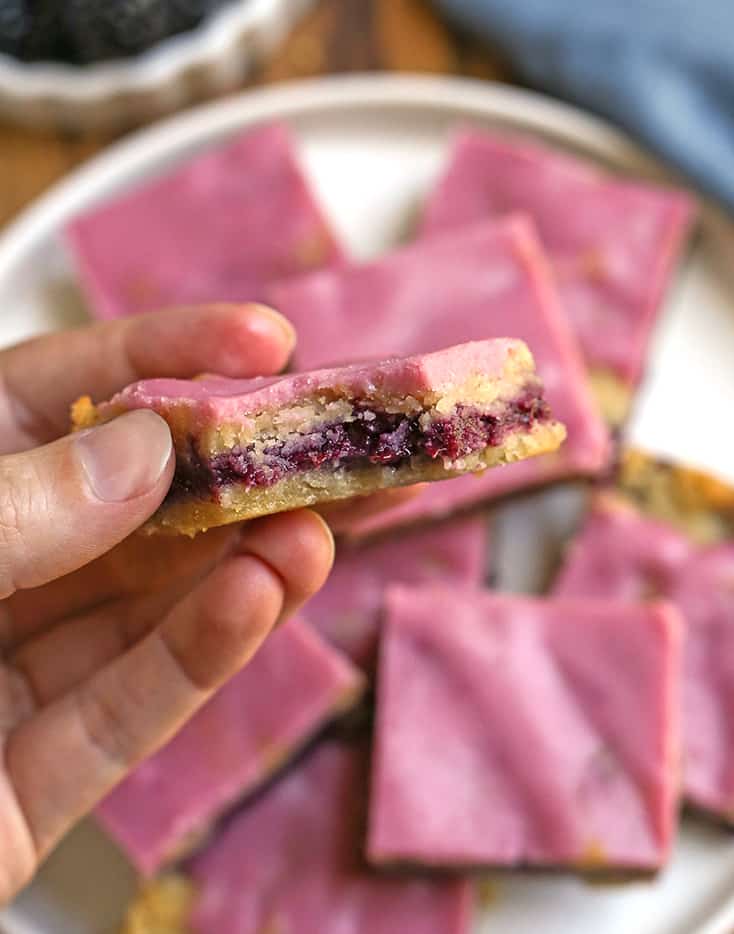 You will love these paleo blackberry pop tart bars because they are sweet, simple to make, and so delicious. A fresh berry treat for either breakfast or dessert. Grab some fresh berries and make these fun bars! Here are some more pop tart bars to try:
Hungry for more? Subscribe to my newsletter and follow along on Facebook, Pinterest and Instagram for all of the latest updates.
Paleo Blackberry Pop Tart Bars
Ingredients
Blackberry filling
6 oz blackberries
1 tablespoon lemon juice
2 tablespoons maple syrup
¼ teaspoon salt
1 tablespoon tapioca flour mixed with water
Instructions
Preheat oven to 325° and line a 9 inch square pan with parchment paper. Set aside.

Make the blackberry filling. Place the blackberries in a small sauce pan and add the maple syrup, lemon juice, and salt. Cook over medium/low heat, stirring regularly until berries have broken down, about 6 minutes. Mix the tapioca flour with a tablespoon of water to make a slurry and add it to the blackerries, stir until thickened, about another minute. Remove from the heat and let cool 10-15 minutes.

Make the shortbread cookie. In a medium bowl, combine almond flour, coconut flour, salt, vanilla, maple syrup, and coconut oil. Stir together until it is well mixed and everything is incorporated evenly. Press ½ of the mixture into the bottom of the pan, top with the blackberry mixture and then top with the remaining shortbread. The best way to do this is take small pieces and press flat and then lay on top, pressing the edge of each piece together as best as possible. Bake for 35 minutes, until golden brown around the edges.

Make the frosting. Place the blackberries in a small pan and cook over medium heat for 2-3 minutes, until cooked down and juicy. Strain through a fine mesh strainer and add the juice to a small bowl. Make sure the coconut butter is soft. You may need to microwave it for 30 seconds and stir first. Add that to the blackberry juice and add the maple syrup, lemon juice, water and salt. Stir until smooth. Pour it over the bars and place in the fridge to set.

Store covered in the fridge for up to 10 days.
Nutrition Information
Calories: 262kcal (13%)Carbohydrates: 17g (6%)Protein: 7g (14%)Fat: 21g (32%)Saturated Fat: 5g (31%)Polyunsaturated Fat: 0.1gMonounsaturated Fat: 0.3gSodium: 77mg (3%)Potassium: 47mg (1%)Fiber: 4g (17%)Sugar: 9g (10%)Vitamin A: 24IUVitamin C: 3mg (4%)Calcium: 79mg (8%)Iron: 1mg (6%)