This Paleo Edible Cookie Dough is easy, no-bake, and so delicious! Gluten free, dairy free, naturally sweetened and made in 5 minutes. You will love it!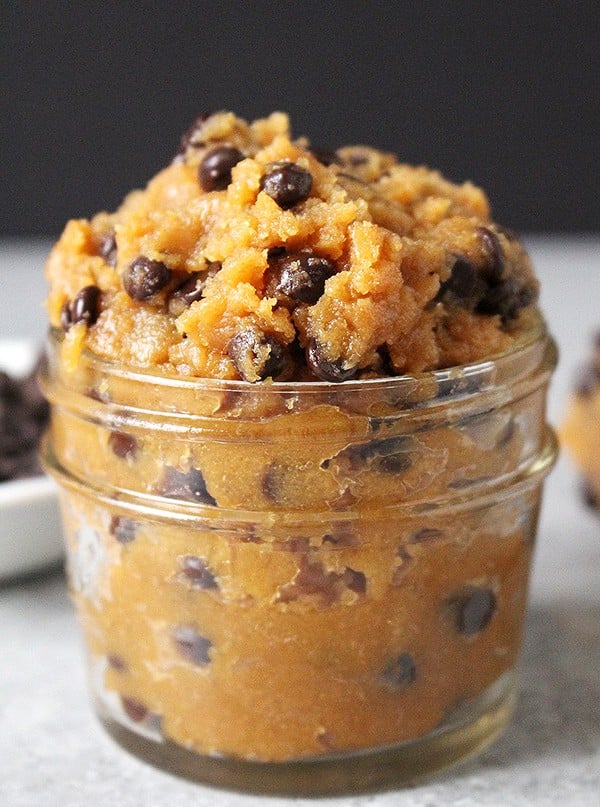 A little life update on me for those who asked. I usually don't share much about my personal life because I know you're here for the recipes. If you follow me on Instagram you know that I have a foster daughter. She's actually my niece and was placed in our care 5 months ago, when she was 3 months old. Since then we have gone through all the foster training classes and had many house visits from a social worker to be approved to be her official foster parents. All that is done now and we are waiting on the paperwork to be processed. While these last 5 months have had their challenges, they have also been so rewarding! Caring for this sweet little girl who we absolutely love is a complete joy and we feel so fulfilled doing it.
Now about this cookie dough...
I think everyone is guilty of eating cookie dough straight from the bowl. I know I've eaten my fair share of dough before it went in the oven! I've been wanting to make a healthy, paleo version of cookie dough that is meant to be eaten raw. I tried a few different types, using different flours and sweeteners and this one came out the best--by far! It has the exact same texture as cookie dough and the maple syrup gives it the sweetness that is key.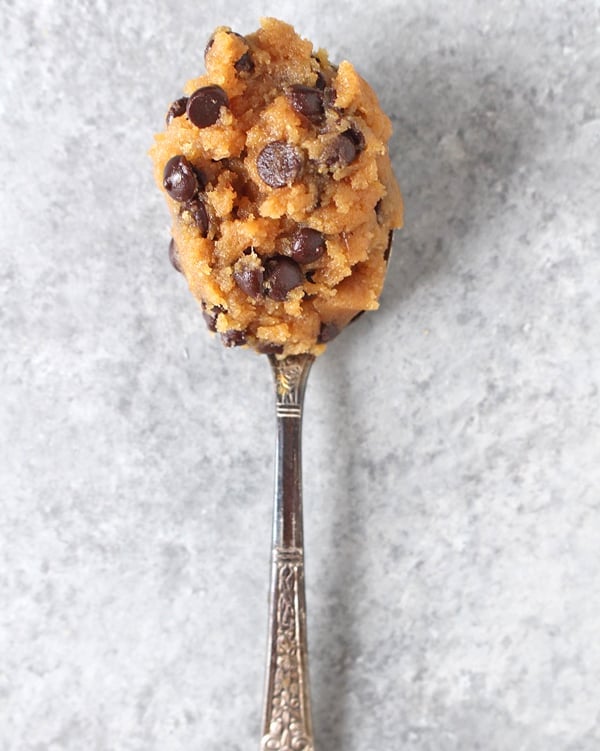 It is so easy to make, just a couple minutes of stirring and it's ready to eat. I's kind of crazy to think that these few ingredients could combine to make something that tastes exactly like cookie dough, but it's true! I could not quit taking bites as I was making it and was so amazed how delicious it was. My husband said it's dangerous to keep around because it's just too good to stop at a reasonable amount 😉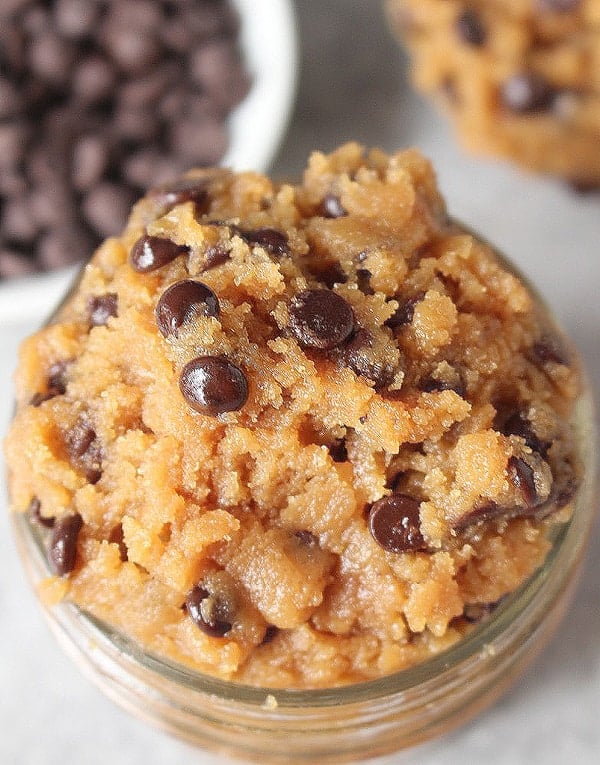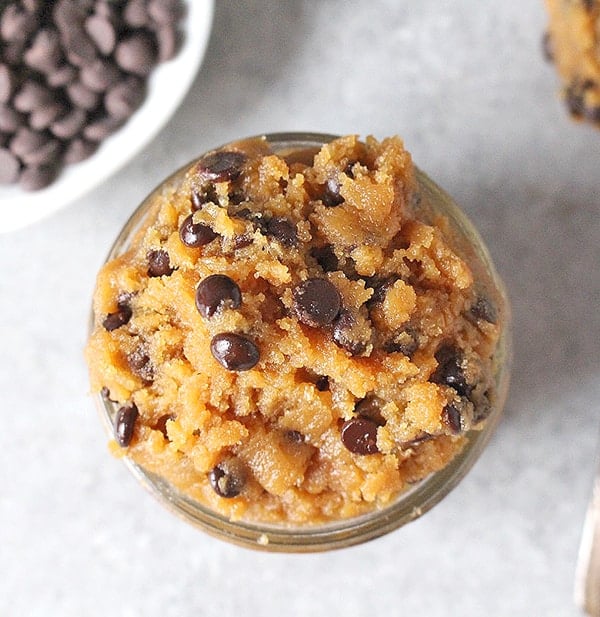 The gelatin may seem like a weird ingredient for cookie dough, but it helps thicken it in the fridge. It also adds some health benefits like healthy skin, bones, and hair- just to name a few. I always buy my gelatin from Perfect Supplements. It's high quality, tasteless and a great price. Use code "JAY10" for 10% off your order!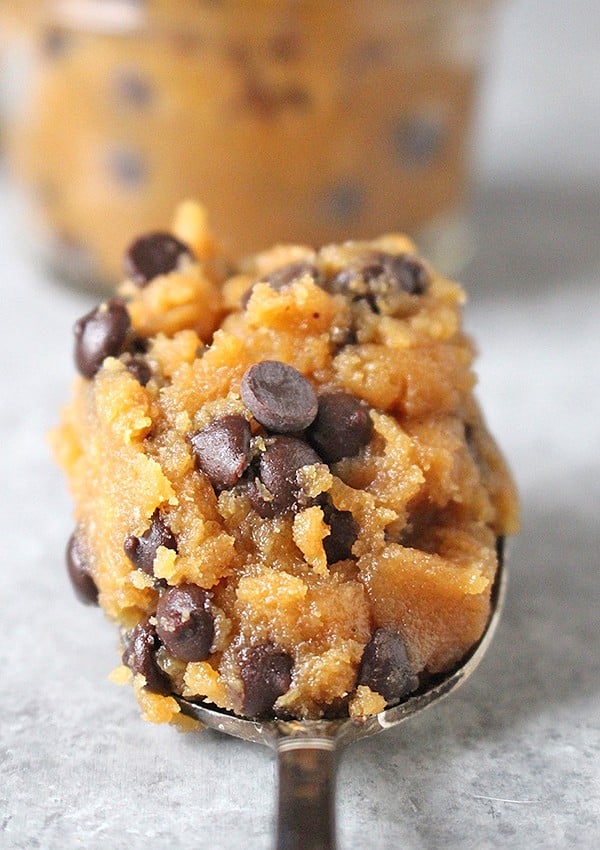 You will love this edible cookie dough because it is so quick to make, is naturally sweetened, and is seriously delicious! Gluten free, dairy free, and the perfect treat when you don't want to bake!
Hungry for more? Subscribe to my newsletter and follow along on Facebook, Pinterest and Instagram for all of the latest updates.
Paleo Edible Cookie Dough
Instructions
In a medium bowl, combine cashew butter, maple syrup, almond milk, and gelatin. Stir until well combined and smooth.

Fold in chocolate chips and eat. Store leftovers in the fridge.
Nutrition Information
Calories: 551kcal (28%)Carbohydrates: 45g (15%)Protein: 14g (28%)Fat: 39g (60%)Saturated Fat: 11g (69%)Polyunsaturated Fat: 5gMonounsaturated Fat: 19gSodium: 35mg (2%)Potassium: 395mg (11%)Fiber: 3g (13%)Sugar: 23g (26%)Calcium: 98mg (10%)Iron: 5mg (28%)