This Paleo Whole30 Air Fryer Whole Roasted Chicken is easy and incredibly delicious! Fresh herbs add great flavor and it has the best crispy skin. It's gluten free, dairy free, low carb and low FODMAP.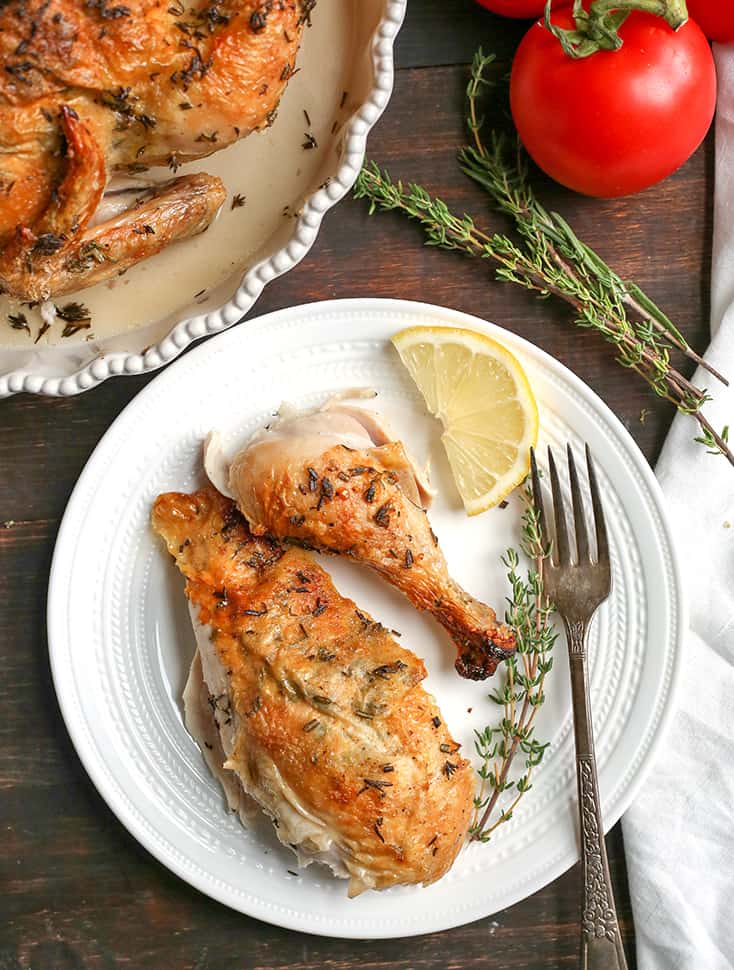 This recipe is so easy and I've already made it so many times. It's almost all hands-off and comes out perfectly every time. It's definitely my new favorite way to make a whole chicken!
Air Fryer
There are many air fryers out, but I chose the Cuisinart one because it doesn't have non-stick coating. That's a pretty big deal for me. Yes, it's a little more expensive, but it's totally worth it. This isn't sponsored and I paid for the air fryer myself, I'm just passing along info that you may find useful. I use it every day to reheat my egg casserole and other leftovers. It's basically replaced our microwave. It holds a 4 pound chicken- I haven't tried one bigger yet.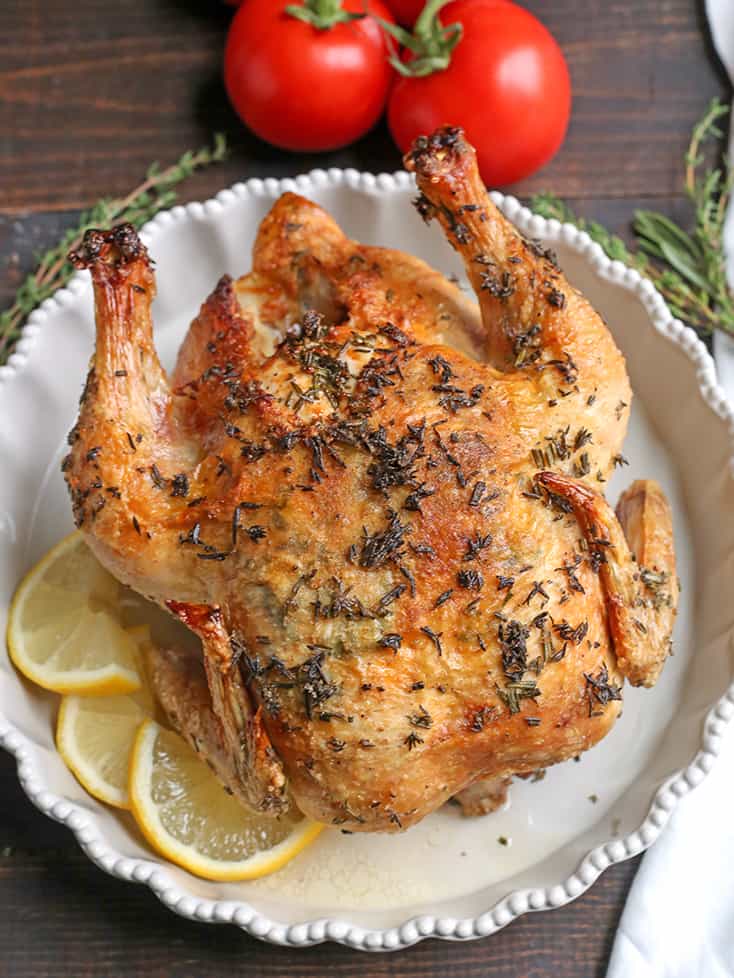 A great thing about using the air fryer to cook a chicken is that is doesn't heat up the house like the oven does. You can easily make this in the dead of summer with no worries. Of course I'll be making it all winter long as well. Your house will fill with the most amazing scent of roasted chicken. I think it's one of the best smells ever.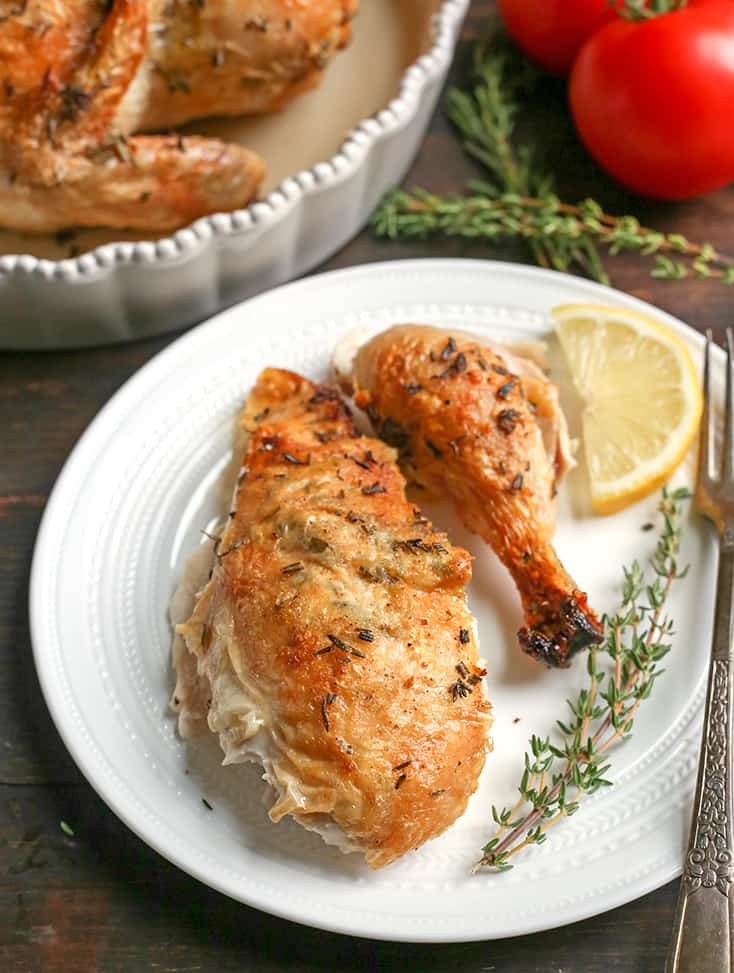 Seasonings
I always love to use fresh herbs. Rosemary and thyme are what I used here, but feel free to play around with it and use what you love. Some people don't like the big pieces of rosemary, that's fine, leave it out. Or add some sage or tarragon.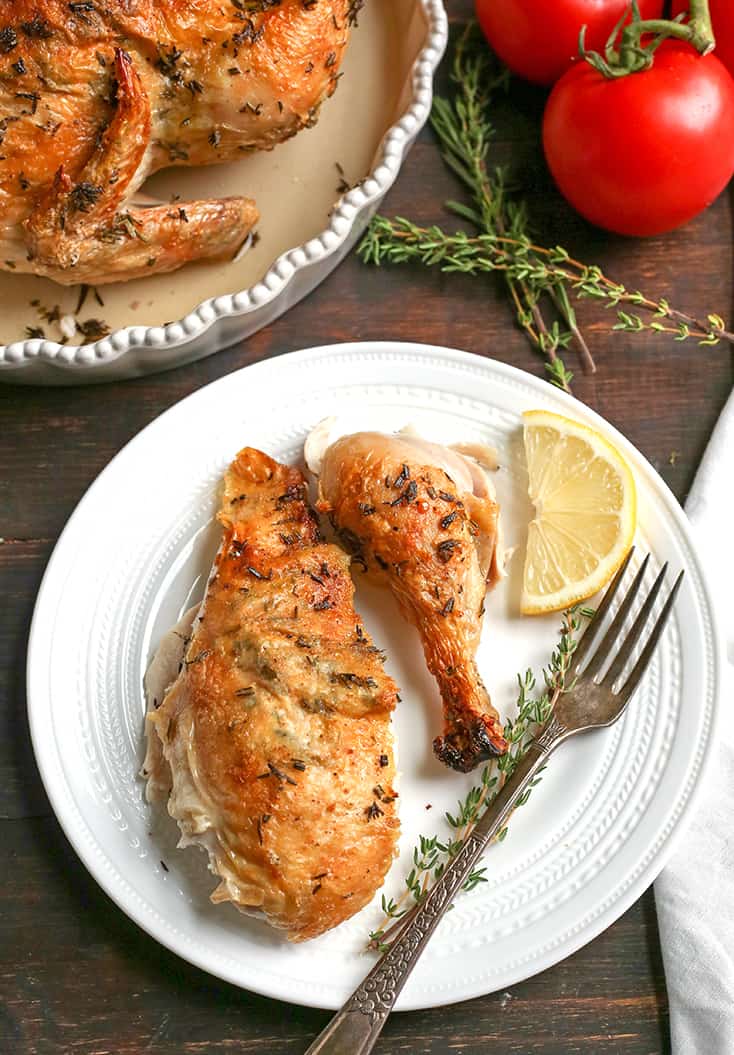 You will love easy chicken that is incredibly delicious! A meal the whole family will love.
Here are more air fryer recipes: Paleo Whole30 Air Fryer Carrots and Paleo Whole30 Air Fryer Dill Salmon, and Paleo Whole30 Breaded Chicken.
Hungry for more? Subscribe to my newsletter and follow along on Facebook, Pinterest and Instagram for all of the latest updates.
Paleo Whole30 Air Fryer Whole Roasted Chicken
Ingredients
3-4 pound whole chicken
2 tablespoons grass-fed ghee
2 tablespoons garlic oil
1-2 tablespoons chopped fresh rosemary
2 tablespoons fresh thyme
1 ½ teaspoons salt
¼ teaspoon pepper
Instructions
Place the chicken on metal tray lined with parchment paper. (If yours is different then place the chicken on a plate to prep it.)

Combine the ghee, garlic oil, rosemary, thyme, salt and pepper in a small bowl. Preheat the air fryer to 350° while you rub the chicken down. It doesn't need long.

Rub the ghee mixture all over the chicken. Gently separate the skin from the breast and place some of the mixture in there as well. This really makes the breast meat flavorful and juicy. Place the tray with the chicken on it on the lowest track, close and cook for 45 minutes or until internal temperature is 165°.

Remove the whole tray from the air fryer and place it on a cooling rack. Let it rest 10 minutes before cutting.

Any leftovers can be reheated in the air fryer as well to keep the skin crispy. Just cook at 350° until warm- about 3-5 minutes.
Notes:
*I'm writing instructions bases on my air fryer. Yours may be a little different, but the temperature and time should be the same.  **To make dairy free, use butter flavored coconut oil, plain coconut oil, or avocado oil If you don't need the recipe to be low FODMAP, then use all ghee and garlic powder. 
Nutrition Information
Calories: 322kcal (16%)Carbohydrates: 1gProtein: 20g (40%)Fat: 26g (40%)Saturated Fat: 8g (50%)Polyunsaturated Fat: 4gMonounsaturated Fat: 12gTrans Fat: 0.1gCholesterol: 94mg (31%)Sodium: 658mg (29%)Potassium: 223mg (6%)Fiber: 0.4g (2%)Vitamin A: 273IU (5%)Vitamin C: 6mg (7%)Calcium: 23mg (2%)Iron: 1mg (6%)