These Paleo Cherry Pie Crumb Bars are so simple and delicious! A thick shortbread crust, fresh fruit filling and irresistible crumb topping. These layered bars are vegan, gluten free, dairy free, and naturally sweetened.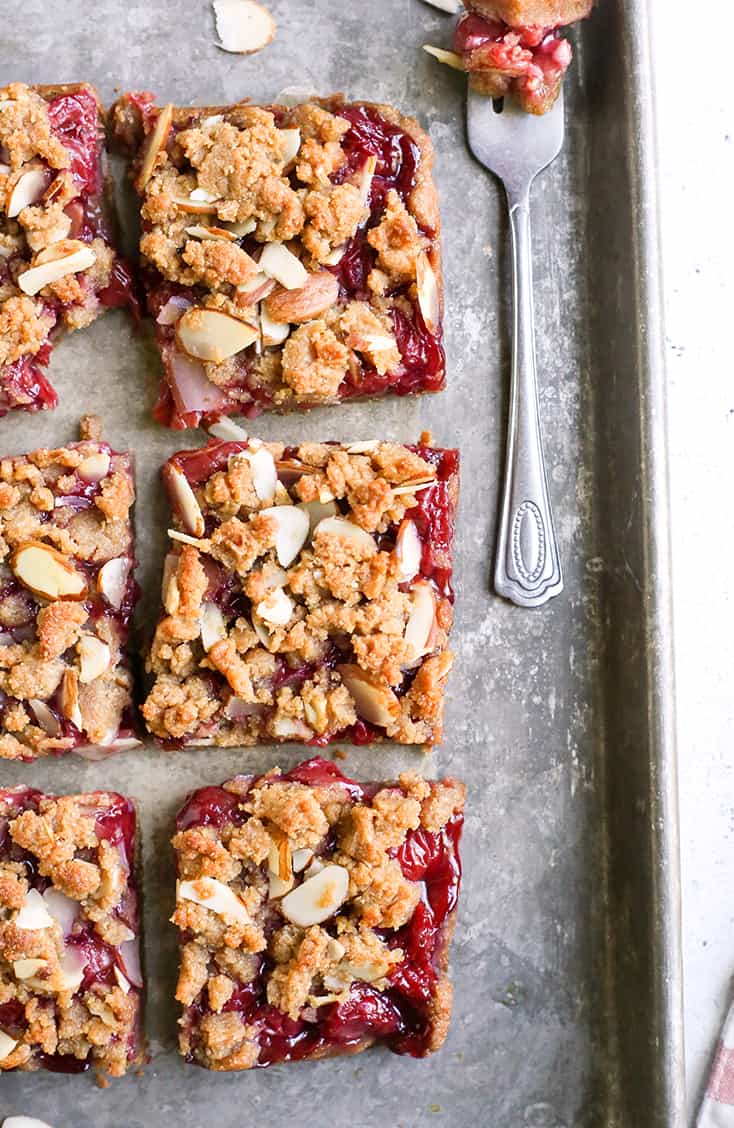 If you've been around a while then you know I love crumb bars and have many different varieties already on my site. I had to make this version after all the other flavors I have. I'm a little late since cherry season is over, but I used frozen cherries for these and you can too. Another nice part of doing that is you don't have to pit them.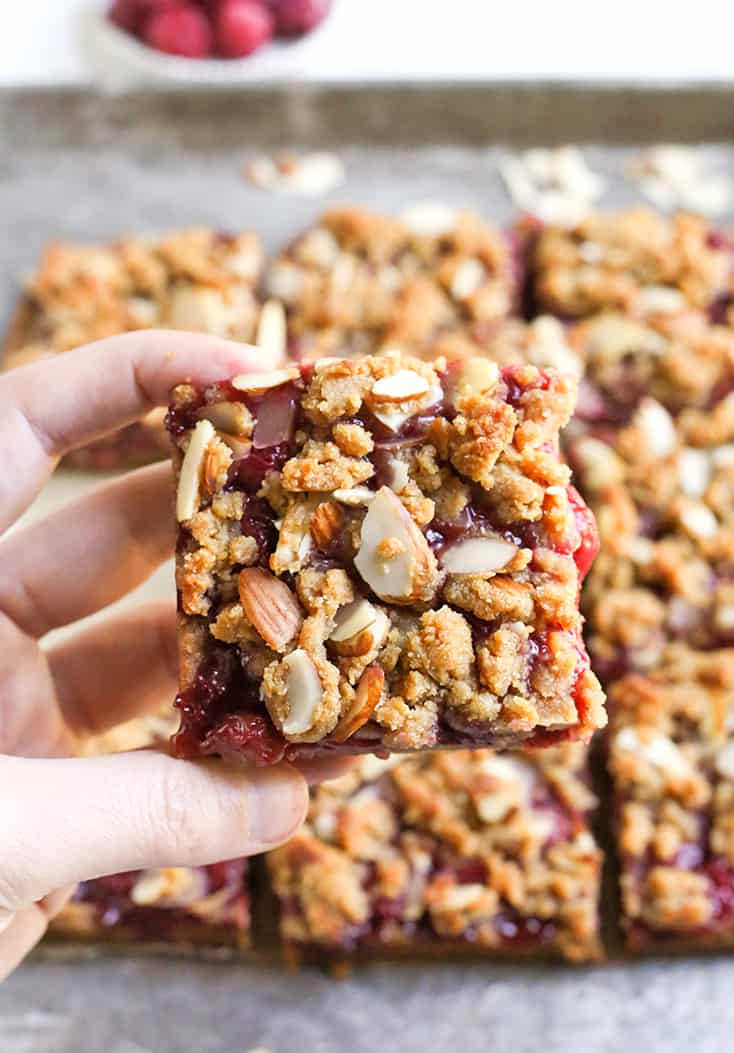 Simple Layers
Let's talk the layers The shortbread base is super easy to make, sweetened just right, and will melt in your mouth. The filling is sweet, thick and takes literally 5 minutes to make. So easy! I used some almond extract which pairs so perfectly with cherry. But don't let that stop you from making them if you don't have that ingredient. Highly recommended, but not a deal breaker. Then the topping is some of the leftover base with sliced almonds added to it. I think we can all agree that crumb topping makes everything better!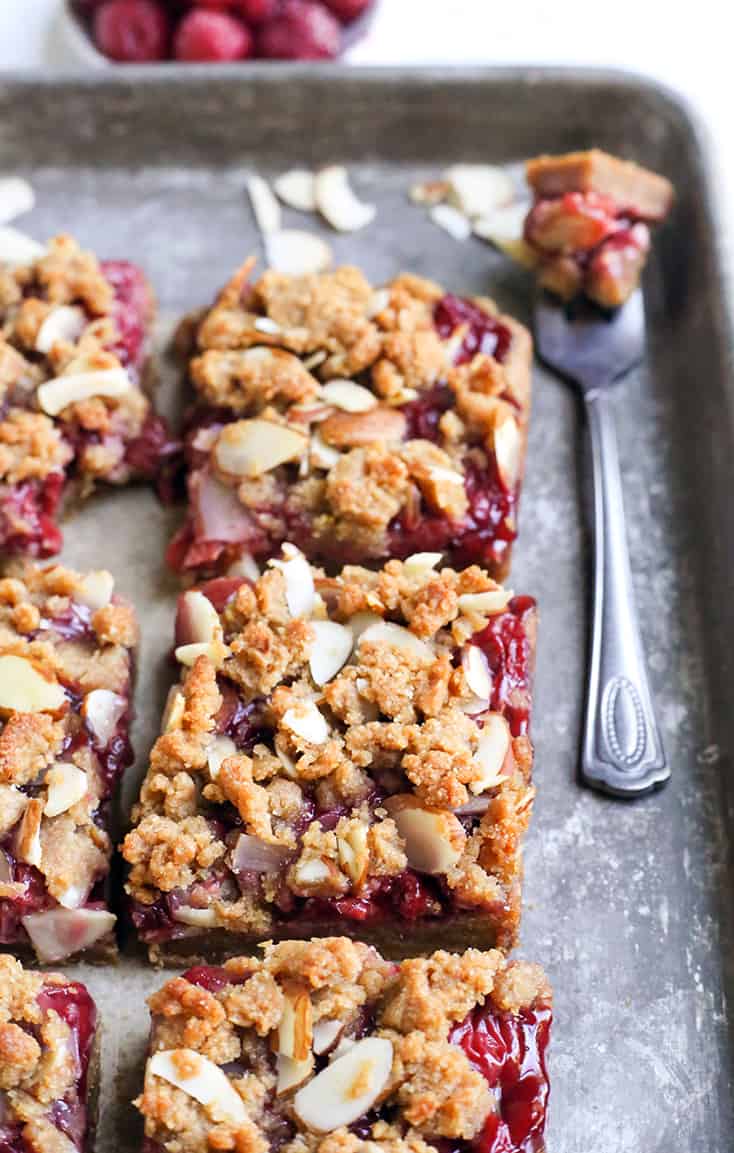 These bars are soft with just a slight crunch from the almonds. The triple layers all together taste so amazing! These bars are not overly sweet, but make such a nice treat. You can add more maple syrup to the cherries if you want- I like my fruit on the tart side so I just added a little. You of course can enjoy them right out of the oven, then any leftovers should be kept in the fridge. They are just as good cold and make the perfect snack or breakfast.

Vegan and Paleo Bars
These bars have no dairy, eggs, or other animal products which makes them vegan. Also great if you have an egg allergy or sensitivity. They also are grain free by using almond and coconut flour for the shortbread and crumb topping. Maple syrup is used as the sweeter which also keeps them paleo. I know everyone will love these, whatever diet they follow.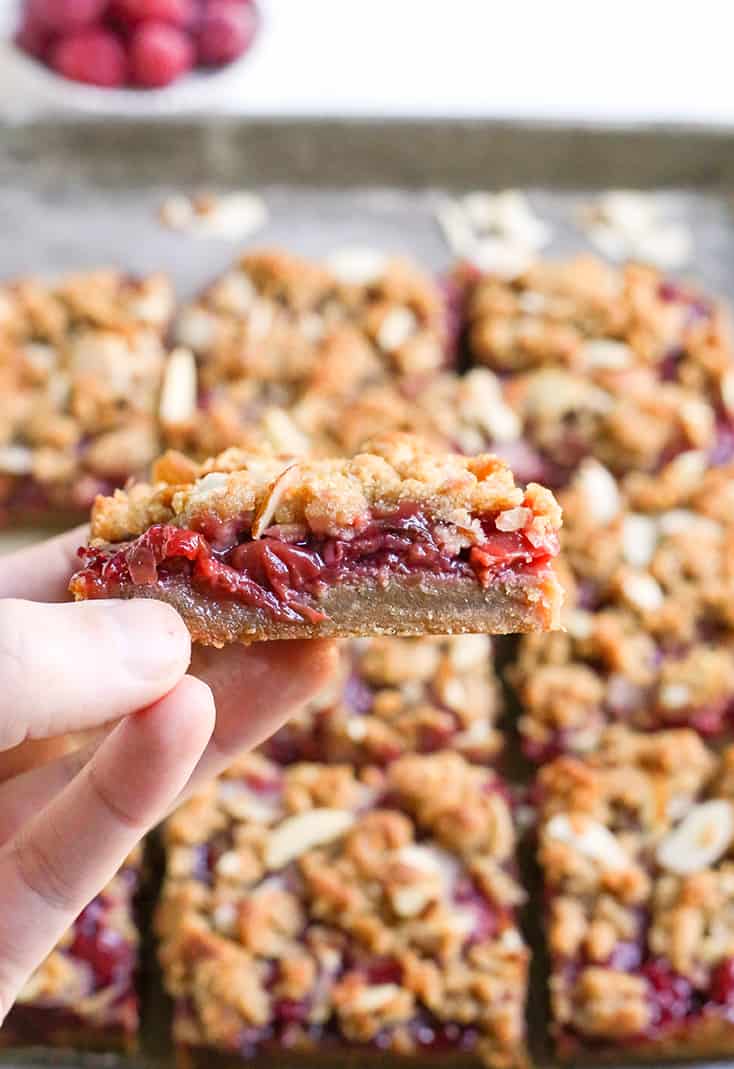 Cherry pie, but in bar form and so much easier! You will absolutely love these!
Make sure you check out my other versions:
Hungry for more? Subscribe to my newsletter and follow along on Facebook, Pinterest and Instagram for all of the latest updates.
Paleo Cherry Pie Crumb Bars
Instructions
Preheat oven to 350° and line a 9 inch square pan with parchment paper. Set aside

In a medium bowl, combine almond flour, coconut flour, salt, vanilla, maple syrup, and coconut oi. Stir together until it is well mixed and everything is incorporated evenly. Press ¾ of the mixture (the other ¼ will be used for the topping) into the bottom of the pan and bake for 10-12 minutes, until golden brown around the edges.

While the base is cooking, make the filling. In a sauce pan combine the cherries, maple syrup, salt, and tapioca flour. Cook over medium heat until thick, about 5 minutes. Add in the almond extract if using. Remove from the pan, pour into a bowl and place in the fridge until needed.

Once the base is cooked let cool 5 minutes. While that is cooling add chopped almonds to the remaining dough. If the mixture is too sticky then add the coconut flour 1 tablespoon at a time. It should hold together when squeezed, but not be too wet.

Spread the cherry sauce on the base then sprinkle the crumb mixture evenly on top as evenly as possible. Press down gently to make sure it stays in place. Bake for 20 minutes, or until golden brown.

These are easiest to cut and serve after being refrigerated. Also, store any leftovers covered in the fridge.
Nutrition Information
Calories: 261kcal (13%)Carbohydrates: 18g (6%)Protein: 7g (14%)Fat: 20g (31%)Saturated Fat: 5g (31%)Polyunsaturated Fat: 0.3gMonounsaturated Fat: 1gSodium: 58mg (3%)Potassium: 73mg (2%)Fiber: 4g (17%)Sugar: 10g (11%)Vitamin A: 11IUVitamin C: 1mg (1%)Calcium: 80mg (8%)Iron: 1mg (6%)