These Paleo Peach Pie Crumb Bars have all the flavor of the classic pie, but made was easier! They are vegan, gluten free, dairy free, egg free, and naturally sweetened.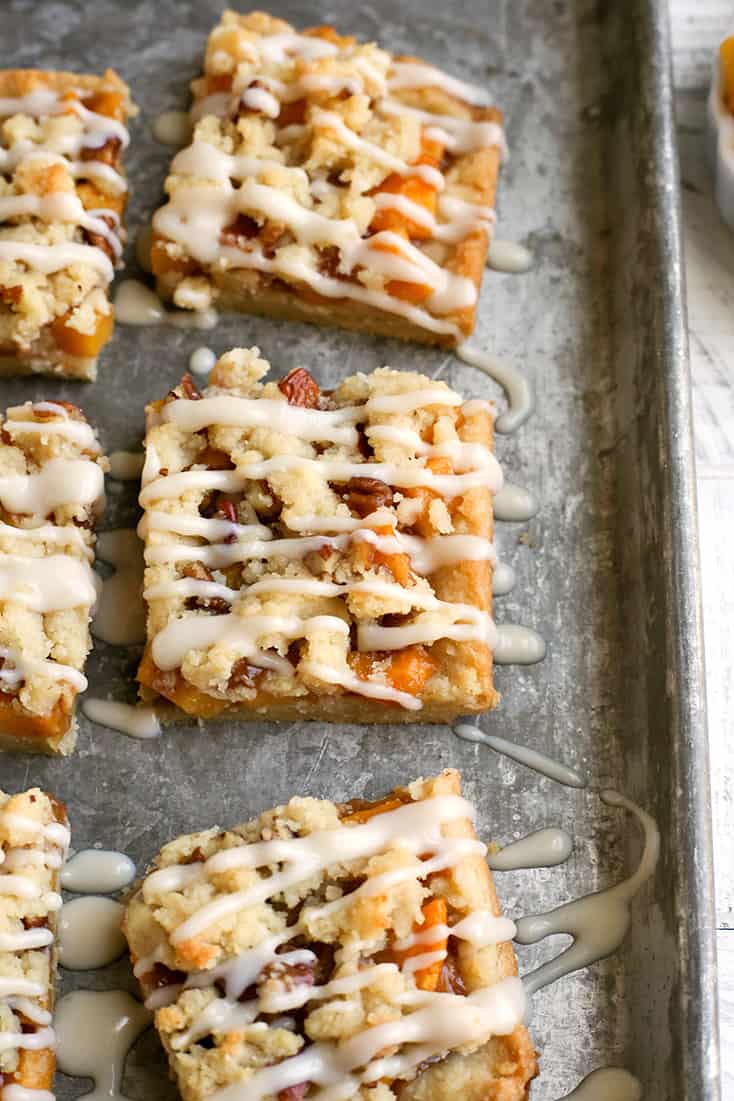 These bars are easy to make and so delicious! A simple shortbread made with almond and coconut flour, sweetened with maple syrup. That layer is topped with a peach pie layer. The peaches are soft and slightly sweetened with cinnamon. Then the peaches are topped with a crumb topping that has pecans for a nice crunch. These bars are 100 times easier than peach pie, but with all the same flavors.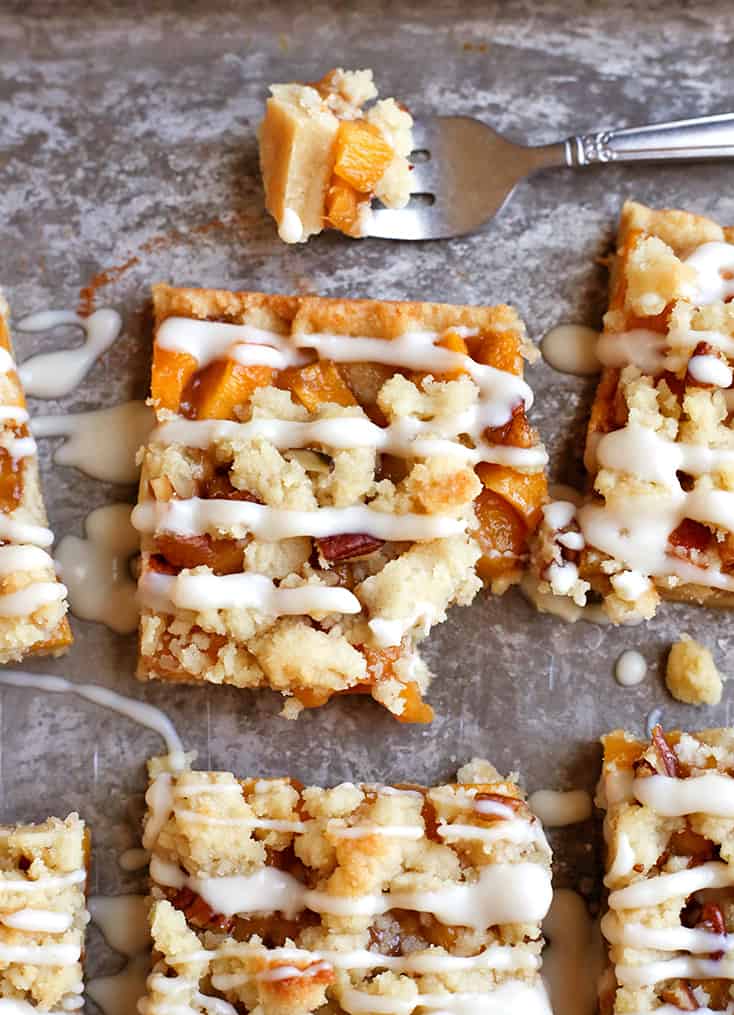 This is the second recipe in my healthy baking challenge. Last month was the Paleo Whole30 Dijon Rosemary Pork Chops and Soft Paleo Lemon Poppy Seed Cookies. It was so fun to see all the recreations of those recipes and I can't wait to see these this month. Here are the instructions to enter: (UPDATE- Caitlin S. has won the challenge!)
Make this recipe between June 1st-30th
Once you make it, take a picture and post it on Instagram, Facebook, or email it to me: realfoodbakingchallenge@gmail.com (you don't need to do all 3). If posting to Instagram, use the #realfoodbakingchallenge hashtag so I can find it. If your profile is private, send me a DM. If using Facebook, just post to my page and I'll see it.
Bonus entry if you come back and leave a review on the recipe you made
I'll randomly choose a winner to win $100 Amazon gift card. Yay!
I also shared Paleo Whole30 Pesto Turkey Burgers and if you make both recipes you are entered twice! Then we'll start over the next month. I'm looking forward to seeing all the recreations.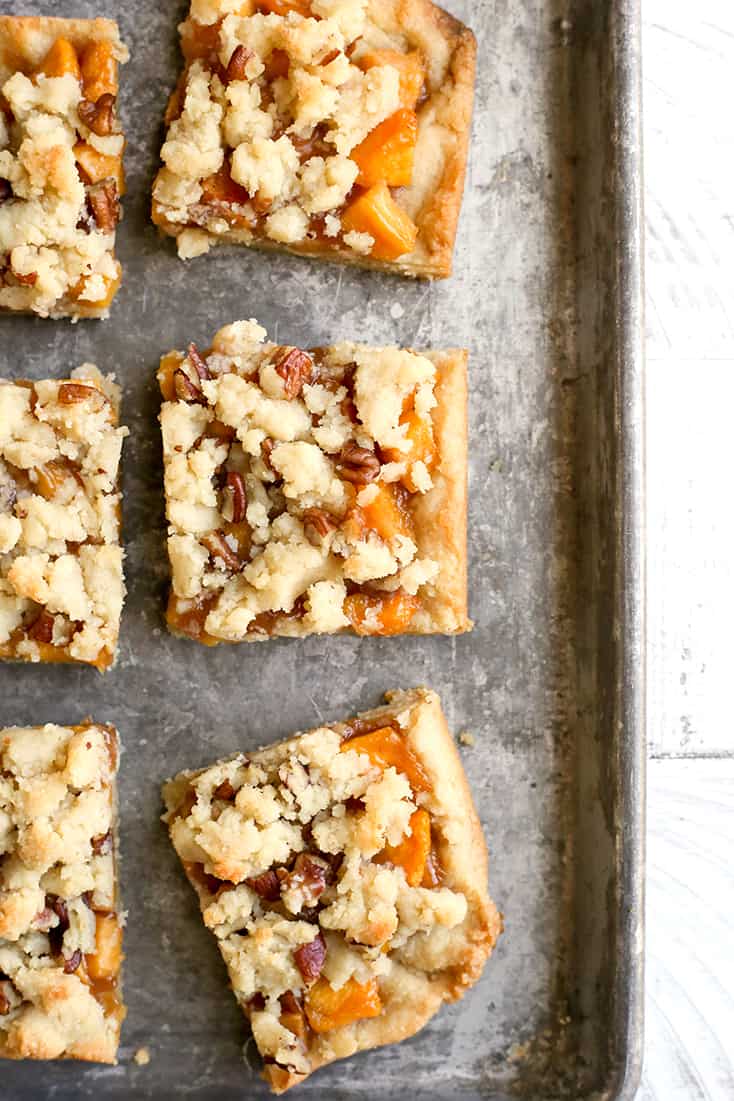 Paleo and Vegan
These bars happen to be both paleo and vegan. Using coconut oil means no dairy, they're naturally egg free and maple syrup is used as the sweetener. These are so delicious and can accommodate many peoples dietary restrictions.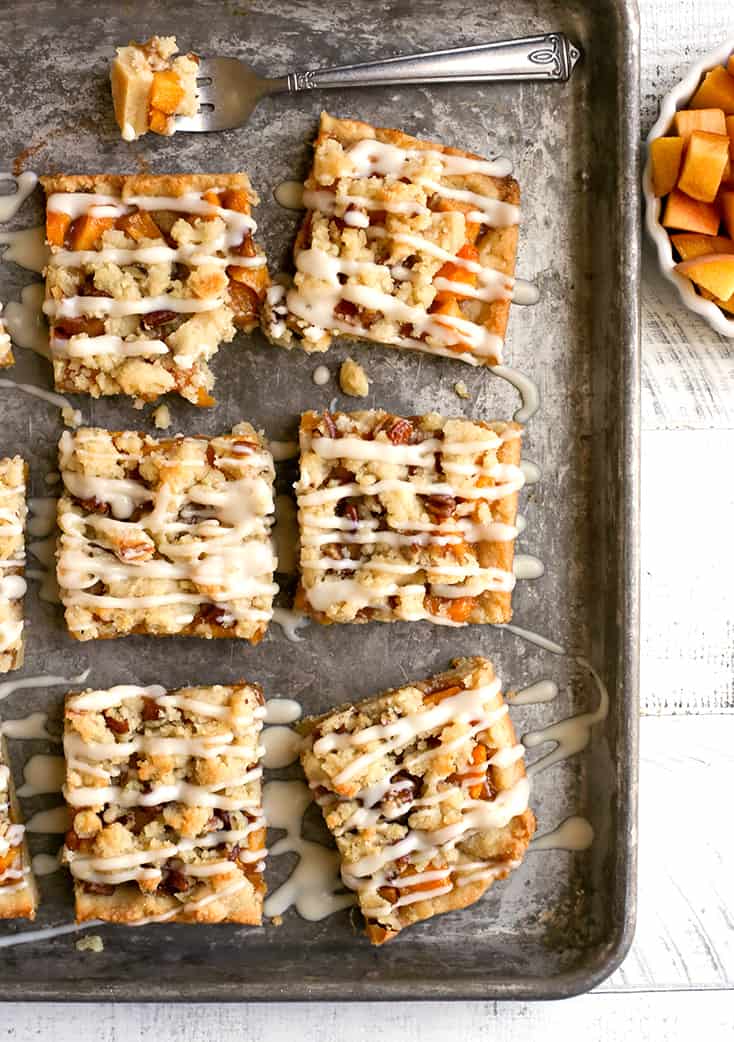 Coconut Butter Glaze
The glaze is optional, but makes them so pretty! It's a simple mix of coconut butter (or manna), maple syrup and almond milk. There is no replacement for the coconut butter because there is really nothing like it, so just leave it off if you can't find it. I always buy it on Amazon because it's much cheaper than the health food store.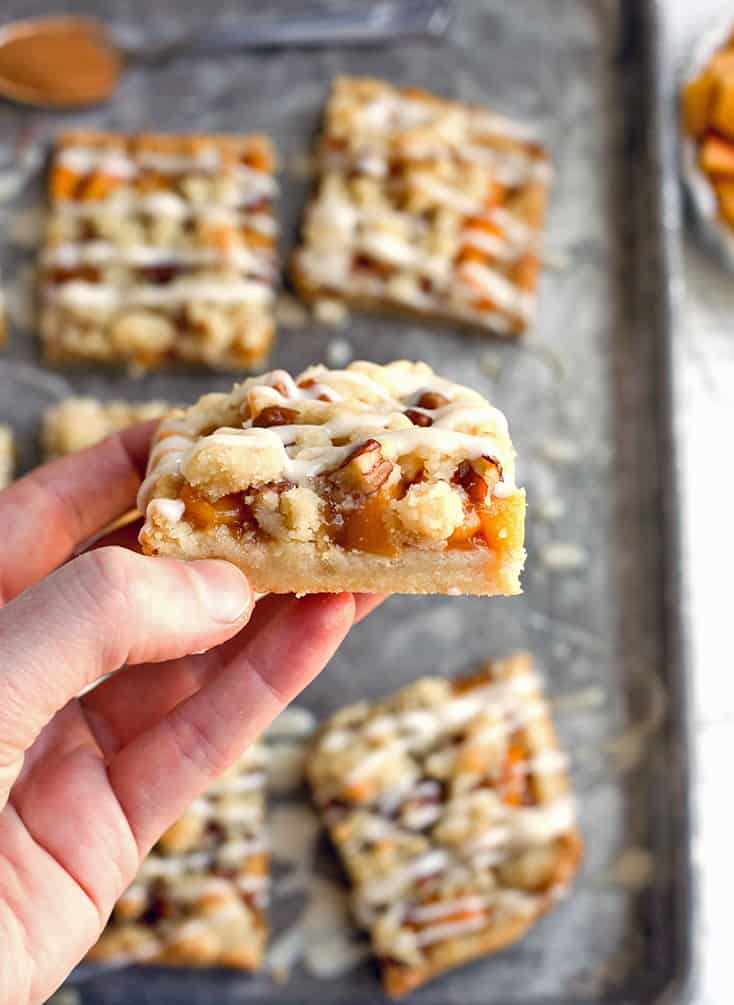 Here are some more crumb bars you will love:
I hope you try these bars and love them. Make sure to tag me and come back to leave a comment. Happy Baking!
Hungry for more? Subscribe to my newsletter and follow along on Facebook, Pinterest and Instagram for all of the latest updates.
Paleo Peach Pie Crumb Bars
Ingredients
Crumb Topping
¼ shortbread leftover from the crust
2 tablespoons chopped pecans
Instructions
Line a 9x9 pan with parchment paper and preheat the oven to 350°

Make the shortbread. In a medium bowl, combine almond flour, coconut flour, salt, maple syrup, coconut oil, and vanilla. Mix well. Take ¼ of the mixture out and place in a small bowl, this will be for the crumb topping. Press the remaining ¾ into the bottom of the lined pan and bake 12-14 minutes, until the edges are lightly browned. It will not be fully cooked at this point.

While the shortbread bakes, make the filling. Add the peaches, maple syrup, salt, cinnamon and arrowroot powder to a medium pan. Turn the heat to medium and cook, stirring regularly, for about 5 minutes or until the mixture if thick. Take off the heat and add in the vanilla. Set aside until ready to use.

Make the crumb topping by adding the chopped pecans to the shortbread mixture that was removed and placed in a small bowl. Mix well.

Once the shortbread is done baking, remove and let cool about 5 minutes. Top with peach mixture, spreading as evenly and gently as possible, then top with crumb topping, pressing in gently if needed. Bake 20-22 minutes, until top is golden brown.

Let cool before adding a glaze if you choose to. Make sure the coconut butter is soft. You may need to microwave it for 30 seconds and stir first. Make the glaze: In a small bowl, combine the coconut butter, maple syrup, vanilla and almond milk. Add the milk as needed until smooth. Drizzle over bars.

Store bars in the fridge for easy eating and to keep fresh.
Nutrition Information
Calories: 283kcal (14%)Carbohydrates: 20g (7%)Protein: 7g (14%)Fat: 21g (32%)Saturated Fat: 5g (31%)Polyunsaturated Fat: 0.4gMonounsaturated Fat: 1gSodium: 118mg (5%)Potassium: 62mg (2%)Fiber: 4g (17%)Sugar: 12g (13%)Vitamin A: 64IU (1%)Vitamin C: 1mg (1%)Calcium: 84mg (8%)Iron: 1mg (6%)