These Paleo Chocolate Cake Waffles are a fun dessert or breakfast. Easy to make, sweet, and so delicious! Gluten free, dairy free, and naturally sweetened.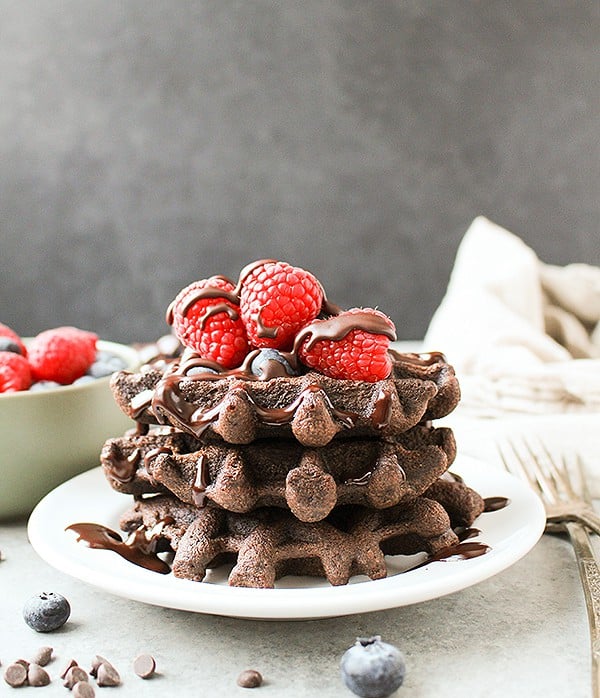 These waffles happened on accident. I was trying to come up with the perfect donut recipe, and while the flavor was perfect, they just weren't pretty at all. After a couple batches I decided to try them in the waffle maker- perfection!! They turned out better than I imagined. They didn't stick to the waffle maker (my nightmare), they were light and fluffy on the inside and slightly crispy on the outside.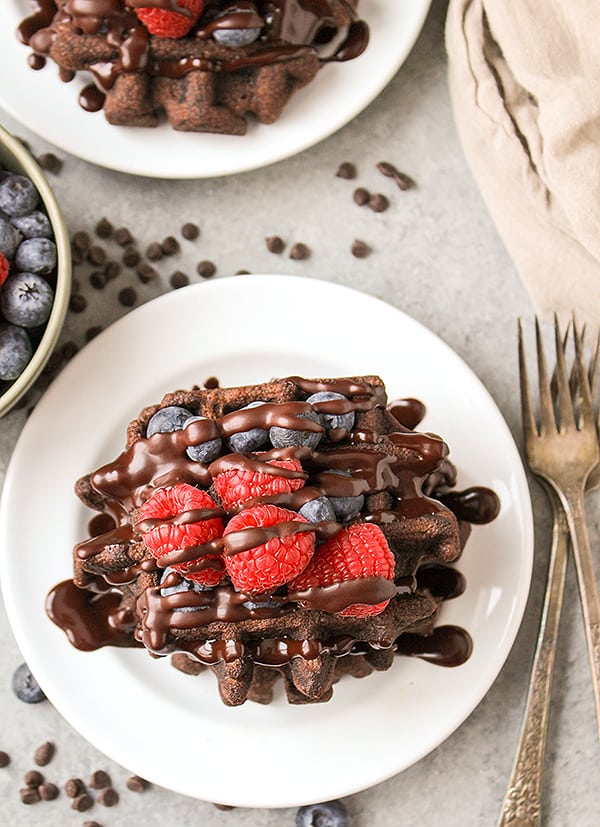 These are definitely a dessert type breakfast- especially if they're covered in maple or chocolate syrup. But they are made with almond flour, coconut oil, and eggs so they do have healthy fats to keep you full. A better option than traditional waffles. Of course they can be served as dessert and would be amazing topped with ice cream and all the fixings. Yum!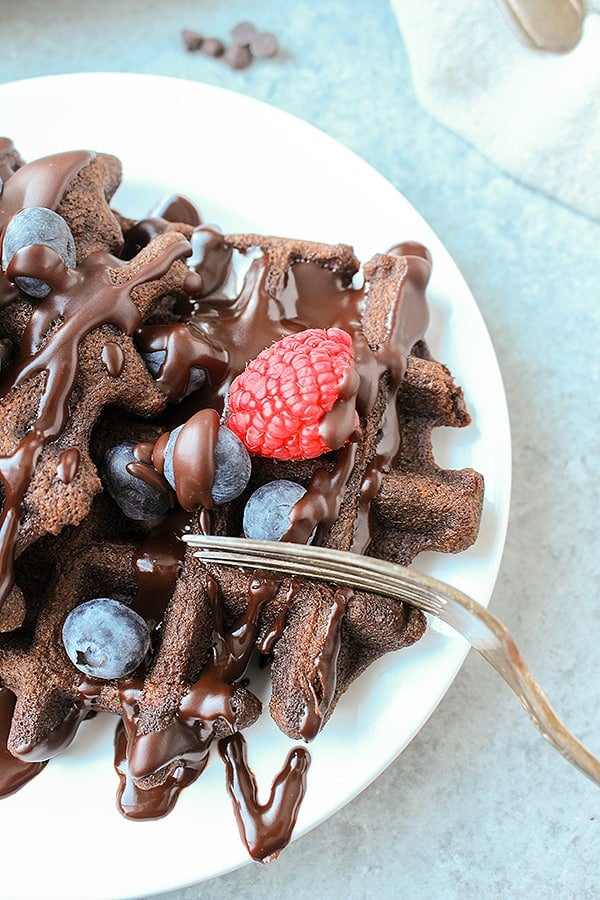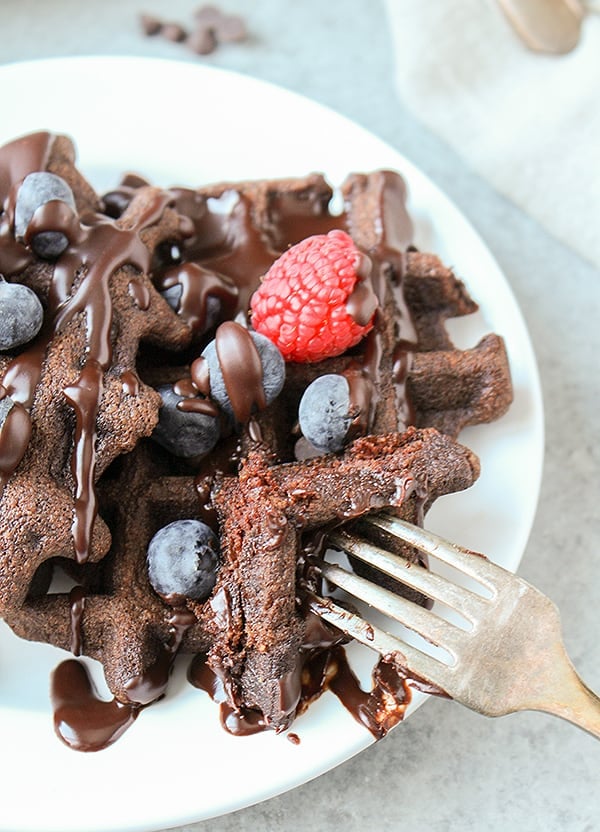 A couple tips to make sure they come out perfect:
Don't overfull the waffle maker. I used 1/4 cup so it wasn't completely full each time. I didn't want them to spill out the edges and they came out cute!
The waffles are done when the waffle maker quits steaming. For the first batch that was 4 minutes, the second batch- 3 minutes, and less than that the third batch. So keep an eye on it and check it as soon as you don't see steam.
Brewed coffee enhances the chocolate flavor. Promise you can't taste it! Feel free to use almond milk in place of it if you want.
Spray the waffle maker generously with some non-stick spray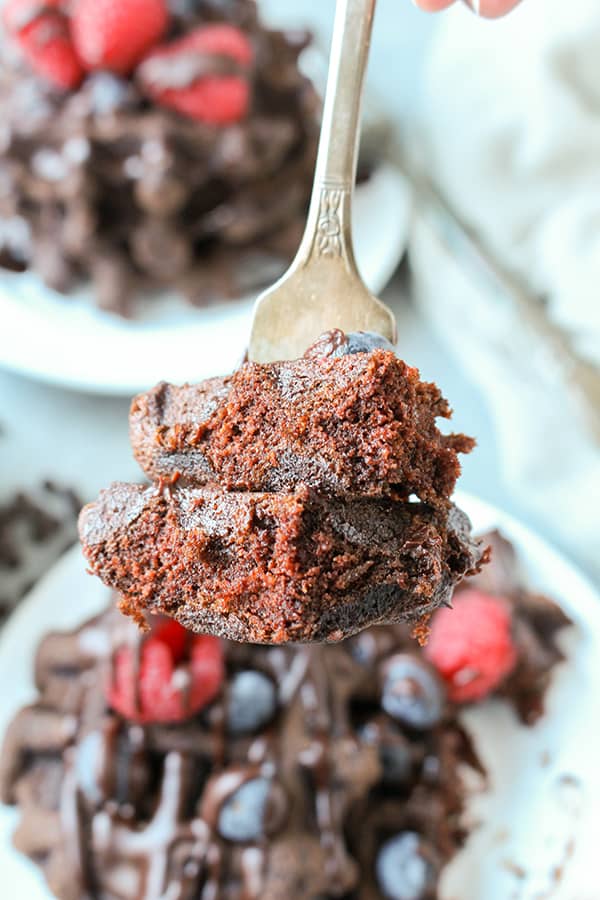 These can also be made ahead of time and rewarmed- place them in the oven at 250° for 8-9 minutes. I just place them on a sheet tray- so easy!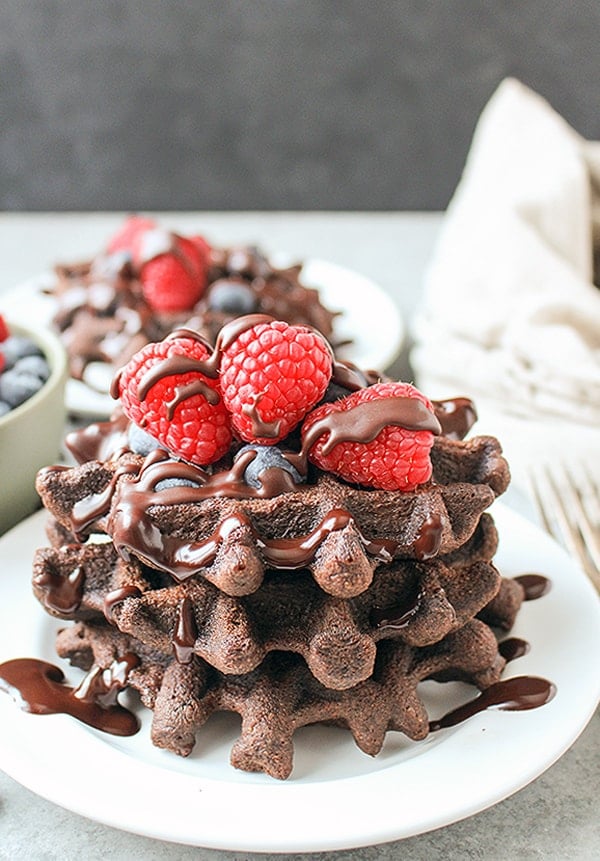 These would make a super fun special occasion breakfast- a birthday, mother's day, valentine's day. Top them with your favorite toppings. Or maybe you have a chocolate cake craving, but don't want to wait an hour to bake one. These are whipped up and baked in just minutes.
Hungry for more? Subscribe to my newsletter and follow along on Facebook, Pinterest and Instagram for all of the latest updates.
Paleo Chocolate Cake Waffles
Ingredients
1 cup almond flour
1 tablespoon cassava flour
1/3 cup coconut sugar
3 tablespoons cacao powder, sifted if necessary
1/2 teaspoon baking soda
1/4 teaspoon salt
1/4 cup melted coconut oil
2 large eggs, room temperature
1 teaspoon vanilla extract
1/4 cup cold brew coffee, or almond milk if preferred
Instructions
CLICK HERE for the full recipe on Golden Barrel's site.