This Paleo Cookie Crisp Cereal is a healthy re-make of the popular kids breakfast. Made with wholesome ingredients, naturally sweetened and so delicious! This will become a family favorite!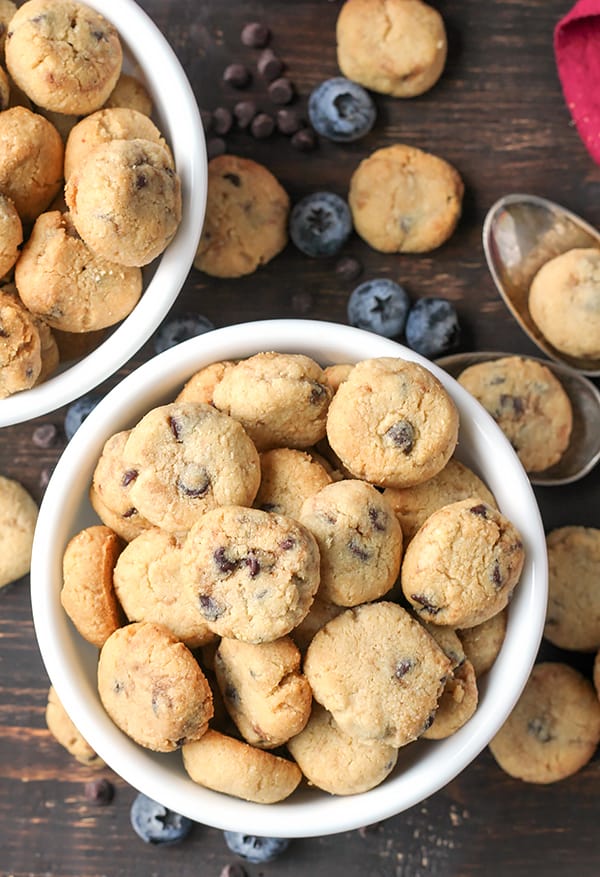 Is this the most healthy breakfast ever? No, definitely not! There is sugar in them, even if it is from maple syrup, and there's no veggies. But it's a fun breakfast on occasion or for a special day. It's way better than the store bought version and the protein and healthy fats will help keep you full longer. If you're making this for your kids you will score some major cool-mom points!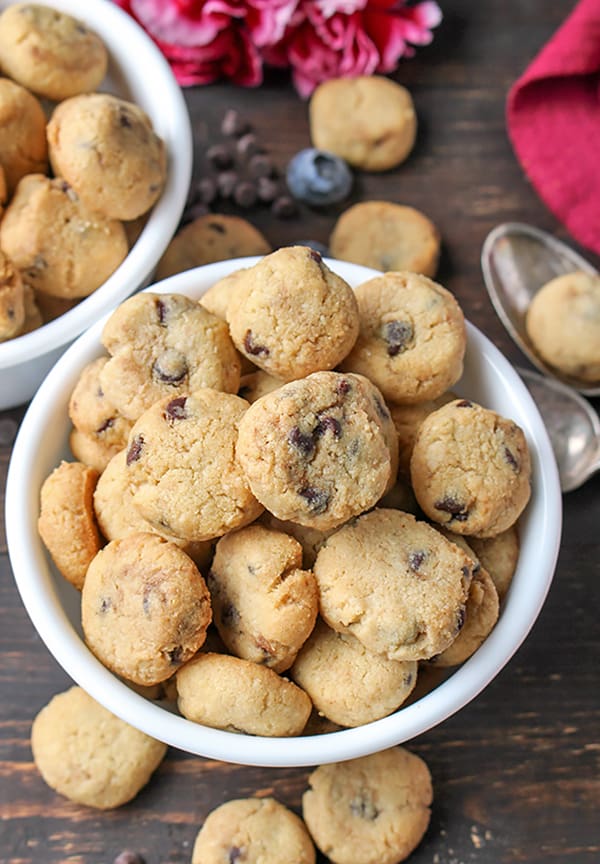 I loved Cookie Crisp as a child, but I think this version is actually better. It was good, but it didn't have that exact cookie taste. These do! They are crunchy, sweet, and studded with actually chocolate chips- not fake brown specs. The ingredients in this homemade version are way better of course!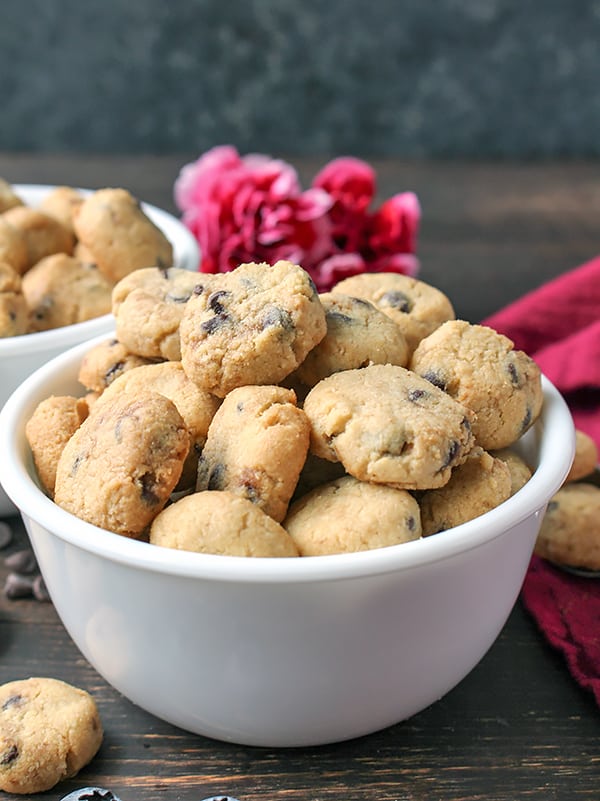 These cookies are super easy to make! The dough is mixed up quickly, all by hand in just minutes. Yes, rolling them in tiny balls is a little time consuming, but totally worth it. It makes a lot of cookies, around 150 if I remember correctly (I should have written it down) so enough to last quite a few days. Well, depending on how many people are eating it.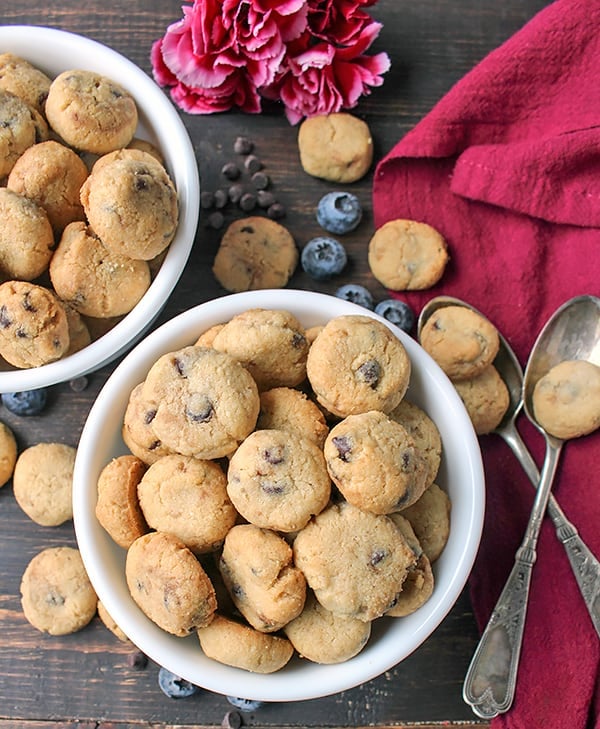 This not only makes a great breakfast, they are also good to snack on. They stay crispy so they can be thrown in a bag and enjoyed on the go if needed. They stay good up to a week in an airtight container at room temperature- after that it's best to refrigerate them.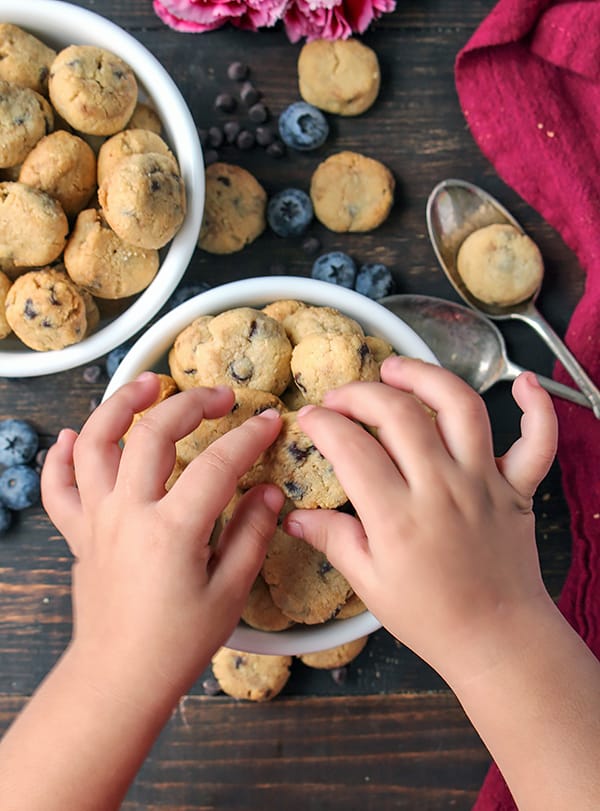 My daughter is not very into cookies(!!!), but will always take the opportunity to be in my pictures 🙂
You will love this cereal because it is crunchy, sweet, made with healthy ingredients, and so delicious! Here are a couple other paleo cereal recipes you will like: Paleo Crunchy Cinnamon Toast Squares and Paleo Cracklin Oat Bran.
Hungry for more? Subscribe to my newsletter and follow along on Facebook, Pinterest and Instagram for all of the latest updates.
Paleo Cookie Crisp Cereal
Ingredients
1/2 cup coconut oil, room temperature
1/4 cup maple syrup
1 large large egg, room temperature
1 teaspoon vanilla
1 1/2 cups almond flour
1/2 cup cassava flour
1/4 teaspoon salt
1/2 teaspoon baking soda
1/2 cup chocolate chips
Instructions
CLICK HERE for the full recipe on Golden Barrel's site.