This Gluten Free Instant Pot Oatmeal is so easy to make and filling. It is thick, hearty, nourishing and delicious! Make a batch and have quick breakfasts ready all week.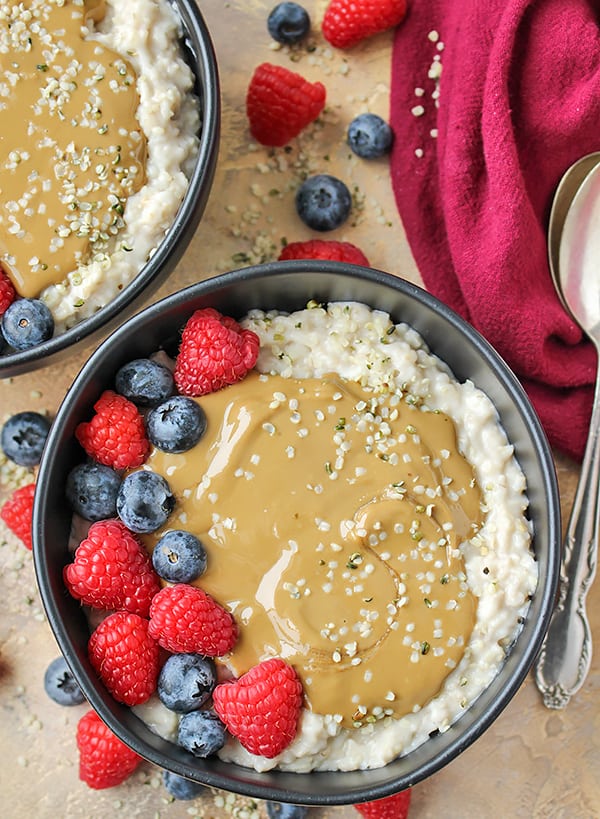 Why using the Instant Pot is so great for oatmeal
Using the Instant Pot to make a batch of oatmeal is so handy and makes them perfectly creamy every time. It's a hands-free cooking method meaning you don't have to stand and stir at the stove. This also makes a large amount, perfect for meal prep and making mornings so easy!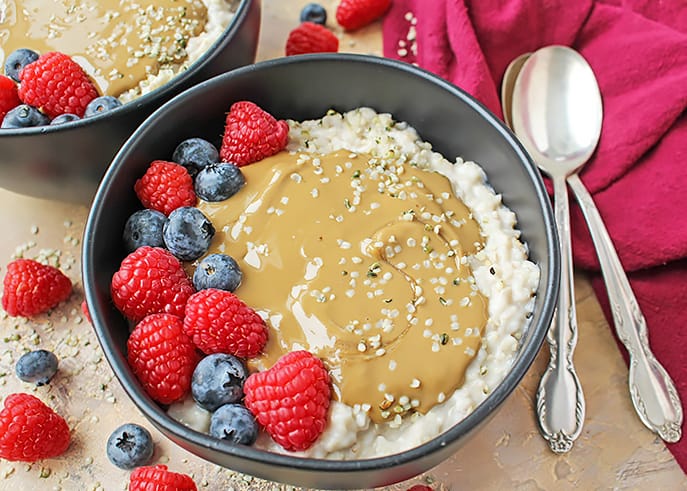 I like to think of paleo as a great guideline, but it's not going to look the same for everyone. We don't eat any processed food or sugar, but there is a lot of food that is paleo that my husband can't have- like garlic, onions, mushrooms, cabbage, apples, pears, blackberries, honey and so much more! So when we find a real food that works for him, he eats it. That includes organic white rice and this gluten free soaked oatmeal.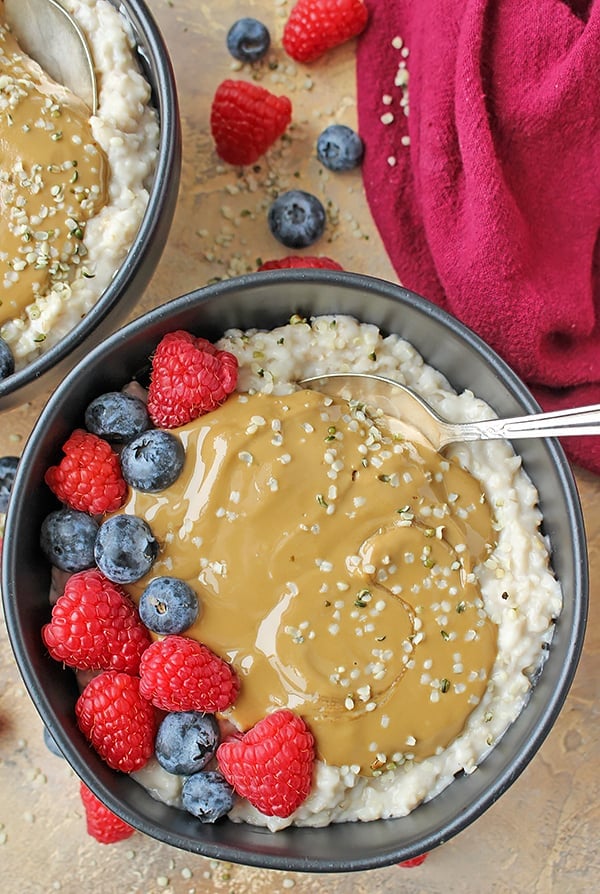 Soaking Oatmeal
These oats are soaked for 24 hours in a water/vinegar mix. It helps break down their starches and makes them so much easier to digest. It reduces their phytic acid (an anti-nutrient) and allows your body to break them down better. So, if you don't digest oats well, try soaking them and that may change! It only takes a couple minutes the day before for a big batch.
This is an optional step- the oats can still be cooked without doing this and turn out great!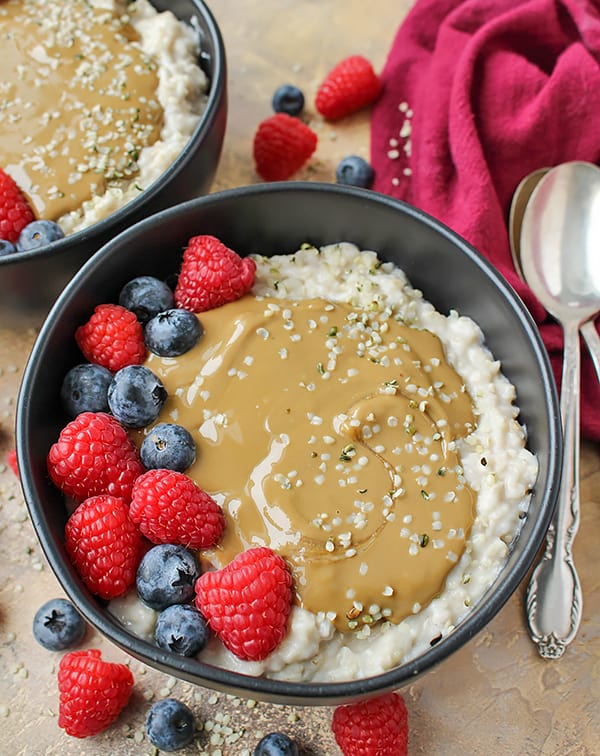 Topping the oatmeal
This gluten free Instant Pot oatmeal is a very basic recipe, like a blank slate. Add your favorite sweetener, add-ins and toppings. I went with nut butter, fresh berries, and hemp seeds. My childhood favorite was butter, maple syrup and raisins.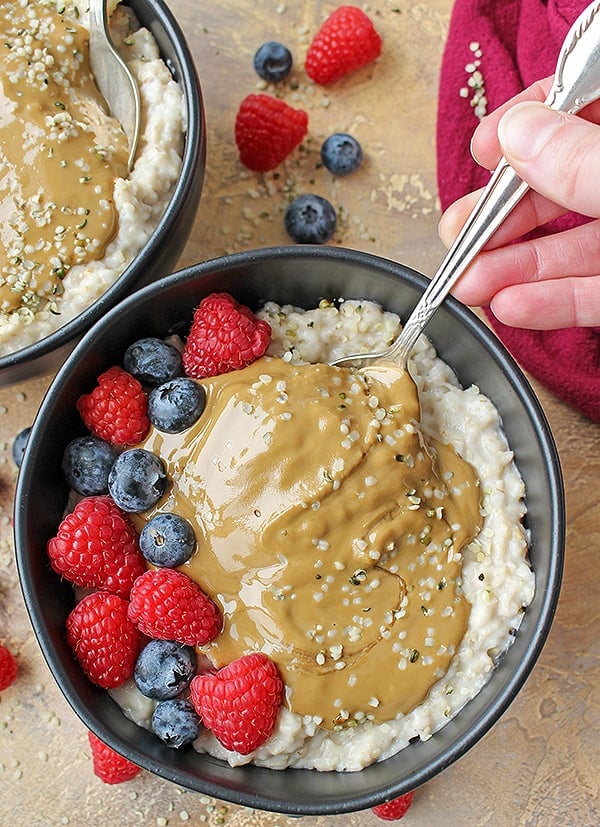 Here are some more oatmeal recipes to try:
This is the Instant Pot I have and love!
Hungry for more? Subscribe to my newsletter and follow along on Facebook, Pinterest and Instagram for all of the latest updates.
Gluten Free Instant Pot Oatmeal
Ingredients
Cooking
3 ½ cups unsweetened dairy free milk or water
¼ teaspoon salt
Instructions
24 hours before cooking, combine oats, water, and vinegar in a large bowl. Stir, cover, and let sit for 24 hours.

After 24 hours, dump oatmeal into a fine mesh strainer and rinse well, until the water runs mostly clear, 1-2 minutes.

Add the oats to the Instant Pot and add the dairy free milk and salt. Stir, put the lid on, and close the valve. Hit the "manual" button and reduce the time to 4 minutes. Once cooking is up, hit "cancel", release the pressure and stir. 

This is the point where you can add in a sweetener if desired. Serve right away or store in the fridge. It may look a little thin right after cooking, but it thickens up.
Notes:
*Soaking the oats before hand is optional. It will still work great if the oats are dry.  *Apple cider or white vinegar can be used for the soaking. 
Nutrition Information
Calories: 74kcal (4%)Carbohydrates: 11g (4%)Protein: 3g (6%)Fat: 2g (3%)Saturated Fat: 0.2g (1%)Polyunsaturated Fat: 1gMonounsaturated Fat: 1gSodium: 176mg (8%)Potassium: 59mg (2%)Fiber: 2g (8%)Sugar: 0.2gCalcium: 116mg (12%)Iron: 1mg (6%)