These Gluten Free Monster Cookies are thick, packed with goodies, and full of peanut butter. They will sure to become a favorite. Dairy free option. Great for holiday parties or simple events with the kids, this is a great recipe to make with loved ones and has a 10 minute prep!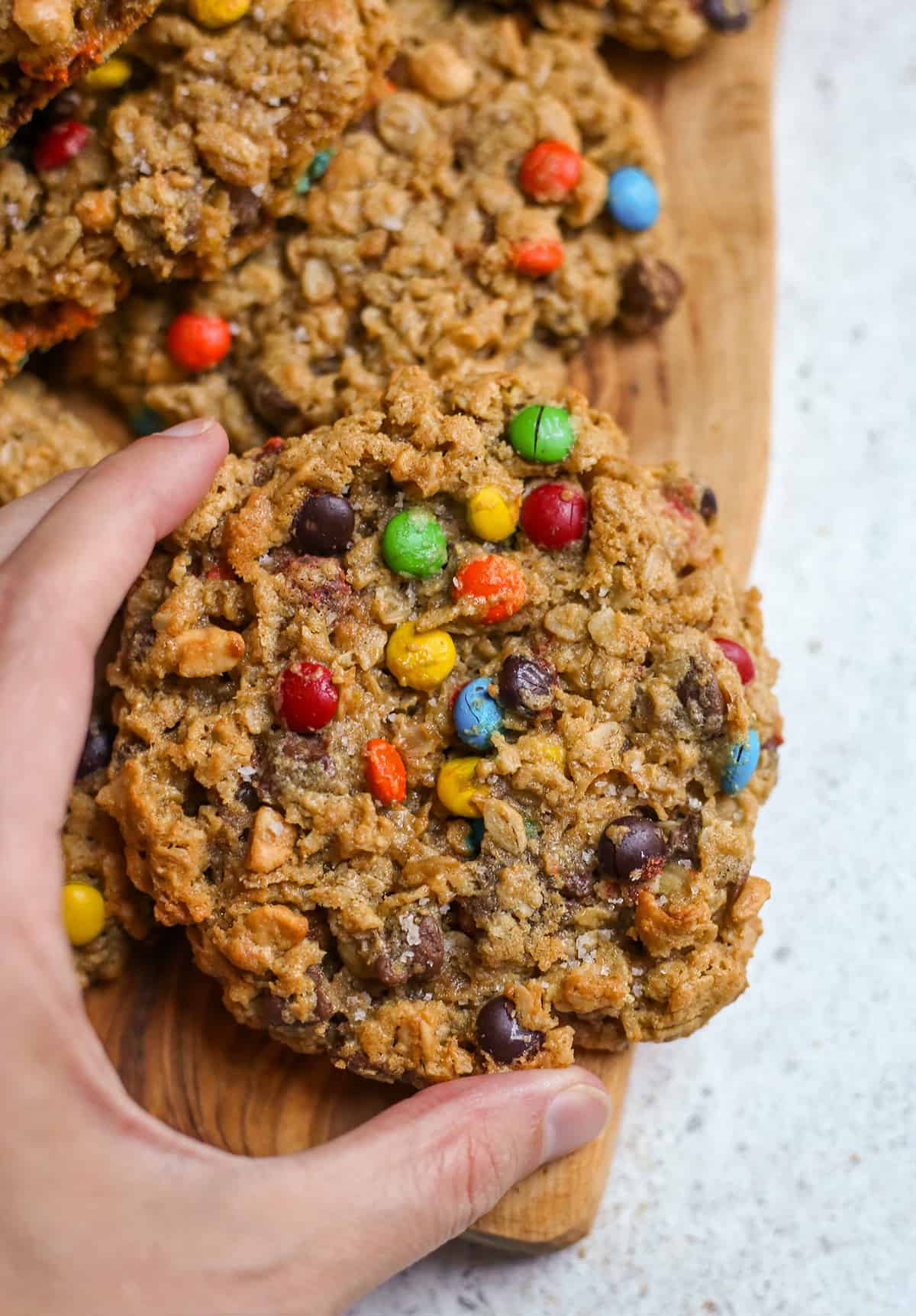 If you don't know what a Monster Cookie is, allow me to explain: a sweet peanut butter cookie dough with oatmeal then add in some M&M's and chocolate chips, but feel free to be creative. I did a batch with dried cranberries that my boyfriend loved! I like using crunchy peanut butter for added crunch, but chopped nuts would also be delicious!
Here are the all the ingredients you'll need.
Jump To
Ingredients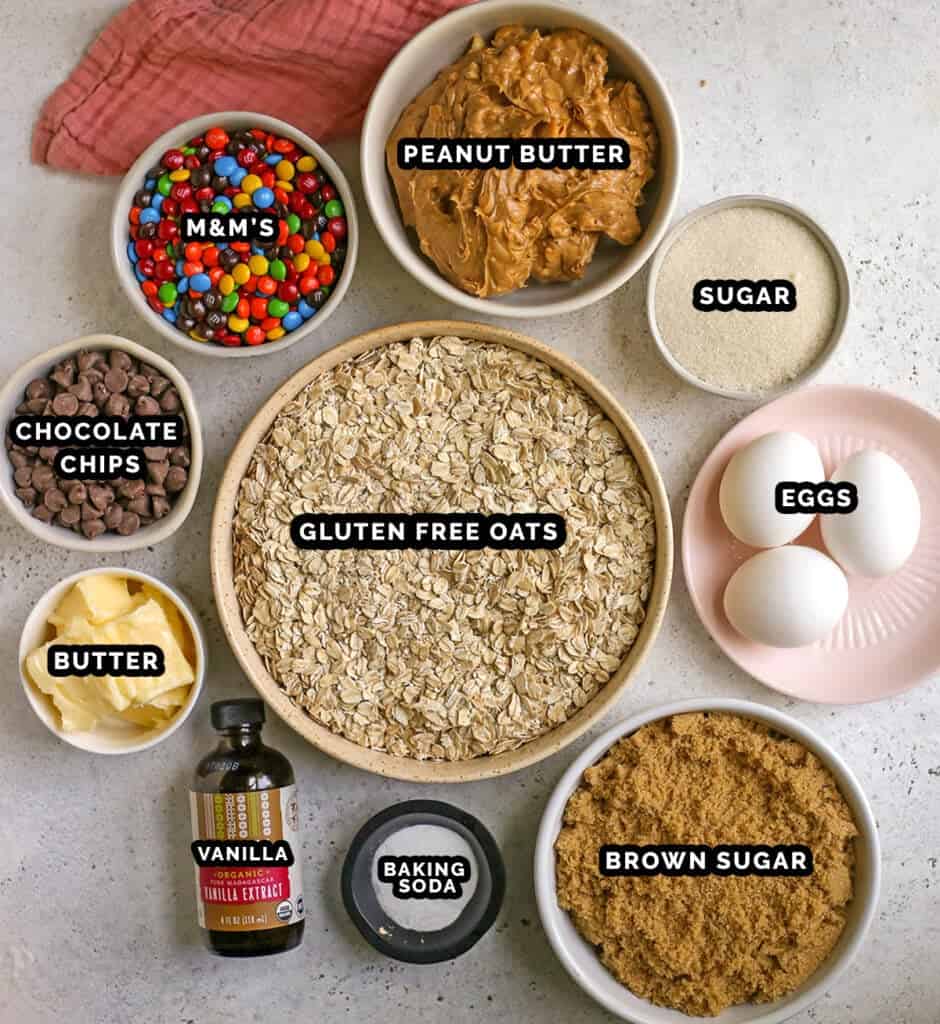 Peanut Butter – you do not want to use all natural for this recipe. In general, all natural peanut butter in baking just does not work. Use a brand like Skippy or Jif for the best result.
Butter – salted is best as there is none called for in the recipe. Butter is recommended over margarine for the best result. Make sure that you've allowed the butter to come to room temperature to mix best with the sugar and eggs. To make them dairy free, ghee could be used instead.
Sugar- a mixture of white and brown sugar are used for the best taste and consistency.
Eggs – these help hold the cookies together. Room temperature is best. If you are pulling your eggs from the refrigerator right before baking, place the eggs in a cup of warm water for a few minutes to take the chill off.
Gluten Free Oats – I prefer Old-Fashioned Oats for these monster cookies. If you don't need them to be gluten free then use any brand of oats.
Add ins – get creative here! Chocolate chips, peanut butter chips, toffee pieces – the options are endless! Double check ingredients if you need them to stay gluten free. Dairy free chocolate chips can be used if making them dairy free as well.
See the recipe card for full information on ingredients and quantities.
Substitutions & Additions
These are already gluten free, but easily made dairy free as well.
Using ghee in place of the butter, a 1:1 ratio. Coconut oil would also work. Instead of M&M's which are milk chocolate, use a dairy free chocolate candy like Unreal.
These two swaps will make them dairy free.
Step-by-Step Directions:
The process is simple, no mixer is needed and they come together quickly. Mix the butter and sugar together and then add in the eggs.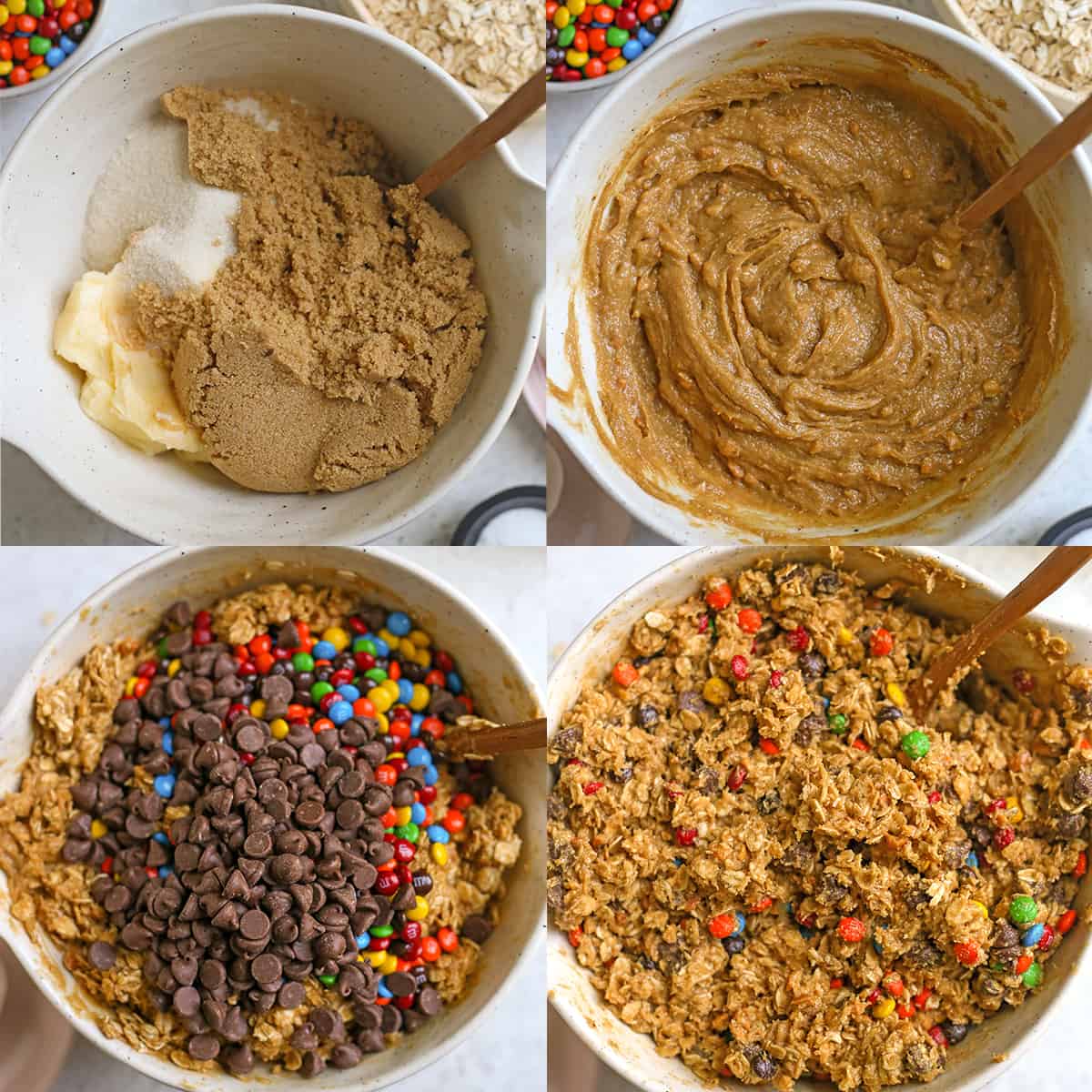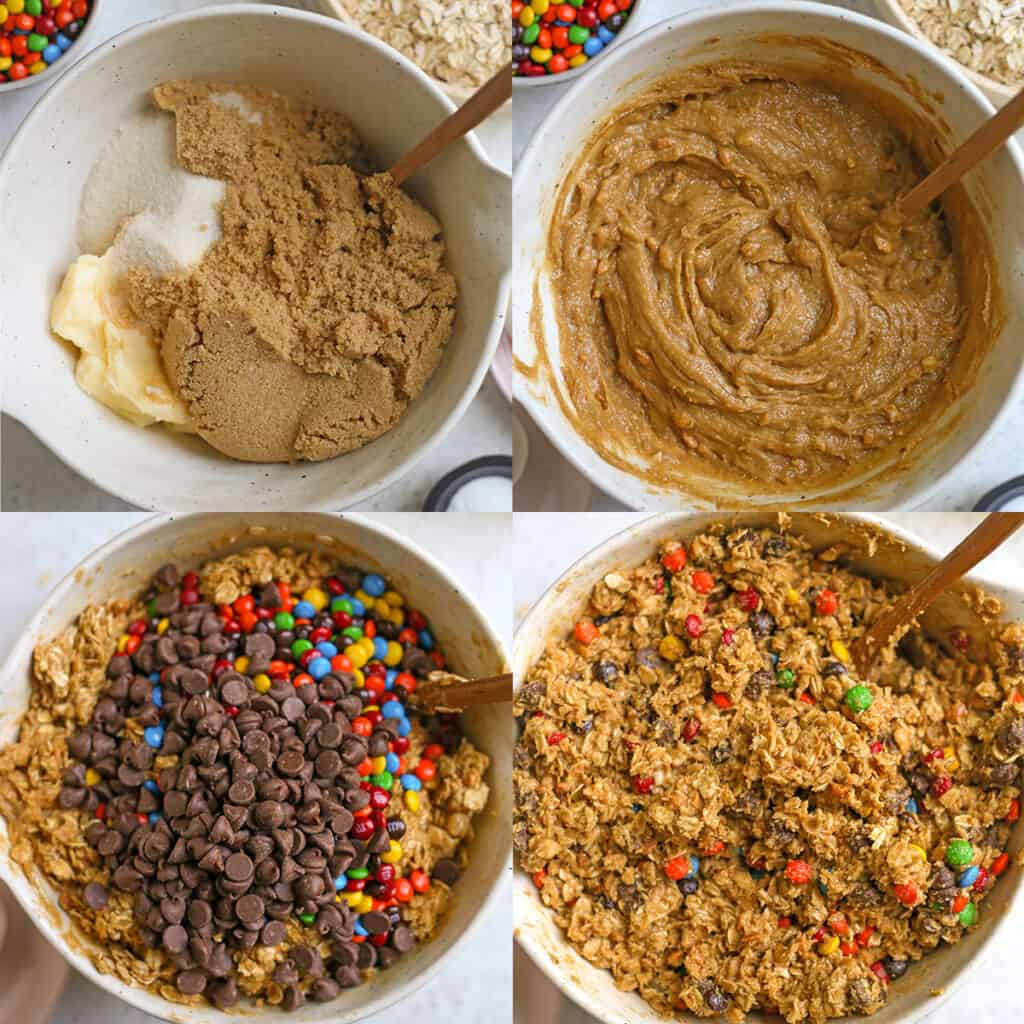 Add in the oats, chocolate chips and candies and stir well. Scoop out and bake- that's it!
See final result below!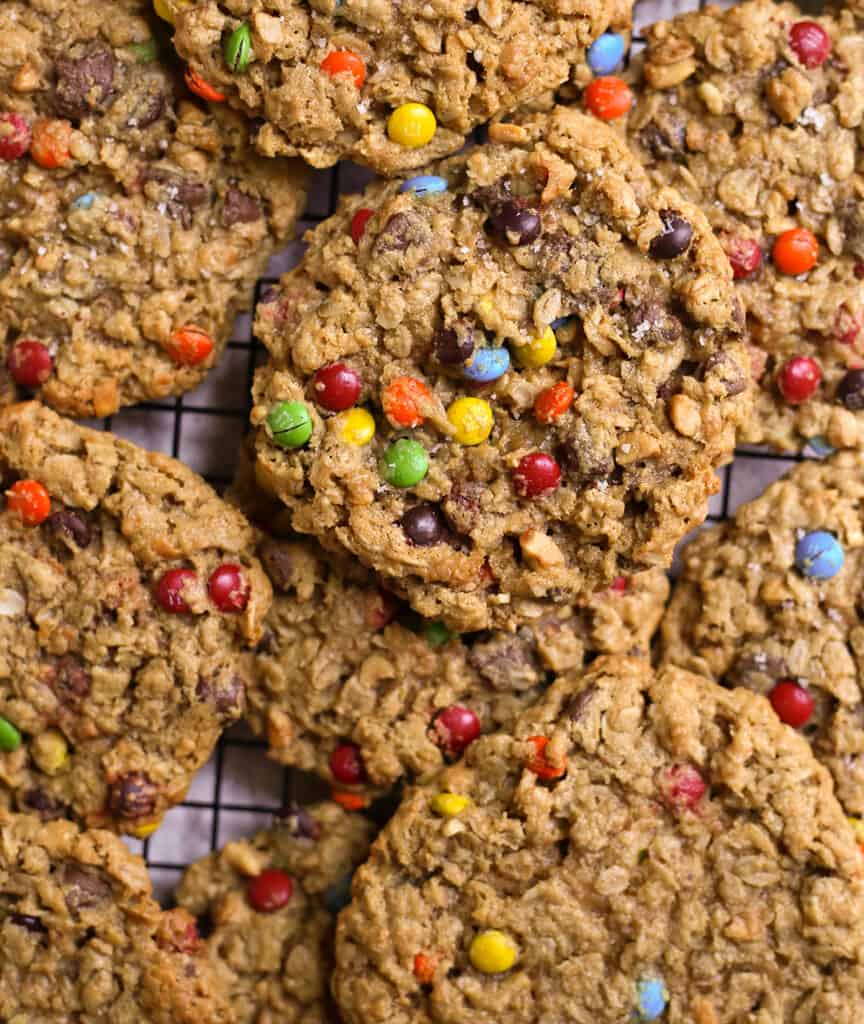 Recipe FAQs
How do you correctly store these "Monster" cookies?
These stay great at room temperate for up to 10 days. Just keep them covered and they are as good as fresh. They also freeze great if you want to make them ahead or freeze some of them for later.
Why are my monster cookies turning out flat?
Here are 14 common reasons for flat cookies:
1.Inadequately softened butter.
2.An oven set at too high a temperature.
3.Using a hot cookie sheet or one that's been greased.
4.Incorrect measurements of ingredients.
5.Using the wrong type of fat in the recipe.
6.Neglecting to chill the cookie dough.
7.Undermixing or overmixing the batter.
8.Rolling out the cookie dough too thin.
9.Utilizing expired ingredients, such as baking soda.
10.Insufficient mix-ins in the cookie dough.
11.Baking too many cookies simultaneously.
12.Employing low-quality ingredients.
13.The recipe you're following may simply not be effective.
How do I make these monster cookies dairy-free?
To make them dairy free, ghee could be used instead. Also, substitute dairy-free chocolate chips and candies.
These have become one of my most requested cookie to make and I think you'll love them just as much too. I've shared with friends and my boyfriend brought them into his work where everyone went crazy for them. It's just something about that peanut butter, oatmeal, chocolate combo I think.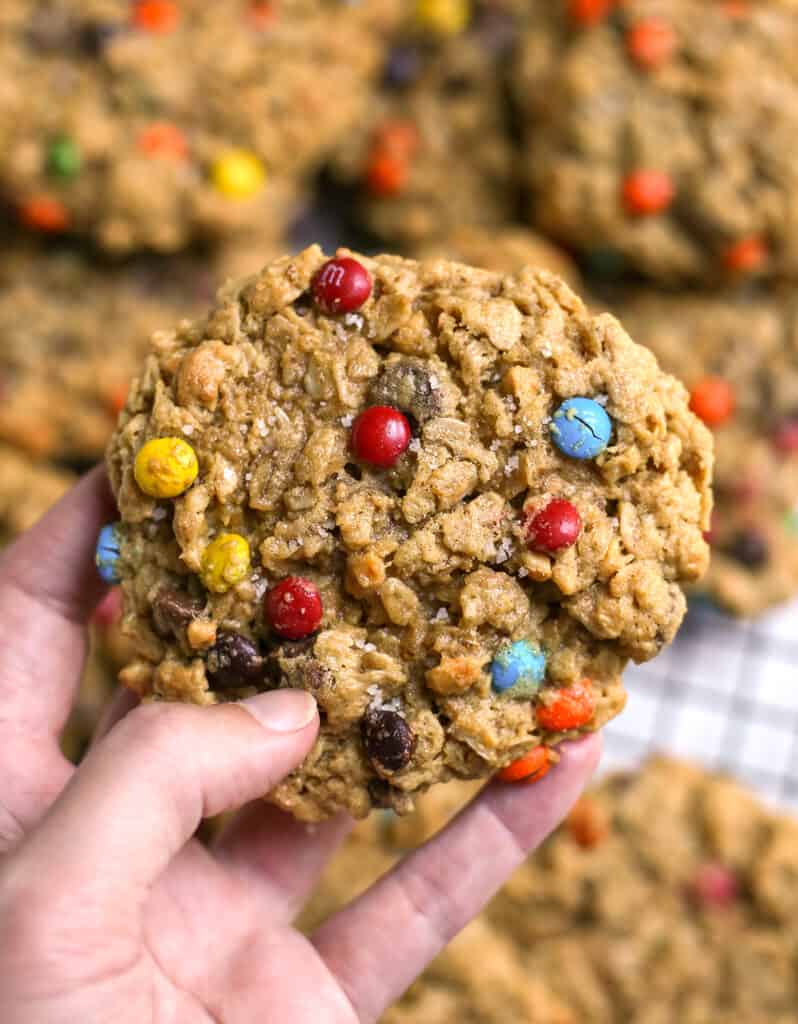 You will love these gluten free monster cookies because they are soft, thick, chewy, and always a favorite!
Here are some more cookies to try:
Hungry for more? Subscribe to my newsletter and follow along on Facebook, Pinterest and Instagram for all of the latest updates.
Gluten Free Monster Cookies
Ingredients
16 oz jar peanut butter about 1 ¾ cups (do not use all natural)
½ cup butter room temperature
1 ½ cups brown sugar
½ cup granulated sugar
3 eggs
1 teaspoon vanilla
4 ½ cups gluten free old fashioned oats
2 teaspoons baking soda
1 cup milk chocolate chips
1 cups mini M&M's
Instructions
Preheat oven to 350° and line 2 cookie sheets with parchment paper.

In a large bowl, combine peanut butter, butter, brown sugar, and granulated sugar. Stir until smooth.

Add eggs and vanilla and stir until combined.
Add the oats and baking soda. Stir well, make sure it is very well mixed. Mix in the chocolate chips and M&M's.


Using a ¼ cup measuring cup, portion out balls and roll between palms to make them smooth.
 Place 8 on a sheet tray, giving them room to spread.

Bake 8 minutes, press down slightly with a fork and bake 5-6 more minutes. Top with salt if desired. Let cool for 8-10 min on the sheet tray.
Notes:
You can make giant cookies by using a ½ cup measuring cup. Put 3 on a cookie sheet, bake for 12 minutes then press them down slightly using a fork and bake for another 6 minutes. Let cool on the tray about 5 minutes then transfer to a cooling rack. Makes 12. 
Using ghee in place of the butter, a 1:1 ratio. Coconut oil would also work. Instead of M&M's which are milk chocolate, use a dairy free chocolate candy like Unreal. These two swaps will make them dairy free.
Nutrition Information
Calories: 309kcal (15%)Carbohydrates: 37g (12%)Protein: 6g (12%)Fat: 16g (25%)Saturated Fat: 6g (38%)Polyunsaturated Fat: 2gMonounsaturated Fat: 5gTrans Fat: 0.1gCholesterol: 26mg (9%)Sodium: 183mg (8%)Potassium: 180mg (5%)Fiber: 2g (8%)Sugar: 25g (28%)Vitamin A: 138IU (3%)Vitamin C: 0.04mgCalcium: 41mg (4%)Iron: 1mg (6%)