These Gluten Free Pancakes are fluffy, thick and so perfect. Just a handful of simple ingredients and ready in less than 20 minutes. An option of a delicious blueberry topping.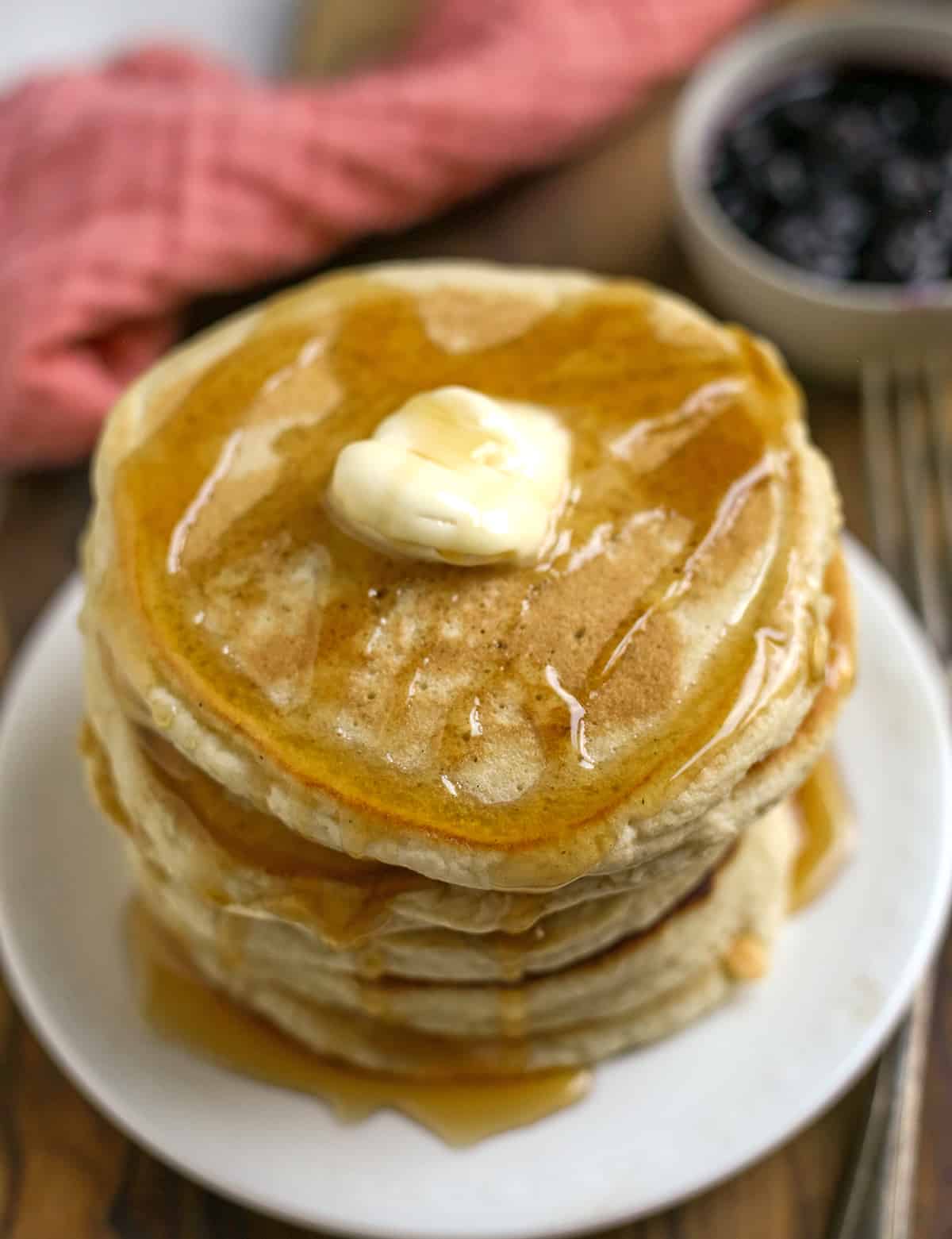 This post is sponsored on behalf of Danish Creamery. All opinions are 100% my own, of course! Thank you for supporting brands that make Real Food with Jessica possible.
Using Danish Creamery Butter for golden brown pancakes
Sometimes when cooking pancakes and just using butter in the pan, it can burn because it has a low smoke point but using butter in combination with oil is a great alternative because oil has a higher smoke point. I love using Danish Creamery European Spreadable Butter with Extra Virgin Olive Oil. Extra Virgin oils are the processed of any oil and have a better flavor that compliments Danish Creamery's butter so well. It also is great for topping the pancakes as it spreads easily right out of the fridge.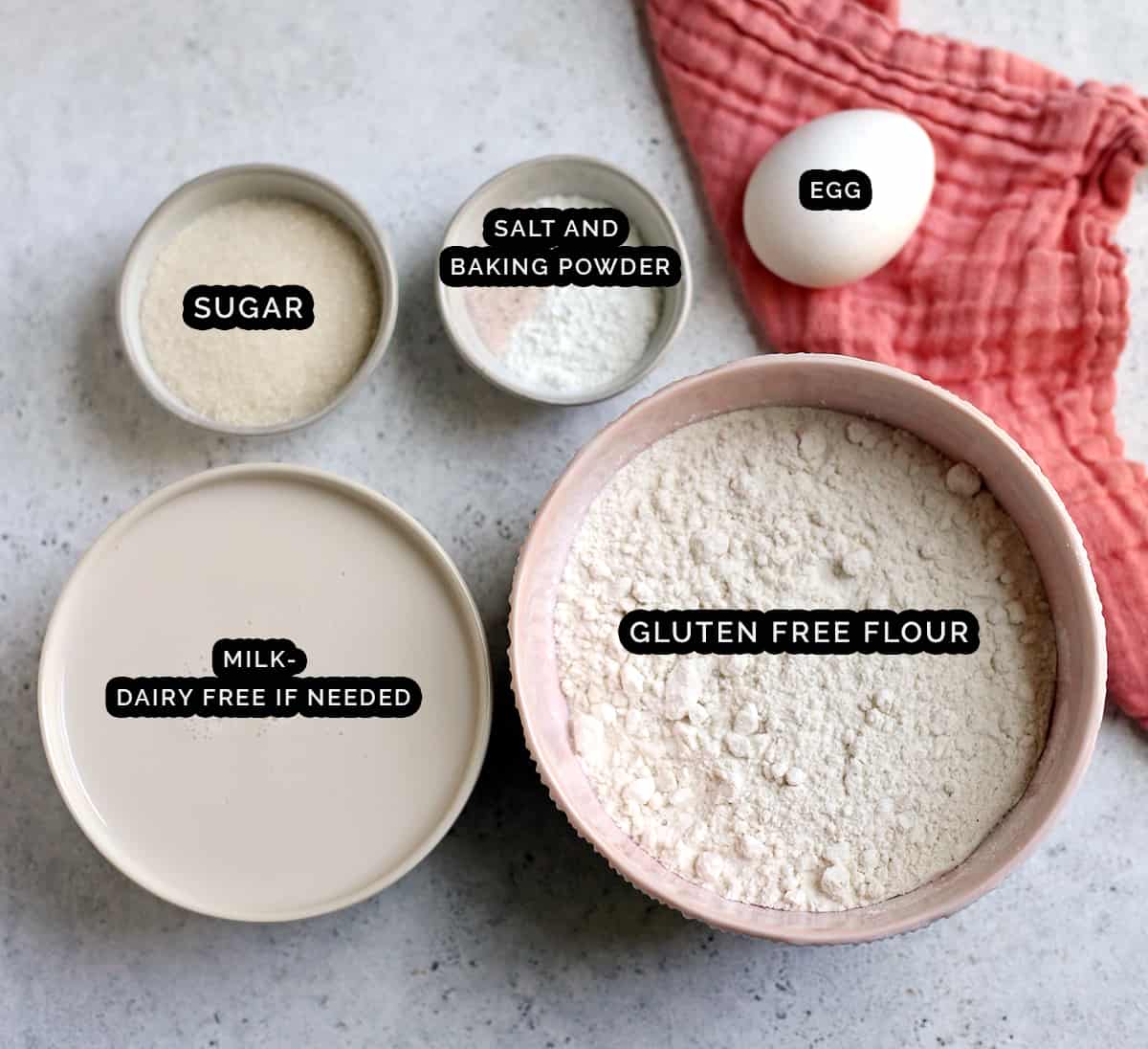 Ingredients for Gluten Free Pancakes
Gluten free flour blend- using a premix blend keeps these so easy and will also contain xanthan gum which helps hold the pancakes together.
Baking powder- this helps the pancakes turn out fluffy!
Eggs- only one egg is used, but it helps hold the pancakes together
Sugar- a few tablespoons of sugar make these the perfect amount of sweetness
Milk- I love using a dairy free milk, but any milk will work here based on your dietary needs
How to Make Gluten Free Pancakes
Getting the perfect batter consistency is important. Too thin of a batter will result in flat pancakes and too thick of a batter will make them harder to cook perfectly. You're aiming for a pancake batter that's moderately thick, yet it should have the ability to slowly and smoothly flow off a spoon or ladle. As it drips from the utensil, it should form a gentle mound rather than spreading out into a thin puddle.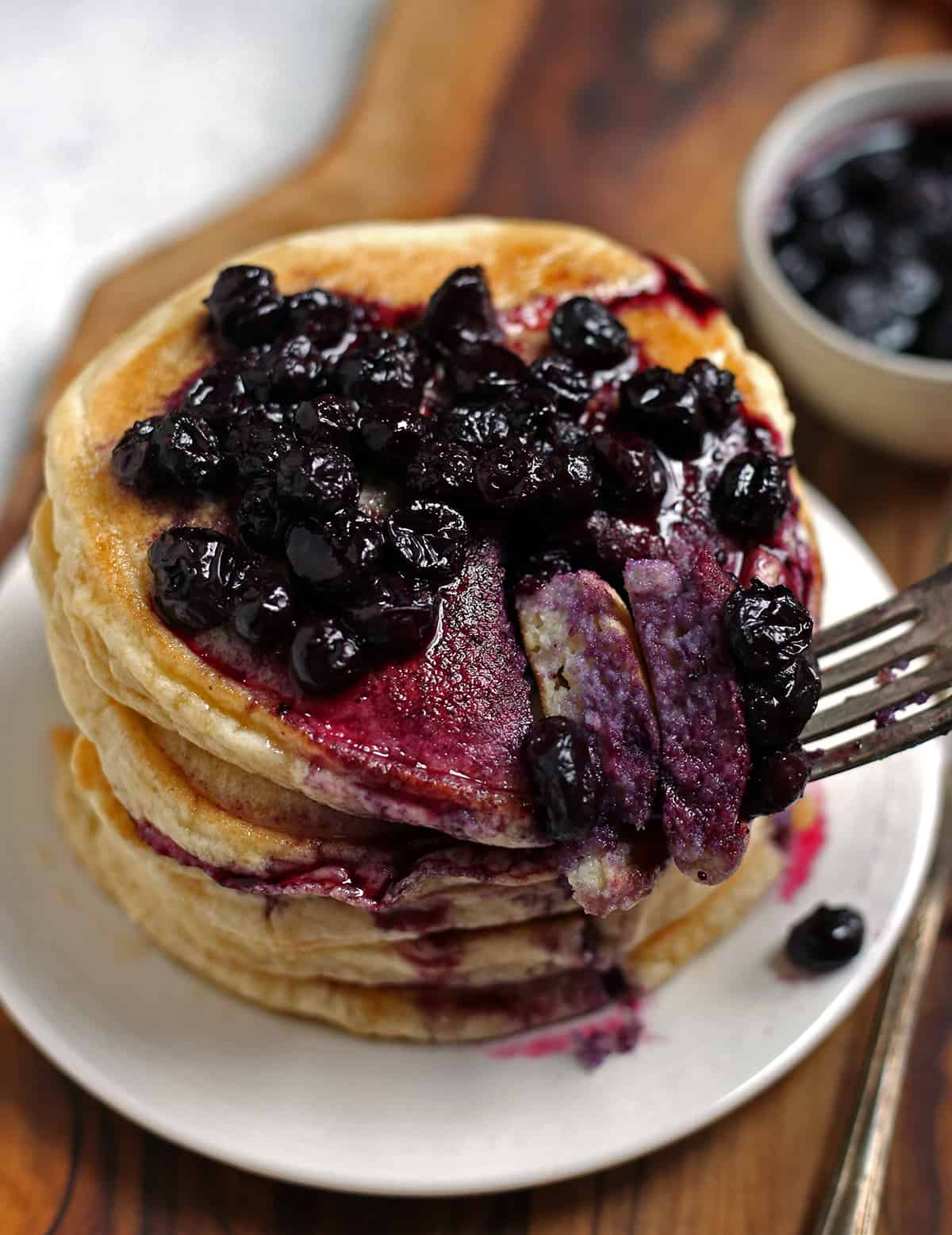 How to Achieve Thick and Fluffy Pancakes
Besides achieving the ideal pancake batter consistency as previously mentioned, another key to ensuring your pancakes turn out tall, fluffy, beautifully golden, and perfectly cooked throughout is to cook them slowly over medium-low heat. I allow them to cook for approximately 3-4 minutes on each side.
There's nothing more disappointing than a pancake that's nearly charred on the outside yet still raw in the center. Unfortunately, this can often occur when attempting to cook them at medium-high or high temperatures. Therefore, it's crucial to exercise patience and opt for slightly longer cooking times over medium-low heat. Trust me, the end result will be incredibly worth it.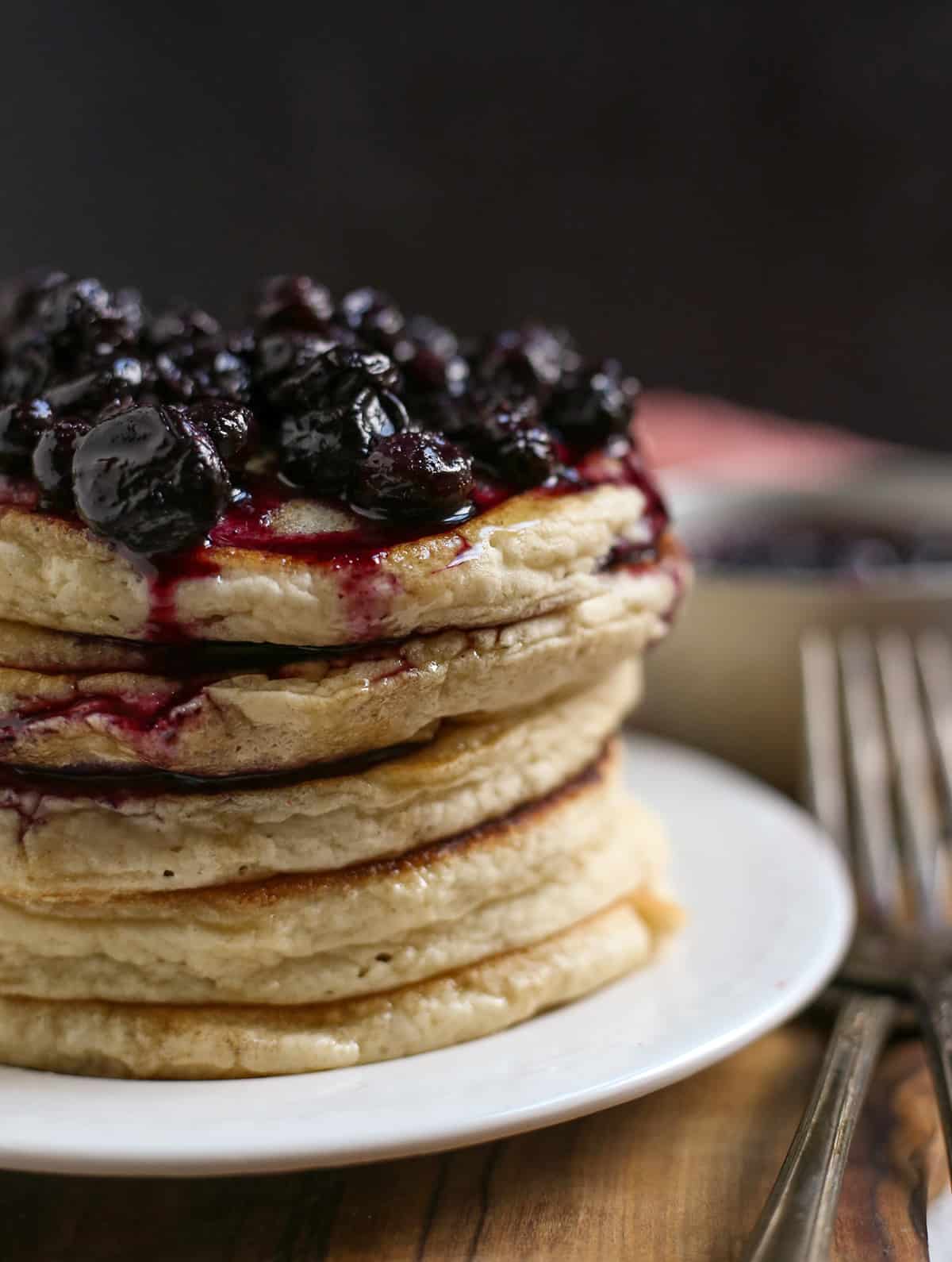 When to flip the pancakes
This is a really important step that will result in the best golden brown, fluffy pancakes. The key is to flip the pancakes once bubbles start to form all over the pancake. You'll see them start to form around the edges at first, but wait until there are bubbles on the entire thing. At this point, it will be very easy to flip the pancake and it should be perfectly golden.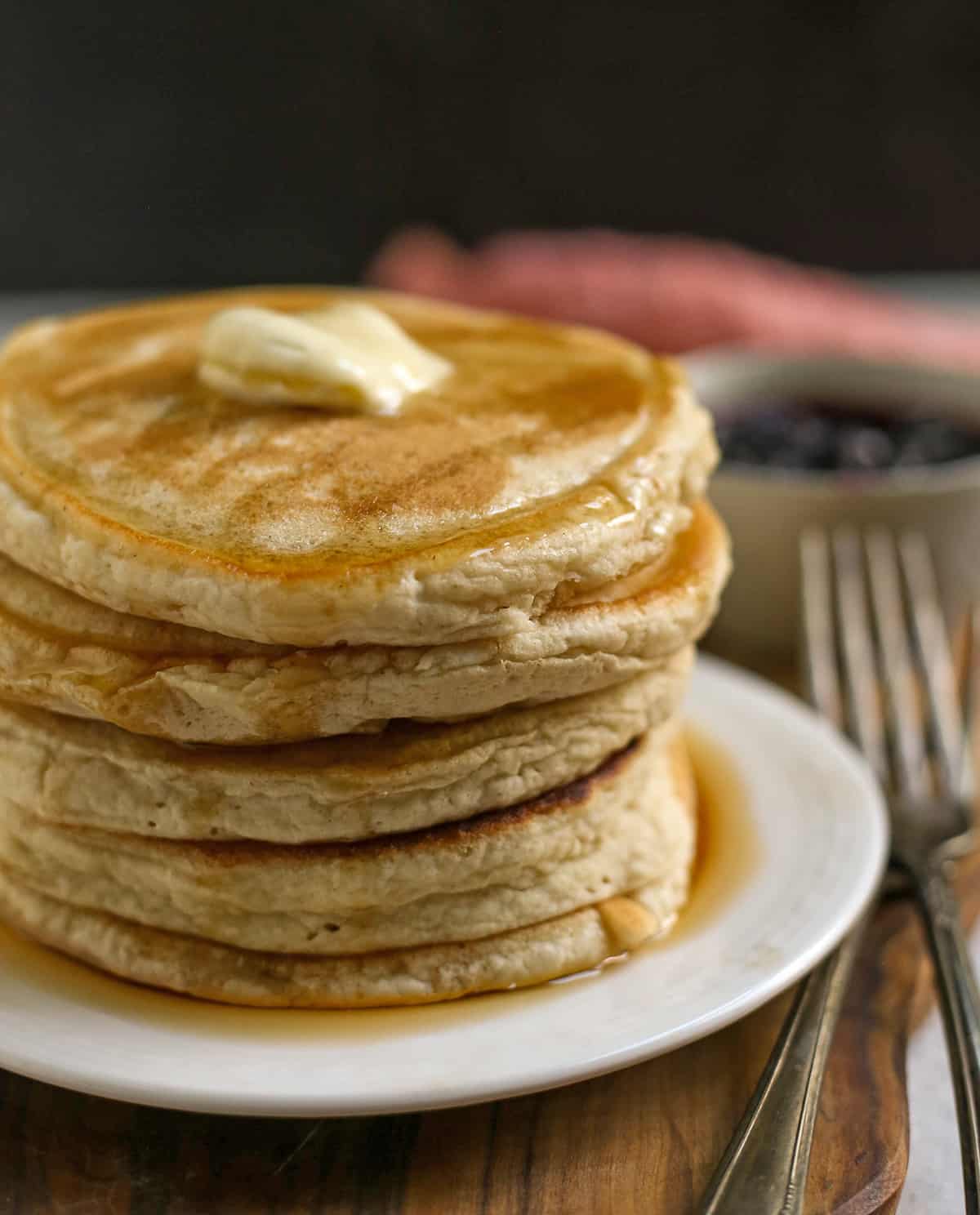 Storing Leftover Pancakes
Any leftovers can be stored covered in the fridge for up to a week. Place a piece of parchment or wax paper in-between the layers to ensure they don't stick together. This makes taking a couple out at a time super easy.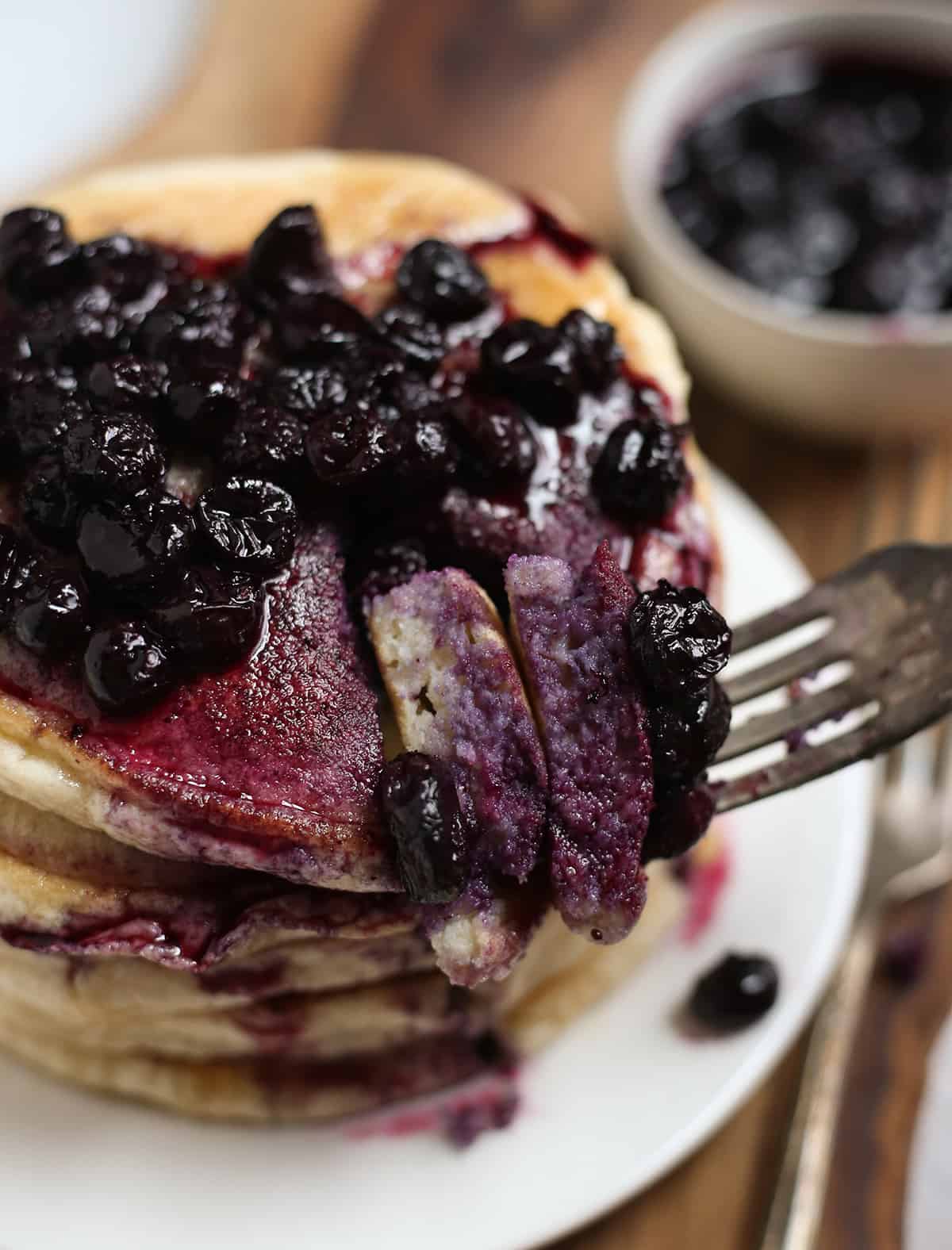 Here are some more gluten free breakfast ideas:
Hungry for more? Subscribe to my newsletter and follow along on Facebook, Pinterest and Instagram for all of the latest updates.
Gluten Free Pancakes
Ingredients
Pancakes
1 ¼ cups gluten free flour
3 teaspoons baking powder
½ teaspoon salt
3 tablespoons sugar
1 ½ cups milk of choice
1 large egg
1 teaspoon vanilla
Blueberry Topping (optional)
Instructions
In a large bowl, combine the gluten free flour, baking powder, salt, and sugar. Whisk together. Add in the milk, egg and vanilla and whisk until smooth and combined.

Pre-heat a non-stick frying pan or griddle over medium-low heat. Add 2 teaspoons of Danish Creamery Spreadable Butter and spread it around evenly.

Using a ¼ cup measuring cup, scoop batter onto the pan, giving them room to spread a little. 3-4 should fit in the pan at a time, depending on the size of the pan.

Cook the pancakes for about 3-4 minutes on medium-low heat or until you see bubbles appearing on the top surface and the bottom is a golden brown color. Flip and cook 2-3 more minutes.

Transfer the cooked pancakes to a plate and cover with a towel to keep warm. Repeat steps 3 & 4, adding a little fresh butter each batch until all the pancakes are made. This will make 8 pancakes.

These are best served warm with maple syrup, butter, or fruit topping of choice. Store any leftovers covered in the fridge for up to a week. I like to place a piece of parchment paper between them when storing to prevent sticking together.

To make the blueberry topping, in a small saucepan add the blueberries and maple syrup and cook on medium heat. Stir regularly until blueberries break down and sauce is formed, about 5-7 minutes. Serve warm over the pancakes.
Nutrition Information
Calories: 98kcal (5%)Carbohydrates: 19g (6%)Protein: 3g (6%)Fat: 2g (3%)Saturated Fat: 0.2g (1%)Polyunsaturated Fat: 1gMonounsaturated Fat: 1gTrans Fat: 0.003gCholesterol: 23mg (8%)Sodium: 374mg (16%)Potassium: 10mgFiber: 2g (8%)Sugar: 5g (6%)Vitamin A: 34IU (1%)Calcium: 161mg (16%)Iron: 1mg (6%)