This Pumpkin Seed Granola with flaxseed is a simple, delicious breakfast or snack. It combines the earthy richness of pumpkin seeds and flaxseeds with the warm and comforting cinnamon, creating a delightful blend of crunch and flavor. It's gluten free, dairy free and vegan.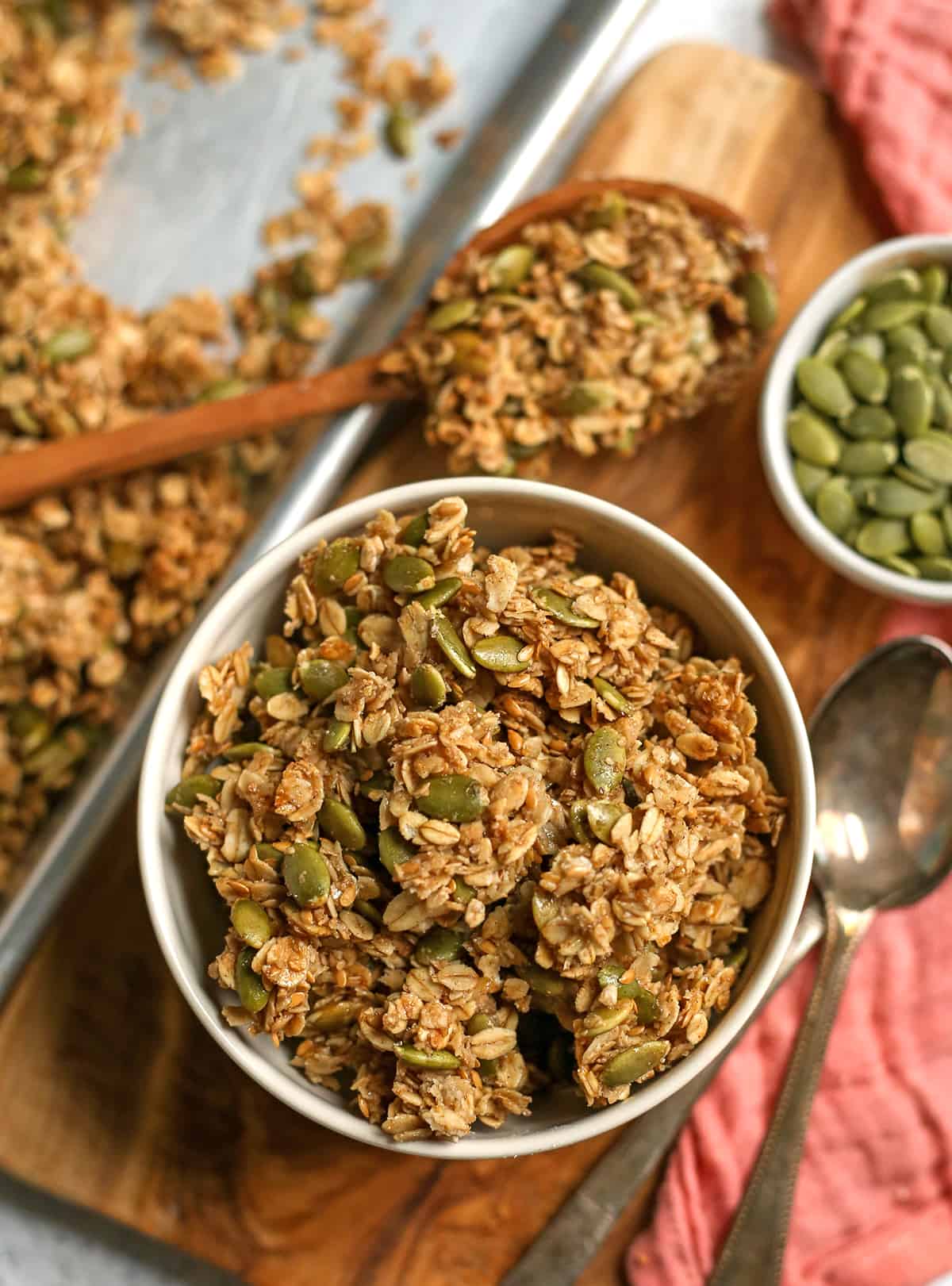 My boyfriend loves the store bought Pumpkin Flax Seed Granola by Nature Made so I thought I'd try to recreate it. The ingredients are simple and this came out amazing. He said it's the best granola I've ever made and I have a few like paleo pumpkin granola, paleo pecan pie granola and paleo cinnamon granola. I love how simple this one is to make and it stores great for easy breakfasts.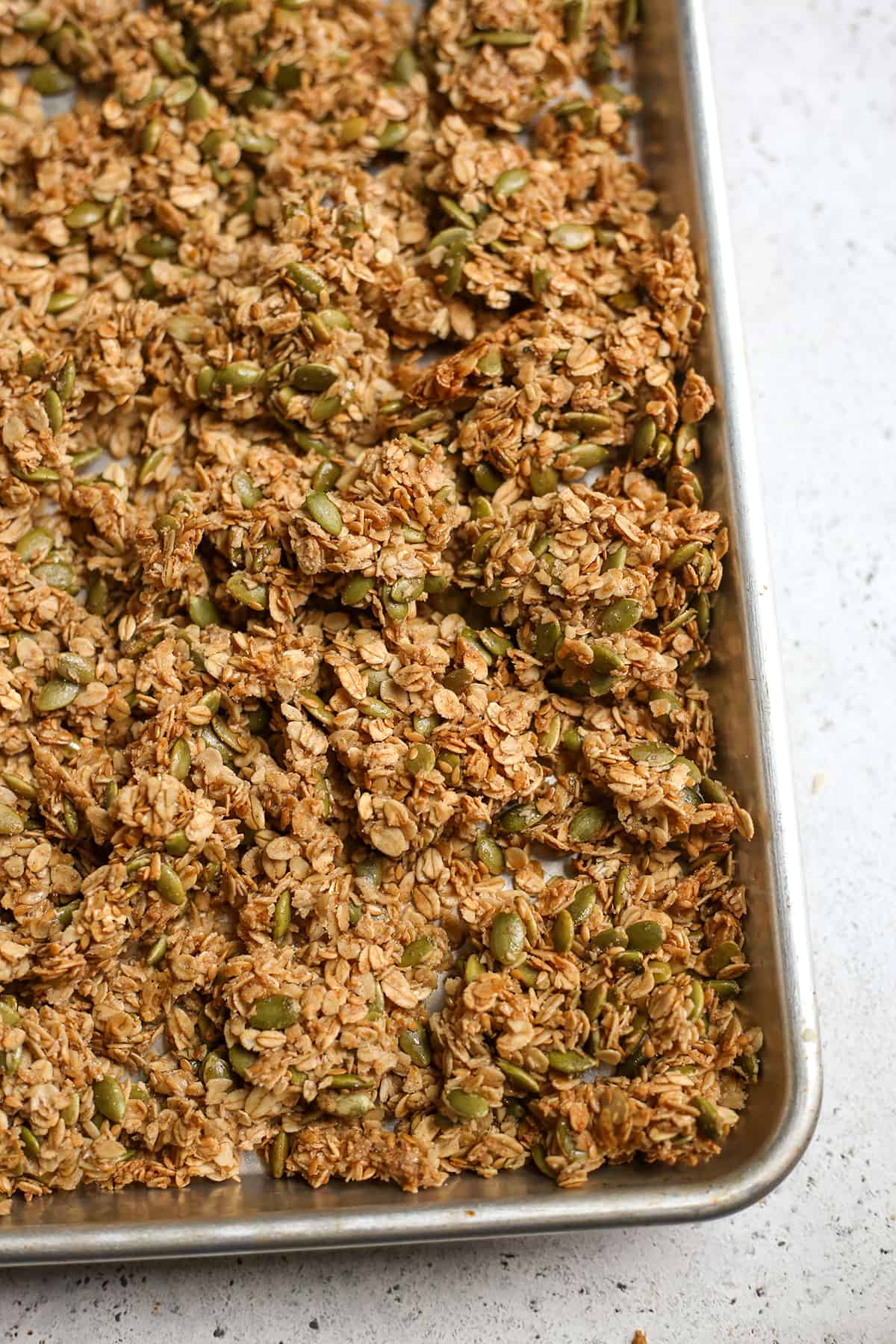 Vegan Granola Option
To create a vegan-friendly version of this granola, a liquid sweetener such as maple syrup or agave nectar can be used to bind the ingredients together and add a touch of sweetness. A touch of coconut oil helps achieve the perfect crispness while keeping it vegan.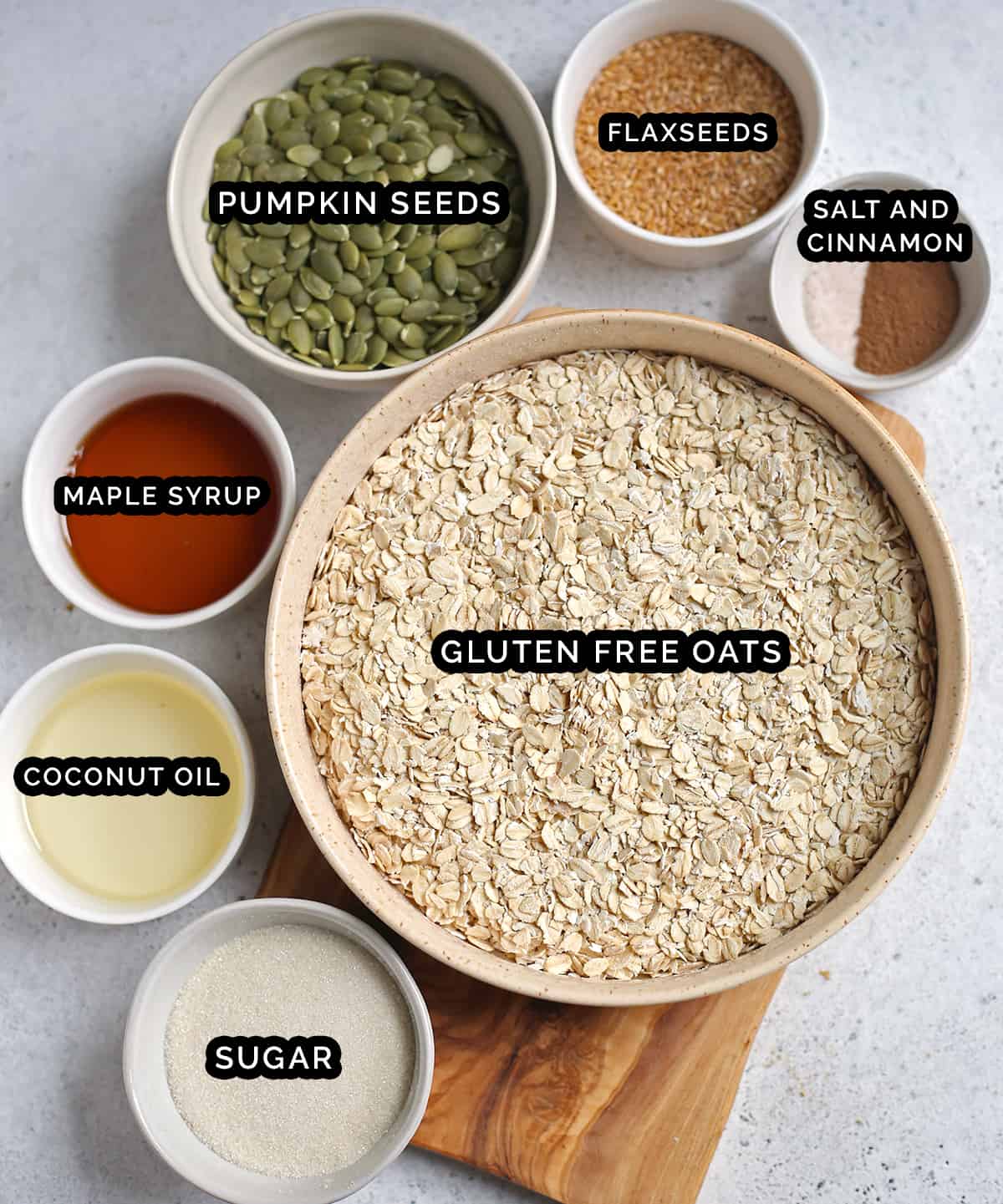 Ingredients for pumpkin seed granola
The ingredients are super simple!
Gluten free oats- the key ingredients to the granola. Rolled oats or quick oats both work.
Pumpkin Seeds- these are also called pepitas. They add crunch, flavor and are rich in protein and iron.
Flaxseed- this adds great texture, but also flaxseeds are high in fiber and omega-3 fatty acids.
Sugar- just a few tablespoons are needed to give it the perfect sweetness
Maple syrup- this adds sweetness and also moisture
Cinnamon- just a little is used, this is definitely not the star flavor, but it adds a nice warmness
Salt- this is important in any food to balance the sweetness and help the flavors come through
Coconut oil- this adds some healthy fats and moisture to help hold the granola together. Use refined if you don't want the coconut flavor.
Honey or agave- I made this twice to test these both out and it works great with either. More maple may work, but the sticky sweetener really helps hold the granola together.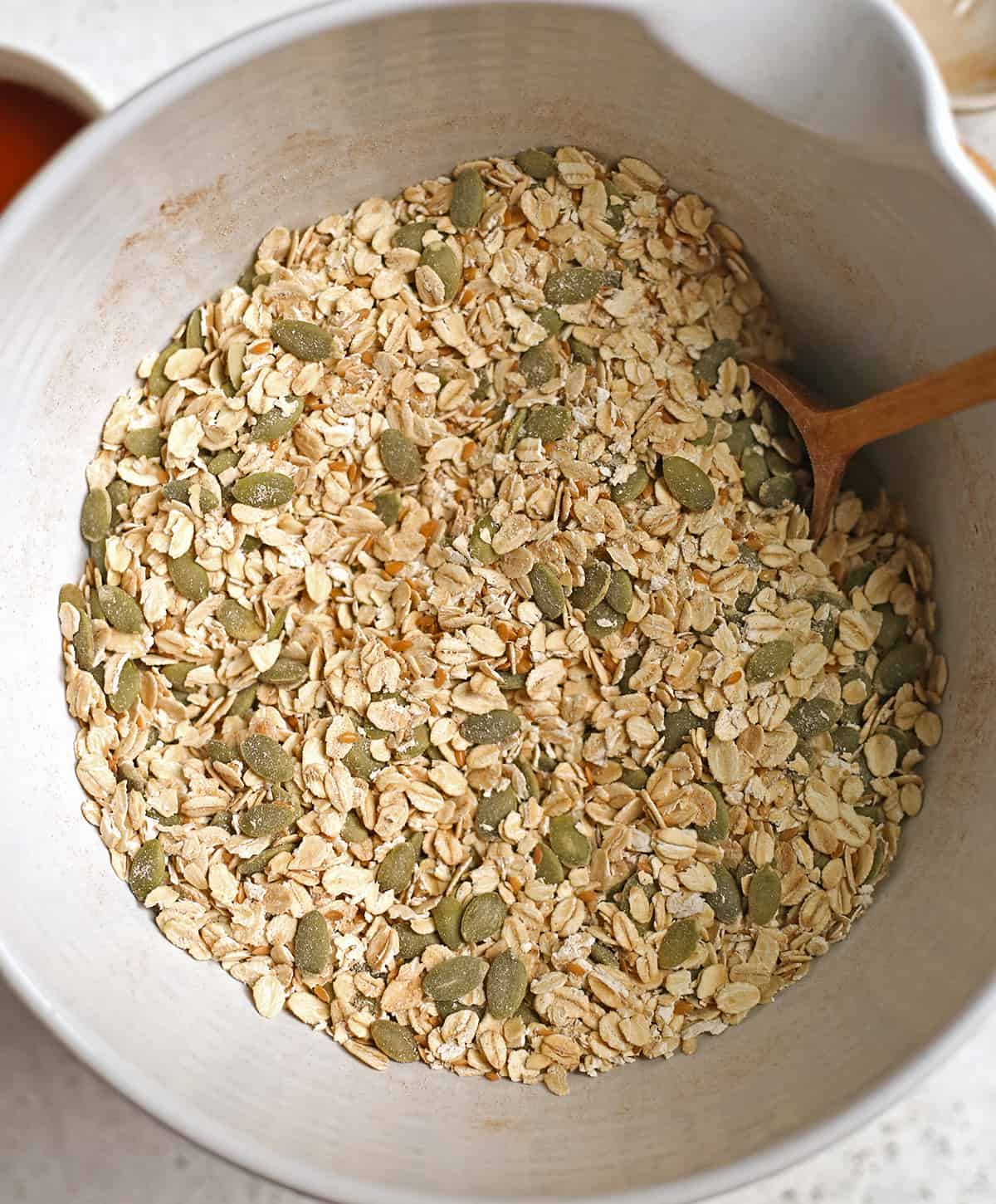 Easy One-Bowl Granola
I've made this so many times because it comes together so quickly and easily. All the ingredients are mixed together in one bowl, poured on the sheet tray and baked for 30 minutes. It's mostly hands-off and then a big batch is ready for snacking.
Big Cluster Pumkin Seed Granola
Big clusters are always great, especially if you're having the granola as a snack. In order for them to form, let the granola cool without stirring it. Once cooled, break into clusters. You will want to stir it once in the middle of cooking, it's when you take it out that matters. Of course, if you prefer small pieces then give it a good stir after it's done baking.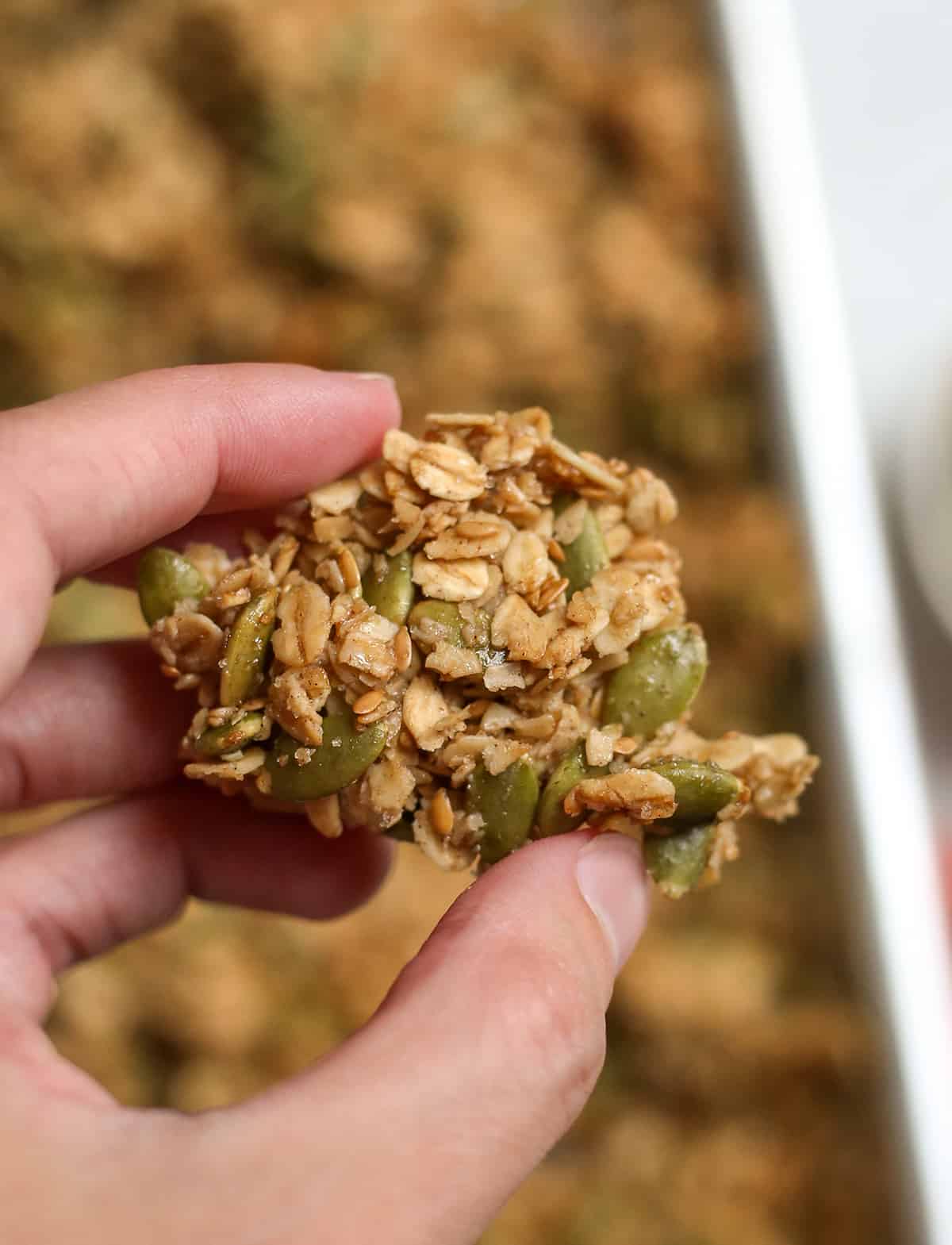 Enjoy this granola with your favorite non-dairy milk or yogurt for a wholesome breakfast, or simply grab a handful as a convenient and satisfying snack any time of the day.
You will love this pumpkin seed granola because it's crunchy, sweet and so simple to make. Here are some more breakfast recipes to try:
Hungry for more? Subscribe to my newsletter and follow along on Facebook, Pinterest and Instagram for all of the latest updates.
Pumpkin Seed Granola
Instructions
Preheat oven to 325° and line a sheet tray with parchment paper.

In a large bowl, combine the oats, pumpkin seeds, flax seeds, sugar, salt and cinnamon. Stir to combine.

Add in the coconut oil, maple syrup and honey/agave. Stir until mixture is well combined. Pour onto the sheet tray, spreading evenly. Bake for 30 minutes, stirring after 15 minutes.

Once it's done baking, let it cool without stirring it to create clusters. Once it's cool, break into clusters.

Store covered at room temperature for up to 2 weeks.
Nutrition Information
Calories: 256kcal (13%)Carbohydrates: 34g (11%)Protein: 6g (12%)Fat: 12g (18%)Saturated Fat: 5g (31%)Polyunsaturated Fat: 3gMonounsaturated Fat: 2gTrans Fat: 0.004gSodium: 120mg (5%)Potassium: 196mg (6%)Fiber: 4g (17%)Sugar: 15g (17%)Vitamin A: 2IUVitamin C: 0.2mgCalcium: 38mg (4%)Iron: 2mg (11%)