This Paleo Orange Cinnamon Roll Coffee Cake is moist, has a thick cinnamon layer in the middle and the perfect amount of orange flavor. A great weekend breakfast or treat any time. It's gluten free, dairy free and naturally sweetened.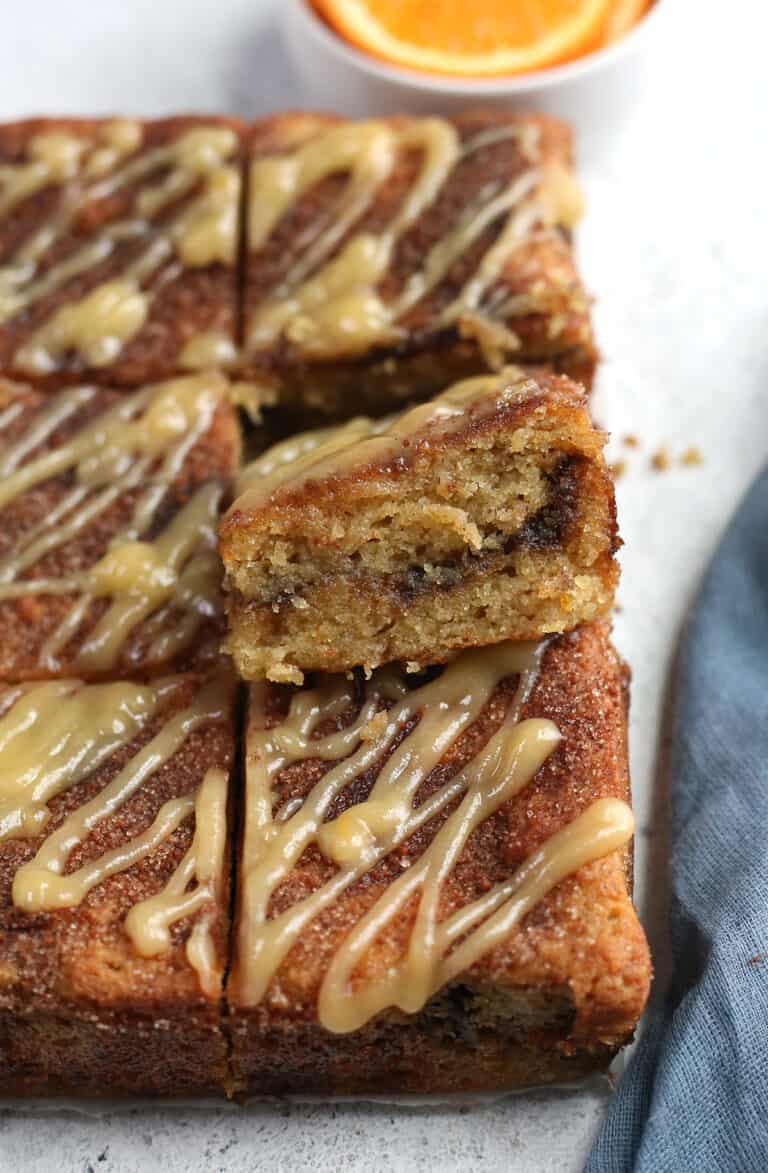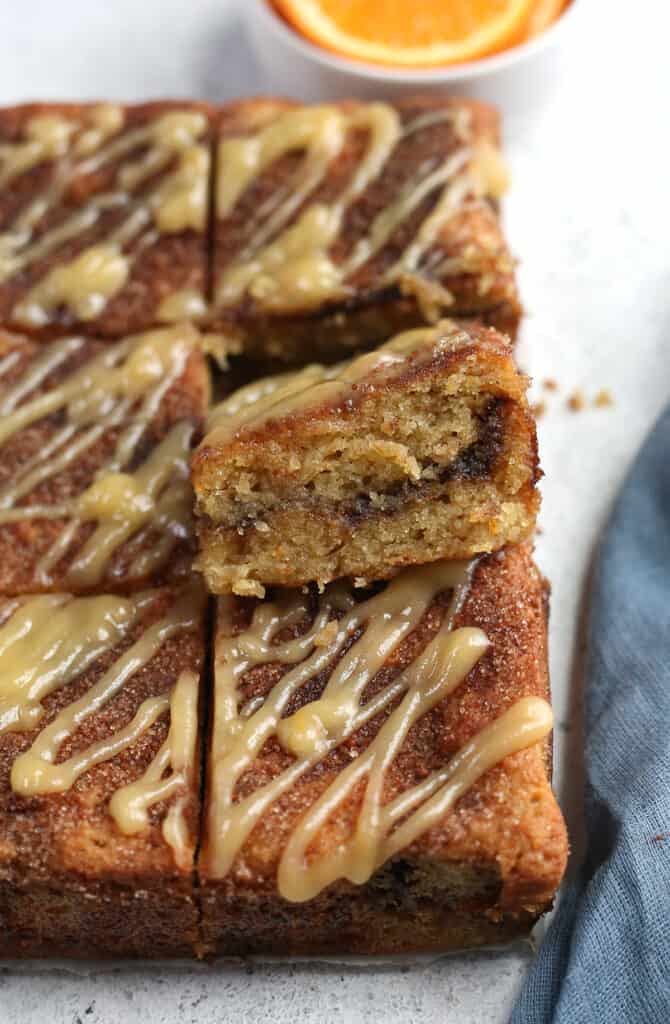 This cake is inspired by the orange cinnamon rolls my dad would make on the weekends when I'd stay there as a child. They were warm, gooey, and had the perfect balance of orange and cinnamon. This coffee cake is all those things as well, made easy since no rolling is involved.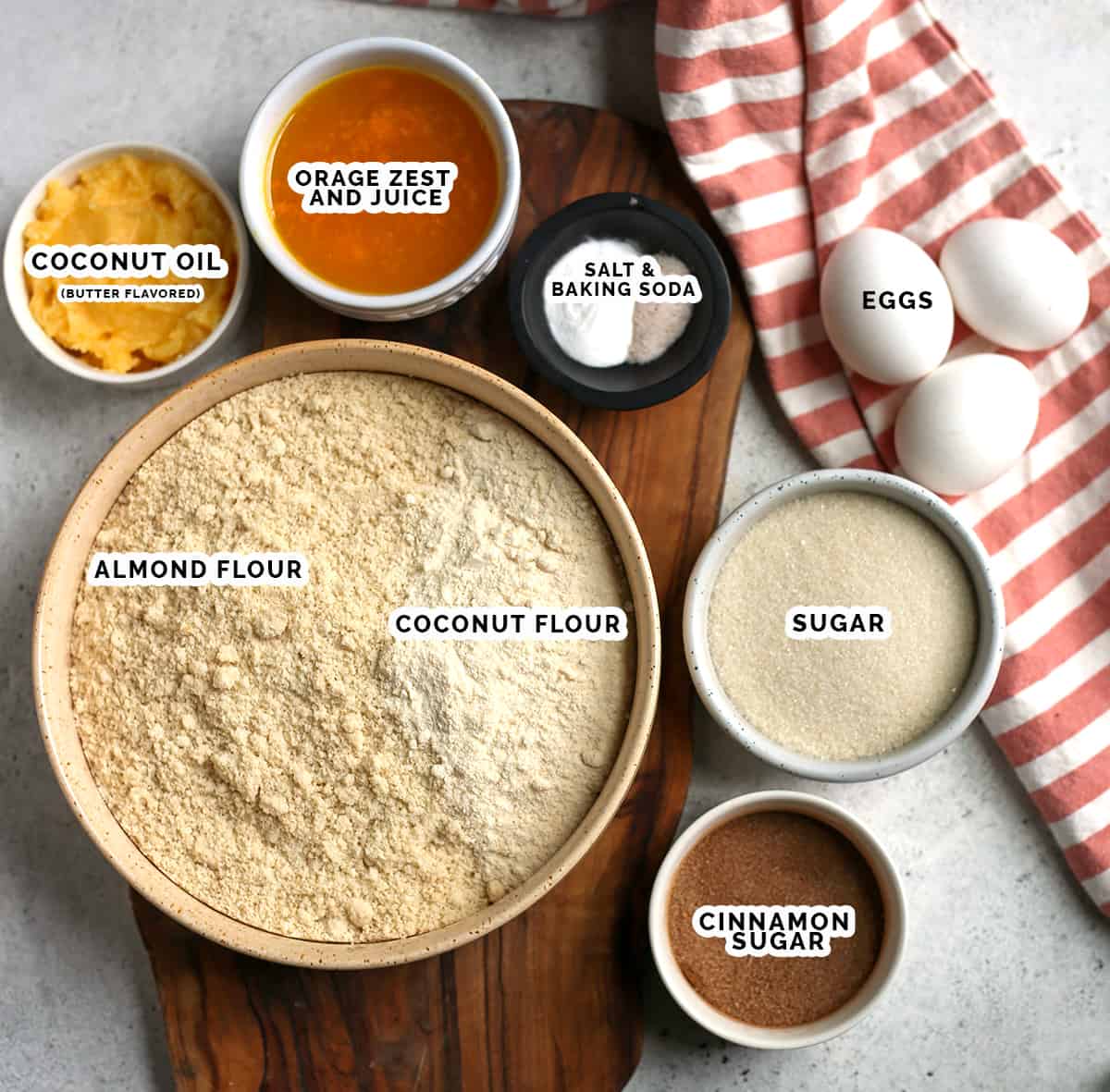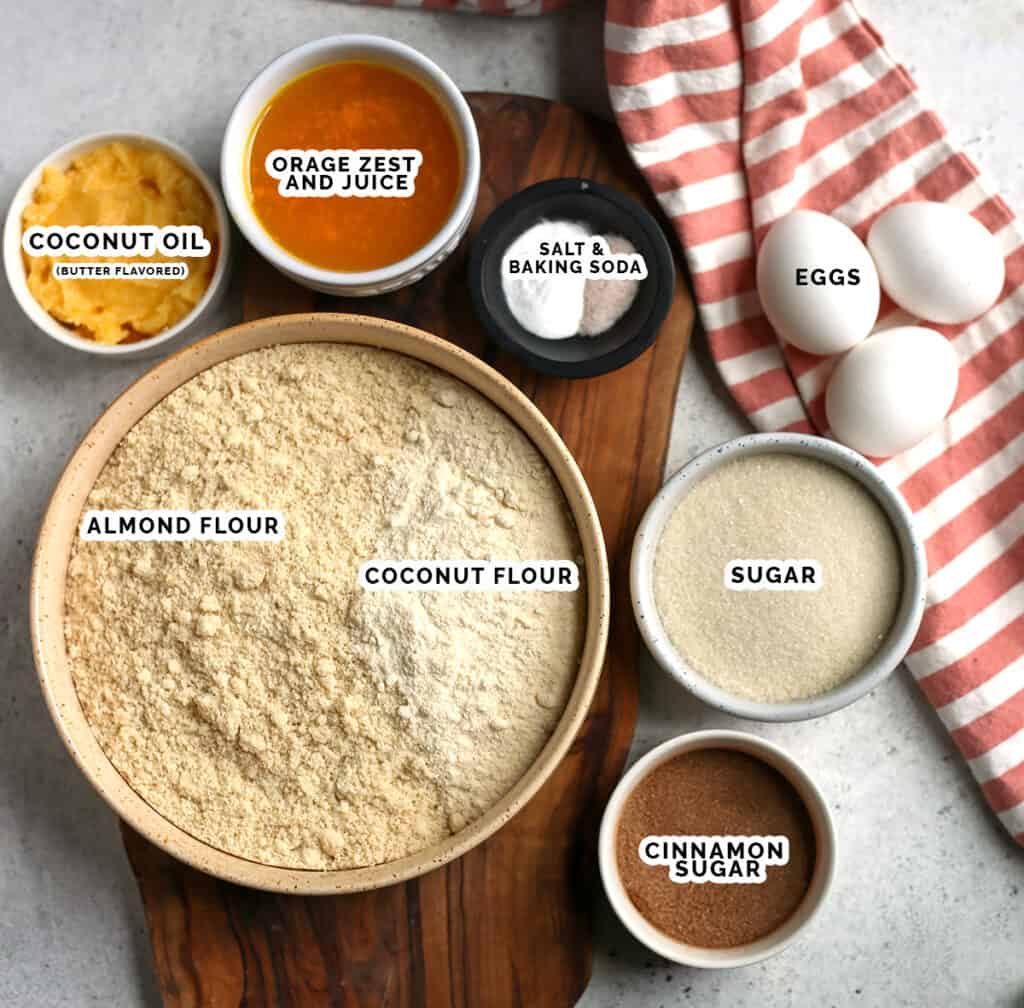 Jump To
Coffee Cake Ingredients
This coffee cake uses simple ingredients that you probably have on hand.
Almond Flour- this grain free flour is the base and makes the cake so moist and rich.
Coconut Flour- Just a little of this flour is used. Paired with the almond flour, it gives the best texture.
Sugar- I have used coconut sugar and organic cane sugar and both work great.
Eggs- 3 eggs are used. I haven't tried an egg replacement for this, but if needed you could try flax eggs. The end result would be a more dense cake.
Coconut Oil- butter flavored coconut oil is used for an extra buttery flavor, but regular coconut oil works great as well
Orange zest and juice- this is what gives the cake the fresh flavor. Using a zester is the best way to get all the zest easily off the orange.
Cinnamon- this of course gives it the cinnamon roll flavor. Mixed with a little sugar, it creates a delicious cinnamon layer in the middle of the cake as well as a sweet topping.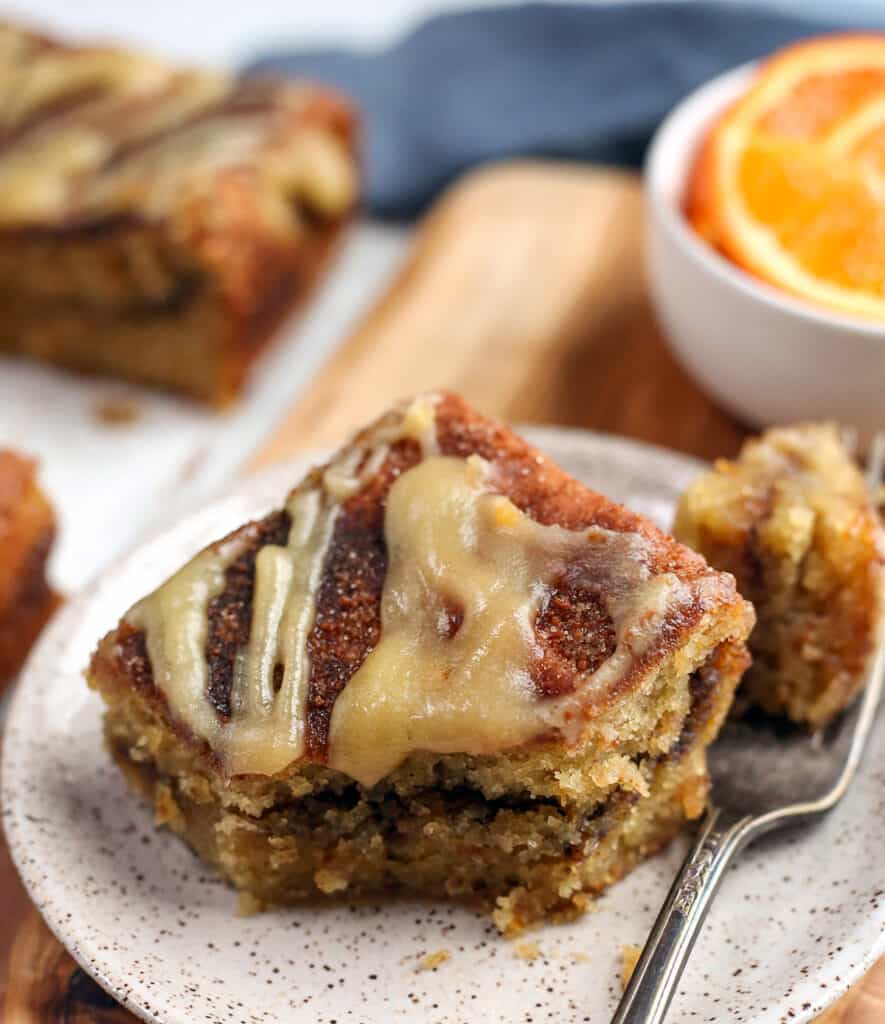 Assembling
This cake is simple to make. Make the batter, spread half into the pan, top with part of the cinnamon sugar mixture to give it that cinnamon layer, top with the rest of the batter and bake. Once it's done, while it's still warm, spread a tablespoon of coconut oil on top and top with the remaining cinnamon sugar mixture. This gives a nice sweet topping. Once cool, top with the glaze and it's ready to serve.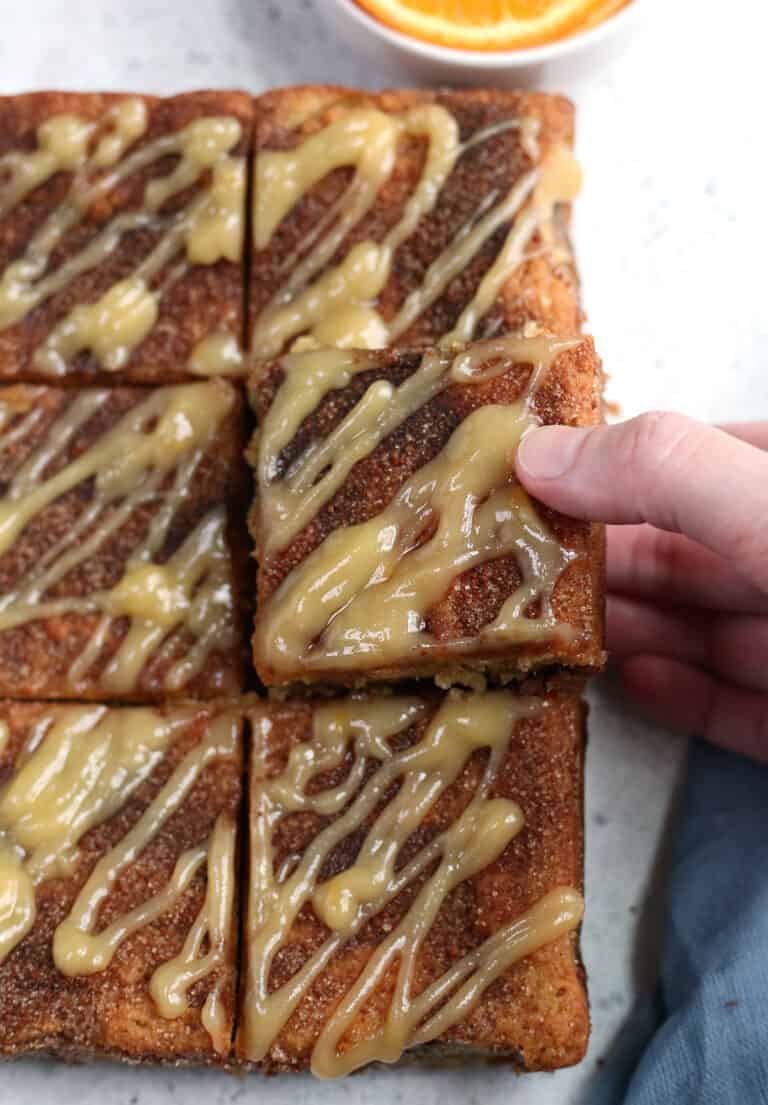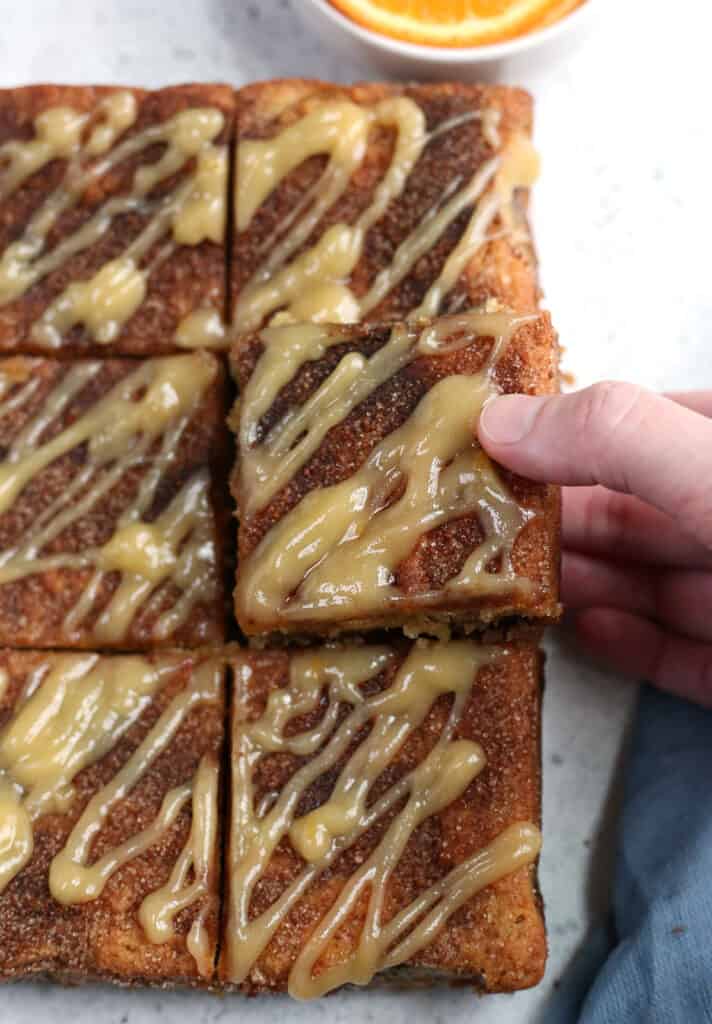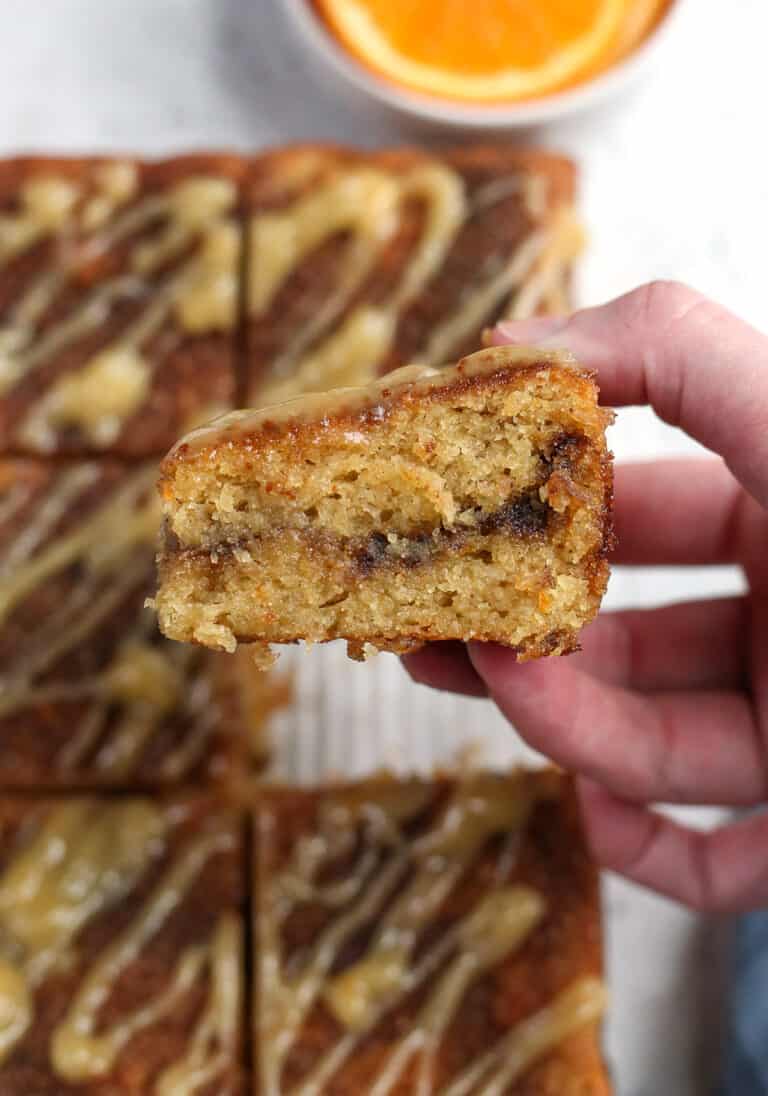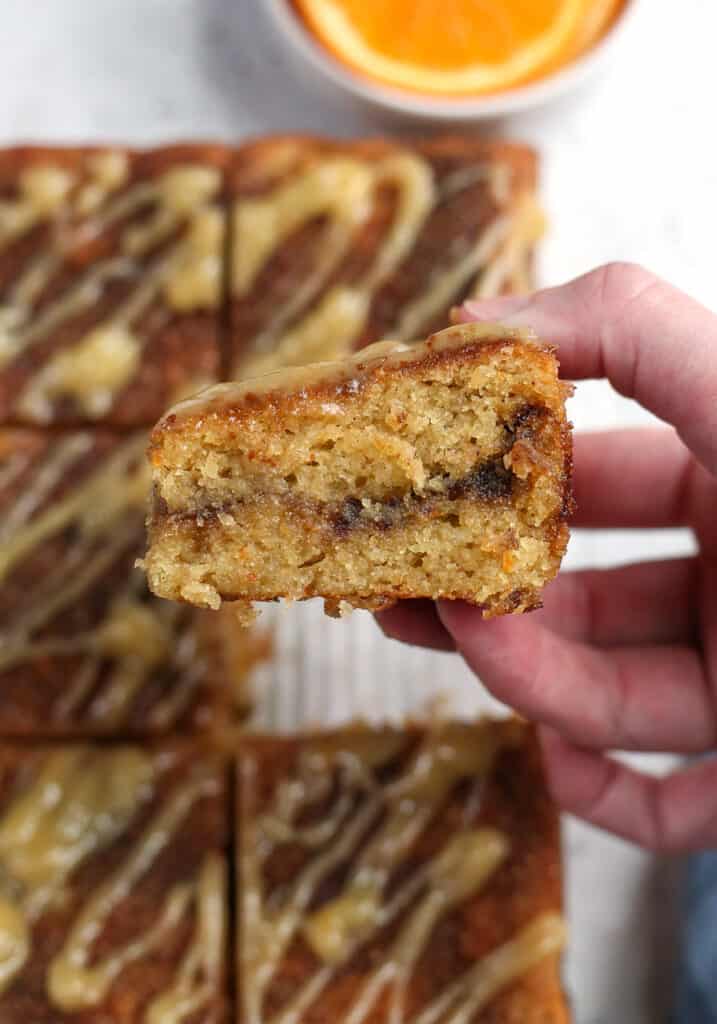 Paleo Glaze
The glaze is coconut butter, a little maple syrup and orange juice. It's important to make sure the coconut butter is warmed and smooth before making it so it's easy to drizzle. A short time in the microwave or sitting in a bowl of warm water will help it mix better.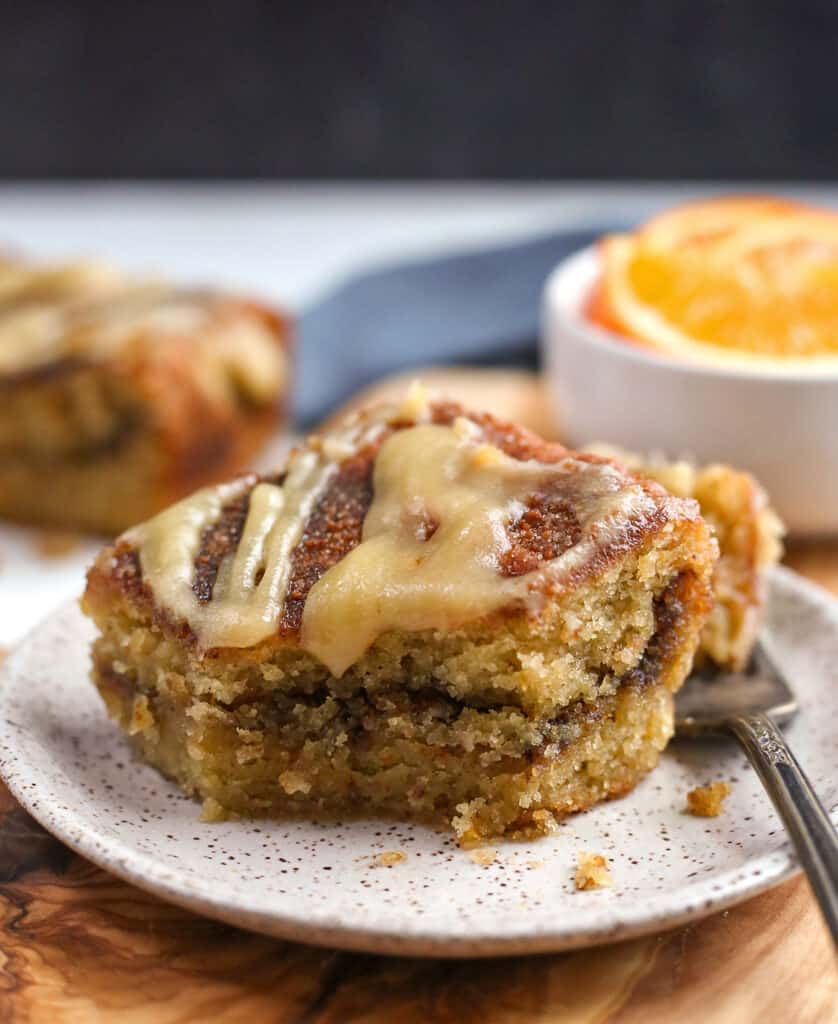 Storing
This cake is best stored covered in the fridge for up to 10 days. If you prefer it warm, just reheat before serving. It's good both ways.
I shared this with a good friend who has had a lot of my treats and they said it was one of their favorites. You will love this paleo orange cinnamon roll coffee cake because it's moist and has the perfect amount of sweetness making it perfect for breakfast or dessert. Here are some more coffee cakes to try:
Hungry for more? Subscribe to my newsletter and follow along on Facebook, Pinterest and Instagram for all of the latest updates.
Paleo Orange Cinnamon Roll Coffee Cake
Ingredients
Coffee Cake
3 cups almond flour
¼ cup coconut flour
1 teaspoon baking soda
½ teaspoon salt
½ cup coconut oil, room temperature
¾ cup coconut sugar
3 large eggs, room temperature
1 teaspoon vanilla
zest of 1 orange
½ cup plus 2 tablespoons orange juice
Instructions
Make the cinnamon-sugar mixture: Combine the coconut sugar and cinnamon in a small bowl. Mix well and set aside.

Make the coffee cake: Preheat the oven to 325°. Line a 9 by 9-inch pan with parchment paper.

Combine the almond flour, coconut flour, baking soda, and salt in a medium-size bowl. Stir until evenly mixed.

Place ½ cup of the coconut oil and the coconut sugar in a large bowl and mix until combined. Add the eggs, vanilla, orange zest, orange juice, and stir until smooth.

Add the dry ingredients to the wet ingredients and stir well, making sure no dry spots remain.

Pour half of the batter into the prepared pan and sprinkle two-thirds of the cinnamon-sugar mixture on top. Carefully scoop the remaining batter on top, making sure all the cinnamon-sugar mixture is covered.

Bake for 45 minutes, or until set.

As soon as the cake comes out of the oven, spread the remaining 1 tablespoon coconut oil on top and sprinkle with the remaining one-third cinnamon-sugar mixture.

While the cake is cooling, make the glaze: Combine the coconut butter, maple syrup, and orange juice in a small bowl.
Mix until smooth and thin enough to drizzle on the cake.

Once the cake has cooled, top with the glaze. You can top it while it's warm, but it won't be as pretty. Slice and serve.

Store leftovers, covered, in the refrigerator for up to a week.