This Easy Roast Beef Recipe will give you tender, delicious meat made in about an hour. It's flavorful, gluten free, and dairy free.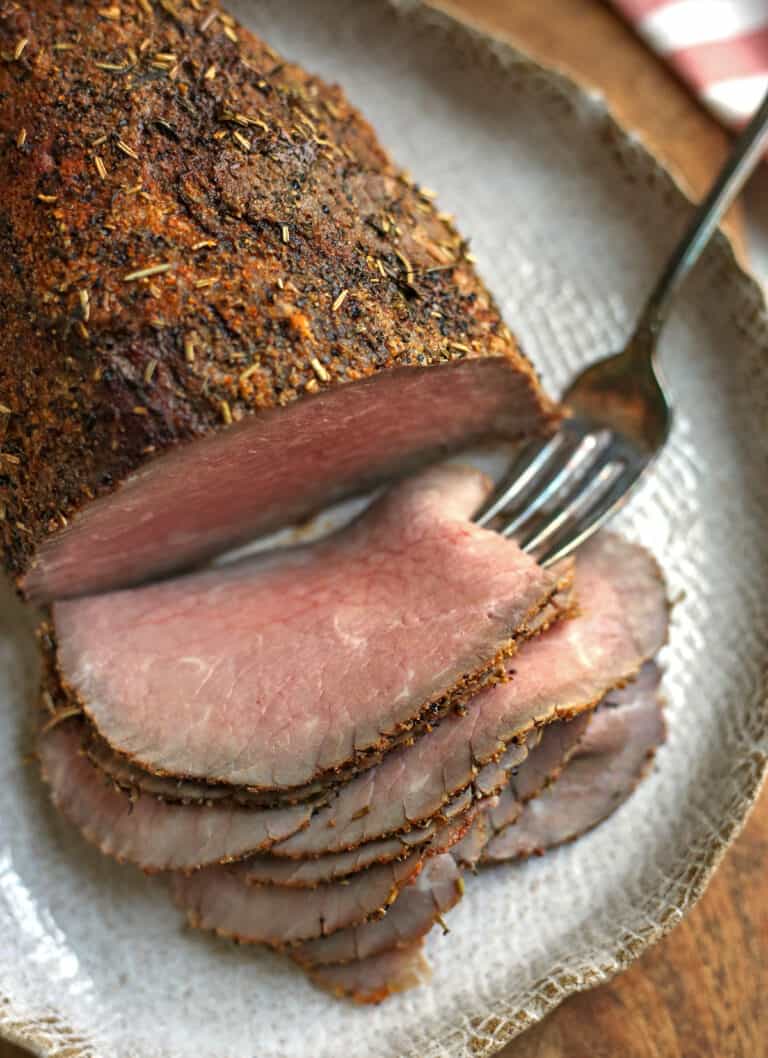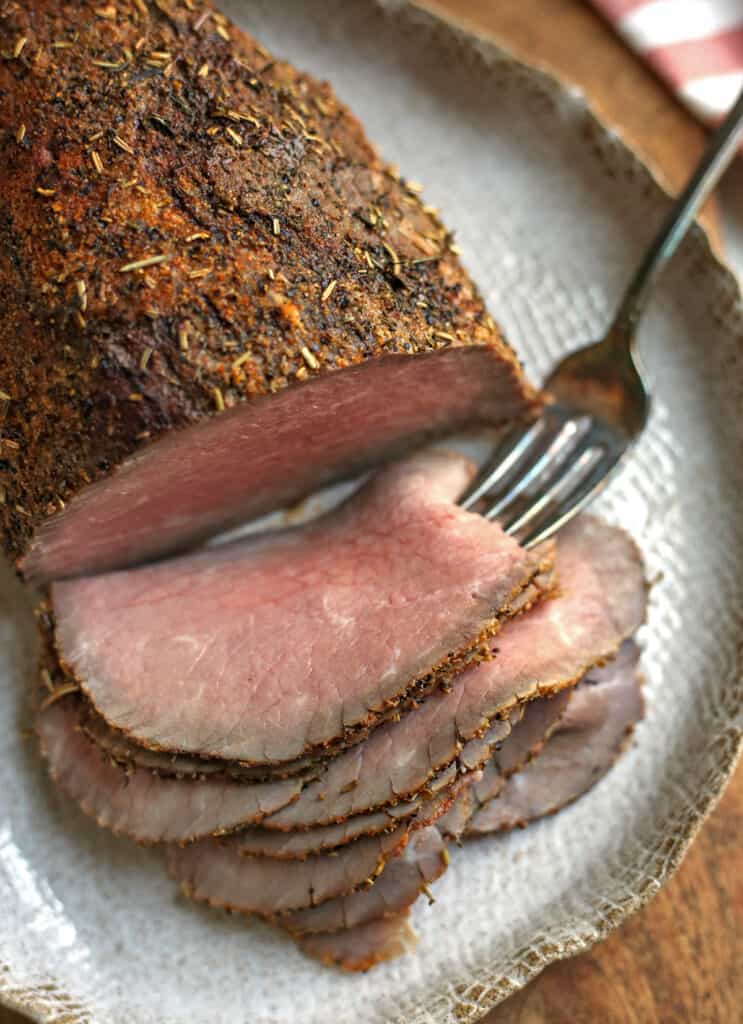 My boyfriend requested a roast beef sandwich and I realized it would be more affordable to make the roast beef myself instead of buying it. I bought an eye of round, seasoned it, cooked it and sliced it into thin pieces. The result was way better than the deli meat and we had lots of leftover for more sandwiches.
The beef doesn't talk long to cook, but you do want to make sure it's the correct temperature and the best way to do that is with a meat thermometer. Our preference is between 135°-145° for medium and this took about 55 minutes of baking.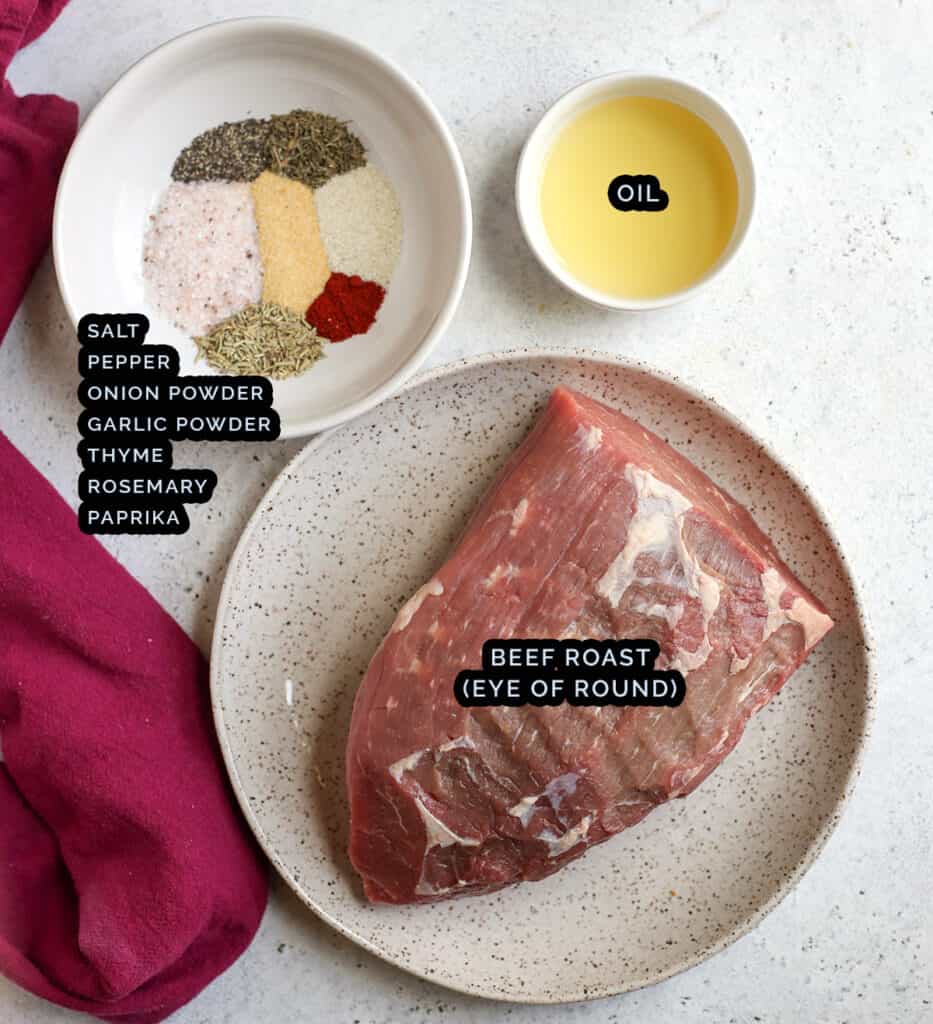 Jump To
Meat Temperatures and Doneness
It's important to remove the meat from the fridge at least 2 hours before cooking to insure even cooking. Here are the temperatures.
Rare: 120°-125°
Medium-Rare: 130°-135°
Medium: 140°-145°
Medium-Well: 150°-155°
Well Done: 160° and above
Once done cooking, let the meat rest for 20-30 minutes so all the juices can redistribute back into the meat and not come out when you cut it. This helps keep the roast beef juicy and flavorful.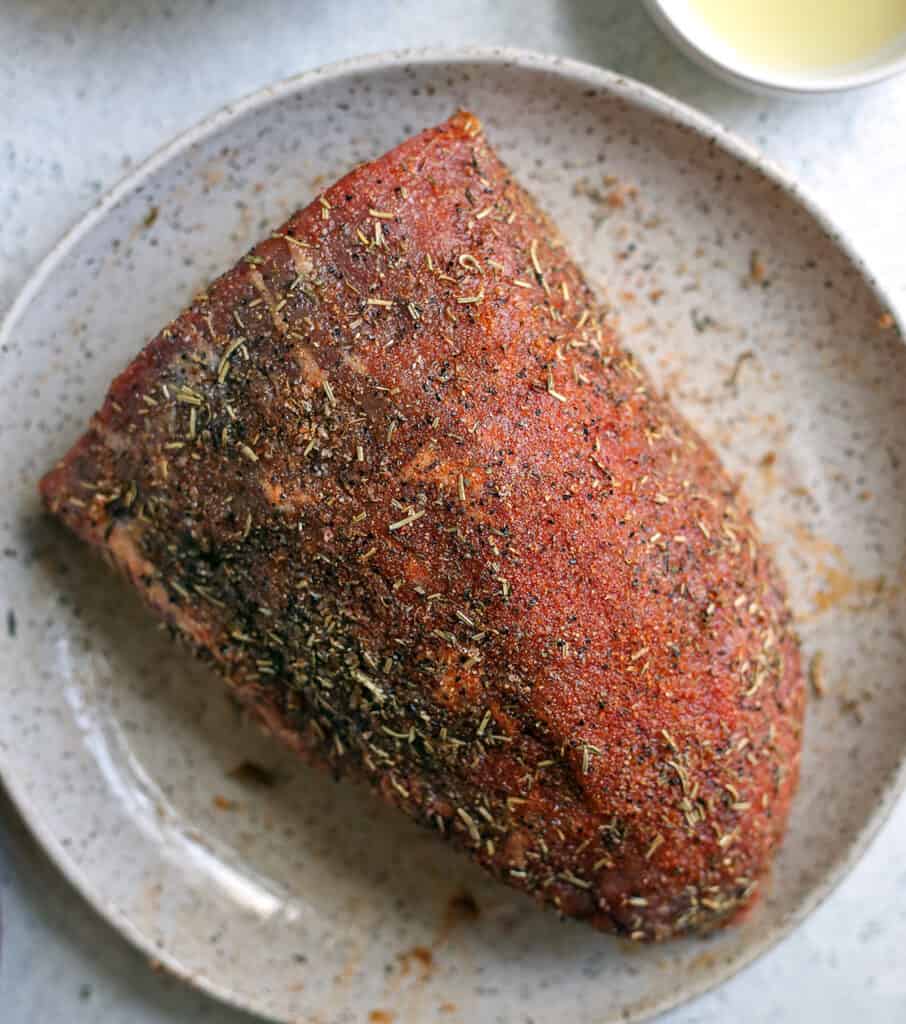 How to Serve Roast Beef
Slice it thin and pile it on high for a delicious sandwich. This is mostly how I used it- warm or cold on bread, a bagel or a pita. It really pairs great with some Swiss cheese and horseradish.
Cut thick and serve as the main course with some mashed potatoes and a veggie.
Chop up and use it in a breakfast scramble.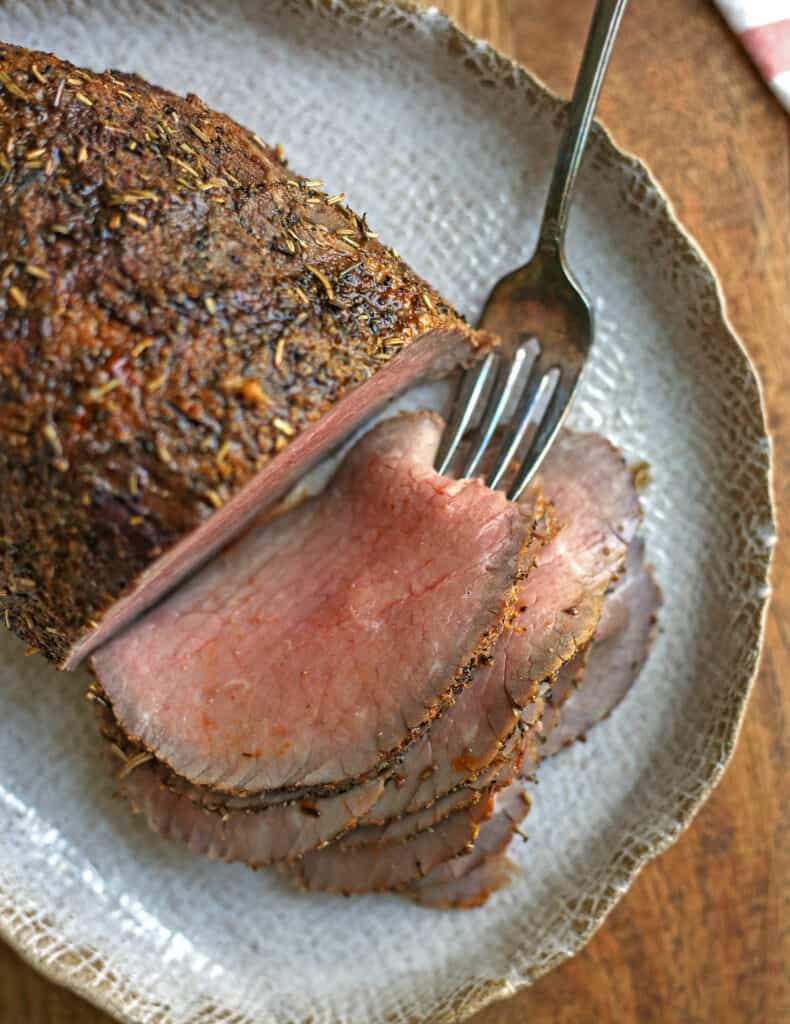 How to avoid the roast beef from being tough
Overcooking is definitely the most common reason why roast beef will turn out tough. To make sure that doesn't happen, make sure to use a meat thermometer and remove it at the desired temperature. Remember that the temperature will increase a little after removing it from the oven, so shoot for the lower end of the desired temperature and I recommend not cooking it to well-done if you want it tender.
Make sure to give the meat time to rest after cooking or all the juices will come out and make the meat tough.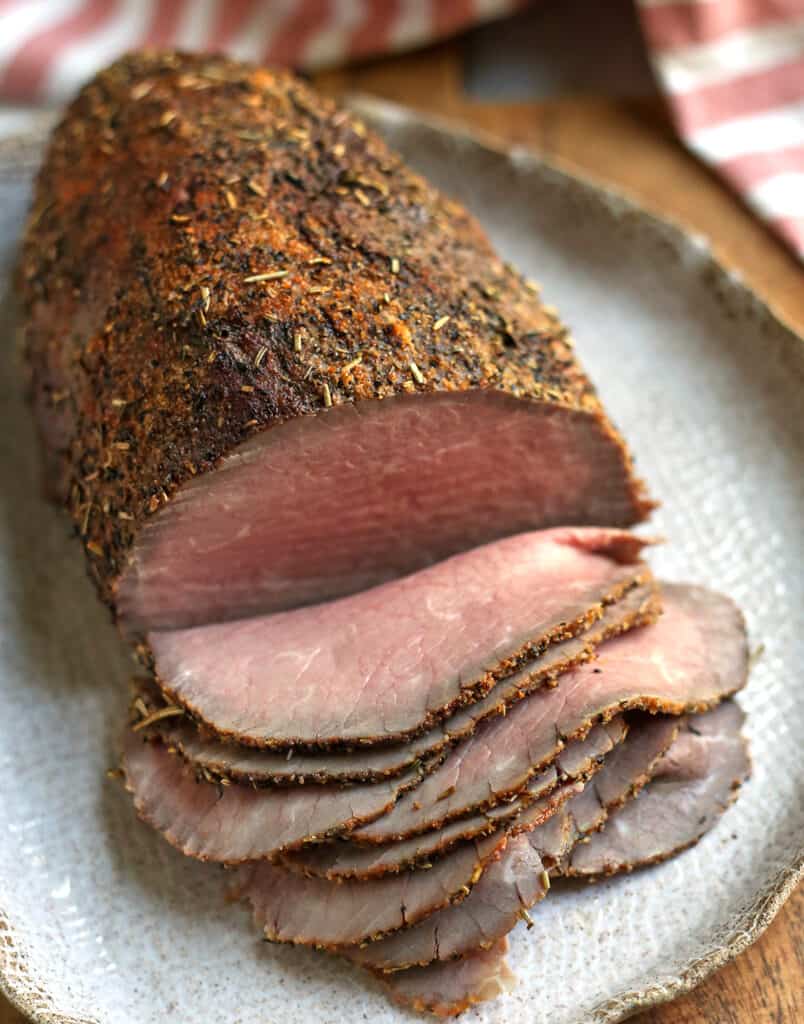 The best cut of meat to use
I have made this many times and have always used eye of round which is affordable and turns out tender every time. These are all the cuts that work great though:
Bottom Round
Top Round
Eye of Round
Chuck Roast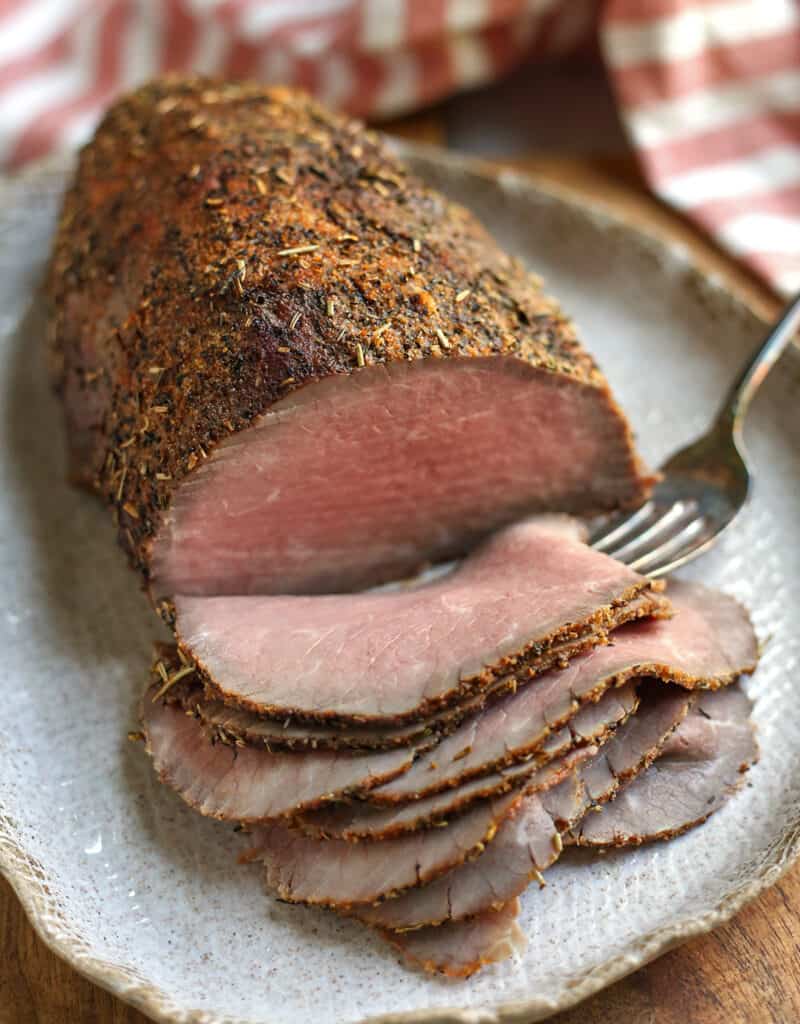 This easy roast beef recipe is such a great dish to make to have meals all week. It's simple, makes a lot, and is so flavorful. Here are some more beef dishes to make for dinner:
Hungry for more? Subscribe to my newsletter and follow along on Facebook, Pinterest and Instagram for all of the latest updates.
Easy Roast Beef Recipe
Ingredients
2-3 pound eye of round
2 tablespoons avocado oil
2 teaspoons salt
½ teaspoon black pepper
1 teaspoon garlic powder
1 teaspoon onion powder
1 teaspoon dried thyme
1 teaspoon dried rosemary
½ teaspoon paprika
Instructions
Remove beef from the fridge 2 hours before cooking to let it come to room temperature. This helps it cook evenly.

Preheat oven to 500° and line a small sheet tray with parchment paper.

In a small bowl, combine the salt, pepper, garlic powder, onion powder, thyme, rosemary and paprika.

Drizzle the avocado oil over the roast and then sprinkle the seasoning on top. Coat the meat well, covering all the sides well. Place on the sheet tray and bake for 15 minutes.

Reduce to 300° bake for 40 more minutes or until the internal temperature is 135°-145° or to desired temperature. Add time in 5-10 min increments as needed

Let the meat rest 20-30 minutes before slicing.

Store covered in the fridge for up to a week.

This is easy to slice when cold if you're using it for sandwiches.
Notes:
Meat temperatures:
Rare: 120°-125°
Medium-Rare: 130°-135°
Medium: 140°-145°
Medium-Well: 150°-155°
Well Done: 160° and above
Nutrition Information
Calories: 138kcal (7%)Carbohydrates: 1gProtein: 20g (40%)Fat: 6g (9%)Saturated Fat: 1g (6%)Polyunsaturated Fat: 1gMonounsaturated Fat: 3gCholesterol: 50mg (17%)Sodium: 518mg (23%)Potassium: 316mg (9%)Fiber: 0.1gSugar: 0.03gVitamin A: 60IU (1%)Vitamin C: 0.4mgCalcium: 21mg (2%)Iron: 2mg (11%)