This Steeped Coffee Bag is the best camp coffee. It's quick and easy to make, with the flavor as good as a coffee house.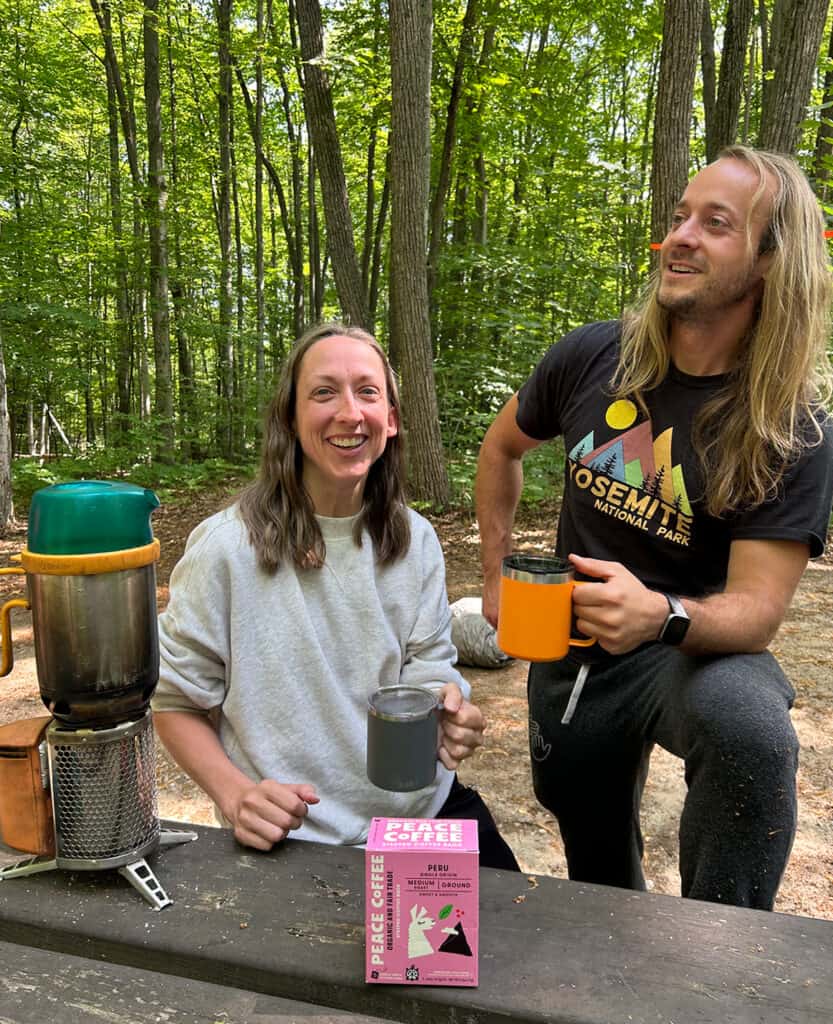 This post is sponsored on behalf of Peace Coffee All opinions are 100% my own, of course! Thank you for supporting brands that help make Real Food with Jessica possible!
I had a couple camping trips this past month and one thing I have to have to make it enjoyable is good coffee in the morning. Peace Coffee Steeped Coffee came in so handy, all you need is hot water to add to it and you have a delicious hot cup of coffee in minutes. We were camping in the Upper Peninsula of Michigan and the nights were getting down in the low 50°'s and that made the coffee taste even better. It was a chilly morning and the coffee was hot, delicious and was the best start to the morning.
Jump To
How to Brew Steeped Coffee
It's super simple! The coffee comes in a single-serving packet that you tear open and there's a bag in there that looks similar to a tea bag, but filled with coffee grounds. Place that in your cup and pour hot water on top. Dip and dunk Steeped Bag 20 to 30 times over 1 minute. Leave the Steeped Bag in, and let steep for 5 to 7 minutes or more to taste. Remove the bag and enjoy!
Is Steeped Coffee Instant Coffee?
No! Instant coffee is freeze dried coffee that rehydrates instantly in hot water. Steeped coffee is actual ground coffee beans that are in a mesh bag and they are steeped in the same way tea is steeped. It's not instant and the flavor is much more fresh. It's comparable to fresh brewed coffee like a pour-over or french press.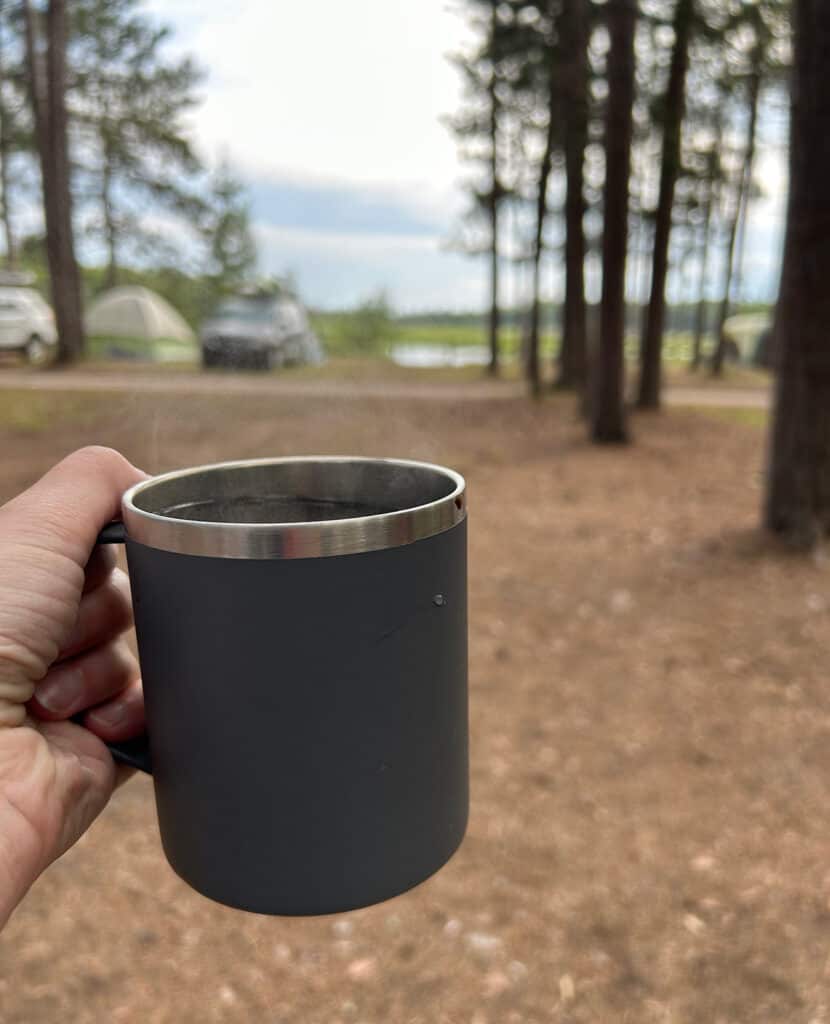 Three Flavors of Steeped Coffee
Peace Coffee has three flavors of Steeped Coffee- Peru, Colombian, and Black Squirrel. They are all medium roasts and I can't say I have a favorite as I like to mix it up every morning. They are all so good and you won't be disappointed.
Breakfasts to pair with steeped coffee while camping
Having some food with the hot coffee is always a great pair. I love making coffee cake, like my paleo raspberry coffee cake or paleo brown sugar cinnamon pop tart bars for a quick and easy breakfast while camping.
What to add to the coffee
This coffee is perfect as-is, but you can of course add your favorite add-in's. Sugar, milk, cream- whatever you prefer, just add it after you remove the bag from the water. I enjoy it black and think that really lets the flavors shine through.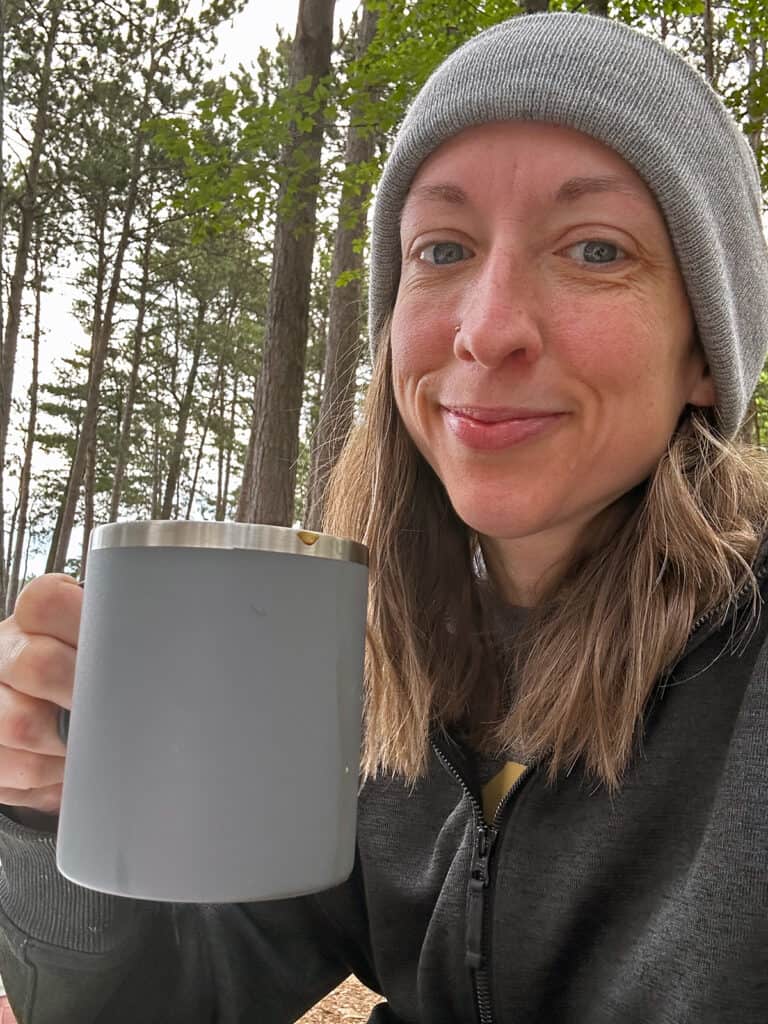 More than camp coffee
Although this is my favorite camp coffee, I also love having it on hand when traveling. I don't always know the coffee situation at a guests house or hotel, but getting hot water is easy and I'm guaranteed to enjoy it.
More Reasons I love Peace Coffee
Always Organic & Fair Trade
Shade Grown, Fresh Roasted
B Corp Certified
Low Acid Coffee
Queer owned and woman owned
I would love to know, where is your favorite camp spot and what do you enjoy most with coffee while camping?