These Paleo Vegan Cherry Pop Tart Bars have a shortbread cookie filled with a sweet cherry filling. Topped with a glaze, they are simple and so delicious! Gluten free and dairy free.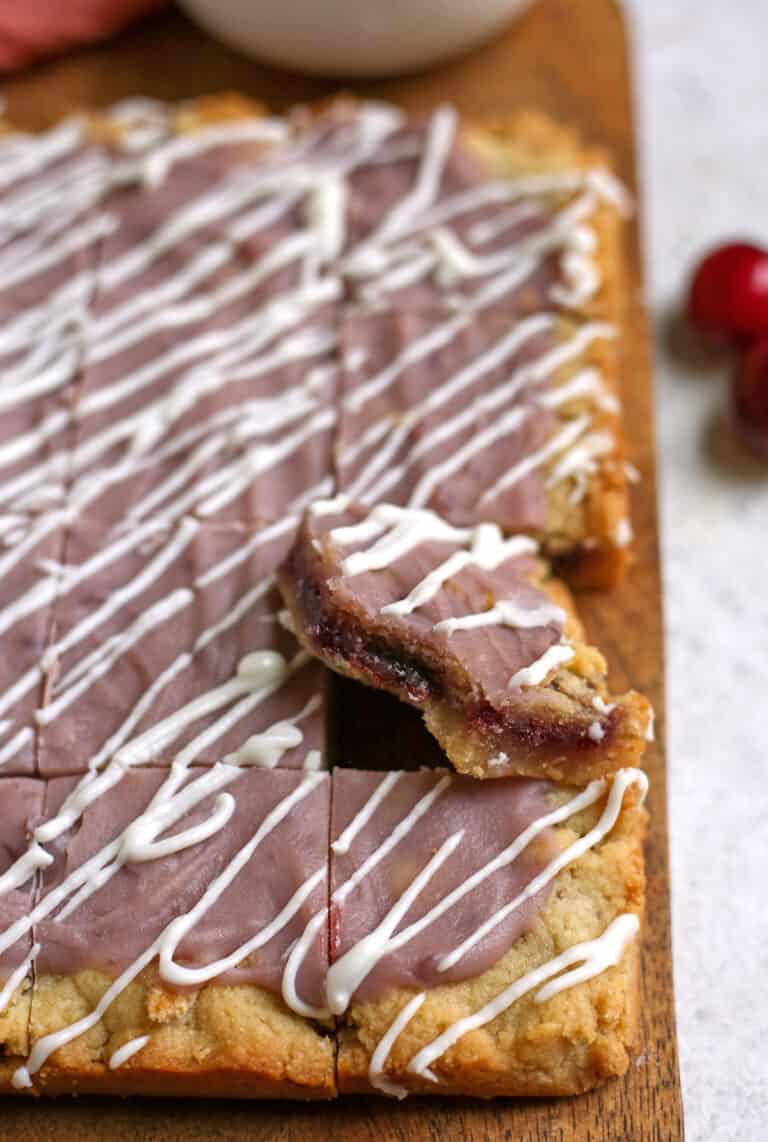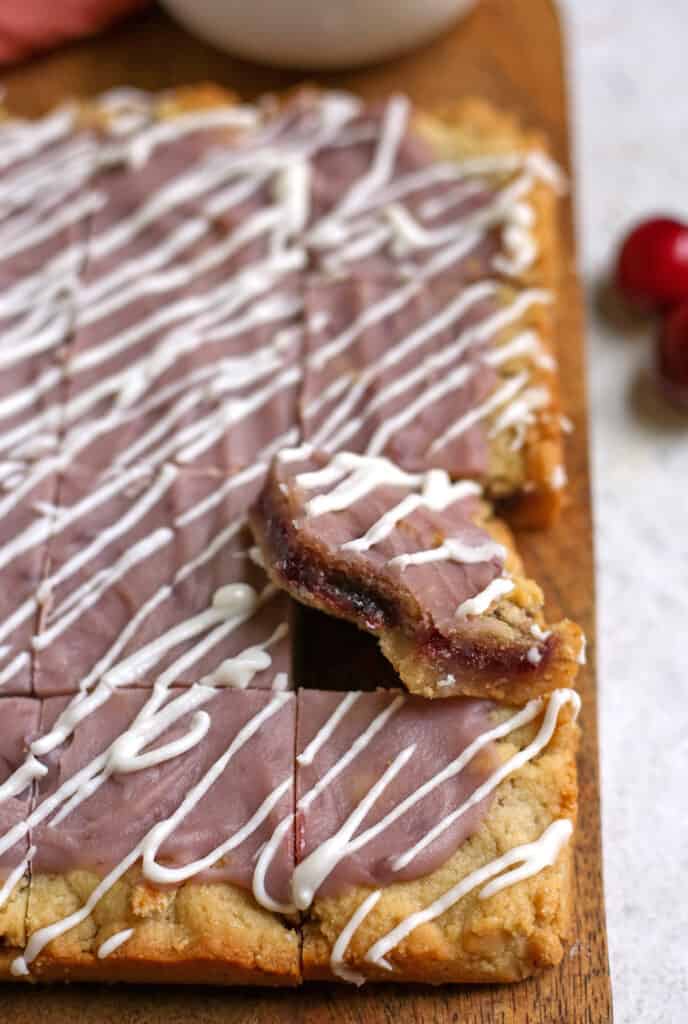 Shortbread Crust
This shortbread recipe is my tried and true go-to that is melt in your mouth good and sweetened just right. Half is pressed into the pan, then the jam goes on top, and the remaining shortbread goes on top of that. Don't worry if it's not perfect, it will be frosted so little cracks are okay. I love how easy this shortbread is to whip up and I think you will too.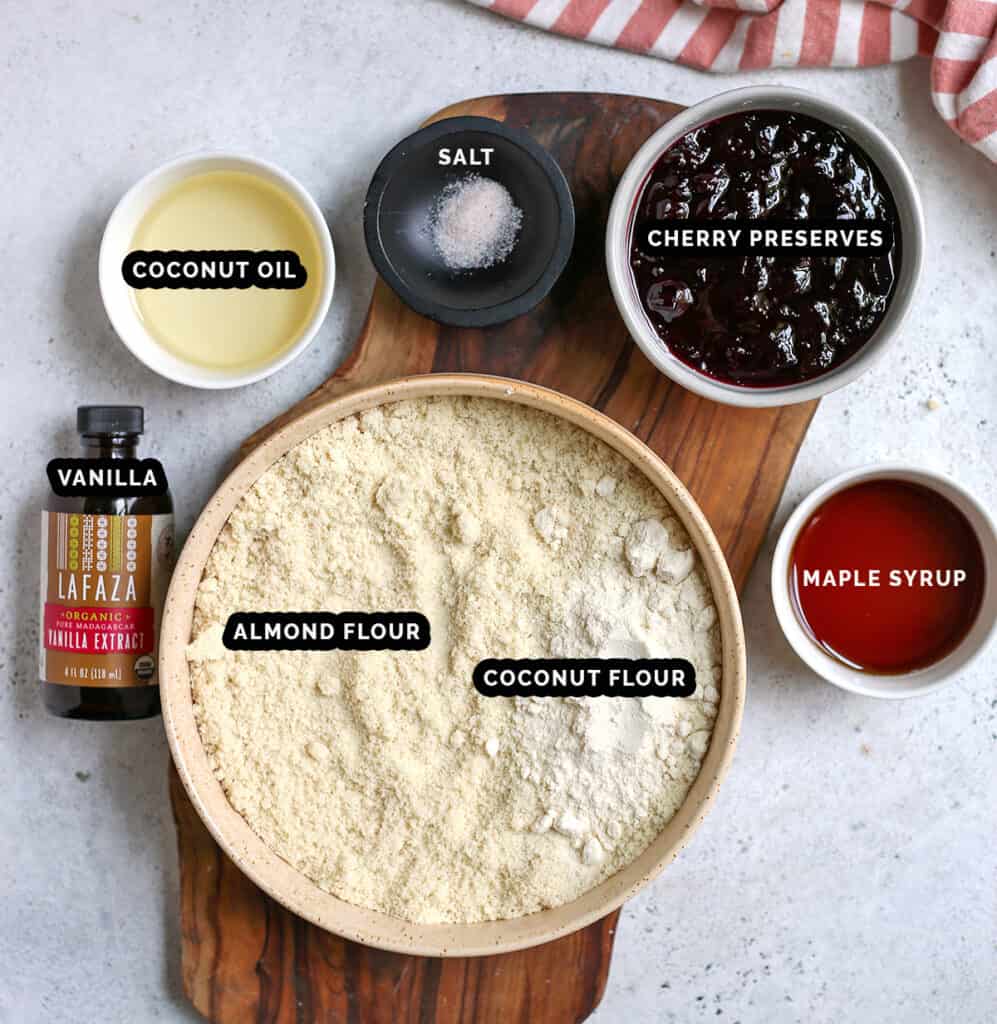 Cherry Filling
This layer is easy, it's just store bought cherry preserves. I do like to use a natural one that doesn't have added sugar, but I'm okay with a little added sugar if that's what I can find. Of course you can make your own here too if you prefer and to make sure it's paleo. If you need to keep these vegan, make sure pectin is used instead of gelatin as a thickener. Here is a recipe for homemade jam that doesn't use any sweetener.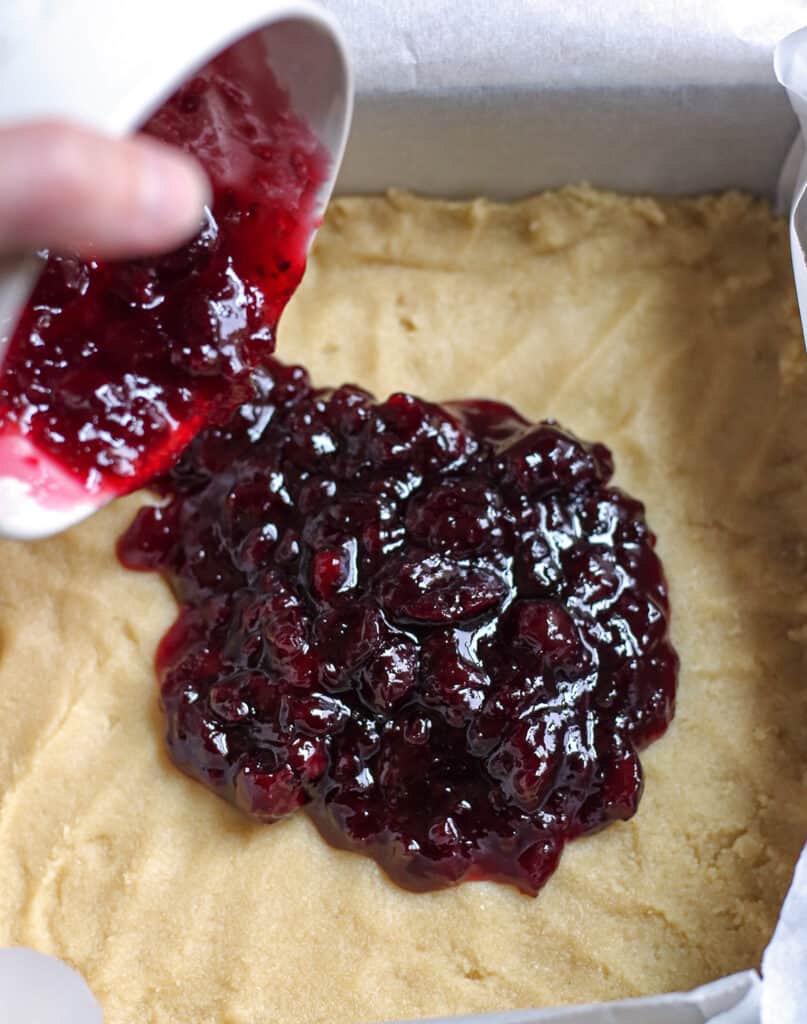 Paleo Frosting
The frosting is what I use for most of my desserts, a mix of coconut butter (or manna), cherry preserves, maple syrup and a little water to thin it out. It's sweet and just makes the best topping. It can be hard at room temperature, so microwave it for 30-45 seconds and give it a good stir before measuring. This will help it mix and spread well.


Alternative Frosting
I get asked often what can be used in place of coconut butter and there isn't anything like it, not a nut butter and not butter. If you can't find coconut butter or don't want to use it, powdered sugar and water would also work. This isn't strict paleo, but is an option if it works for you. I would start with 1 cup of sugar and 1-2 tablespoons of water and adjust as needed. This will make a sweet, delicious topping that is super simple. Still add that little bit of preserves for the color.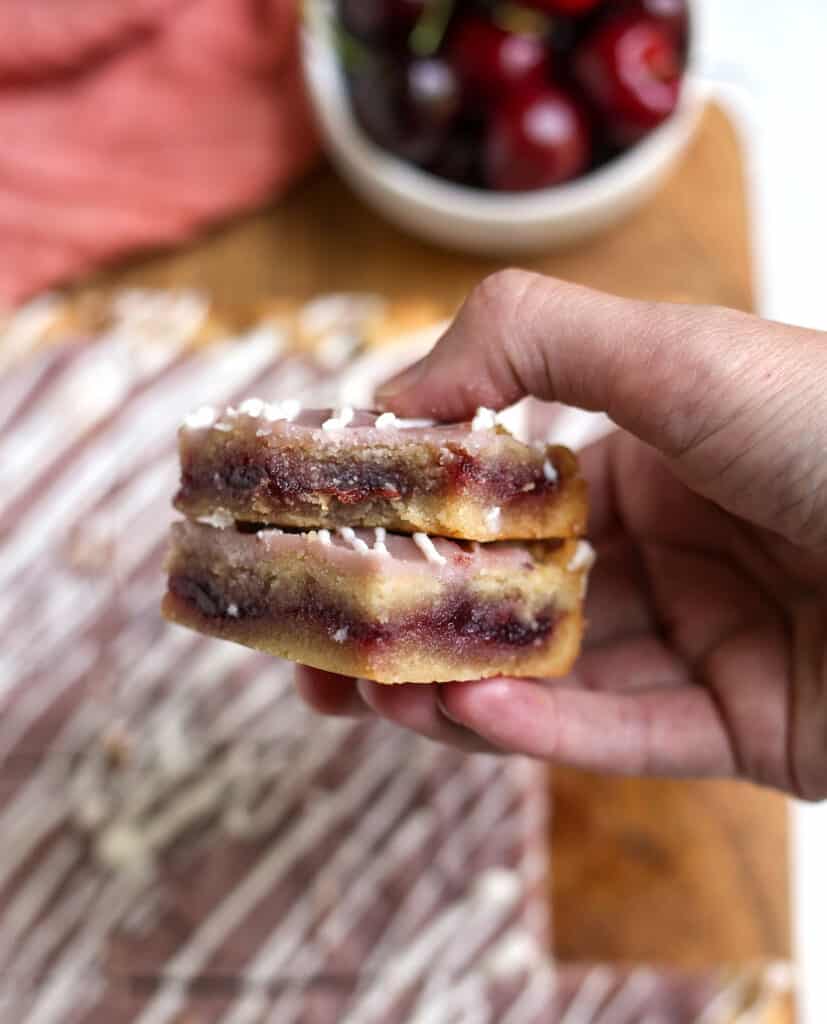 These are best stored in the fridge, like most grain free desserts, but if you'd like to warm them up then they could be put in a toaster over or air fryer for 30 seconds to 1 minute to give that good fresh baked taste.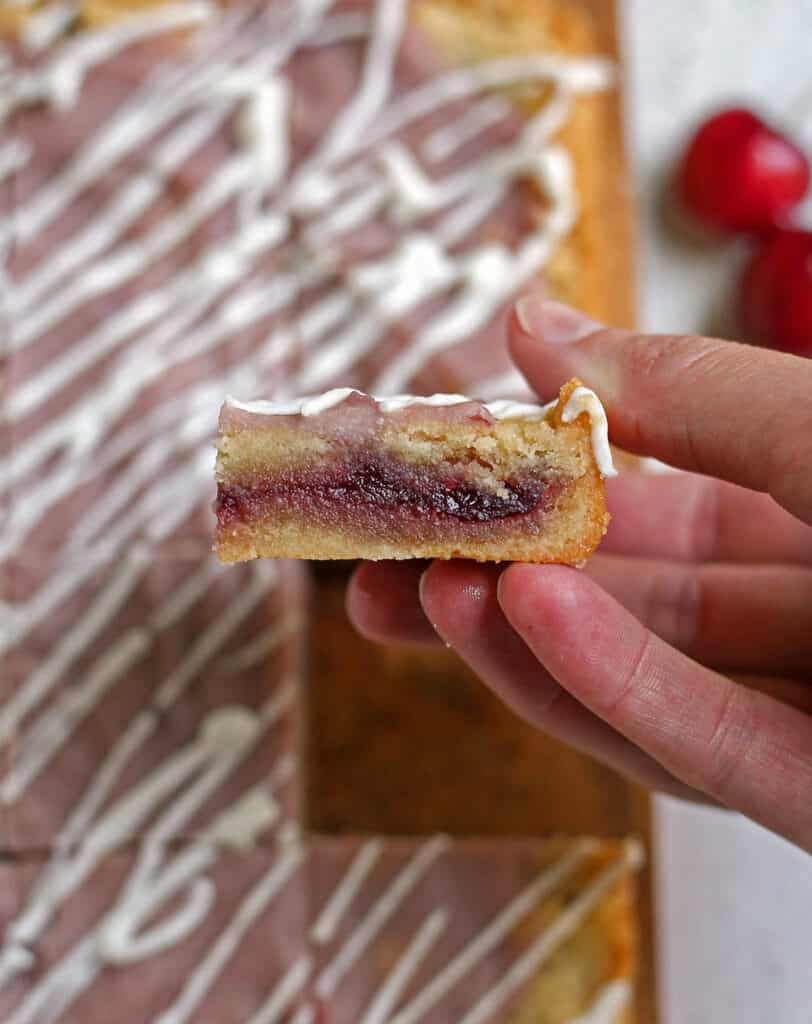 You will love these paleo vegan cherry pop tart bars because they are simple to make, are like the fun childhood treat and so delicious! Here are more pop tart flavors to try:
Hungry for more? Subscribe to my newsletter and follow along on Facebook, Pinterest and Instagram for all of the latest updates.
Paleo Vegan Cherry Pop Tart Bars
Ingredients
Cherry Filling
½ cup plus 2 tablespoons cherry preserves
Instructions
Preheat oven to 325° and line a 9 inch square pan with parchment paper. Set aside.

In a medium bowl, combine almond flour, coconut flour, salt, vanilla, maple syrup, and coconut oil. Stir together until it is well mixed and everything is incorporated evenly. Press ½ of the mixture into the bottom of the pan and top with the strawberry jam, spreading evenly. Top with remaining shortbread. The best way to do this is take small pieces and press flat and then lay on top, pressing the edge of each piece together as best as possible. Bake for 30-33 minutes, until golden brown around the edges.

Make the frosting. Make sure the coconut butter is soft. You may need to microwave it for 30 seconds and stir first. In a small bowl, combine the coconut butter, cherry preserves, maple syrup, water and salt. Pour it over the bars and spread evenly. Drizzle with more plain coconut butter if desired for a swirly design.
Nutrition Information
Calories: 278kcal (14%)Carbohydrates: 21g (7%)Protein: 7g (14%)Fat: 21g (32%)Saturated Fat: 5g (31%)Polyunsaturated Fat: 0.1gMonounsaturated Fat: 0.3gSodium: 44mg (2%)Potassium: 27mg (1%)Fiber: 4g (17%)Sugar: 12g (13%)Vitamin C: 1mg (1%)Calcium: 74mg (7%)Iron: 1mg (6%)