These Paleo Nutter Butter Cookies are a healthy homemade version of the popular store bought cookie. Naturally sweetened and gluten free and dairy free.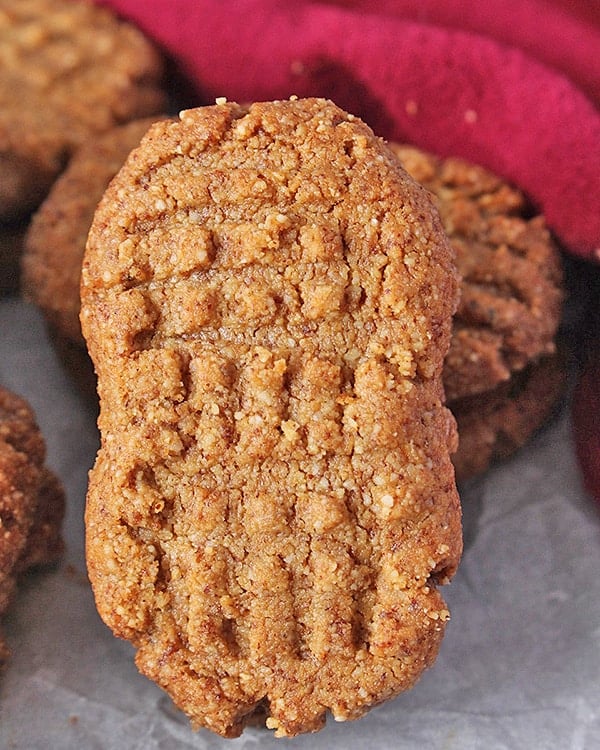 I'm back with another copy-cat recipe. I didn't realize I was on a roll with them until I was editing these pictures and got thinking about the Paleo Brownie Brittle Bark and the Paleo Samoa Cookie Bars. <---- check them out if you haven't already! These cookies are inspired by the peanut butter cookie with the peanut butter filling. I used almond butter instead, of course, and they came out so good. It's kind of crazy how much they taste like peanut butter cookies. I do realize it's a little ironic the my almond butter cookies are shaped like a peanut 😉 You don't have to make them peanut shape if you don't want. I'm sure they would work great as circle cookies as well.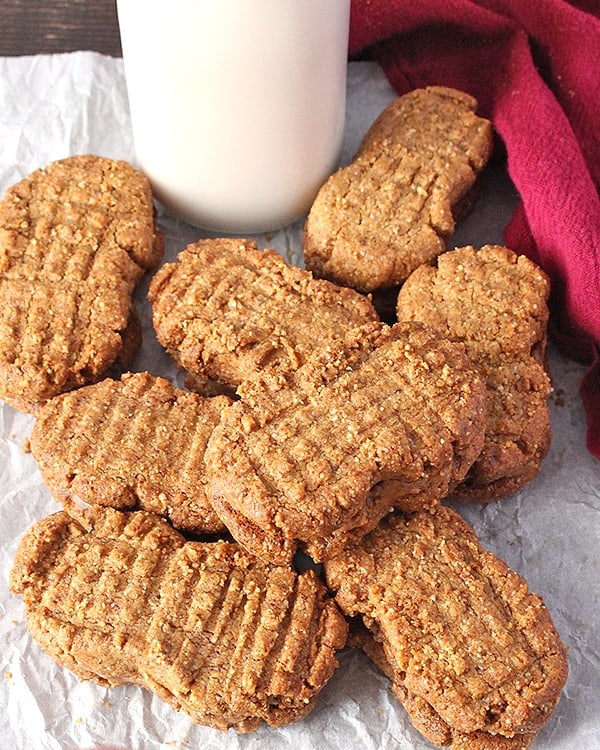 These cookies are easy to make. They are mixed in one bowl by hand and while the shaping does take a little time, it is very simple. I found that 1 tablespoon is the perfect size to make the cookies. I got a little carried away on some and they turned out huge!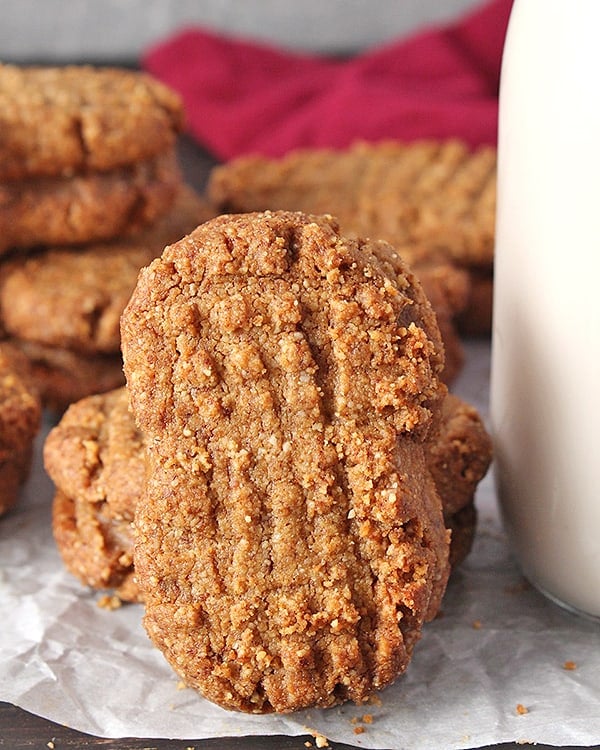 They are not as sweet as the original, but I don't think that's a bad thing. The cookie is crunchy and the filling is smooth and combined they are so delicious!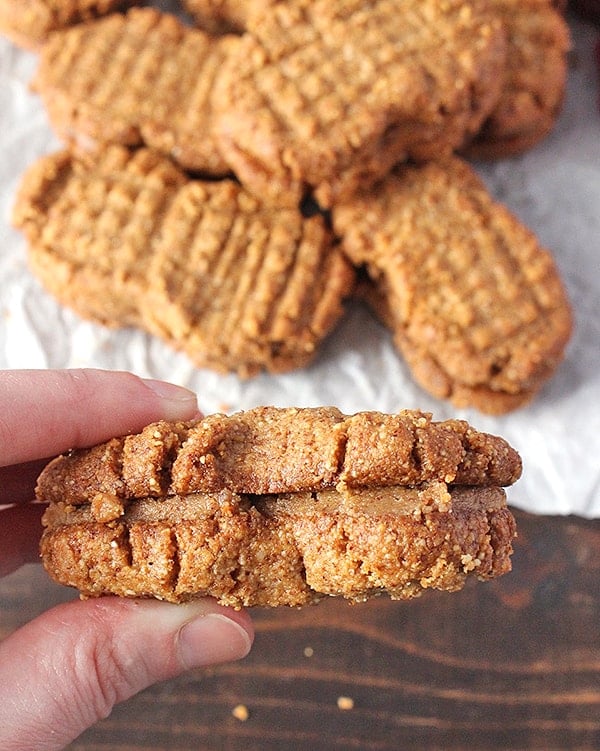 I was actually super impressed with how crunchy the cookie got because usually paleo cookies tend to be on the soft side. A crunchy cookie is necessary for this recreation and it's spot on!
If you love the original Nutter Butters than you will love this healthier homemade version! Such a fun treat that the whole family will love!
Hungry for more? Subscribe to my newsletter and follow along on Facebook, Pinterest and Instagram for all of the latest updates.
Paleo Nutter Butter Cookies
Servings:17 sandwich cookies
Instructions
Cookie Instructions
Preheat the oven to 350° and line a cookie sheet with parchment paper. Set aside.

In a large bowl, combine the coconut oil, almond butter, coconut sugar, salt, egg, and vanilla. Stir well until fully mixed. Add in the almond flour until a dough is formed and it is mixed evenly.

Using a 1 tablespoon measuring spoon, scoop the dough and form it into a thin, long log. Place it on the cookie sheet and repeat until the cookie sheet is full, leaving about 1 inch between each cookie.

Use a fork to press the indentations on the cookie and gently squeeze the center inward to form a peanut shape. Bake for 15 minutes and let cool completely.
Filling Instructions
Once the cookies are cooled, make the filling. In a medium bowl, combine the almond butter, maple syrup, coconut oil, and salt.

Mix until smooth and spread on half the cookies then top them with the remaining cookies- creating a sandwich.
Nutrition Information
Calories: 426kcal (21%)Carbohydrates: 21g (7%)Protein: 12g (24%)Fat: 36g (55%)Saturated Fat: 7g (44%)Polyunsaturated Fat: 4gMonounsaturated Fat: 10gTrans Fat: 0.001gCholesterol: 10mg (3%)Sodium: 88mg (4%)Potassium: 235mg (7%)Fiber: 6g (25%)Sugar: 10g (11%)Vitamin A: 14IUCalcium: 167mg (17%)Iron: 2mg (11%)
Recipe adapted from My Whole Food Life