These Paleo Thin Mint Cookies are easy to make and irresistible! A crunchy chocolate cookie dipped in mint chocolate that is gluten free, dairy free and naturally sweetened, but no one will be able to tell!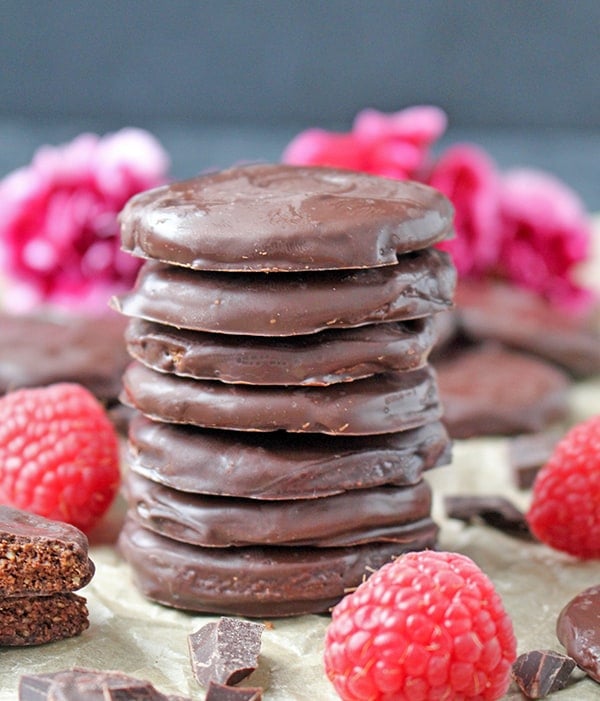 Thin Mints are arguably the most popular Girl Scout cookie. There is just something addicting about those thin little crunchy cookies that are too easy to eat one after another. Well, these cookies have that same addicting quality, but made with way better ingredients. Ingredients that won't leave you feeling crappy afterwards.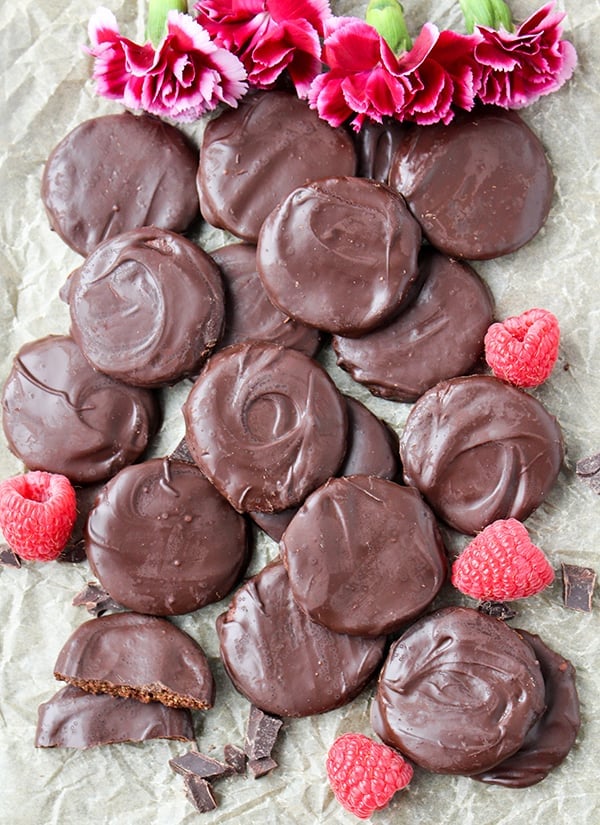 These are easy to make- the dough is mixed together quickly, the dough is rolled out and cut into circles, baked then dipped in mint chocolate. I'm not going to say they are the quickest cookie ever. Between the cutting and the dipping there is some time involved, but it is more than worth it. It's a labor of love that pays in 60 scrumptious cookies.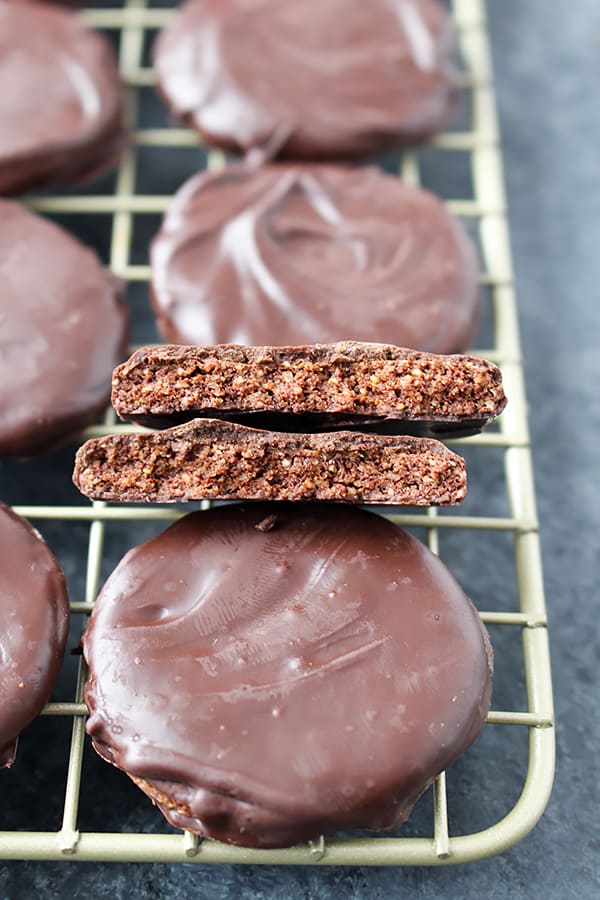 If you think 60 cookies is too much for you, then give some to a friend or put some in the freezer for later. They are actually good straight from the freezer so I don't know if that's good advice on how to not eat them all 🙂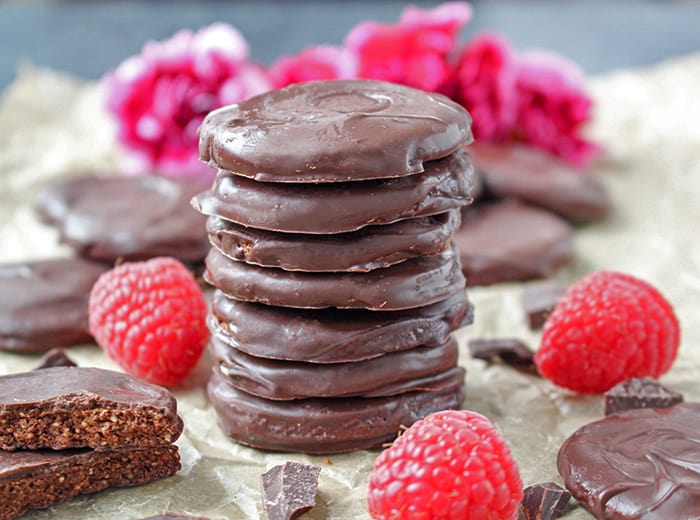 Room Stable Cookies
One thing that is really great about these cookies is they hold up at room temperature. The chocolate doesn't melt and the cookies don't get soft (like a lot of paleo cookies), which means they are perfect for giving as gifts. I actually send my mom a box of them because she loves the originals and she loved these ones, too! A true sign that they are good- even for people who don't eat paleo or gluten free.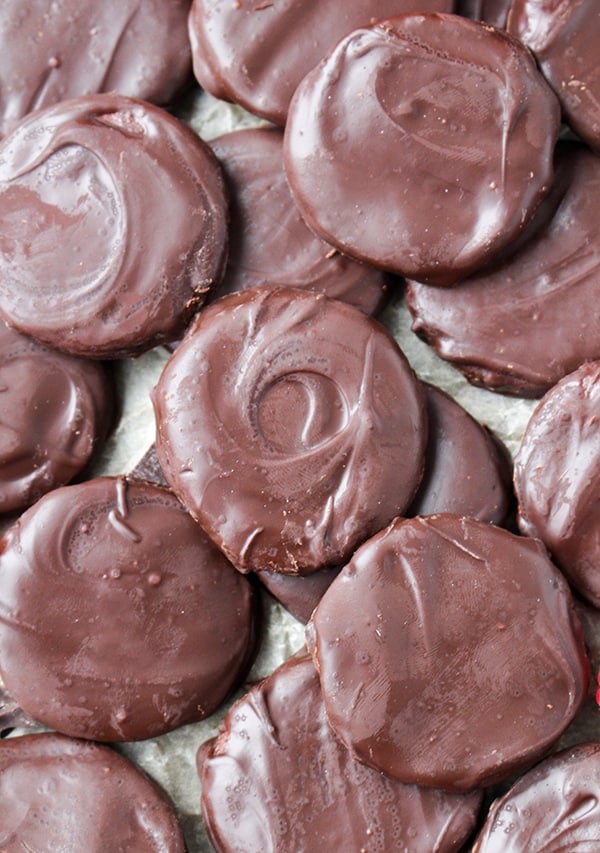 The perfect size cookies
Here is the cookie cutter I used- a 1 ½ inch. I thought it was the perfect size, not too big or too small. I bought a set of cutters because it was a better deal and I can use the other sizes for other things.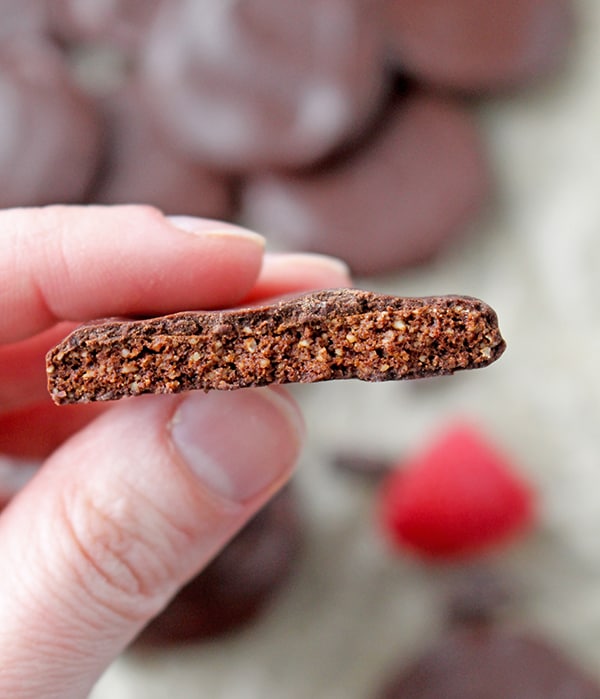 The chocolate coating is just melted Enjoy Life Chocolate Chips and a little mint extract. So simple and adds a nice minty touch. If you need this to be strict paleo then use Eating Evolved Chocolate that is sweetened with coconut sugar.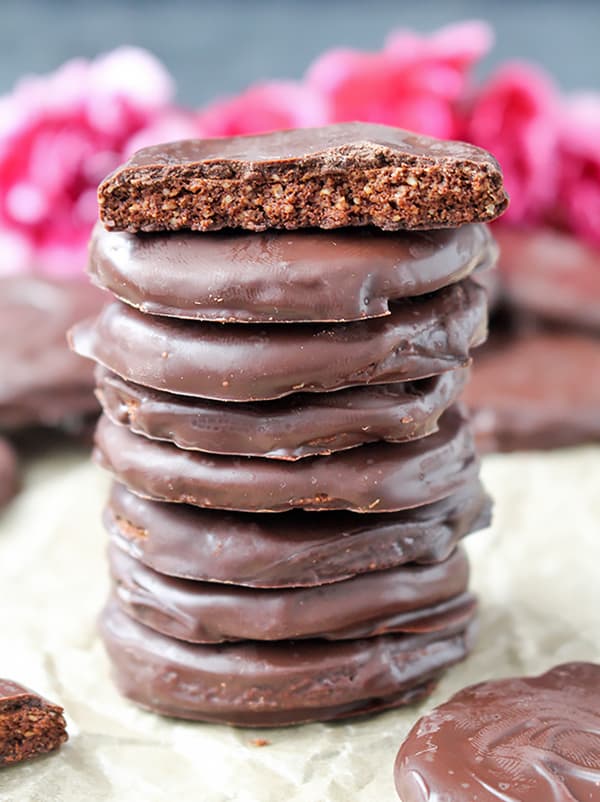 If you love the originals then you will love these paleo thin mint cookies. Thin, crunchy, sweet, and perfectly minty.
You will also be interested in my other Girl Scout inspired recipes:
Hungry for more? Subscribe to my newsletter and follow along on Facebook, Pinterest and Instagram for all of the latest updates.
Paleo Thin Mint Cookies
Instructions
Preheat oven to 300° and line 2 baking sheets with parchment paper. Set aside.

In a large bowl, combine almond flour, cacao powder, coconut sugar, baking soda, and salt. Add in the egg, ghee, and vanilla and mix well. The dough should come together and form a ball.

Place a piece of wax or parchment paper on the counter and put the dough on top. Place another piece of wax paper on top of the dough and roll it out with a rolling pin. Roll very thin, about ⅛ inch and make it as even as possible.

Using a 1 ½ inch round cookie cutter, cut cookies out.

Carefully transfer the cut cookies to the baking sheets. I found lifting the paper and gently removing each one was the easiest.

Roll remaining dough into a ball and repeat the rolling, cutting process until all dough is used. You should get about 30 cookies total.

Bake for 28 minutes. Remove and let cool. They will crisp up as they cool. (This is the time that worked for me, but some people are having issues with burning. Check around 18 minutes)

Once cookies are fully cooled make the chocolate mixture.

In a microwave safe bowl or measuring cup, melt the chocolate chips. Microwave in 20-30 second increments, stirring each time, until fully melted and smooth. About 1 ½ minutes total.

Add in the mint extract and stir well.

Dip each cookies in the chocolate, scrapping off any excess so they are not covered too thick. I did this by using my finger for the top and pushing the excess of while still leaving enough to look pretty. For the bottom I used a butter knife and made it very thin. Place on wax or parchment paper and let cool.

Store at room temperature for up to a week then the refrigerator after that.
Notes:
These were remade in 2023 and I only got 30 cookies total from them. If this is how many you get, that is perfectly fine. 
Nutrition Information
Calories: 135kcal (7%)Carbohydrates: 11g (4%)Protein: 4g (8%)Fat: 10g (15%)Saturated Fat: 3g (19%)Polyunsaturated Fat: 0.1gMonounsaturated Fat: 0.4gTrans Fat: 0.001gCholesterol: 9mg (3%)Sodium: 45mg (2%)Potassium: 17mgFiber: 2g (8%)Sugar: 6g (7%)Vitamin A: 9IUCalcium: 39mg (4%)Iron: 1mg (6%)