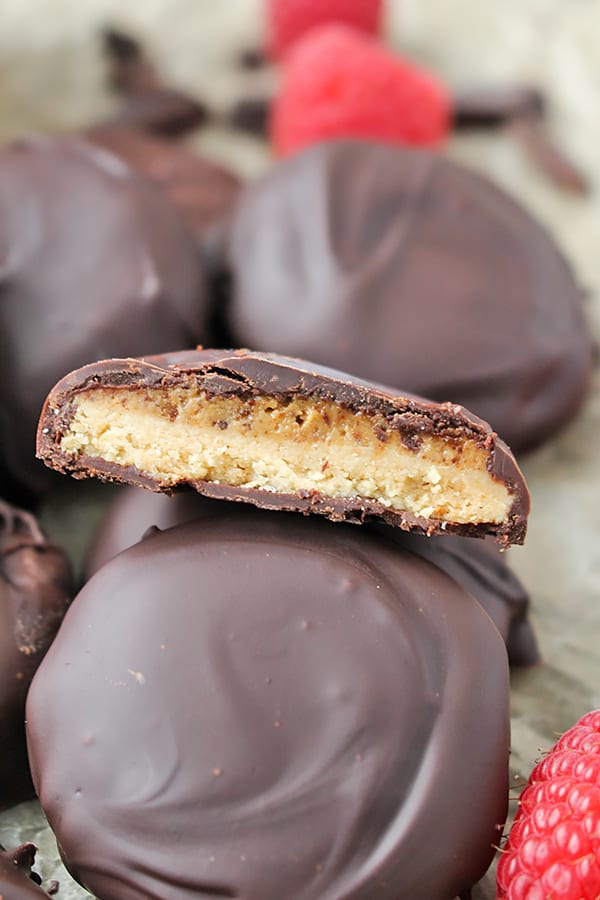 These Paleo Homemade Tagalong Cookies are easy to make and so delicious! A crunchy shortbread cookie, topped with creamy cashew butter and then dipped in chocolate. A healthy version of the Girl Scout cookie that is gluten free, dairy free, and vegan.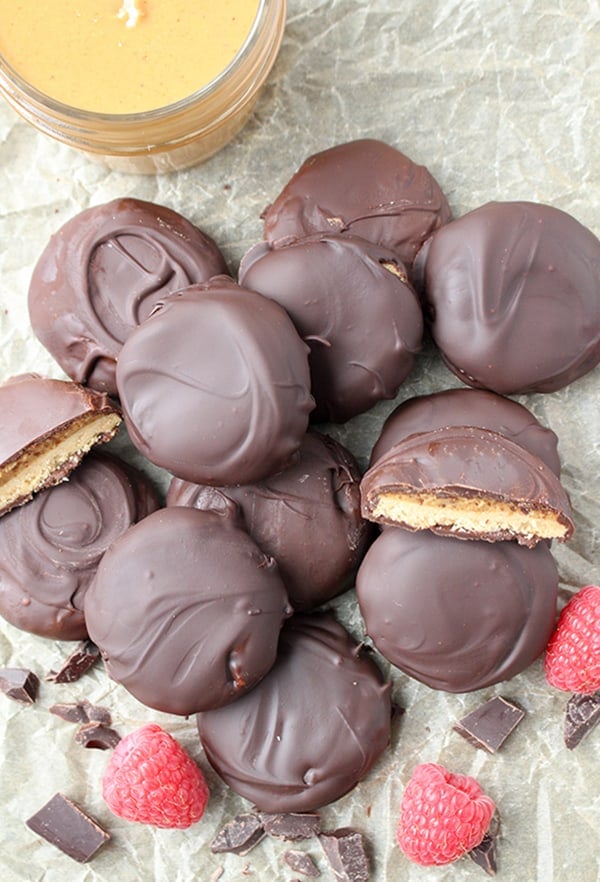 Recreating popular cookies are so fun! I have my Paleo Thin Mints that I just shared a couple weeks ago and my Paleo Samoa Cookie Bars from a couple years ago that are super popular. Taking an unhealthy treat that so many people have fond memories of and recreating it so they can enjoy it again without the junk ingredients, or belly ache, or headache. Yeah, I love that!

If you're not familiar with a Tagalong, it's a girl scout cookie that has a shortbread cookie topped with peanut butter and then dipped in chocolate. That is exactly what these are except with cashew butter replacing the peanut butter. The shortbread cookie is crunchy and lightly sweetened, the creamy cashew butter has a little bit of coconut sugar mixed in for sweetness and the chocolate is just dairy-free chocolate chips melted. They are so tasty!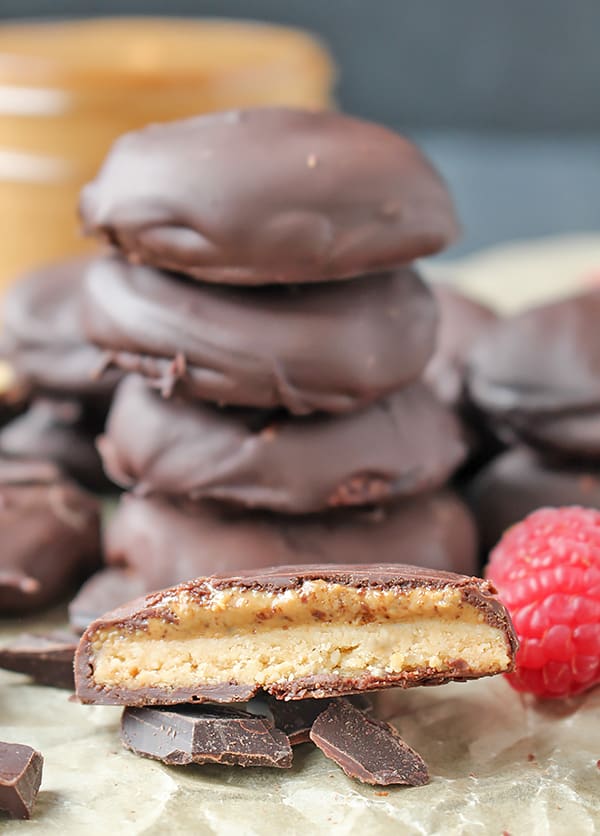 These are not hard to make, but do require a little time. The rolling of the dough, baking and letting them cool, topping them with the cashew butter, then dipping in chocolate. The reward is sweet though and 100% worth it.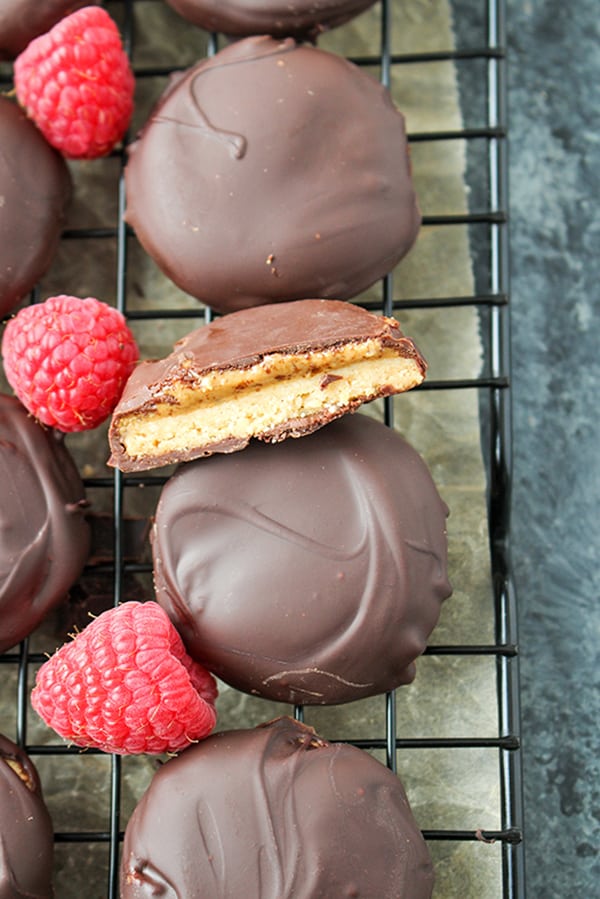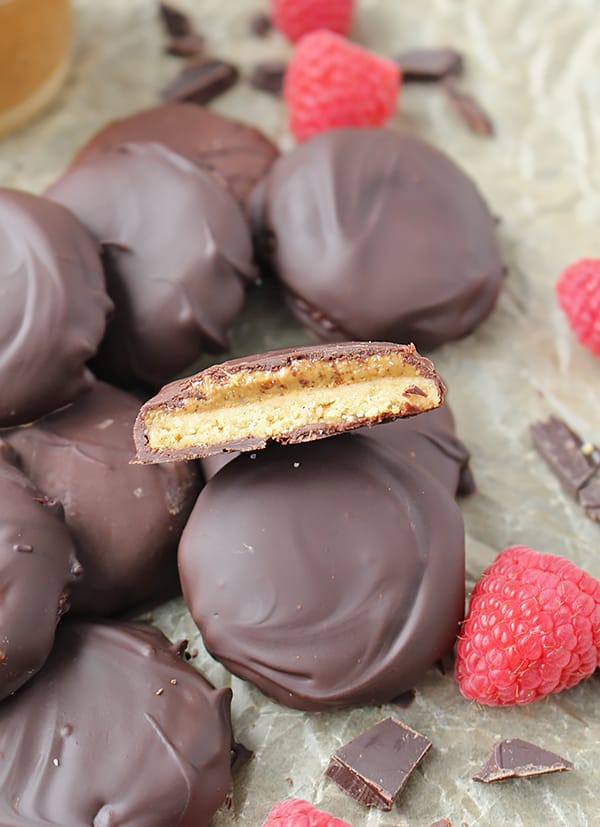 I used a 1 ½ inch round cookie cutter and the size is perfect. They end up being quite thick cookies so that is just the right size. HERE are the cookie cutters I have and love. The same ones I used for my Thin Mints.
These hold well at room temperature which is so nice. Not all paleo cookies are like that, but these stay good, the shortbread stays crunchy, and the chocolate doesn't melt. After a week I would refrigerate them just to be safe, but I'm thinking they won't last that long considering how delicious they are!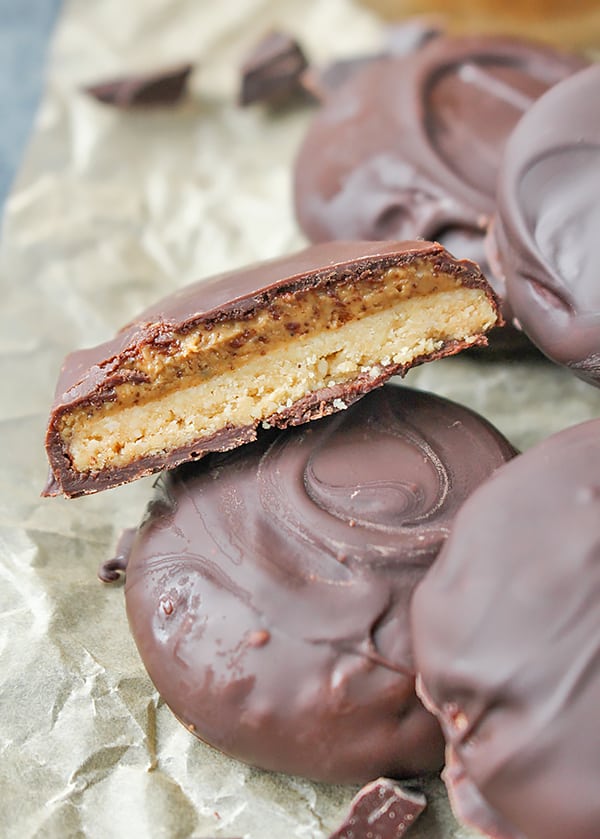 A little note: it may seem like a lot of chocolate needed to dip the cookies, but it makes 45 cookies! 45!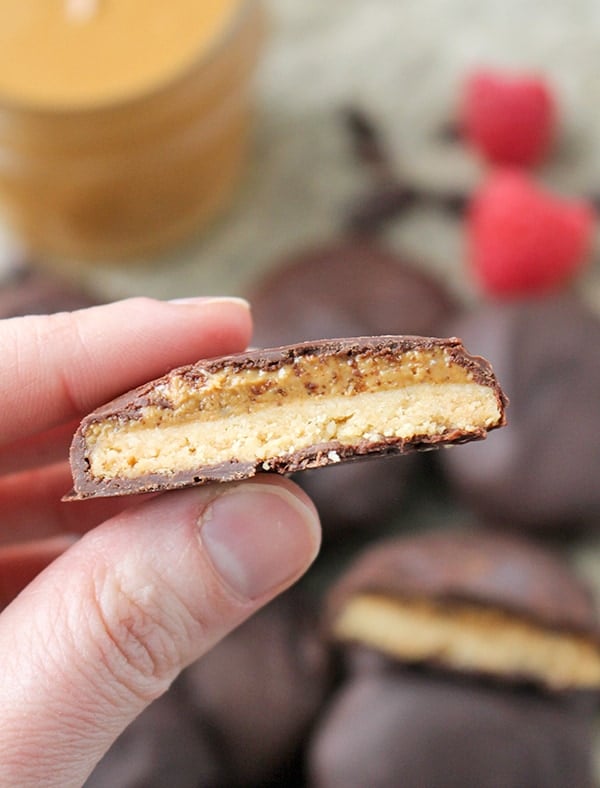 You will love this homemade, healthier version of the popular cookie.
Make sure to check out my other Girl Scout Cookies- Paleo Thin Mints and Paleo Samoa Cookie Bars.
HERE are the cookie cutters I used.
Hungry for more? Subscribe to my newsletter and follow along on Facebook, Pinterest and Instagram for all of the latest updates.
Paleo Homemade Tagalong Cookies
Instructions
In a large bowl, combine almond flour, coconut flour, coconut oil, maple syrup, salt, and vanilla. Mix until everything is evenly combined and a ball of dough is formed.

Place a piece of parchment or wax paper on the counter and place the ball of dough on it. Top with another piece of wax paper and then roll the dough thin, about ¼ inch. Try to get it as even as possible.

Preheat oven to 300° and line 2 cookie sheets with parchment paper.

Using a 1 ½ inch round cookie cutter, cut the cookies out and carefully remove them to the prepared pans. Use a thin spatula if needed.

Continue re-rolling the extra dough into a ball and rolling it out to cut as many cookies as possible. It should make about 45 cookies.

Bake for 29-30 minutes, until the edges start to lightly brown. Let completely cool.

While the cookies cool, make the filling. Combine the cashew butter and coconut sugar together and mix well.

Once cookies are cool, top each cookie with a dollop of the cashew butter mixture, about 1 teaspoon each. Slightly press down to make flat and even. Place in the fridge to set up so they are ready to dip.

After they have chilled in the fridge, melt the chocolate chips in a microwave safe bowl or measuring glass. Stir every 20-30 seconds until fully smooth. Have a new piece of wax paper ready and dip each cookie and place it on the wax paper. They will harden at room temperature.

Store at room temperature in an air tight container for a week and in the fridge after that.
Nutrition Information
Calories: 208kcal (10%)Carbohydrates: 17g (6%)Protein: 5g (10%)Fat: 16g (25%)Saturated Fat: 6g (38%)Polyunsaturated Fat: 1gMonounsaturated Fat: 2gSodium: 17mg (1%)Potassium: 37mg (1%)Fiber: 3g (13%)Sugar: 11g (12%)Calcium: 51mg (5%)Iron: 2mg (11%)