These Paleo No-Bake Cheesecake Brownies are easy, rich, and crazy good! A simple chocolate brownie crust and a cashew-based, super smooth cheesecake topping. Completely dairy free, gluten free, and naturally sweetened, but everyone will love them!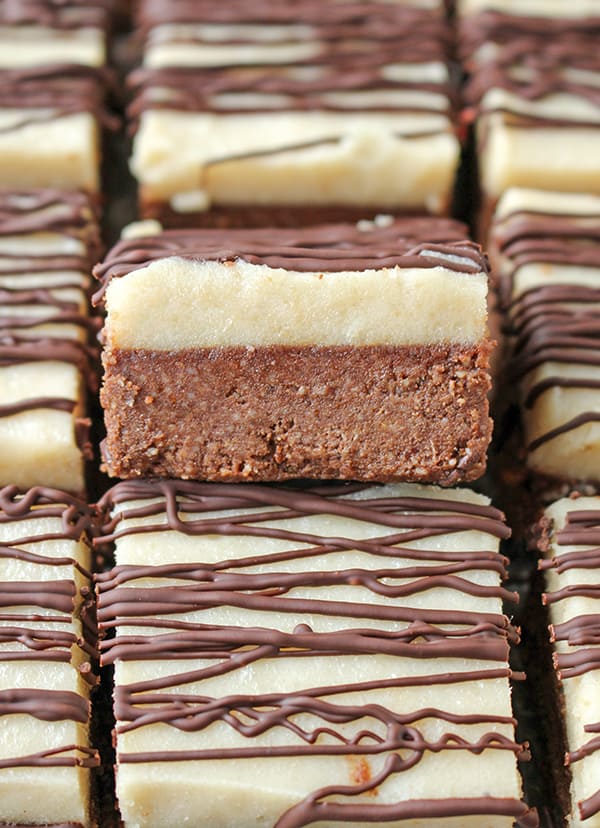 Okay, let talk about the brownie layer first. It's kind of like a cross between brownie and fudge. It's no-bake so all the ingredients just get mixed up quickly and poured into a pan. It's super easy and melt-in-your-mouth good. Even just making them by themselves would be a good treat.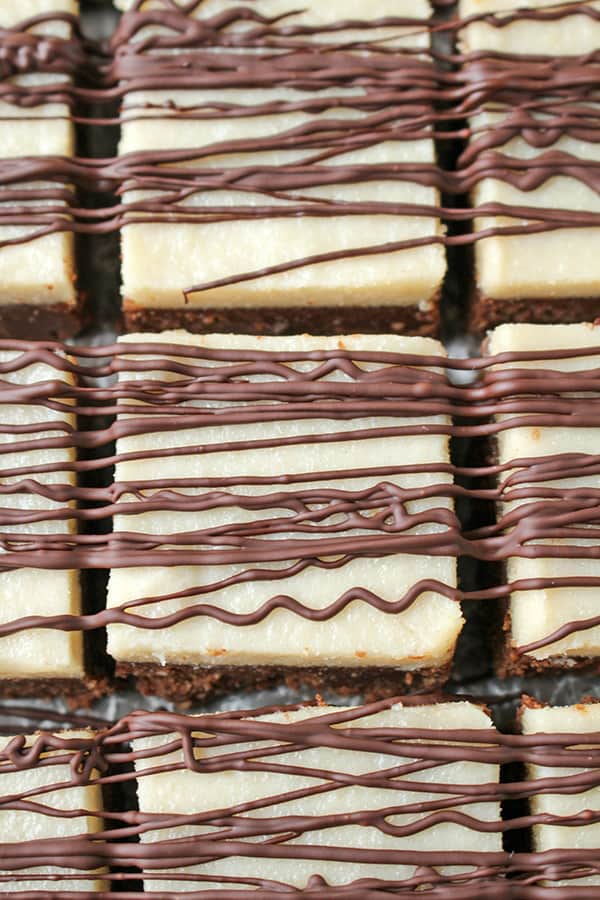 But then the cheesecake layer! Yes, that makes them so much better!
Paleo Cheesecake has been something I've wanted to make for a long time. Cheesecake was possibly my favorite dessert before giving up dairy. I had tried it before and wasn't happy with the results. It just wasn't as smooth and creamy as I was hoping and ended up throwing it away. So disappointing!  I was a little hesitant to try it again and now I'm so glad I did. The trick is to really be patient when blending. It's not going to be smooth after 1 minutes. Let it keep going until it is completely smooth and creamy. It took about 5 minutes and was totally worth it!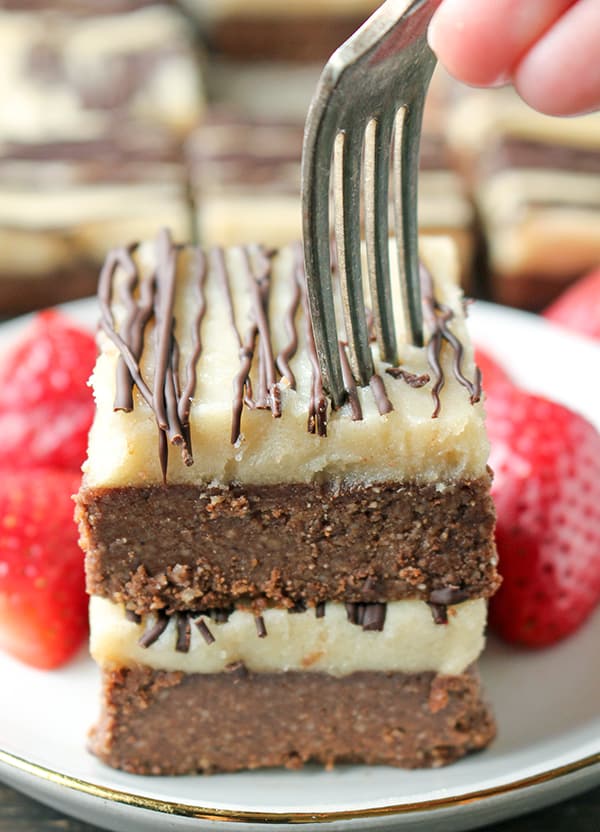 It is important to have a high powdered blender or food processor. I have the Ninja Kitchen System and used to food processor attachment for this. I actually have a Vitamix as well, but prefer my Ninja over that. This isn't sponsored, just sharing my opinion.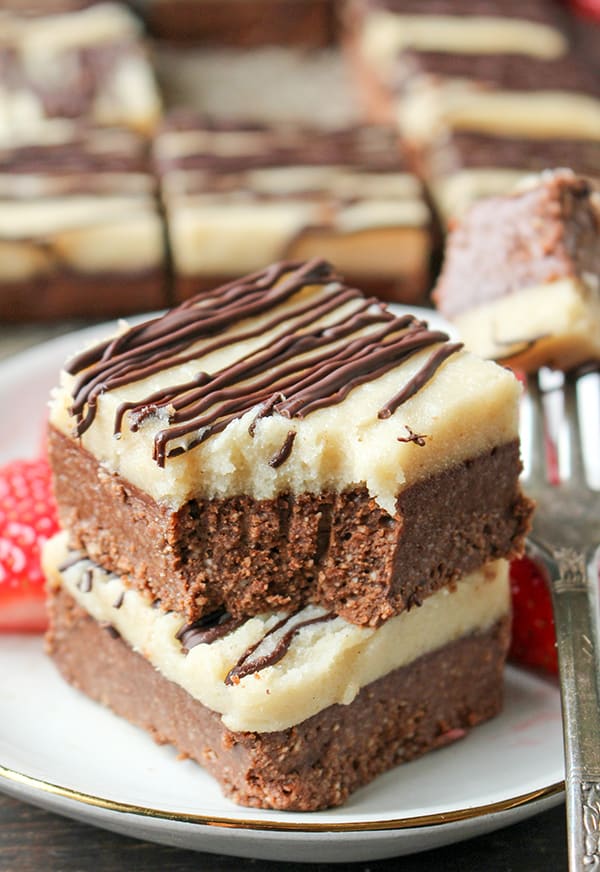 It may seem weird that cashews, coconut oil, almond milk, and honey blend up to taste like cheesecake, but they really do. It sets up in the fridge and gets that same firm texture- it's incredible! I am definitely a believer and see many more cheesecake variations being made. You need to soak your cashews for at least 4 hours to soften them. Then drain and use. Or you can do the quick version which is soak them in hot water for 1 hour, and I changed the water half way through to keep it hot.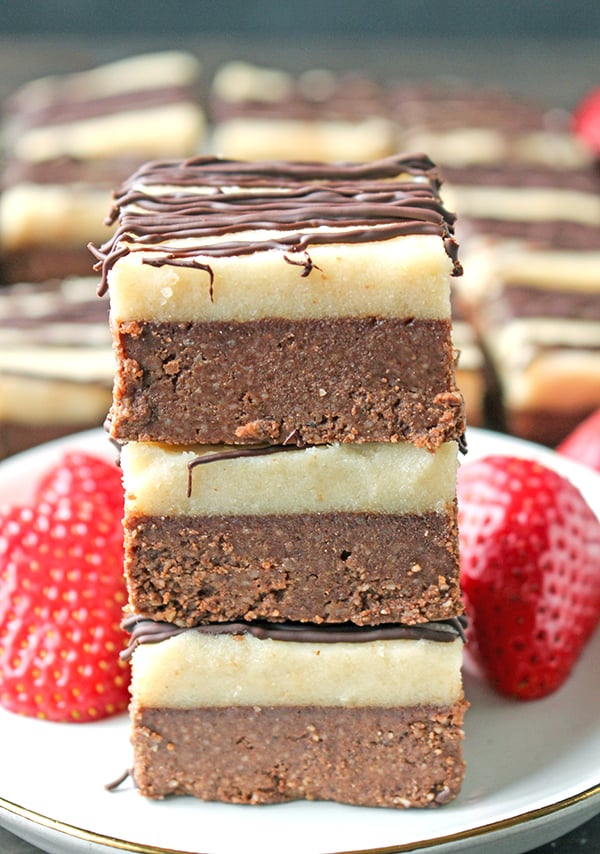 I want to say this recipe is good for summer so you don't have to heat your house. And while that's true, it's actually good year round. No-bake recipes are always nice to have and make. If you can't have dairy and have been missing cheesecake, these are the treat to make! You will not be disappointed!
Hungry for more? Subscribe to my newsletter and follow along on Facebook, Pinterest and Instagram for all of the latest updates.
Paleo No-Bake Cheesecake Brownies
Instructions
CLICK HERE for the full recipe on Golden Barrel's site.