This Paleo Vegan Caramel Apple Cheesecake is rich, creamy and so delicious. Made with cashews keeping it vegan and dairy free, it is also egg free and naturally sweetened.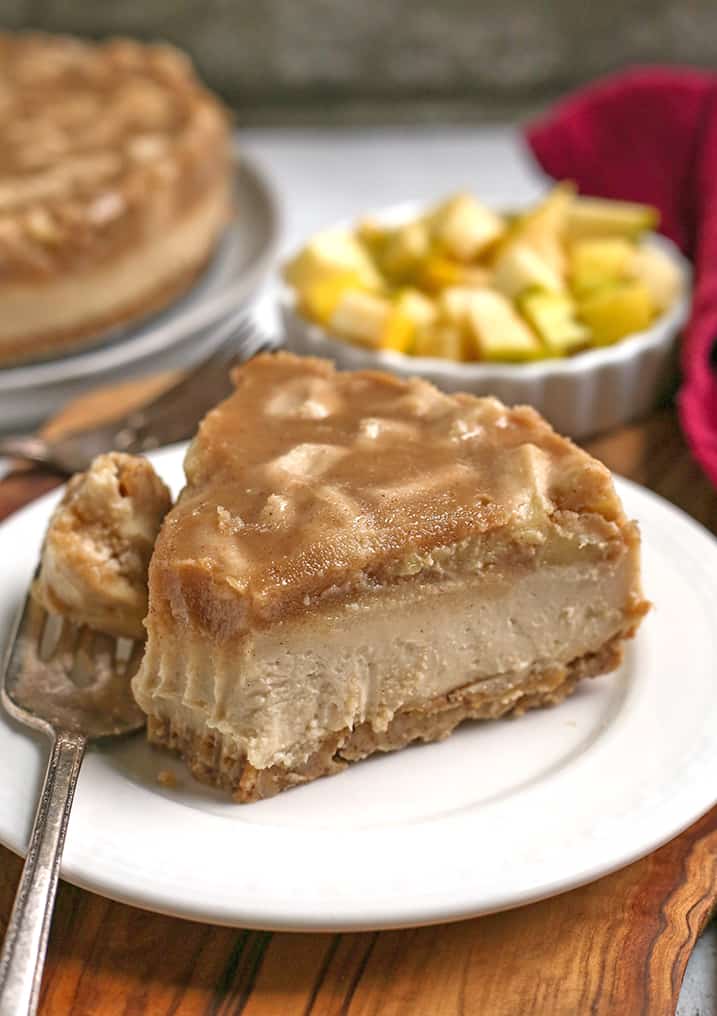 This cheesecake is incredibly delicious! A graham cracker-like crust, a creamy cheesecake layer and topped with caramel and fresh apples. It's easier than you think to make and the perfect fall dessert.
The Crust
I decided on a graham cracker-like crust because I thought it would pair perfectly with the apple cheesecake. You do have to bake it for 10 minutes though so if you're wanting this to be completely no-bake then you can use the crust from THIS cheesecake I made. It's a combination of nuts and dates blended up. I really prefer the baked crust and it's not hard, definitely worth it in my opinion.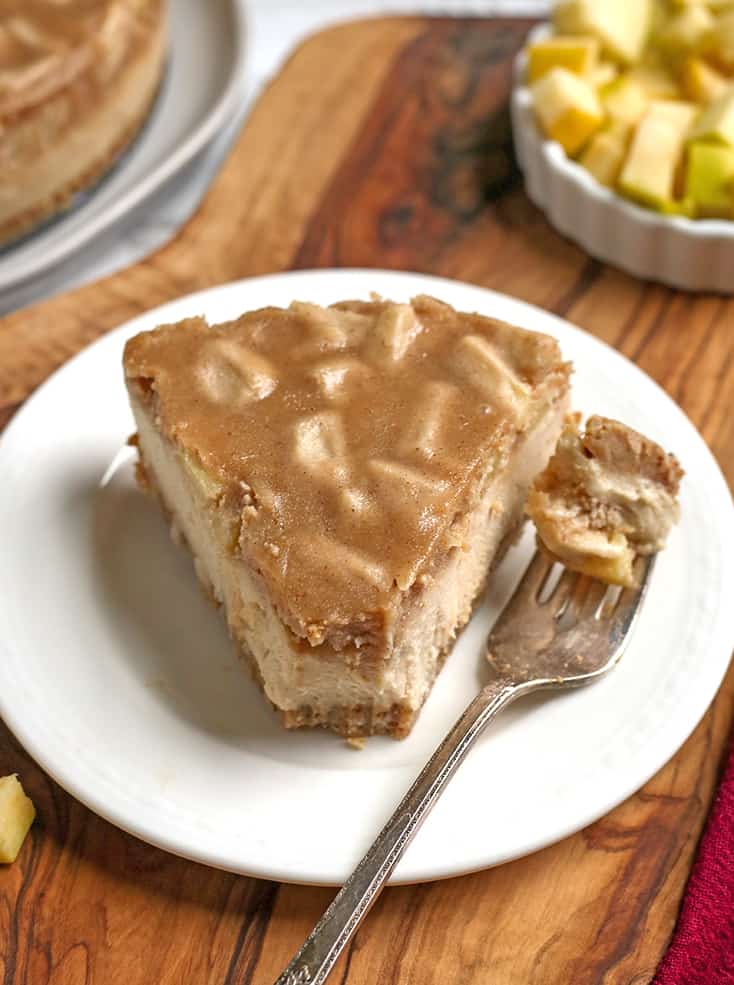 The Caramel Apple Topping
The caramel used in the topping is what I call a cheater caramel. There is no cooking involved and it can't be messed up. It's a mix of nut butter, maple syrup, coconut oil and vanilla and it truly tastes like rich caramel. Cooked apples are mixed in, adding a nice little crunch and flavor.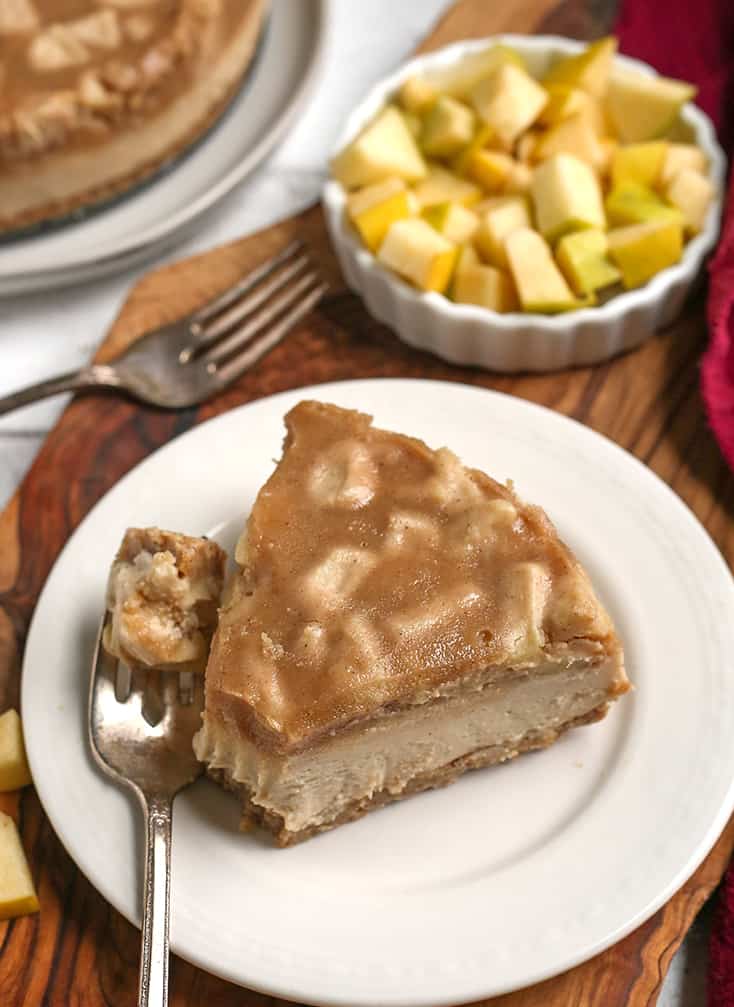 Tools Needed
A couple tools needed: a 7-inch springform pan and a high powered blender or food processor, I have a Cuisinart food processor and a Vitamix and they both work great. I usually go for the Vitamix to make the creamiest cheesecake super quickly.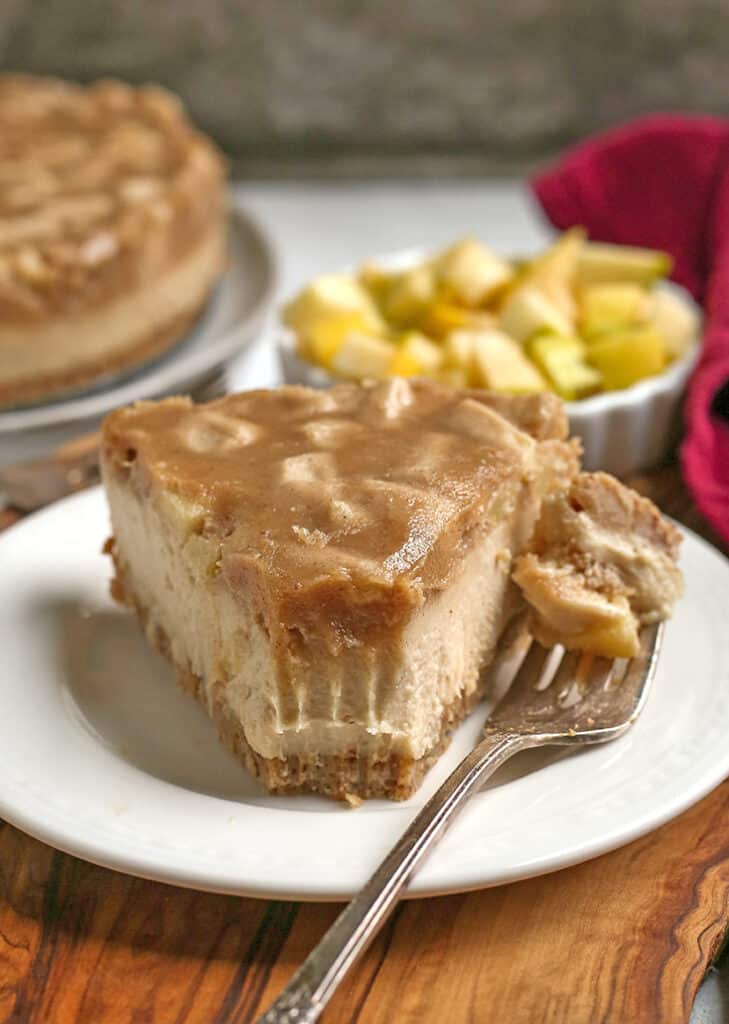 This cheesecake tastes so amazing! The caramel apple topping really takes it over the top. It sweet with nice chunks of fresh apples. If you like apples, you will love this cheesecake!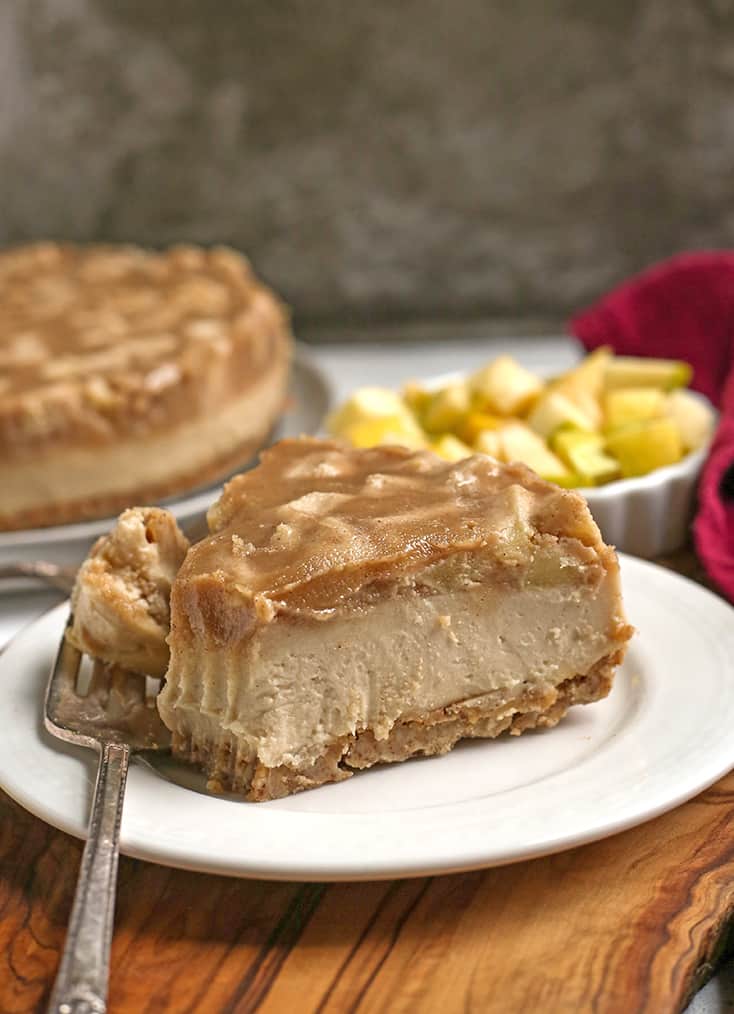 I know you will love this paleo vegan caramel apple cheesecake because it's so tasty. Here are some more cheesecake recipes to try (all dairy free)
Hungry for more? Subscribe to my newsletter and follow along on Facebook, Pinterest and Instagram for all of the latest updates.
Paleo Vegan Caramel Apple Cheesecake
Ingredients
Caramel Apple Topping
⅓ cup nut butter (I used cashew)
¼ cup maple syrup
¼ cup melted coconut oil
¼ teaspoon salt if nut butter isn't salted
1 teaspoon vanilla
½ teaspoon cinnamon
1 large apple, peeled and diced about 1 ¼ cup
1 tablespoon coconut oil
Instructions
Before beginning, make sure you have soaked the cashews 8 hours in cool water or 3-4 hours in warm water. This will ensure a creamy cheesecake. 

Preheat the oven to 325°. In a small bowl, combine almond flour, coconut sugar, salt, cinnamon and coconut oil. Mix well until mixture holds together when squeezed. Press into the bottom of a 7-inch springform pan. Bake for 10 minutes.

While the crust is baking, make the filling. Drain the cashews and place them in the blender. Add the maple syrup, coconut oil, salt, cinnamon and lemon juice. Blend until completely smooth, stopping and scrapping down the sides as necessary. The timing of this will be different depending on what blender you are using, but it took me 1-2 minutes. 

Let crust cool 5-10 minutes after coming out of the oven. Then pour cheesecake mixture into the pan and spread it out evenly. Place in the fridge 1-2 hours before topping with the caramel.  

Make the caramel apple topping. In a medium bowl, combine the nut butter, maple syrup, coconut oil, salt, vanilla and cinnamon. Stir until smooth and creamy. Cook the apple in coconut oil over medium heat for 5 minutes, until softened. Add to the caramel mixture. Stir and pour over the chilled cheesecake layer. Place back in fridge for at least 4 hours to set.

Store covered in the fridge up to 10 days.
Nutrition Information
Calories: 710kcal (36%)Carbohydrates: 44g (15%)Protein: 13g (26%)Fat: 59g (91%)Saturated Fat: 27g (169%)Polyunsaturated Fat: 4gMonounsaturated Fat: 13gSodium: 159mg (7%)Potassium: 391mg (11%)Fiber: 5g (21%)Sugar: 26g (29%)Vitamin A: 14IUVitamin C: 3mg (4%)Calcium: 133mg (13%)Iron: 3mg (17%)