These Chocolate Coconut Lovers Cookies are easy to make, are the perfect balance of coconut and chocolate, and so delicious! Gluten free and dairy free as well.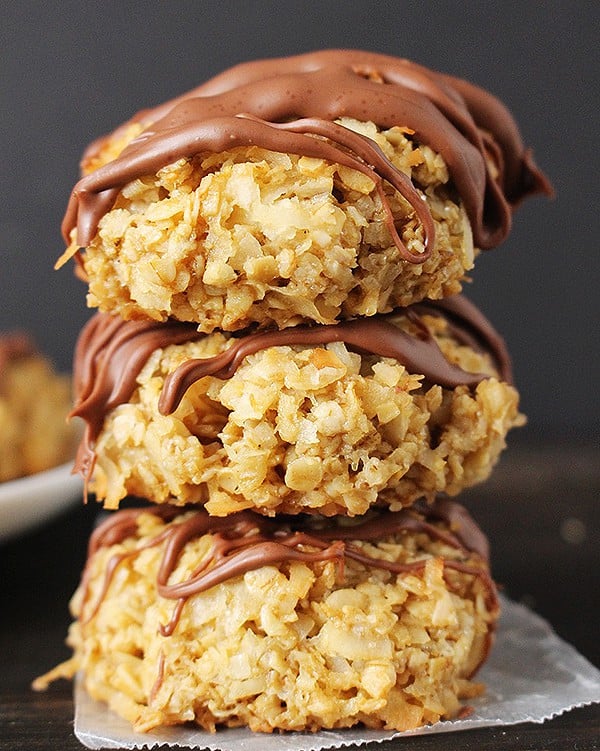 One of my favorite things about these cookies is how easy they are. Mixed in one bowl, only a handful of ingredients, and ready in less than a half an hour. The coconut toasts in the oven as they cook. If you like extra toasted coconut then leave them in the whole 18 minutes- they brown so nicely and the flavor is amazing! After they were done baking I felt like they were still missing something and chocolate was definitely the answer.  You can drizzle it over the cookies or do a whole layer on them, it just depends how how much you love chocolate.
It's important to use room temperature eggs because if the cold eggs hit the coconut oil, it will harden. You can leave them out overnight, or place them in a bowl of hot water for 5 minutes and they will come to room temperature. That's one of my favorite tricks.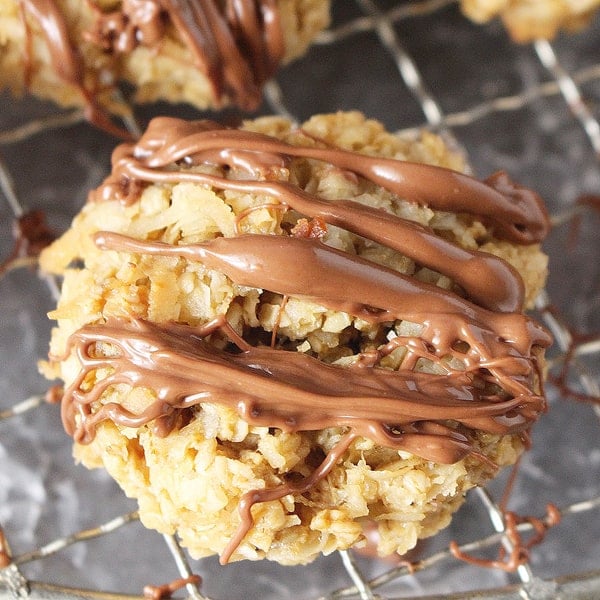 I made these a few times before I got them perfect. The problem I was having was with them falling apart. One thing I learned in the process is to squeeze each ball of dough in your hand to really pack it tight, then form it into a ball. This helps it stay in a cookie and not become coconut granola. 
These are naturally gluten free and the coconut keeps them dairy free as well. Just make sure to use dairy free chocolate chips if necessary.
I shared with friends and they disappeared so fast. Everyone loved them and that always make me happy to see people enjoy my baking. If you like coconut and chocolate then you will love these. Easy to make, chewy, sweet, and so good!
Hungry for more? Subscribe to my newsletter and follow along on Facebook, Pinterest and Instagram for all of the latest updates.
Gluten Free Chocolate Coconut Cookies
Ingredients
½ cup melted coconut oil
½ cup brown sugar
2 large eggs, room temperature
3 cups quick oats
2 cups shredded coconut `
1 teaspoon salt
Instructions
Preheat oven to 350° and line a cookie sheet with parchment paper.

In a large bowl, combine coconut oil, brown sugar, and eggs. Mix until smooth. Add the oats, coconut, and salt. Stir until mixture is fully combined.

Using a cookie scoop, scoop the dough and then place between your palms and squeeze the mixture together. This helps hold the cookie together and not fall apart. Shape into a ball and place on the cookie sheet. Press down just slightly so they are flat on the top. Continue with the rest of the dough until all the cookies are formed. They can all fit on one pan since they don't spread when baked.

Bake for 16-18 minutes or until lightly brown. Once cool, melt the chocolate and drizzle or pour over all the cookies.