These Gluten Free French Silk Pie Bars are simple to make, incredibly rich and delicious! A shortbread crust and a fluffy chocolate filling make this a decadent dessert. Grain free and naturally sweetened.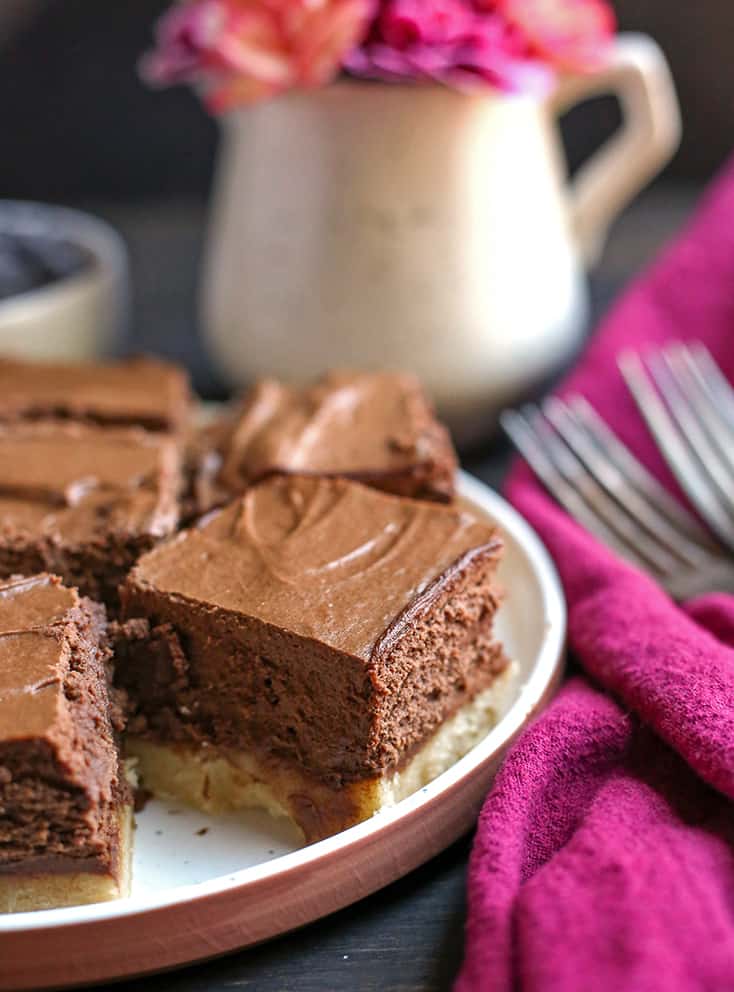 This post is sponsored on behalf of Danish Creamery. All opinions are 100% my own, of course! Thank you for supporting brands that make Real Food with Jessica possible.
Shortbread Crust
This shortbread recipe is my tried and true go-to that is melt in your mouth good and sweetened just right. It's a combination of almond and coconut flour, sweetened with maple syrup and a little coconut oil to pull it all together. Melted butter could definitely be used here as well if you want an extra buttery taste.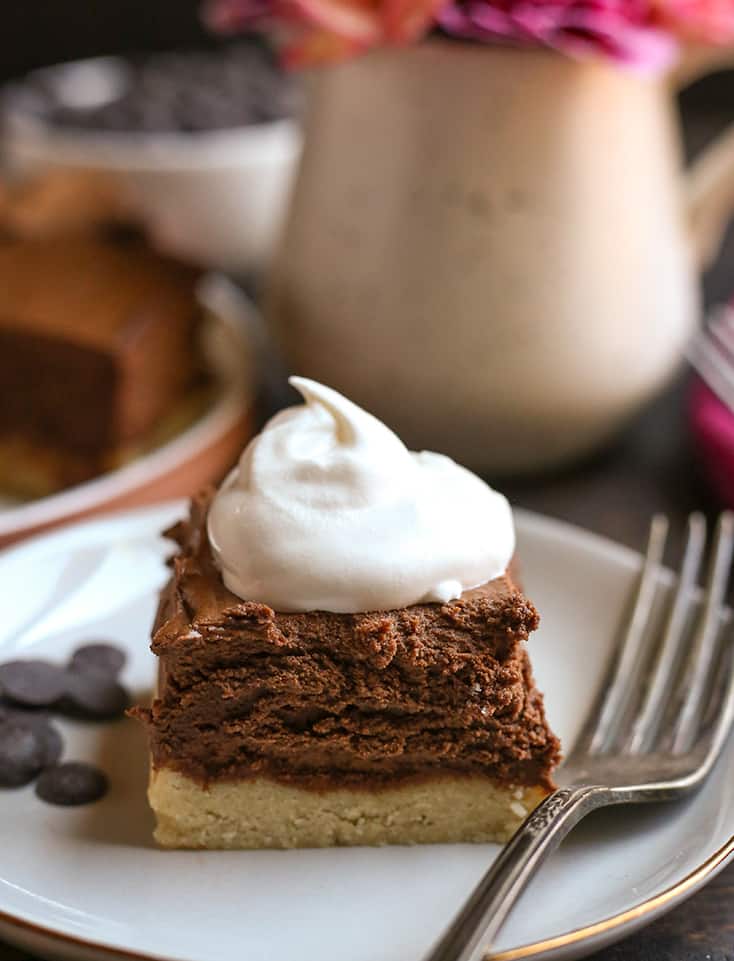 Chocolate Filling
This chocolate layer is light and mousse-like. It's no-bake and a hand mixer or stand mixer is needed. Melted chocolate is combined with sugar and Danish Creamery European Style Butter and whipped to perfection. Danish Creamery European Style Butter boasts an 85% butterfat (much higher than other European style butters that come in at 82-83%) making it a dream in baking applications. The eggs are mixed in and they are raw, so buy pasteurized if you are concerned. I felt comfortable using the eggs I normally buy, but that is a personally decision. Unsalted Danish Creamery Butter is used, but salted would work and then leave the salt out.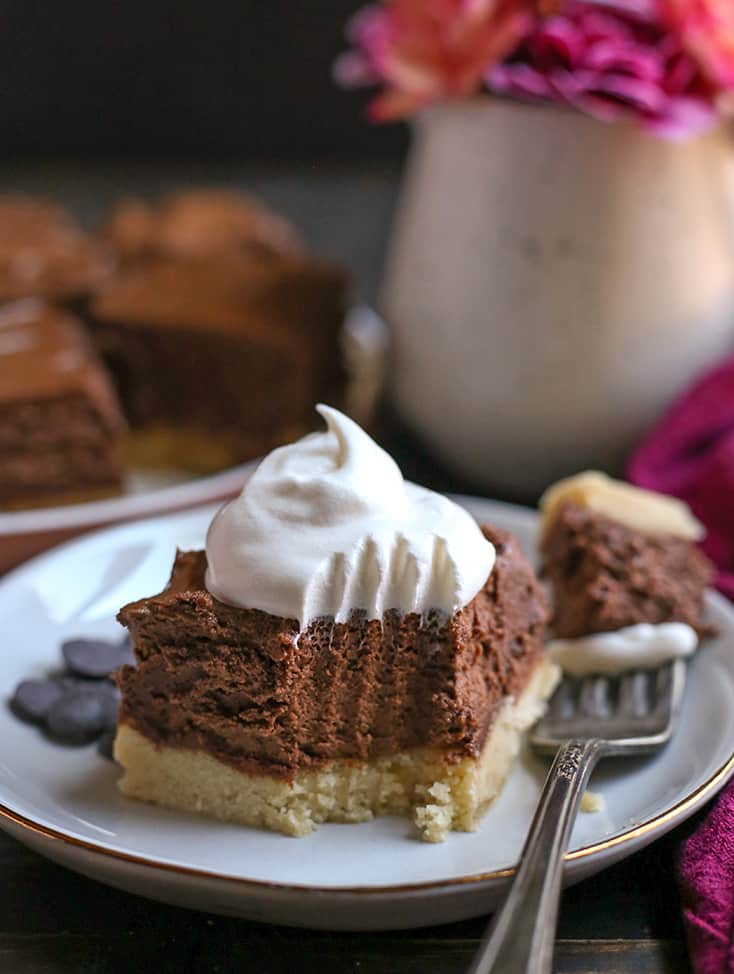 Bars over Pie
Making these as bars instead of pie makes them super easy to portion into the perfect size square because they are very rich! I cut them into 16 and that was a great size for how decadent they are. It also means using a common 9x9 pan that most people have, keeping it super simple. I feel like making them into bars versus a pie makes them less intimidating and they are definitely not hard to make. If you love the pie then you have to try these!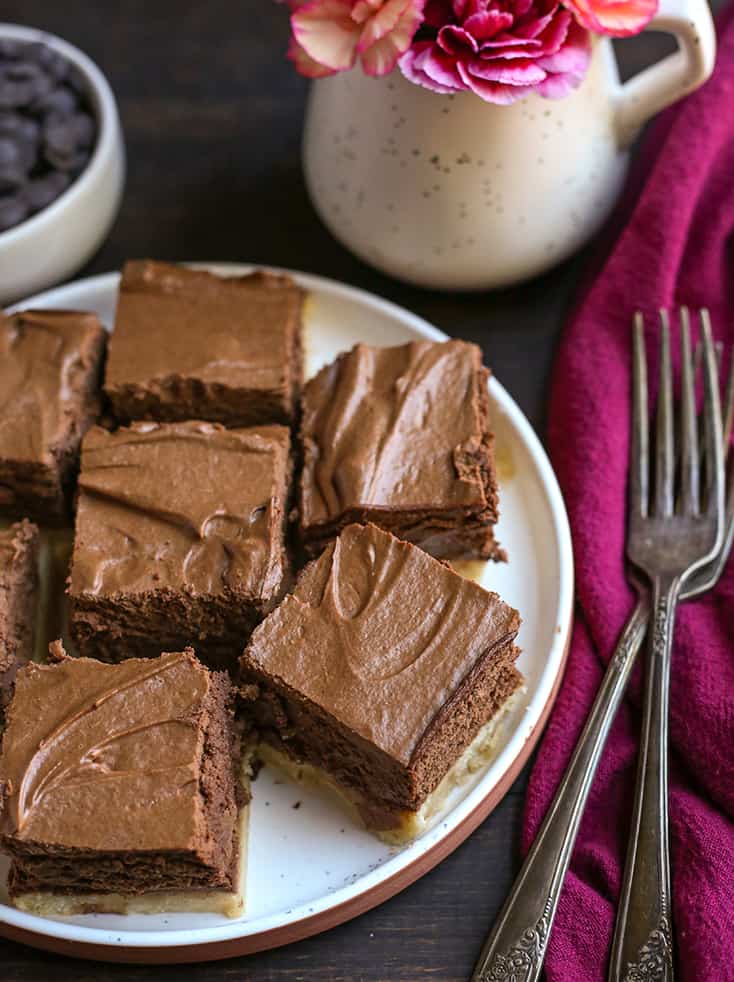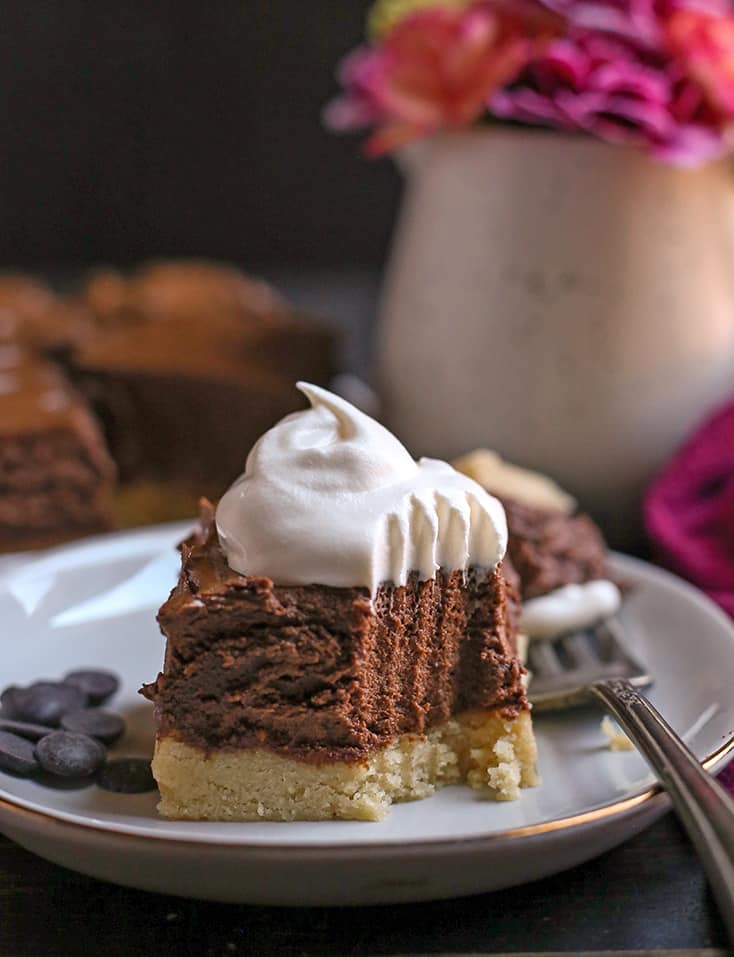 I know you will love these gluten free french silk pie bars because they feel like a fancy dessert, but are actually super easy to make! Great for bringing to share with friends or to a party. Here are some more chocolate desserts to enjoy:
Hungry for more? Subscribe to my newsletter and follow along on Facebook, Pinterest and Instagram for all of the latest updates.
Gluten Free French Silk Pie Bars
Ingredients
Filling
3 oz unsweetened or dark chocolate ½ cup
1 cup coconut sugar
¾ cup Danish Creamery unsalted butter
¼ teaspoon salt
1 teaspoon vanilla
3 large eggs
Instructions
Preheat the oven to 350° and line a 9x9 pan with parchment paper. This is important as it will help the bars release easy once they are done.

Make the shortbread crust. In a medium bowl, combine the almond flour, coconut flour, salt, vanilla, coconut oil and maple syrup. Mix well until dough is formed. Press into the bottom of the prepared pan and bake for 15 minutes. Let cool fully before adding the filling.

Make the chocolate filling. Melt the chocolate in a small sauce pan over medium/low heat, stirring regularly. Let cool for 15 min, until room temperature.

In a large bowl, combine coconut sugar and butter and beat with a mixer on high for 4 min. Add in salt and vanilla and mix until combined. Once the chocolate is fully cooled, add it in and beat until combined. Make sure the chocolate is not warm at all or it will melt the butter and the consistency won't be the same. Add one egg in at a time, mixing on high for 4 minutes each time. So one egg, beat for 4 minutes, the next egg, beat for 4 minutes, until they are all added. It should be thick and fluffy at this point.

Scoop the chocolate mixture on top of the shortbread crust, spreading evenly, cover and place in fridge for at least 4 hours. Cut into squares using a sharp knife and cleaning it between each cut for clean pieces.

Store covered in the fridge for up to 10 days.
Notes:
*This recipe does use raw eggs which means a chance of salmonella. Pasteurized eggs can be used to be safe. 
Nutrition Information
Calories: 377kcal (19%)Carbohydrates: 22g (7%)Protein: 8g (16%)Fat: 32g (49%)Saturated Fat: 12g (75%)Polyunsaturated Fat: 1gMonounsaturated Fat: 4gTrans Fat: 0.4gCholesterol: 58mg (19%)Sodium: 111mg (5%)Potassium: 75mg (2%)Fiber: 4g (17%)Sugar: 12g (13%)Vitamin A: 317IU (6%)Calcium: 83mg (8%)Iron: 2mg (11%)