This Paleo Vanilla Bean Ice Cream is creamy, sweet, and so perfect for summer! Only 5 ingredients and ready to be topped with your favorite toppings. Gluten free, dairy free, and naturally sweetened.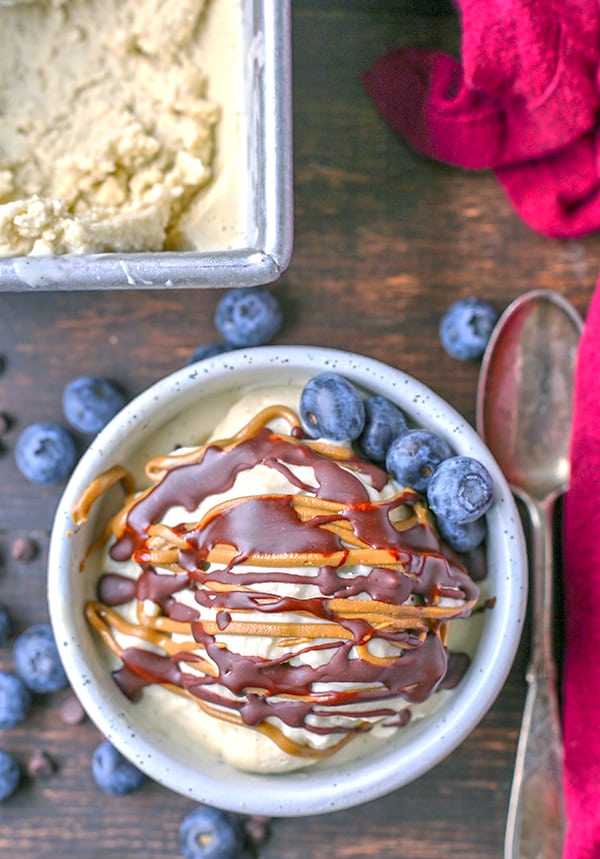 I don't have a vanilla ice cream recipe on my site (until now) because I wanted to make sure it was amazing. Not just okay or good- and this is! It is the kind of ice cream I could eat endlessly. Not too sweet, creamy, and obviously vanilla flavored.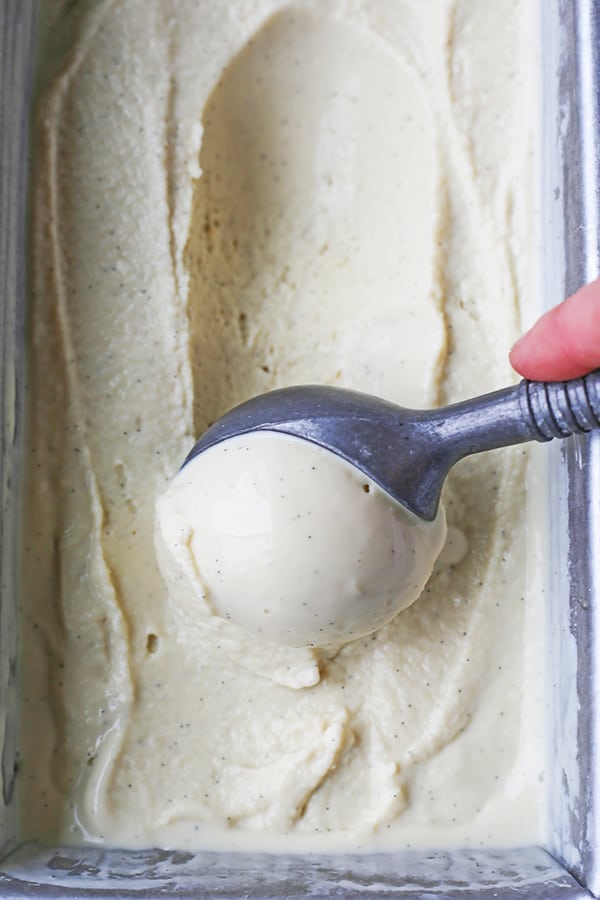 Like my Paleo Death By Chocolate Ice Cream, this has a custard base. Mixed on the stove-top, rich from the egg yolks, but still easy- I promise! This is way better than any store bought ice cream and it has no weird ingredients or thickeners. All real, simple ingredients that come together to create an irresistible treat.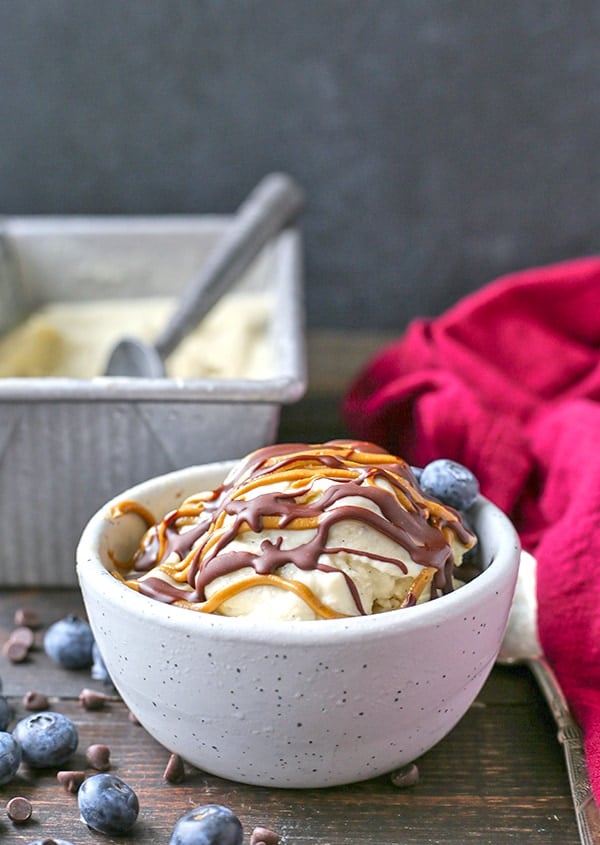 Vanilla ice cream is one of my favorites because it's not too rich and perfect for whatever toppings you're in the mood for. I drizzled a little chocolate and Sunbutter on this bowl, but the possibilities are endless.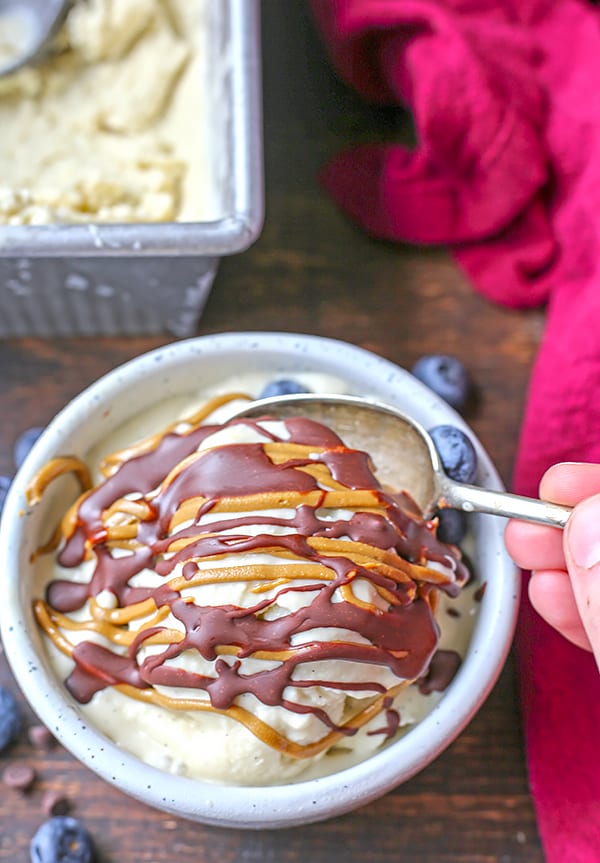 Let's talk about each ingredient:
Full Fat Coconut Milk: this is always a great base for ice cream because it produces a creamy end result thanks to the fat. It does not have a strong coconut flavor.
Maple Syrup- a natural sweetener that gives just enough sweetness. Also, since it's liquid, doesn't cause any iciness.
Salt- all good desserts have to be balanced with a touch of saltiness. Real Salt is my favorite brand.
Egg Yolks- these give richness and creaminess. They cook on the stove-top so they aren't raw.
Vanilla Bean- I don't use vanilla beans often because they are expensive, but it adds such great flavor and the little specks are so pretty.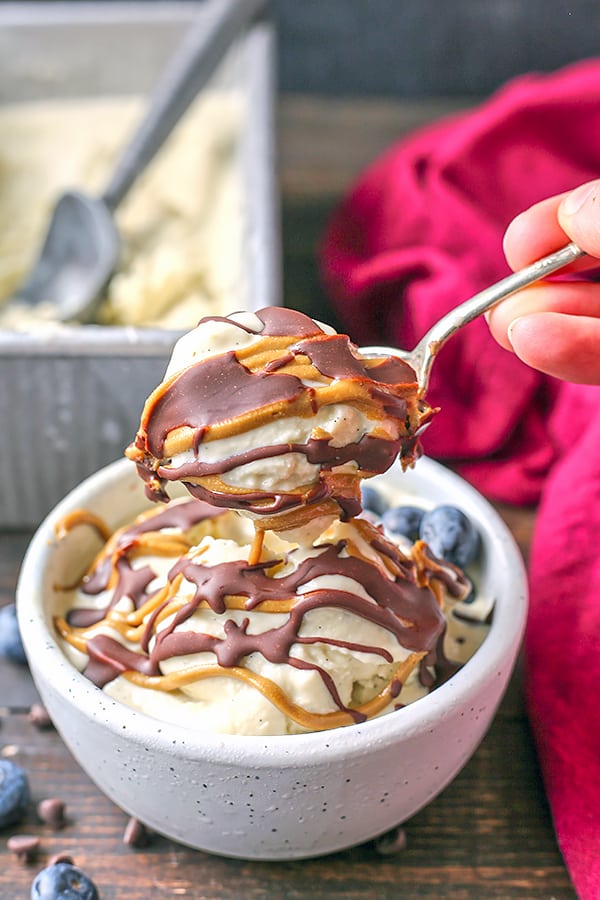 You will love this simple, creamy, delicious, vanilla ice cream.
Here are some more paleo ice creams that you will love: Paleo Chocolate Almond Butter Ice Cream, Paleo Strawberry Ice Cream, Paleo Pumpkin Ice Cream, Paleo Death By Chocolate Ice Cream.
HERE is the ice cream maker I have and love. It's affordable and works great.
Hungry for more? Subscribe to my newsletter and follow along on Facebook, Pinterest and Instagram for all of the latest updates.
Paleo Vanilla Bean Ice Cream
Instructions
Before you begin, make sure ice cream bowl has been freezing for at least 24 hours.

Place egg yolks in a medium bowl and whisk. Set aside.

In a medium saucepan combine coconut milk, maple syrup, and salt. Turn the heat to medium, stirring the whole time, heat until almost boiling- about 5 minutes.

Temper the yolks- whisking the yolks the whole time, add in spoonfuls of the warm milk mixture. Add about 1 cup and continue stirring. Slowly add tempered yolks back into the pan , whisking continuously. Stir until mixture thickens enough to coat the back of a spoon.

Remove from heat and add in the vanilla bean. Whisk until smooth. Pour into a bowl to cool to room temperature, then place in fridge to chill at least 3 hours or overnight.

Pour the cooled mixture into your ice cream maker and follow manufacturers directions for churning. Mine took about 12 minutes.

While ice cream is churning, prepare a loaf pan. Line it with parchment paper and cut away any excess that hangs too far over.

Scoop ice cream into pan then freeze until solid- overnight is best. Or eat right away, it will be the consistency of soft serve. After removing it from the freezer, let sit out for 10 minutes at room temperature before scooping, just to make it easier.
Notes:
*To scrape a vanilla bean: cut with a knife down it's length. Hold down the tip and using the dull side of the knife, scrape out the seeds.  **If you heat the mixture too long on the stove-top and it separates, don't worry. Just use an immersion blender or regular blender and blend until smooth. It will only take a few seconds. It's not ruined. 
Nutrition Information
Calories: 223kcal (11%)Carbohydrates: 13g (4%)Protein: 3g (6%)Fat: 19g (29%)Saturated Fat: 15g (94%)Polyunsaturated Fat: 1gMonounsaturated Fat: 2gCholesterol: 92mg (31%)Sodium: 132mg (6%)Potassium: 214mg (6%)Sugar: 10g (11%)Vitamin A: 123IU (2%)Vitamin C: 1mg (1%)Calcium: 42mg (4%)Iron: 3mg (17%)