This Paleo Death By Chocolate Ice Cream is rich, creamy, and so delicious! 7 simple ingredients and a little hands on time for a treat that is so good you won't be able to tell it's healthy. Dairy free, naturally sweetened and gluten free.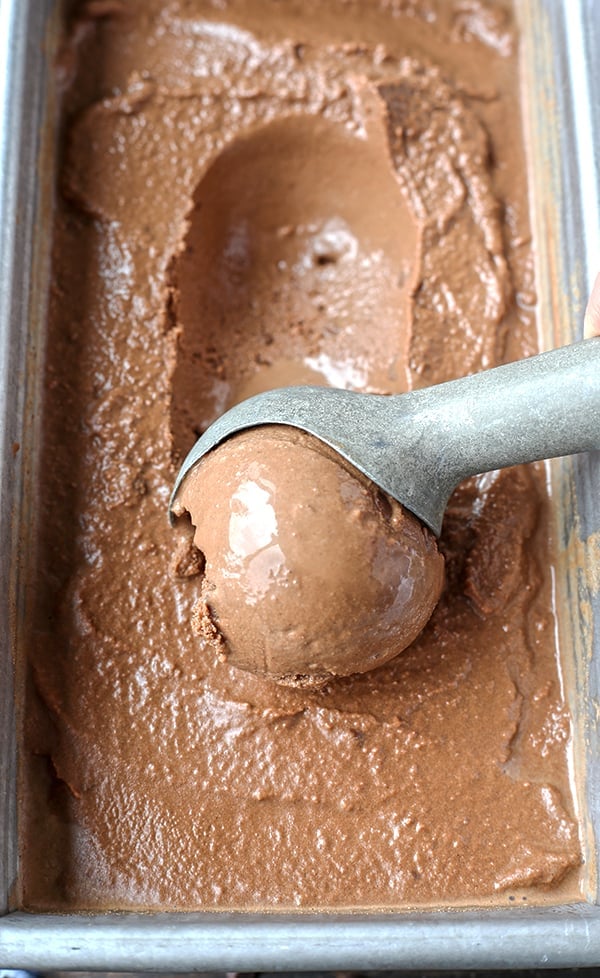 Man, is this ice cream amazing! My sister requested some ice cream and I was glad to make some for her. Coming up with new flavors is always fun and this one was her favorite. Made with three types of chocolate- cacao powder, chopped chocolate, and chocolate chips for the ultimate chocolate treat. I think you'll love it as much as she does!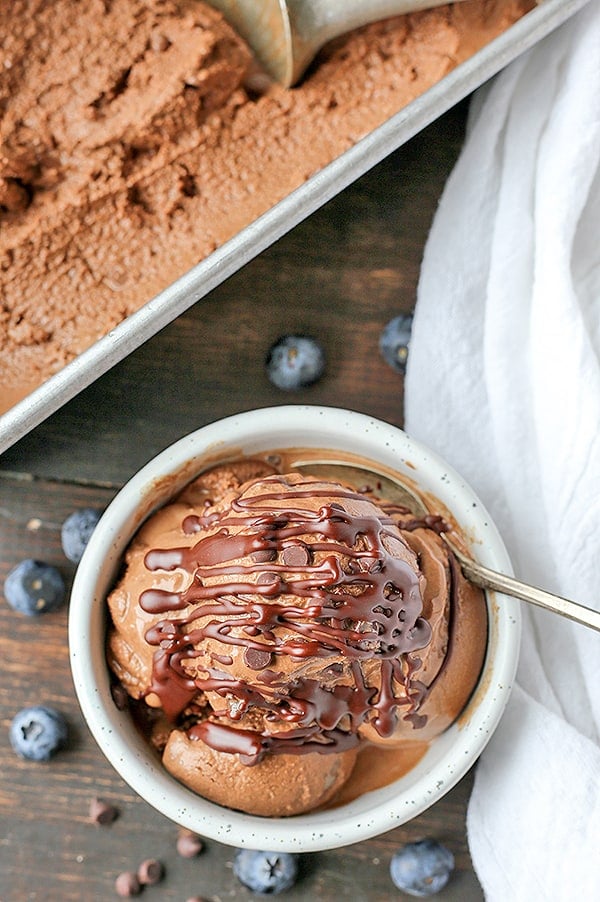 Although this ice cream is sweet and makes a great dessert, it's not over the top rich. It's not sickeningly sweet or overly rich where you can only have a couple bites. It is perfectly chocolatey and a little too easy to enjoy a whole bowl. It really reminds me of a fudgesicle which was a favorite treat of mine growing up.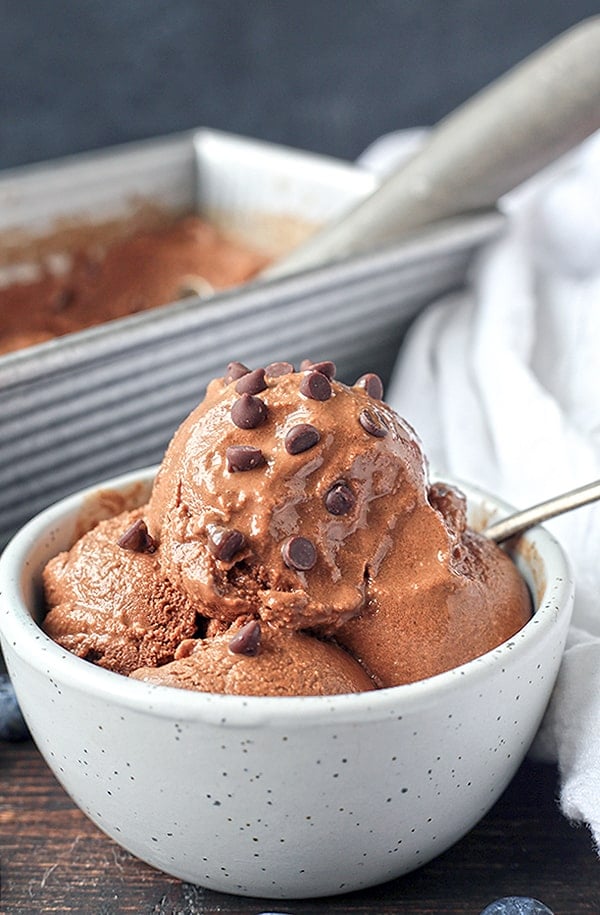 I have a few other ice cream recipes on my site that are all egg free, but I really wanted to use egg yolks this time for creaminess. It turned out so good and it's not hard at all- promise! The mixture is made on the stove-top, the eggs are tempered then added. It's heated to cook the eggs so they aren't raw in the ice cream. Then the mixture is chilled, churned and enjoyed. I always like the ice cream straight from the ice cream maker while it's soft serve consistency. It is the best and I always eat way too much 🙂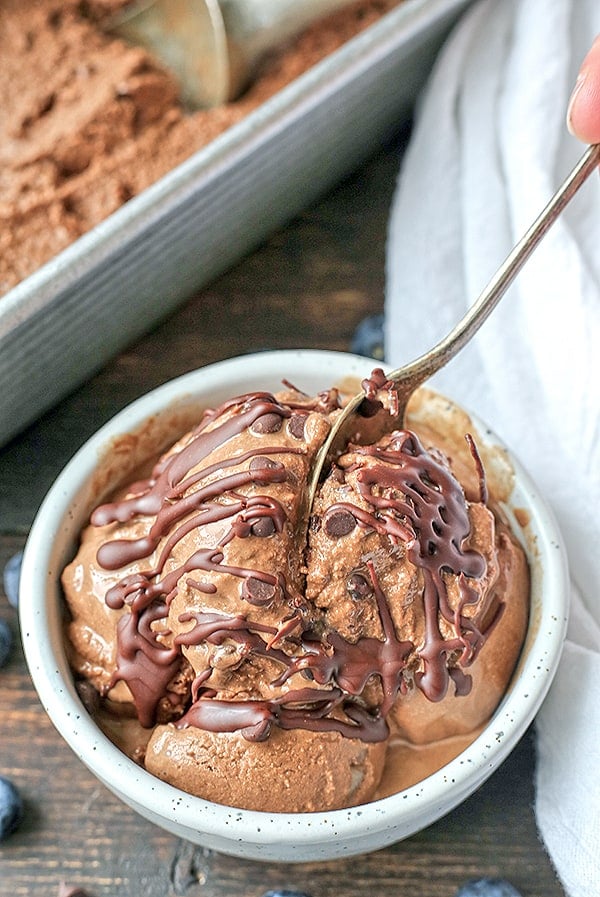 I have gotten quite a few requests for a coconut free ice cream recipe. Coconut milk and cream make great ice cream due to the high fat content, but I decided to try almond milk for this and it came out great! You do need to use a high fat almond milk like Malk, not one of those low cal ones that are basically just water. Those will make icy, non-creamy ice cream. I'm sure coconut milk can be used if you can't do almonds and will probably make it even more creamy.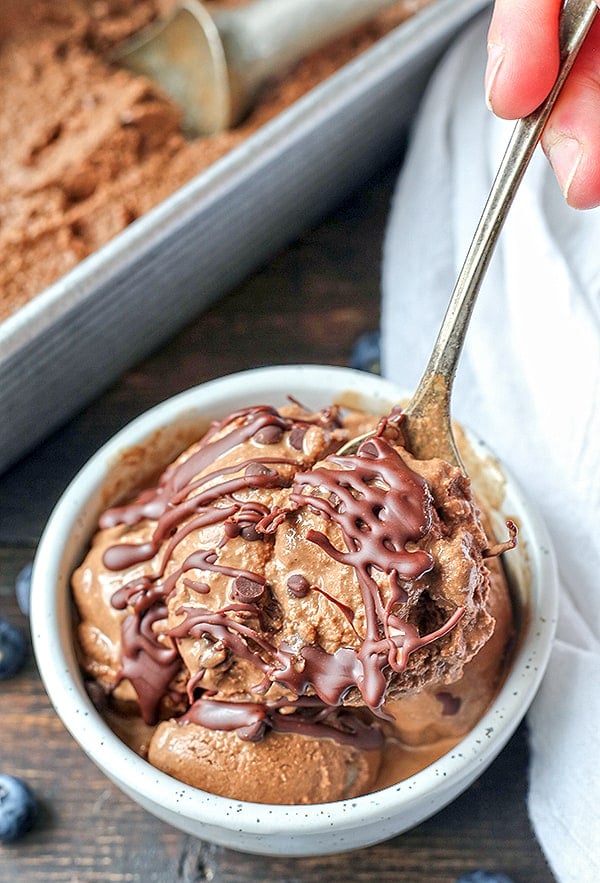 For the chocolate that is uses, I used Eating Evolved Signature Dark bar. 1 bar is the perfect amount and I love the clean ingredients used. You could also use Enjoy Life Mini Chips which are more affordable.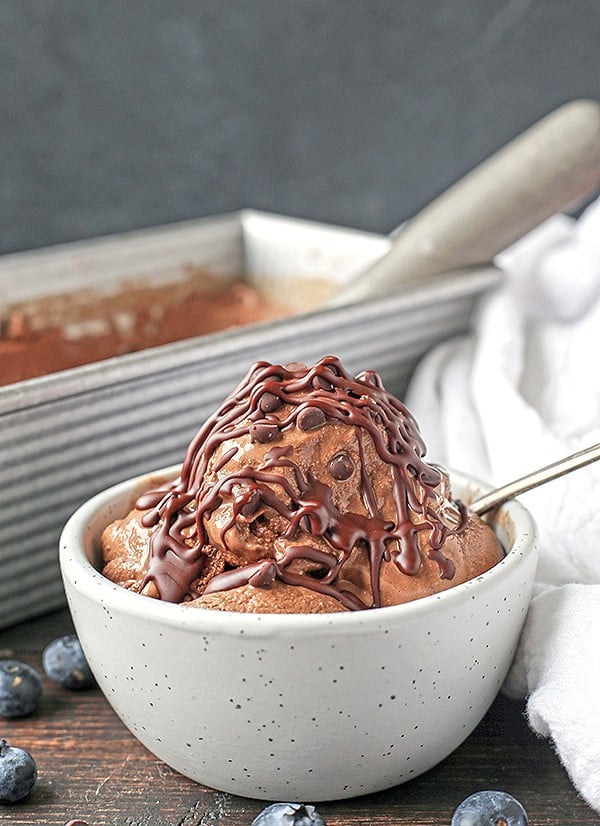 I know you will love this paleo death by chocolate ice cream and here are some other ice cream recipes you may enjoy: Paleo Chocolate Almond Butter Ice Cream, Paleo Pumpkin Ice Cream, and Paleo Strawberry Ice Cream.
HERE is the ice cream maker I have. It's affordable and works great.
Hungry for more? Subscribe to my newsletter and follow along on Facebook, Pinterest and Instagram for all of the latest updates.
Paleo Death By Chocolate Ice Cream
Instructions
Before you begin, make sure ice cream bowl has been freezing for at least 24 hours.

Place egg yolks in a medium bowl and whisk. Set aside.

In a medium saucepan combine almond milk, maple syrup, and cacao powder. Turn the heat to medium and whisk well. Mix until completely combined. Stirring the whole time, heat until almost boiling- about 5 minutes.

Temper the yolks- whisking the yolks the whole time, add in spoonfuls of the warm milk mixture. Add about 1 cup and continue stirring. Slowly add tempered yolks back into the pan , whisking continuously. Stir until mixture thickens enough to coat the back of a spoon.

Remove from heat and add in the vanilla and chopped chocolate. Whisk until smooth. Pour into a bowl to cool to room temperature, then place in fridge to chill at least 3 hours.

Pour the cooled mixture into your ice cream maker and follow manufacturers directions for churning. Mine took about 12 minutes. Once it's done churning stir in the mini chips if desired.

While ice cream is churning, prepare a loaf pan. Line it with parchment paper and cut away any excess that hangs too far over.

Scoop ice cream into pan then freeze until solid- overnight is best. Or eat right away, it will be the consistency of soft serve. After removing it from the freezer, let sit out for 10 minutes at room temperature before scooping, just to make it easier.
Notes:
*I used 1 Eating Evolved Signature Dark bar, but you can use 1/2 cup Enjoy Life Mini Chips in place of that. If you don't have a scale. 
Nutrition Information
Calories: 148kcal (7%)Carbohydrates: 18g (6%)Protein: 3g (6%)Fat: 9g (14%)Saturated Fat: 4g (25%)Polyunsaturated Fat: 1gMonounsaturated Fat: 2gCholesterol: 73mg (24%)Sodium: 119mg (5%)Potassium: 91mg (3%)Fiber: 3g (13%)Sugar: 13g (14%)Vitamin A: 98IU (2%)Calcium: 149mg (15%)Iron: 2mg (11%)