This Paleo Chocolate Almond Butter Ice Cream is rich, creamy, and so good! Naturally sweetened, dairy free, and so rich that you won't know it's a healthy version of the sugary treat.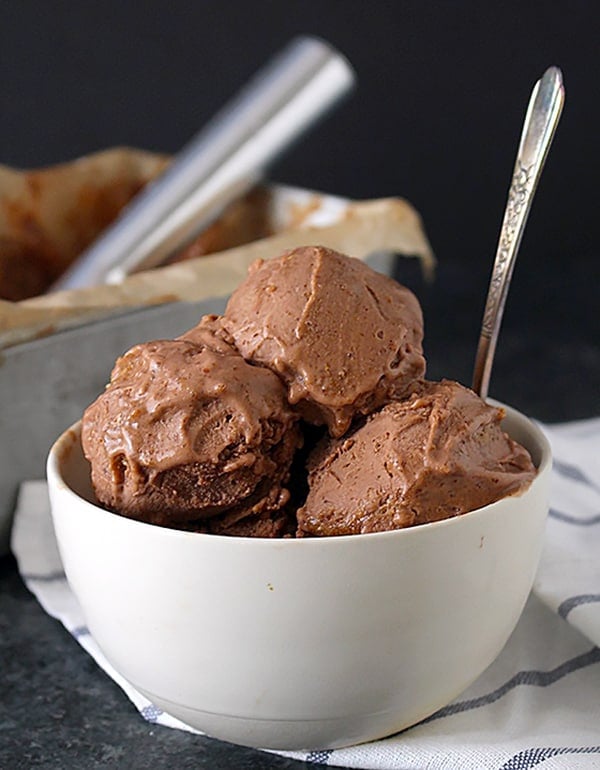 I talked my husband into getting an ice cream maker. It's been so hot here and it really didn't take much convincing- I promised him lots of ice cream 🙂 I was excited to get experimenting, but making dairy free ice cream that's naturally sweetened was a little trickier than I thought. Well, I just needed the right ingredients. The first batch came out so icy that even after 30 minutes at room temperature it was hard to eat!! I read some tips on making it smooth and...perfection! This ice cream is creamy, not icy at all and scoop-able after only 10 minutes of sitting out! The gelatin really helps with keeping it scoop-able, so I don't recommend skipping that part.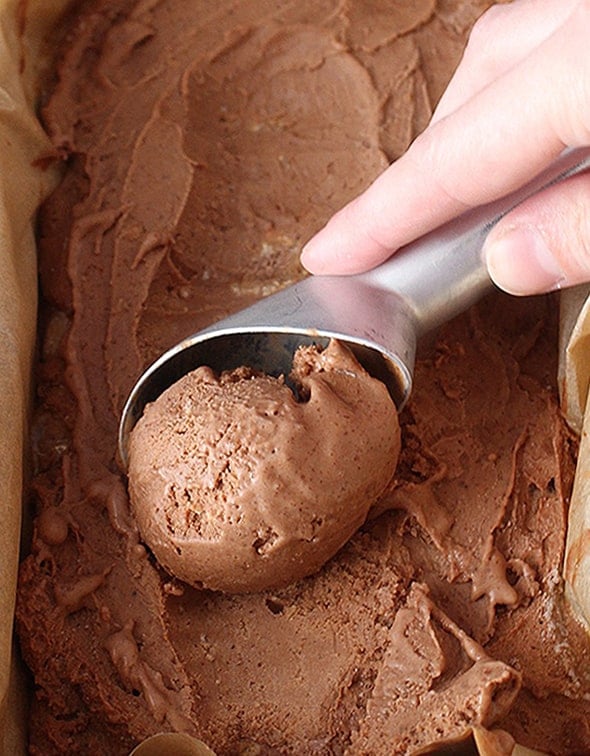 The flavor of this ice cream is amazing! It is so chocolatey and the almond butter works perfectly with it- it is such a great flavor combination! I could not quit eating it while I was making it, or taking pictures- it is so irresistible! Even though it uses 2 cans of coconut milk, it doesn't have a coconut flavor.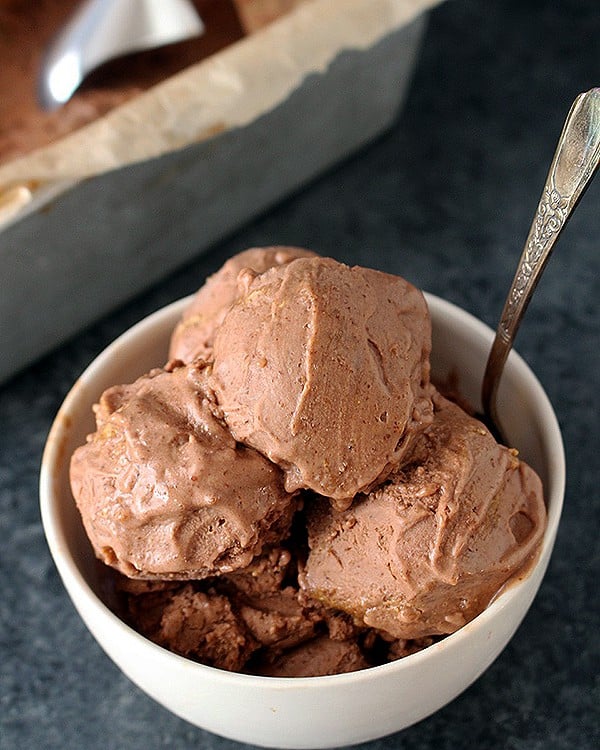 It is easy to make, which is kind of dangerous because I see many more batches in my future! All the ingredients get mixed in a pan, heated, cooled, then churned. Once it's done churning, scoop it into a loaf pan and freeze overnight. I dare you to not eat a bowl immediately though! I admit- it happened when I made it. Straight from the ice cream maker it is the consistency of soft serve, my favorite!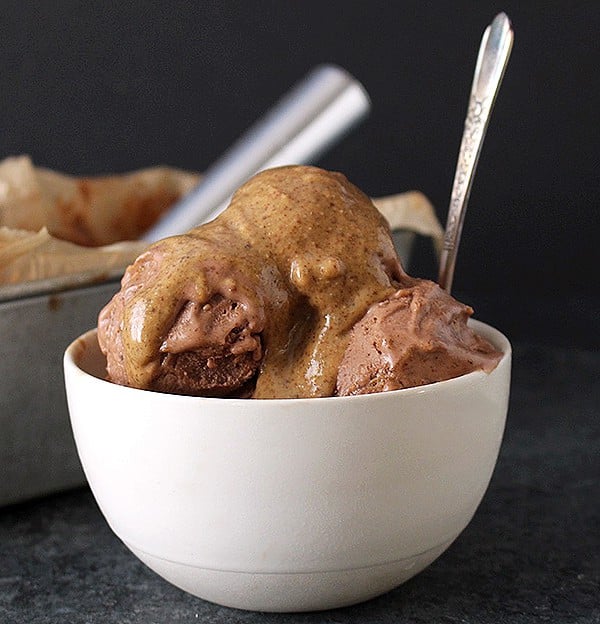 What I did for the almond butter "swirl" was add some ice cream to the loaf pan, add a layer of almond butter, add more ice cream, more almond butter, then top with the remaining ice cream. That way when you scoop, you get some almond butter in there and it was easier than trying to make pretty swirls.
It's also amazing with some extra almond butter on top!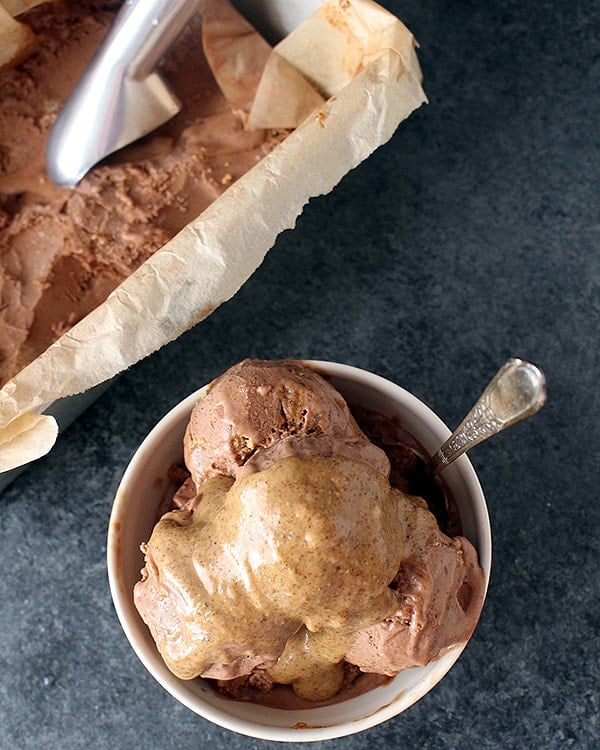 You will love this ice cream because it is easy to make, creamy, sweet, and delicious! It is definitely a must make!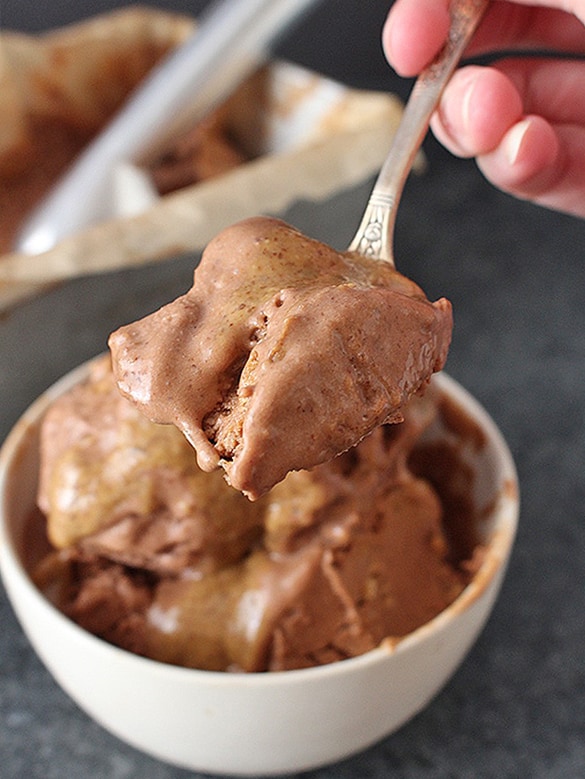 What other flavors should I make? I'd love some inspiration!
HERE is the ice cream maker I have and love. It's very affordable and well worth it.
Hungry for more? Subscribe to my newsletter and follow along on Facebook, Pinterest and Instagram for all of the latest updates.
Paleo Chocolate Almond Butter Ice Cream
Instructions
Before you begin, make sure ice cream bowl has been freezing for at least 24 hours.

In a small sauce pan, add the coconut milk, and honey. Whisk until smooth.

Sprinkle the gelatin on top and let bloom for about 5 minutes.

Whisk the gelatin in, add in the almond butter and cacao and turn the heat on medium. Heat until warmed through, but not boiling.

Pour into a container and refrigerate until cool- 5 hours to overnight.

Pour the cooled mixture in your ice cream maker and follow manufactures direction on churning. I churned mine for 20 minutes.

While ice cream is churning, prepare a loaf pan. Line it with parchment paper and cut away any excess that hangs too far over.

Scoop ice cream into pan, alternating ice cream and almond butter in layers then freeze until solid- overnight it best.

Or eat right away, it will be the consistency of soft serve.

Let sit out for 10 minutes at room temperature before scooping, just to make it easier.
Nutrition Information
Calories: 277kcal (14%)Carbohydrates: 19g (6%)Protein: 4g (8%)Fat: 21g (32%)Saturated Fat: 1g (6%)Polyunsaturated Fat: 2gMonounsaturated Fat: 4gSodium: 3mgPotassium: 148mg (4%)Fiber: 2g (8%)Sugar: 15g (17%)Vitamin A: 0.1IUVitamin C: 0.1mgCalcium: 49mg (5%)Iron: 1mg (6%)