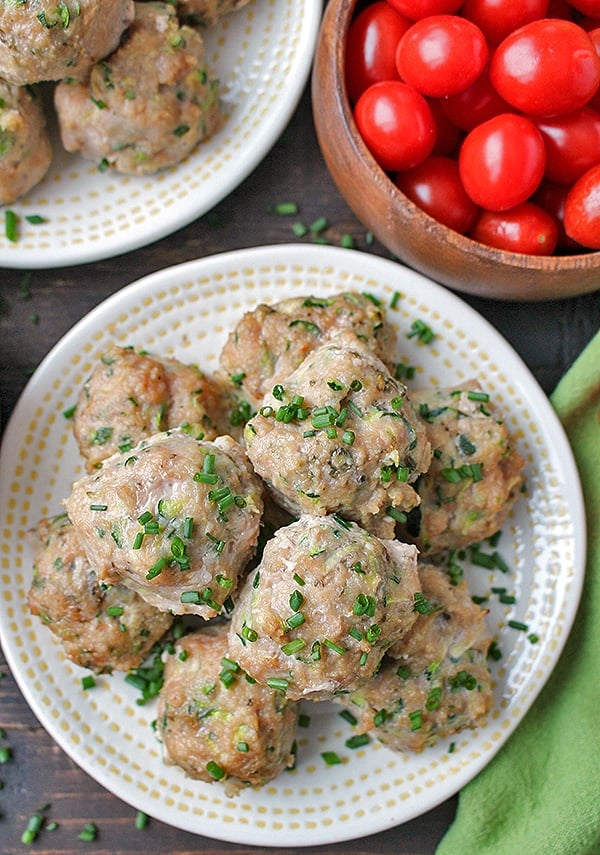 These Paleo Whole30 Chicken Zucchini Meatballs are so delicious and easy to make. A healthy, simple dinner or make ahead meal. Gluten free, dairy free, and low fodmap.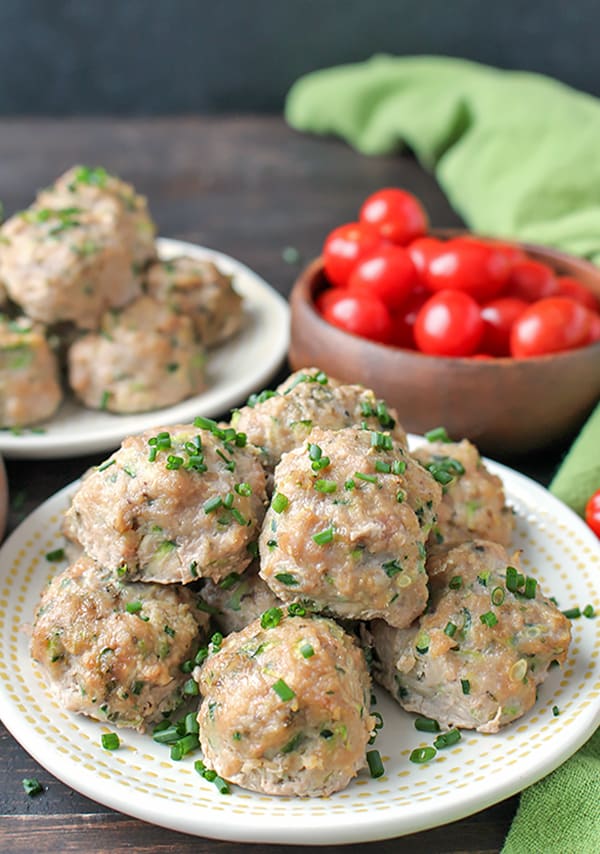 I'm back with another meatball recipe and I switched it up this time and used ground chicken. They are seasoned with chives which add great onion-y flavor and some italian seasoning. You can always add some in onion and garlic powder, but I'm staying away from those right now and I notice they cause me to become bloated. They honestly don't need it, but I know everybody's taste buds are different and some people like stronger flavors.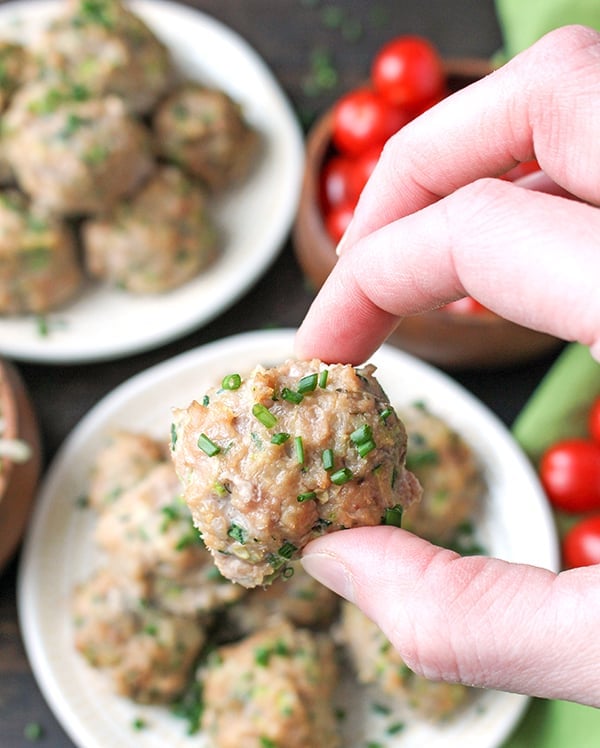 I will admit that I'm not always the best at eating veggies at every meal. I'm trying to get better though! 🙂 Shredding zucchini and adding them to these meatballs not only was a way to get in a little green, it also added moisture that is much needed in chicken meatballs. Also, you cannot taste the zucchini because zucchini is basically flavorless.
Fat is Flavor!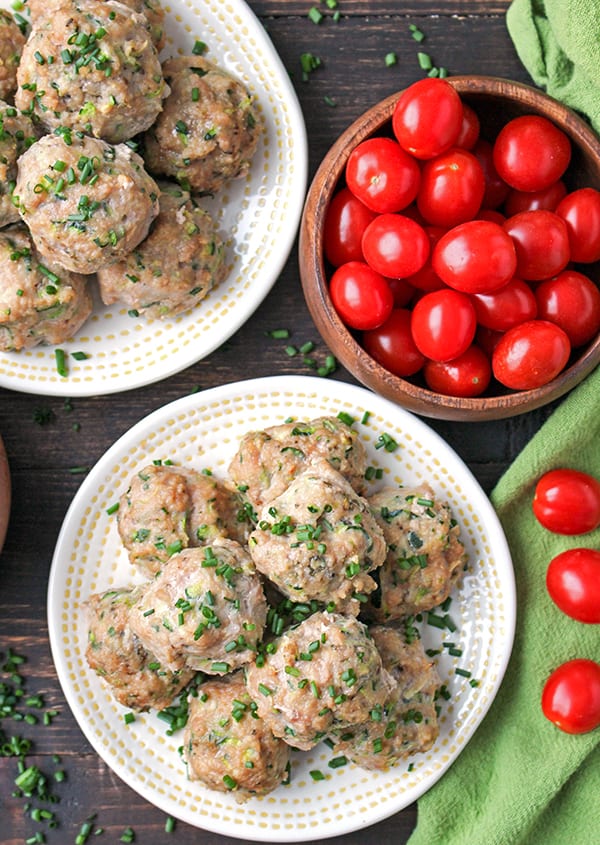 It is important when making these to NOT get the leanest chicken or turkey. They will be dry and have no flavor. Fat is not the enemy! Also, that super lean meat is expensive so these are actually super affordable to make. Win win. Also, while we're on the topic of picking meat, I never buy brands that list "natural flavoring" because a lot can hide under that ingredient. Of course grass-fed beef can also be used for this recipe and would be super tasty.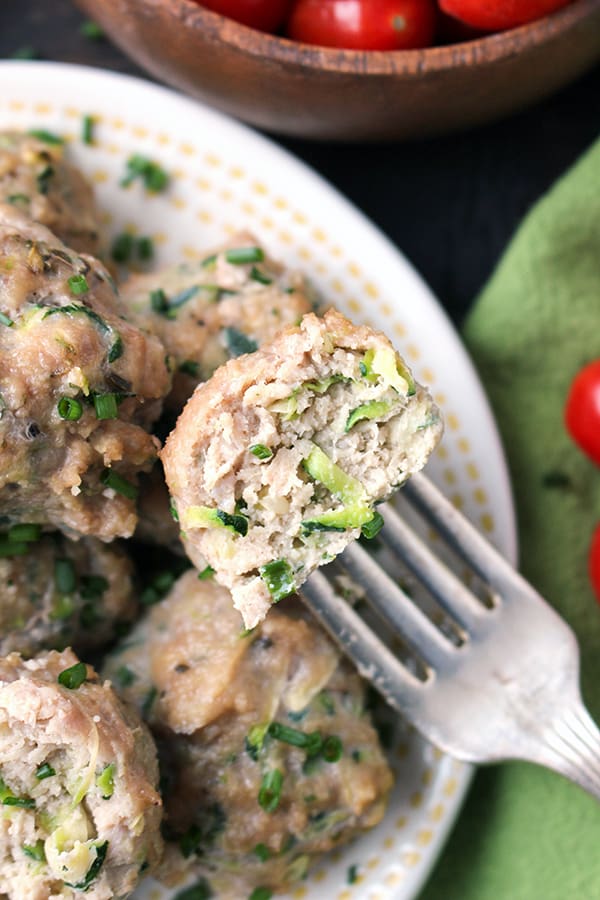 These meatballs would be delicious with marinara sauce, dipped in ranch, or just eaten as is. I have been having them for a small meal just warmed up by themselves. They are great for meal prep to make ahead and have on hand all week for quick meals. My favorite!
They are easy to make, mixing everything in one bowl, rolling them in balls and baking them. They are a softer meatball when raw. I didn't add much almond flour because I didn't want them to be dry. That means they won't roll into the perfect ball, but they will still taste amazing!
Here are my other two meatball recipes that you will love! Paleo Whole30 Oven Baked Meatballs and Paleo Whole30 Meatballs with Creamy Sauce.
Updated 8/18 with a nut free and egg free option! Read the notes.
Hungry for more? Subscribe to my newsletter and follow along on Facebook, Pinterest and Instagram for all of the latest updates.
Paleo Whole30 Chicken Zucchini Meatballs
Ingredients
1 large zucchini, about 1 ½ cups grated
1 pound ground chicken or turkey
1 large egg**
¼ cup almond flour**
2 tablespoons chopped chives
½ teaspoon salt
1 ½ teaspoons Italian seasoning
Instructions
Preheat oven to 350° and line a sheet tray with parchment paper. Set aside.

Grate the zucchini in a large bowl and press out all the liquid. Add in the chicken, egg, almond flour, chives, salt, and seasoning. Mix well- the best way to do this is with your hands.

Roll meat into balls and place on the sheet tray. They may be a little messy and not perfect circles. It should make 24 balls, so divide the meat accordingly.

Bake for 18 minutes, or until they are done. I like to cut one in half and check. They will all have some residue around them, remove that as you take them off the pan.
Notes:
*If you don't need them to be low fodmap, feel free to add onion and garlic powder
**To make nut and egg free, replace the egg and almond flour with 1 tablespoon grass fed gelatin. Sprinkle it in and mix well. 
-Although I haven't tried it, I'm sure these freeze well. 
Nutrition Information
Calories: 224kcal (11%)Carbohydrates: 5g (2%)Protein: 20g (40%)Fat: 14g (22%)Saturated Fat: 3g (19%)Polyunsaturated Fat: 2gMonounsaturated Fat: 4gTrans Fat: 0.1gCholesterol: 115mg (38%)Sodium: 307mg (13%)Potassium: 667mg (19%)Fiber: 2g (8%)Sugar: 2g (2%)Vitamin A: 246IU (5%)Vitamin C: 12mg (15%)Calcium: 57mg (6%)Iron: 2mg (11%)