My boyfriend, Danny and I had a weekend stay at DELAMAR in Traverse City a couple weeks ago and had such a great time!
We started off the weekend by checking into the hotel, making our way to our room with a king size bed and bay view. Every room has a view of beautiful Lake Michigan and the lobby has a big seating area with huge windows for an even better view. That lobby had live music both nights and a very relaxed atmosphere.
Shuttle Downtown and Pool Time
Since we had dinners plans Saturday night at the hotel, we went to town for dinner Friday night. Taproot is one of my favorite restaurants and we took the shuttle that the hotel offers so we didn't need to find parking and they picked us up when we were done. It was so convenient and I love that as a service they offer. We thought some pool time would be the best way to end the night, so we went down and enjoyed the pool, hot tub and sauna. Danny got in the outdoor pool that did look fun, but I was just a little too cold. That pool is warm year round so definitely an option if you don't mind cool air.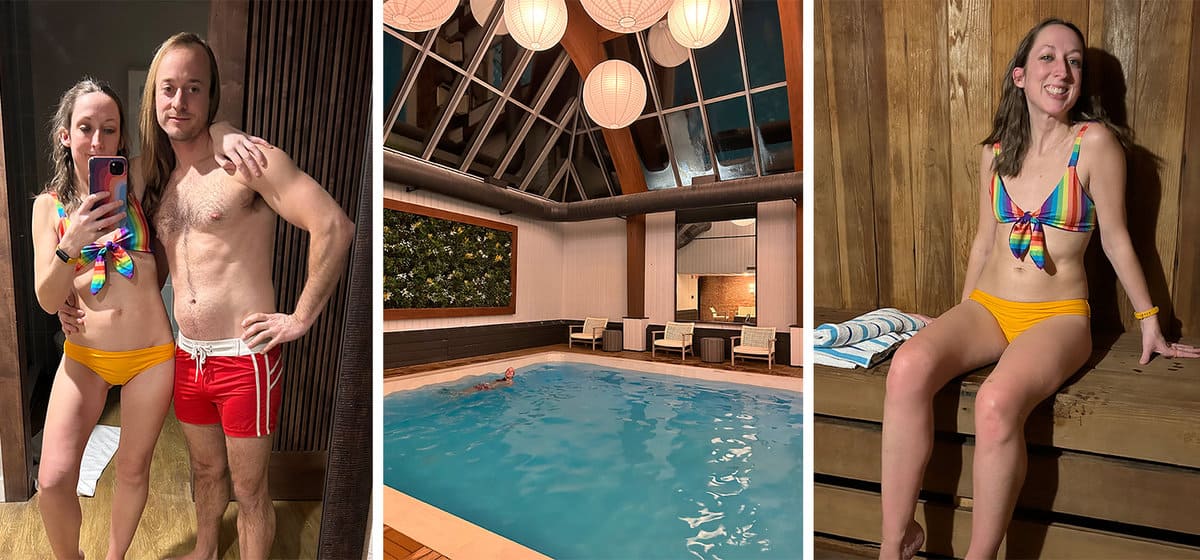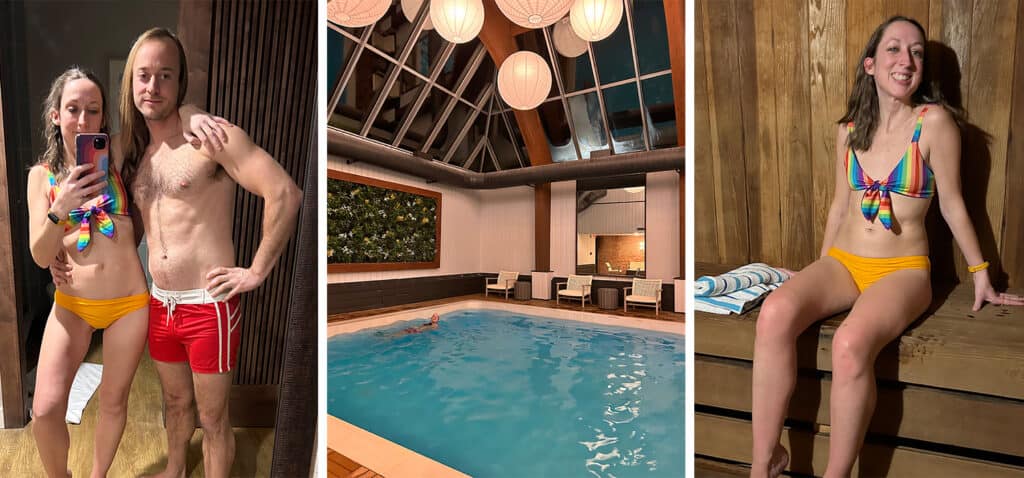 Breakfast and a Day Out
Saturday morning we had breakfast at the hotel and they had lots to choose from- eggs, sausage, potatoes and fresh fruit is what I got and Danny got a yogurt parfait and a toasted bagel. The hot coffee was definitely a nice touch. Both mornings we got the table next to the fireplace that made it very inviting. Then we decided to explore the town a little since it was a beautiful day. We stopped at Oryana Food Co-op first to grab food for lunch so we wouldn't have to worry about not being prepared. We drove up Old Mission Peninsula and saw the lighthouse and stopped at The Bill Carls Nature Preserve on the way back and went for a little hike. It was chilly, but beautiful. There are also lots of wineries on that route that would be perfect to stop at. We went back to the hotel to just hang out before dinner that evening.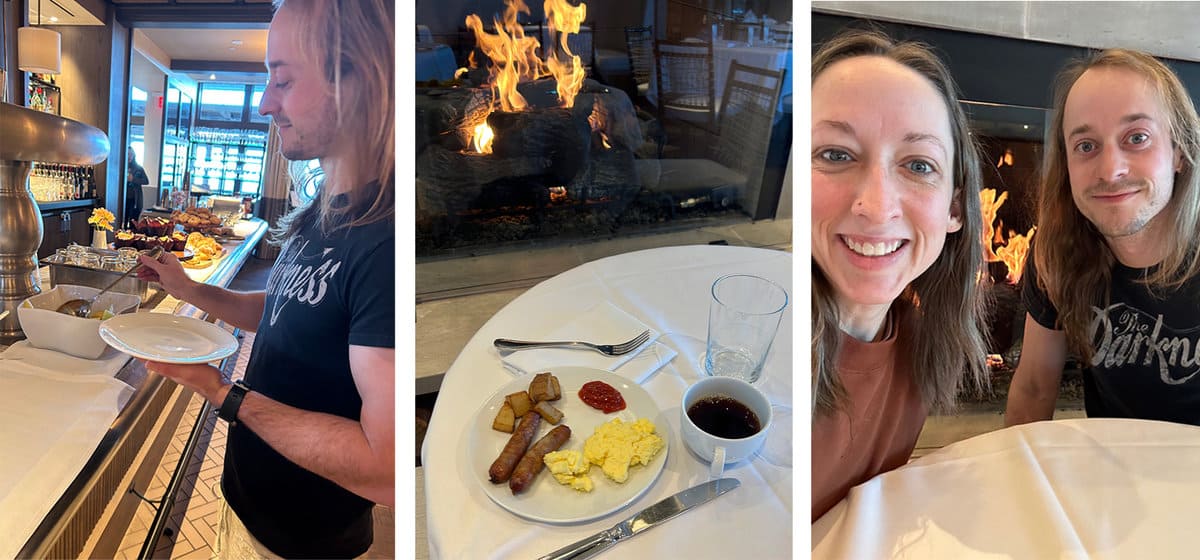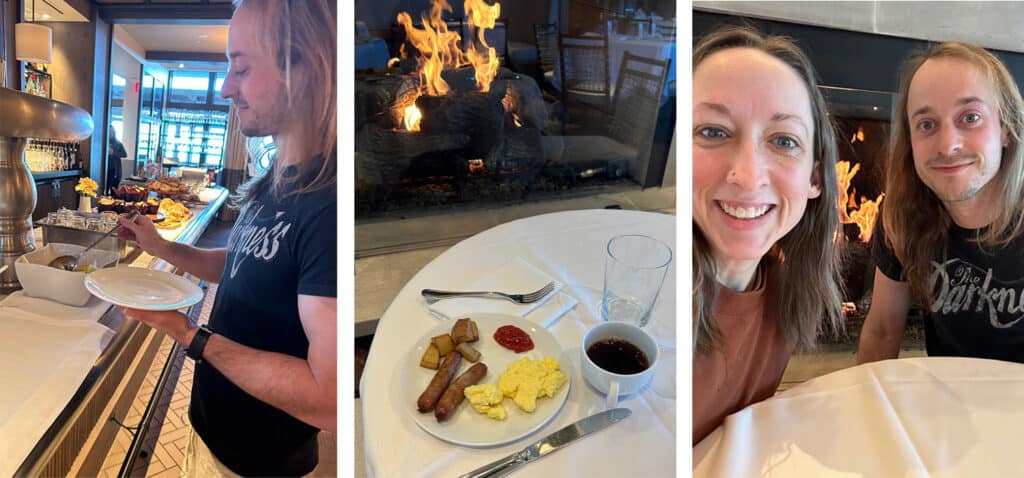 Drinks and Dinner at The Artisan
We went down to The Artisan for a drink before dinner and sat by the cozy fireplace. If you haven't caught on yet, I love a cozy fireplace and they were many to enjoy throughout the hotel! Danny and I both got a cocktail and the bartender and waitstaff were all so nice and helpful. We went back to our room to change for dinner and came back for a truly delicious meal.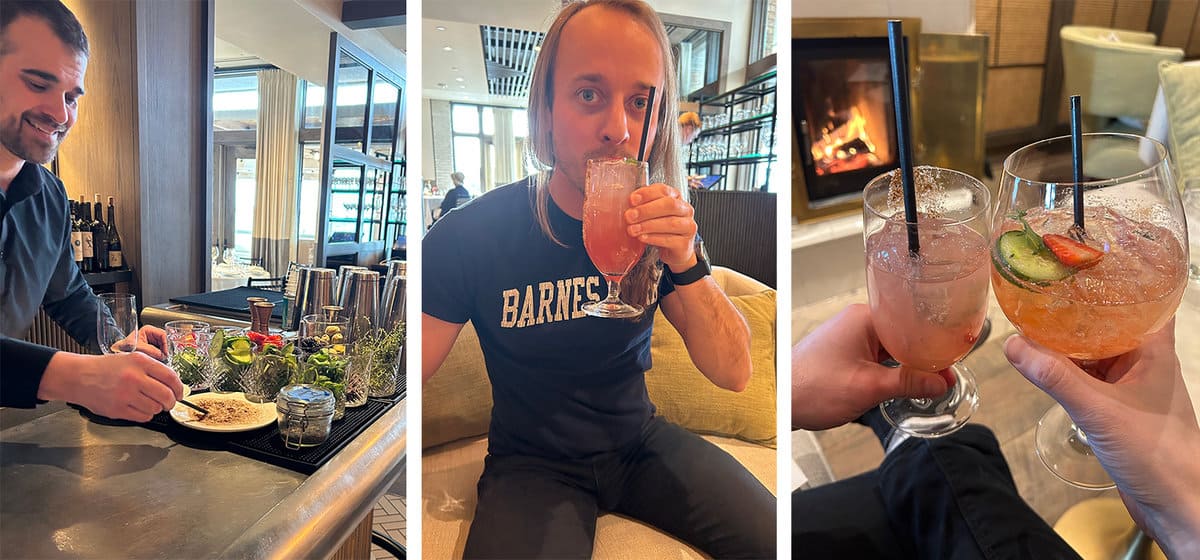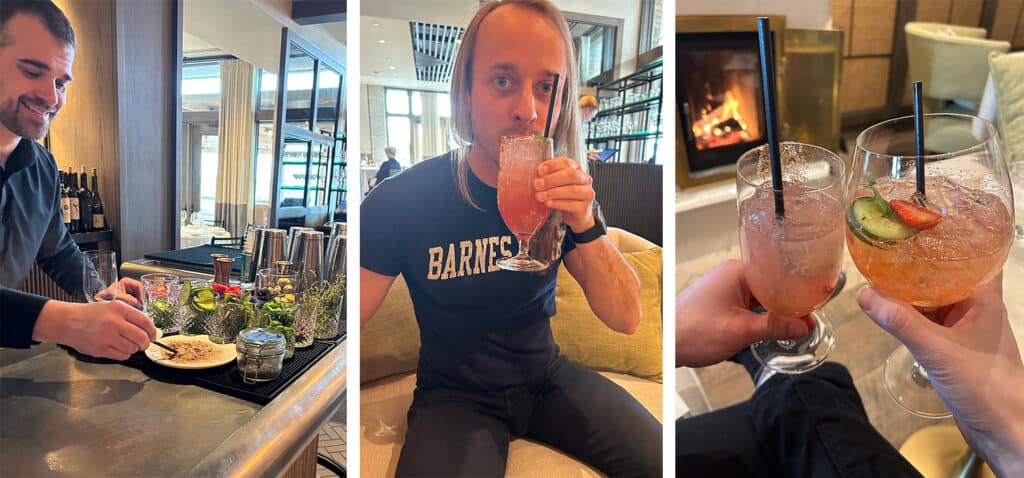 Eating out can sometimes be tricky being gluten free and dairy free, but I had no issues finding things on the menu to enjoy. Items are clearly marked and I did ask to make sure a dish was dairy free and they were happy to answer. I love that they were so accommodating! I got a tasty salad with plums and a tart cherry vinaigrette and I'll say, I'm not much of a salad girl and I ate the whole thing and would get it again. Danny got jumbo shrimp with a sweet and sour sauce and loved it. For the main course I got a jerk chicken with rice pilaf and fried plantains- amazing! I was too full to eat the whole thing, but that was honestly nice because I got to enjoy it again. Danny's main course was a pork chop over mashed potatoes and brussel sprouts and he cleaned that plate. He also got a wine pairing with each course which he really enjoyed and made the dinner feel special. We were both so satisfied and we definitely want to go back.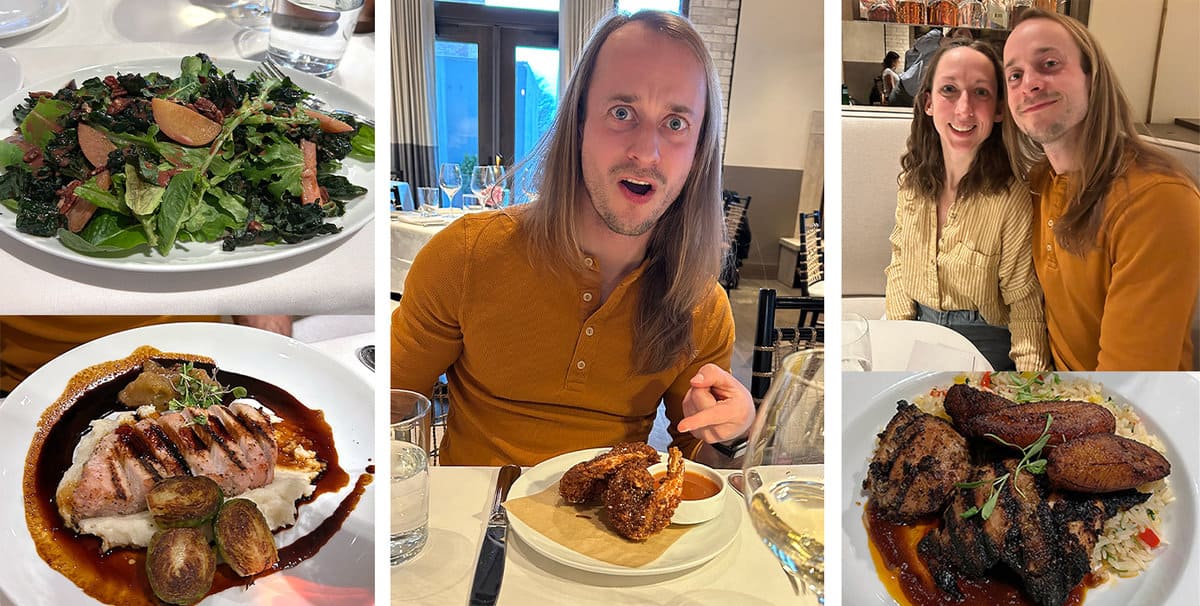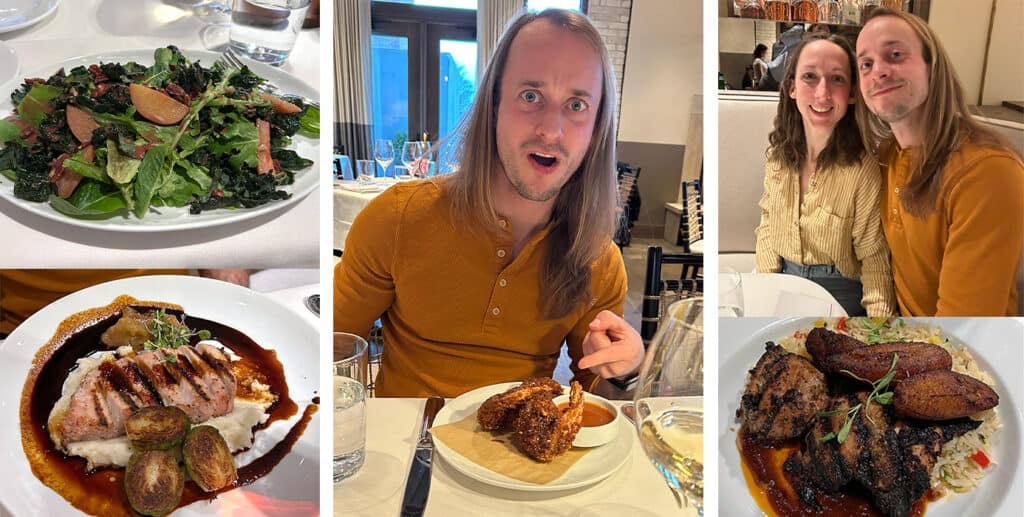 Kid Friendly and a Great Vacation Choice
All the staff at the hotel and restaurant were so friendly. That was something Danny and I both noticed. That they seemed to enjoy being there and genuinely want to help. This made the stay very enjoyable. This was just a little date trip we had, but the hotel is very kid friendly and had lots of families there. A great place that everyone can enjoy.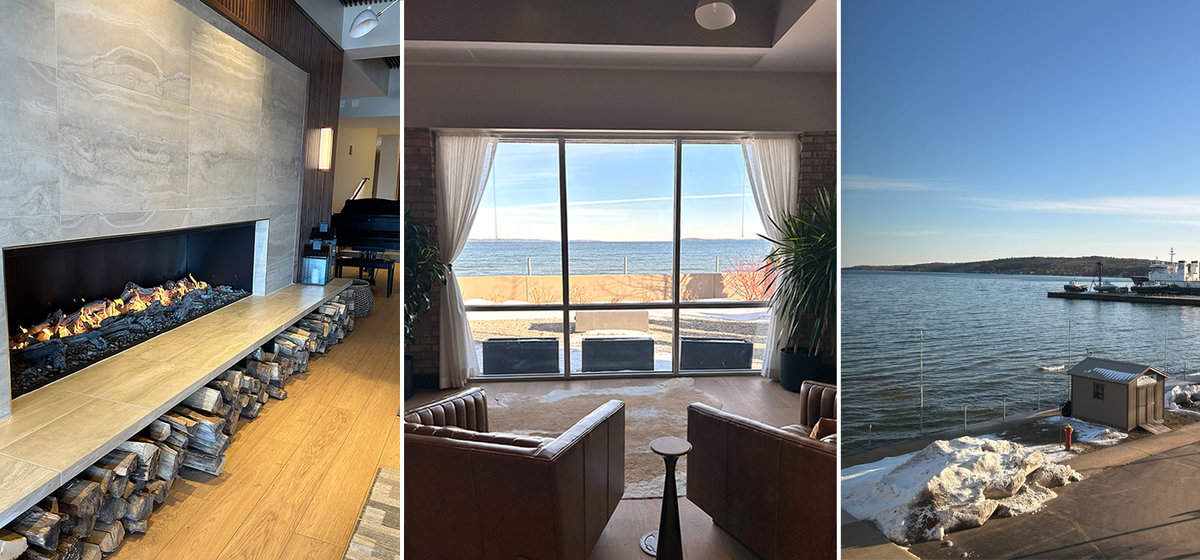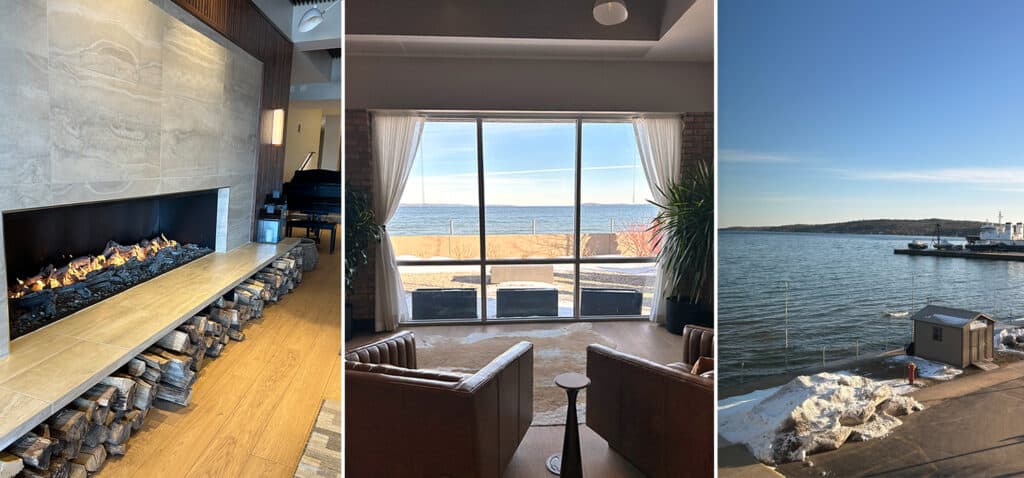 The pictures above are the fireplace in the lobby, the view out the window in the same lobby and the view from our room! 🙂
We highly enjoyed out weekend stay at DELAMAR in Traverse City and would recommend it for sure. Whether you live close and you just want a fun weekend away or you live out of state and are looking for a great place to stay that's close to town, but has beautiful views. We really liked the mix of being at the hotel and enjoying everything they offer and going in and around Traverse City. Check out their website for more info and feel free to ask any questions.