This Paleo Whole30 ketchup is naturally sweetened and packed with flavor! Easy to make and so delicious you'll want to eat it off the spoon.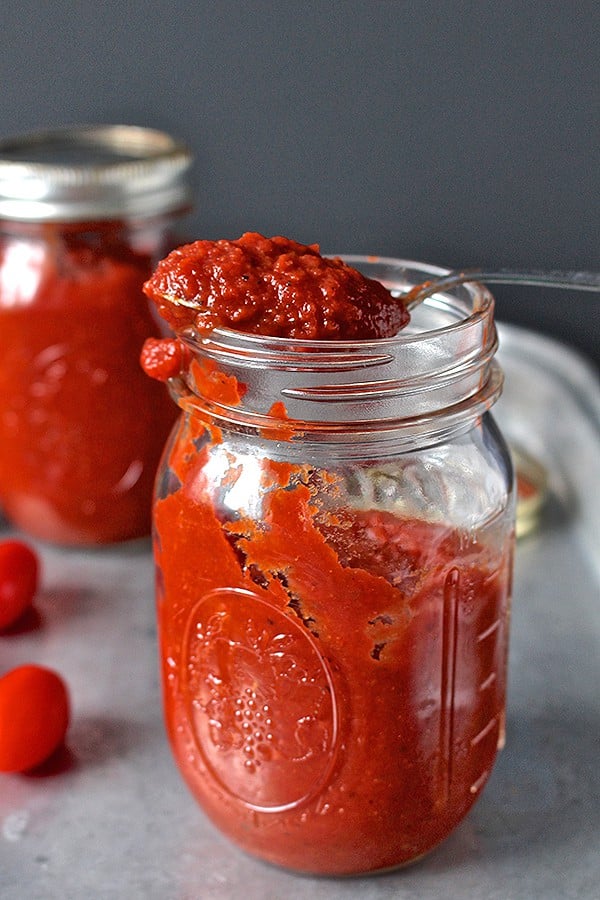 My husband has never been a ketchup guy. While I like it on everything- eggs, mac and cheese, hot dogs, chicken, baked potatoes- he could pretty much care less. That all changed when I made it homemade. He was in love. He ate the whole batch and requested more right away. The original recipe I followed had honey in it so I knew I needed to change it to make it Whole30 approved. I was a little skeptical of adding dates at first, but they work so perfectly. You can't taste them- it just adds a subtle sweetness that balances perfectly with the spices and acidity.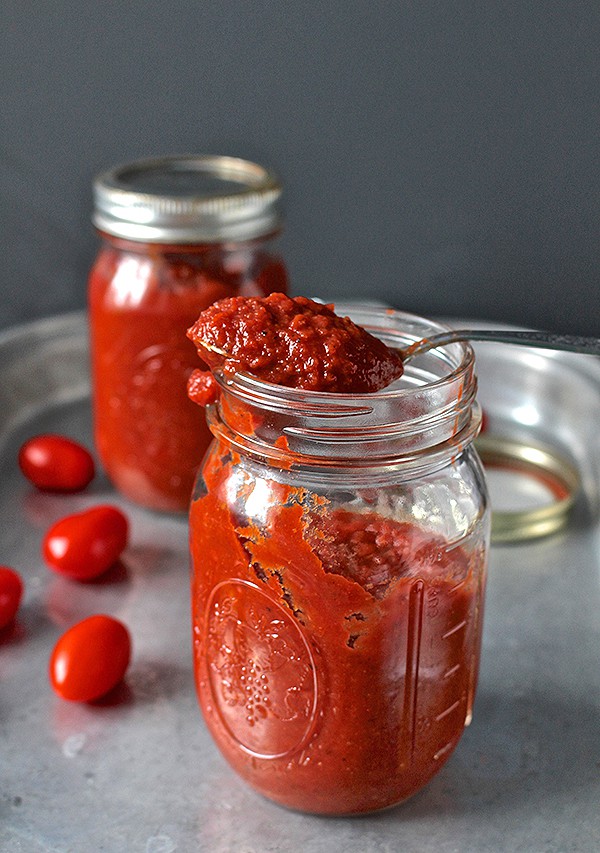 So don't be afraid of the dates! Confession: last time I made it I didn't have enough dates so I used half raisins and it worked great- Yay!
I love the idea of making it homemade because I can completely control what I'm adding. No high fructose corn syrup or "natural flavoring". It comes together so quick too! There's almost no prep time and it cooks for 30 minutes. You could make this while cooking other food- it's that easy!
Here's all the ingredients you'll need. You can use apple cider vinegar in place of the coconut vinegar and water in place of the bone broth if you don't have any on hand.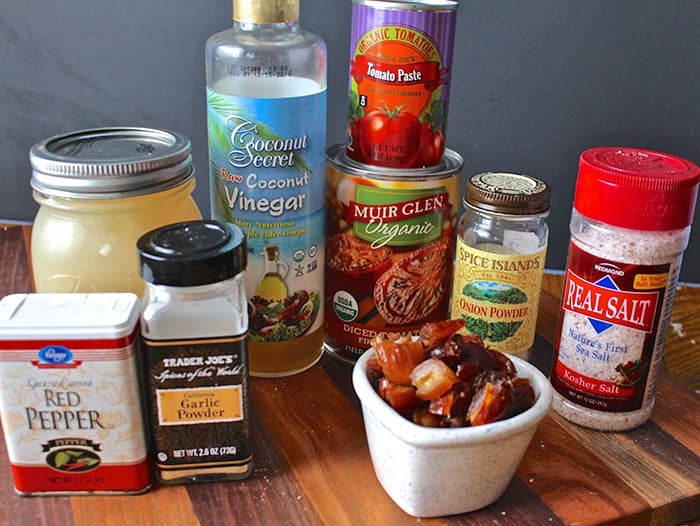 Put all the ingredients in the pan, cook for 20 minutes and turn off the heat. Blend until smooth and cook for another 10 minutes.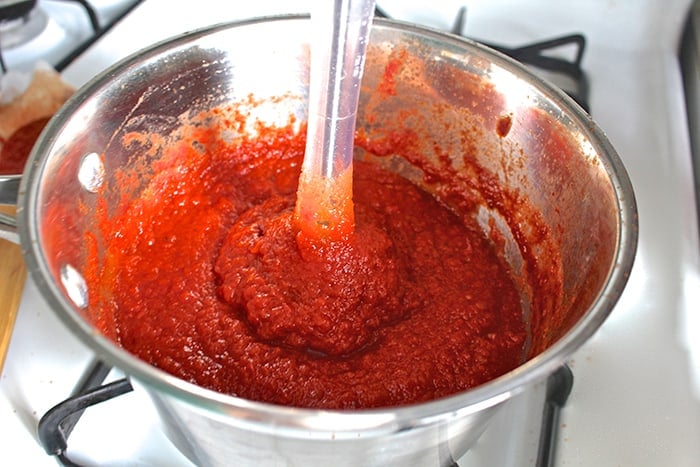 Pour the ketchup into jars and store in the fridge.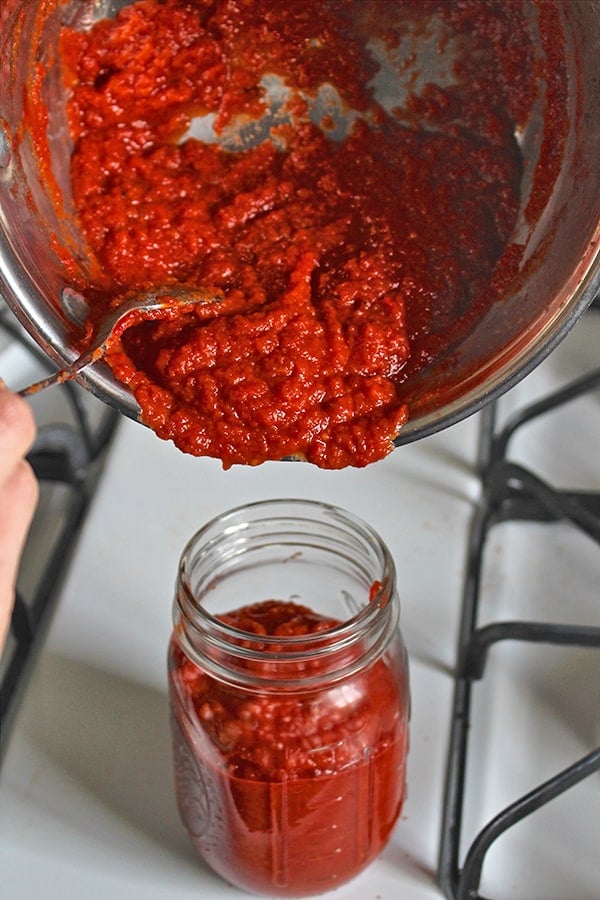 So simple!!
It's better the next day once it has a chance to chill and let the flavors blend together more. This isn't as smooth as the store bought kind, but I like it that way. If you prefer smoother ketchup, just put it through a fine mesh strainer.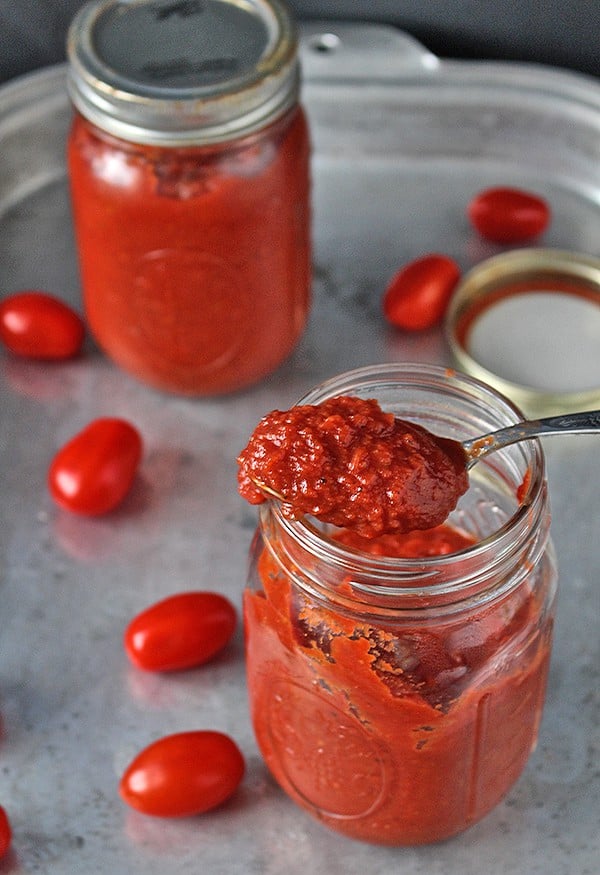 While this is a great sauce to satisfy all your dipping needs, I'll be sharing a recipe for some amazing sloppy joe's that use this as a base. My husband can't quit talking about them and is looking forward to me making them again.
Hungry for more? Subscribe to my newsletter and follow along on Facebook, Pinterest and Instagram for all of the latest updates.
Whole30 Ketchup
Ingredients
1/2 cup chopped pitted dates
1 6 oz can tomato paste organic if possible
1 14 oz can diced tomatoes I use fire roasted for added flavor
2 tablespoons coconut vinegar or apple cider vinegar
1/2 cup bone broth or water
1 teaspoon garlic powder
1 teaspoon onion powder
1 teaspoon salt
1/4 teaspoon cayenne pepper (or leave out)
Instructions
Add all ingredients to a small sauce pan.

Cook on medium low for 20 minutes and then turn heat off.

Using an immersion blender, puree mixture until smooth.

Remove blender and turn back on low heat for 10 minutes.

Store in mason jars or similar jars in the fridge for 2-3 weeks.