This Paleo Smoked Tuna Salad is so easy, packed with flavor, and makes the perfect quick lunch. Whole30, gluten free, dairy free, and so delicious!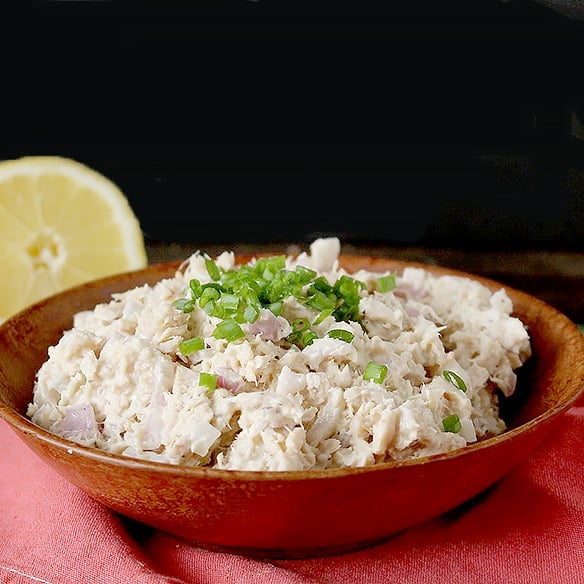 I've mentioned that my husband doesn't exactly like tuna. He likes my Tuna Noodle Casserole, but that's about it. In the 10 years we've been married I feel like I've made tuna salad every way possible and just didn't care for any of them. I was thinking one day about how he loves smoked fish, so I decided to add some smoked salt along with shallots and fresh lemon juice. That turned out to be the winning combination. He doesn't just like this version, he loves it!!
Smoked salt is easy to find- it's right by the regular salt. Here is a post with a picture of it.
Opening a can of tuna for a quick meal is sometimes necessary and I'm so happy that I finally found a way my husband loves it! He actually requests it now 🙂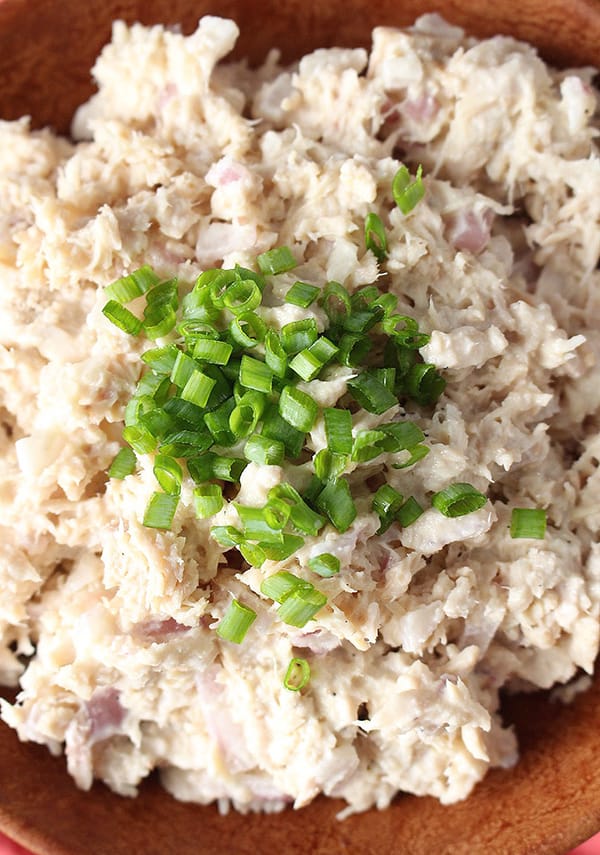 I personally have always loved tuna salad so of course I think this is good! The crunch of the shallots, freshness of the lemon, and smokiness of the salt- it is the perfect blend of flavors.
It is especially delicious served with some chips! These are a rosemary flavor fried in olive oil, the flavor my husband prefers- coconut oil are my favorite. Of course the chips aren't Whole30. You can use celery, carrots, or zucchini to scoop it up with, or just eat it straight from the bowl.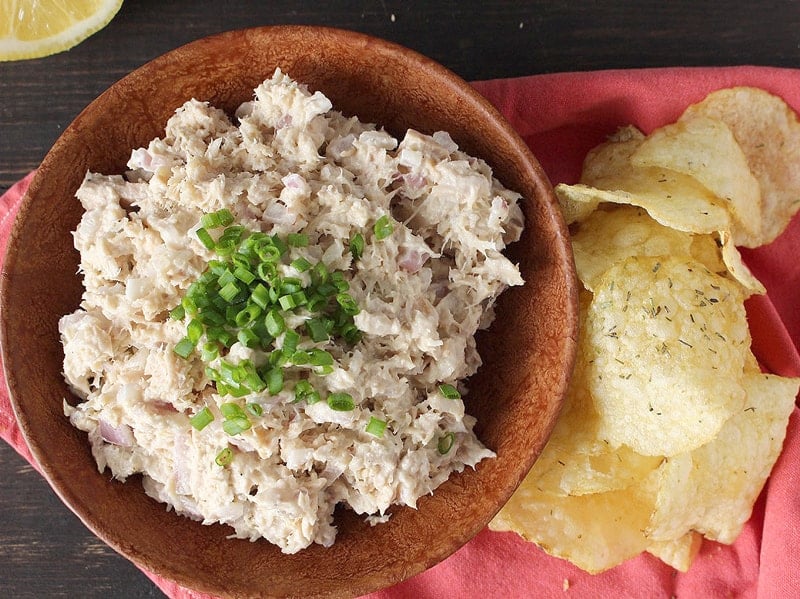 This is so perfect on those warm days when you don't want to cook! You will love how fast, easy, healthy and tasty this tuna salad is!
Here is the link to the homemade mayo I use in it- it's super easy!
Hungry for more? Subscribe to my newsletter and follow along on Facebook, Pinterest and Instagram for all of the latest updates.
Paleo Smoked Tuna Salad
Ingredients
3 5 oz can tuna
1/2 cup diced shallots about 2 large
1/2 cup paleo mayo
juice of 1 lemon
1 1/2 teaspoons smoked sea salt
1/2 teaspoon pepper
Instructions
Open and drain the cans of tuna. Dump into a medium bowl.

Mix in shallots, mayo, lemon juice, smoked salt, and pepper. Mix until well combined.

Refrigerate until ready to eat.