This method of making The Perfect Baked Potato is easy and the result is a potato that is crispy on the outside and light and fluffy on the inside.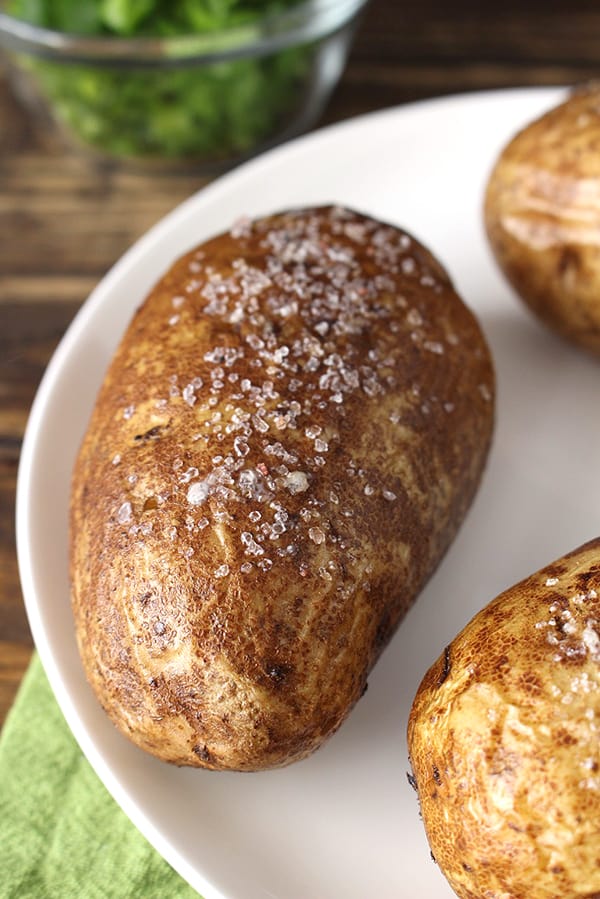 The simple baked potato- something I was making wrong for years! I was taught to wrap them in foil and bake them for an hour and while that works, I always loved baked potatoes from restaurants better! The crispy skin to the fluffy inside was the perfect contrast in textures and the salty outside made it irresistible! I have now perfected the method at home and can make them any time.
They are naturally gluten free and dairy free, but they are also Whole30 and Paleo. I know some people don't consider them paleo, but they are a real food and I always buy organic since they are part of the dirty dozen.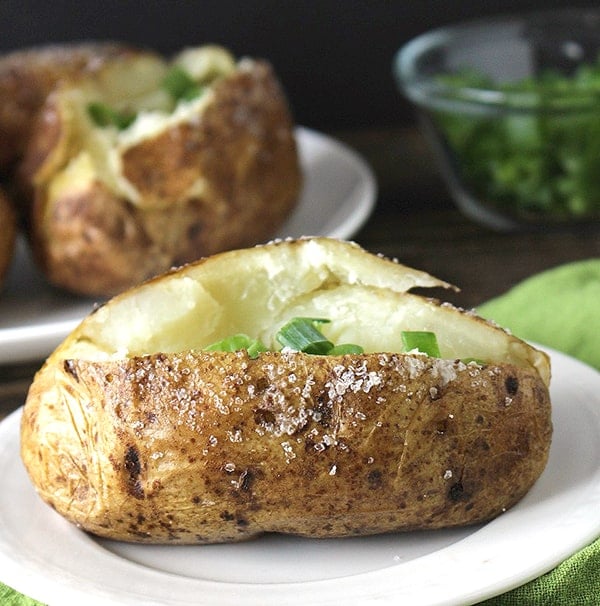 I know summer is on the way and baked potatoes may seem like a winter food, but they are the perfect side to basically anything on the grill! Steak and potatoes? Yes! Chicken and potatoes? Yes! They are a super simple side that can easily turn into a main dish by topping them with chili or any other type of meat.
Here it is- the perfect baked potato! Crispy, salty skin and a soft and fluffy center.
Hungry for more? Subscribe to my newsletter and follow along on Facebook, Pinterest and Instagram for all of the latest updates.
The Perfect Baked Potato
Ingredients
4 medium Russet potatoes
2 tablespoons coconut oil melted
1 teaspoon large grain salt
Instructions
Preheat oven to 375° and line a sheet tray with parchment paper.

Wash potatoes well and scrub off any dirt that is on them. Dry throughly and place on sheet tray. Using a fork, pierce holes into each potato- about 3 pokes on each side. Brush coconut oil on each potato, making sure to cover them entirely.

Sprinkle with salt and bake for 45-55 minutes, or until a fork can pierce the potato easily. Remove from the oven and let stand for 10 minutes. Cut a slit in the salted top and fill with desired toppings.