This creamy Paleo Whole30 Mayo comes together quickly and tastes so much better than store bought. This will become your new favorite.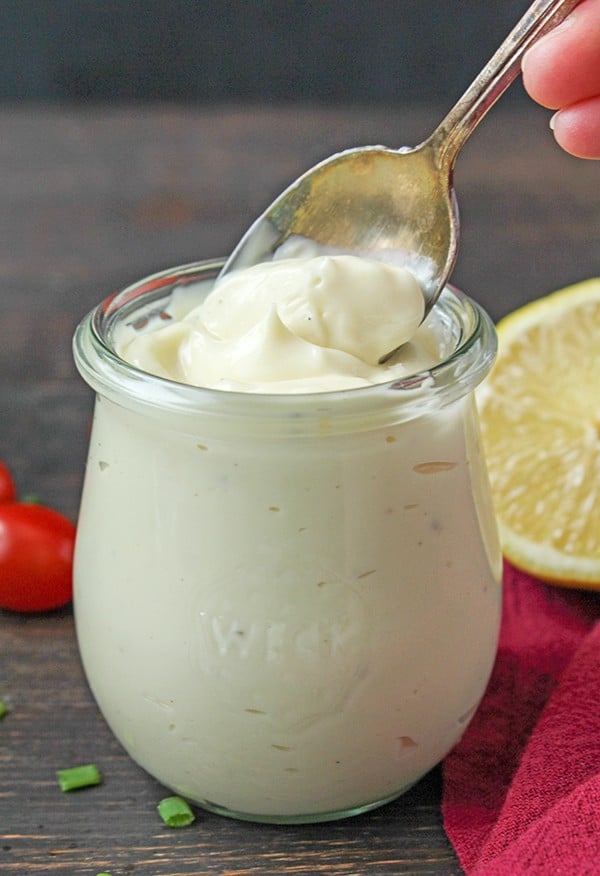 *Pictures updated 1/18, content is the same. Mayo in pictures is a double batch.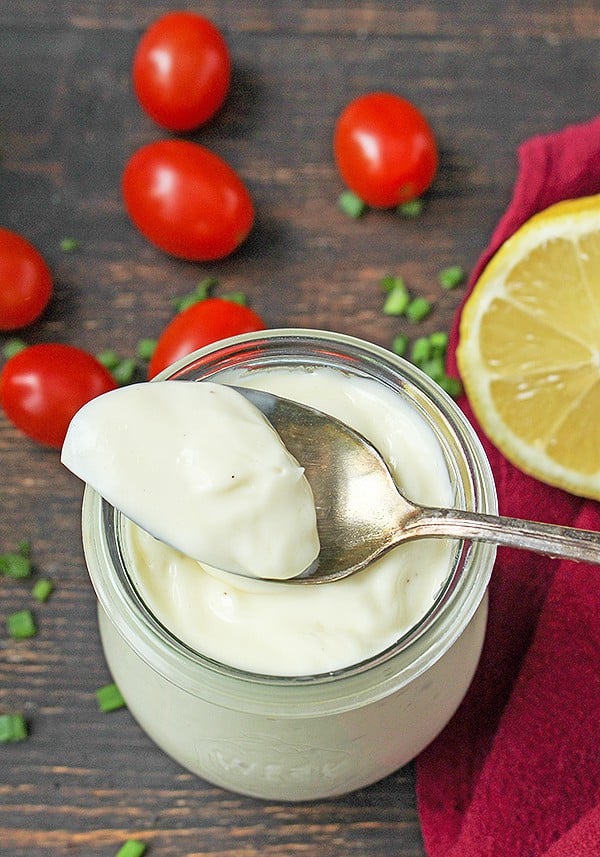 I know this recipe is super simple and super basic, but it's such a good one to have. There are so many different variations you can do with it and I use it to make ranch dip (recipe coming soon). Now that I've made it, I'll never buy it again. Not only can I control the ingredients that way, but the flavor is no comparison. So fresh, thick, and creamy. I always have some on hand to make a quick chicken or tuna salad.
It comes together so fast. Like, less than two minutes. It is very important to have all your ingredients at room temperature. I usually set the egg out the night before I plan on making it. If you forget, a handy tip is to fill a bowl with hot tap water and place the egg in it for 5 minutes. It will become room temperature that way.
I like to use a wide mouth mason jar and immersion blender. Those things are so affordable and so useful. I have the most success with that opposed to a regular blender. It is possible that way too though if that's what you have.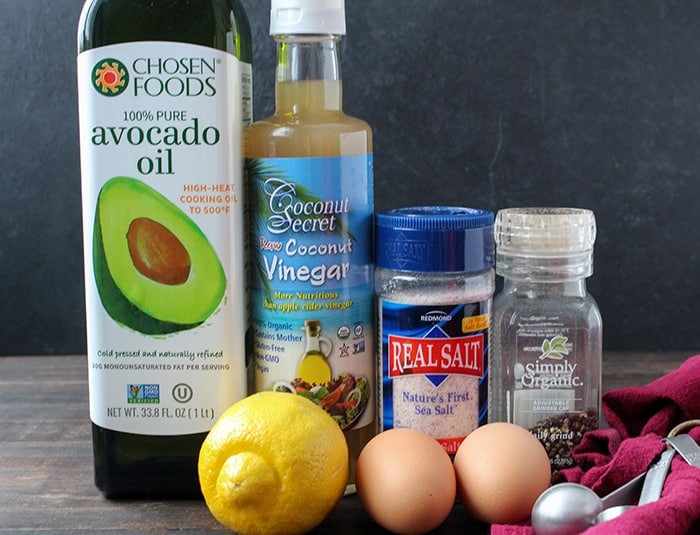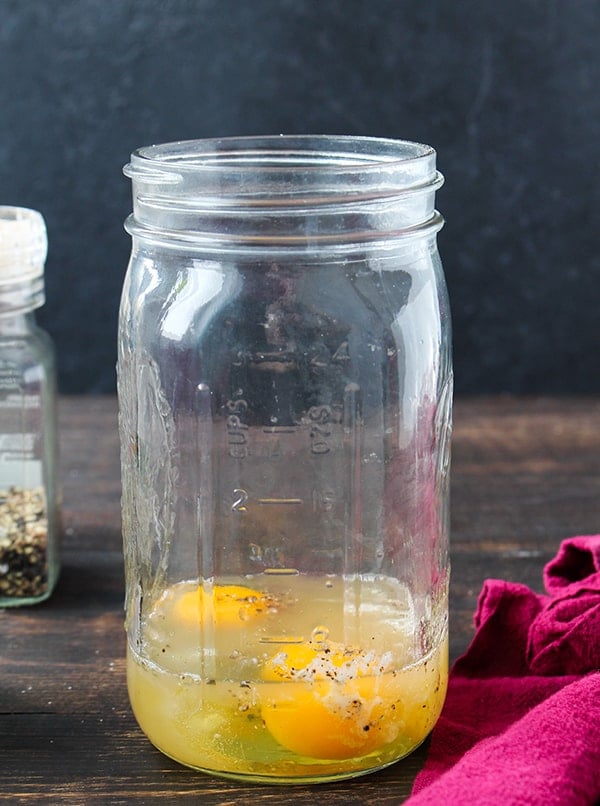 Here are all the ingredients. So simple!
Put your egg, lemon juice, vinegar, salt and pepper in the jar.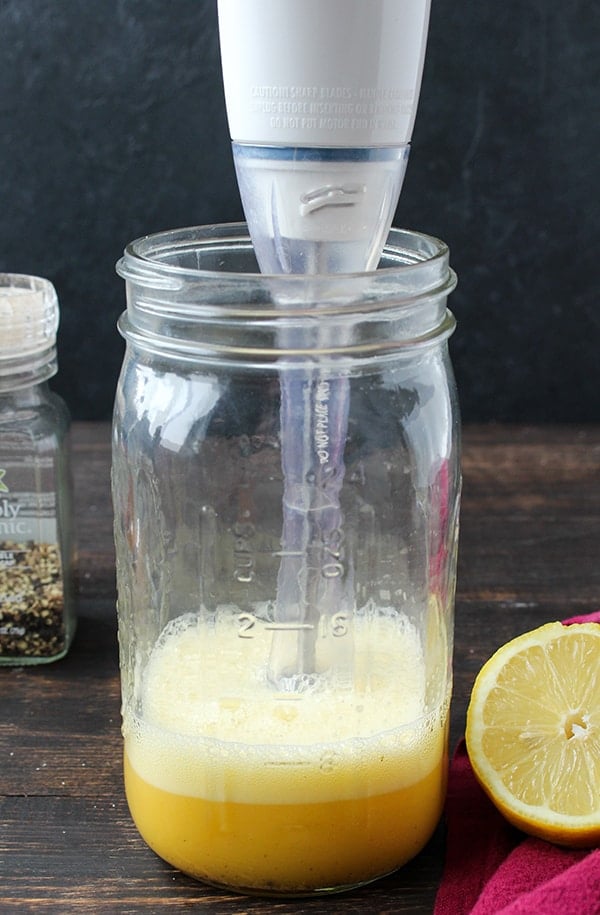 Blend until combined. It will take just a few seconds.
Then slowly drizzle oil in with the blender on until all oil is poured in. I couldn't take a picture of that because I only have two hands. 🙂 Move the blender up and down in the jar until it starts to thicken. You will also hear the motor change from a fast high pitch to a low slower sound.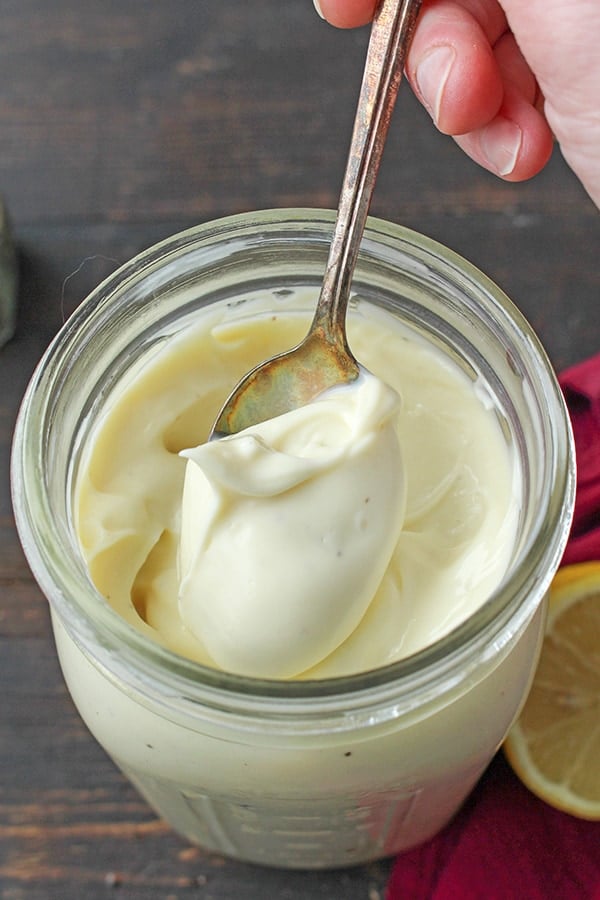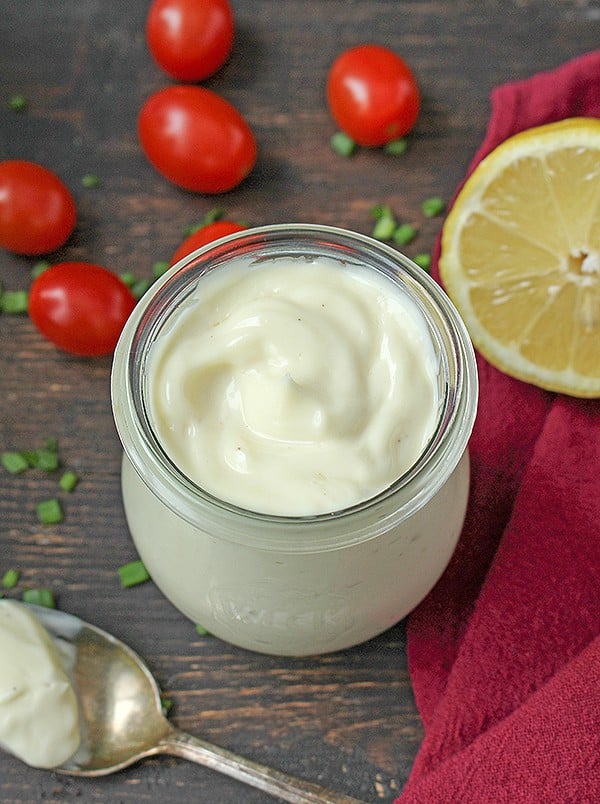 Perfect!! So there you have it. In just a couple minutes you can make the best mayo of your life.
Make it, love it, spread it on everything!
Also, check out my Chipotle Mayo , Paleo Whole30 Ranch Dressing, and Paleo Caesar Dressing. They are all so good!
Hungry for more? Subscribe to my newsletter and follow along on Facebook, Pinterest and Instagram for all of the latest updates.
Paleo Whole30 Mayo
Ingredients
1 large egg, room temperature
1 tablespoon coconut vinegar
1 tablespoon lemon juice, fresh squeezed is best
½ teaspoon salt
¼ teaspoon pepper
1 cup avocado oil, or light olive oil
Instructions
Place egg, vinegar, lemon juice, salt and pepper in a wide mouth mason jar or a blender. Blend until combined.

With the blender on or with the immersion blender in the jar running, slowly drizzle the oil in until it emulsifies.

Move the immersion blender up and down in the jar until think. This should take less than a minute.

Store in fridge up to two weeks. Makes 1 ½ cups.
Nutrition Information
Calories: 100kcal (5%)Carbohydrates: 0.03gProtein: 0.3g (1%)Fat: 11g (17%)Saturated Fat: 1g (6%)Polyunsaturated Fat: 2gMonounsaturated Fat: 8gTrans Fat: 0.001gCholesterol: 9mg (3%)Sodium: 62mg (3%)Potassium: 4mgFiber: 0.01gSugar: 0.01gVitamin A: 14IUCalcium: 2mgIron: 0.05mg