This Nut-Free Paleo Vegan Snickers Pie is an easy no-bake dessert and incredibly delicious! A chewy chocolate crust, creamy caramel layer and soft SunButter mousse. It's gluten free, dairy free, and naturally sweetened.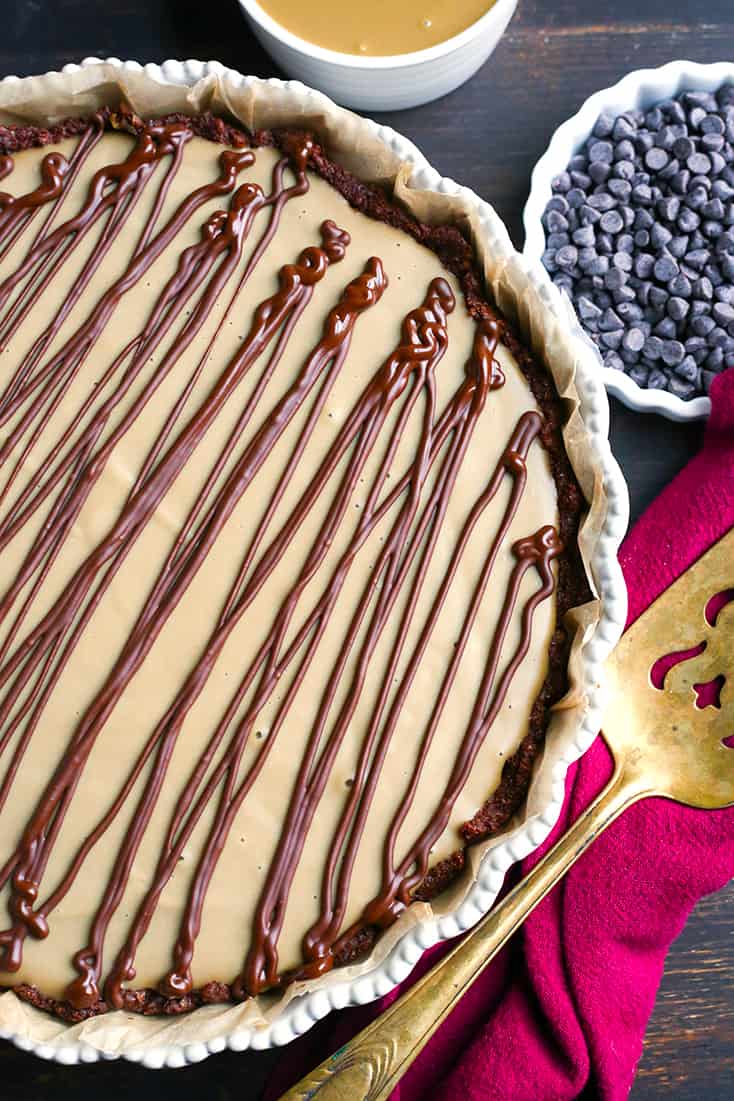 This post is sponsored on behalf of SunButter. All opinions are 100% my own, of course! Thank you for supporting brands that help make Real Food with Jessica possible!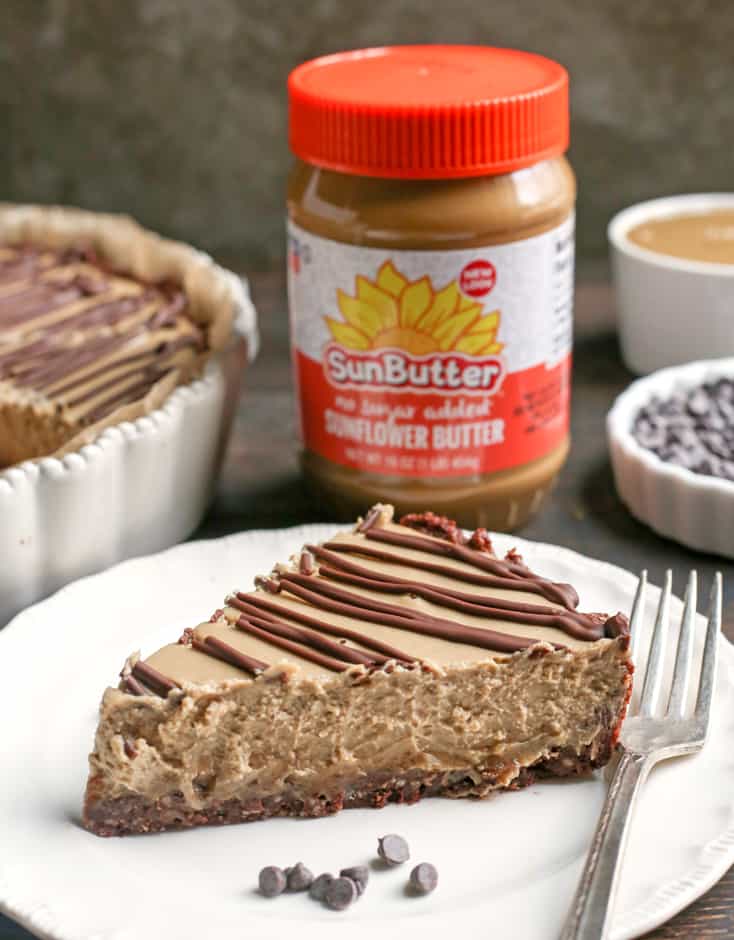 If you make one dessert this year, have it be this one. It tastes so amazing and is super easy to make. It looks fancy and hard, but isn't at all. I'm always intimidated by pies because there are things to go wrong- the crust, the filling that can be too watery, the crust 😉 But this is completely no-bake which means you just have to spend some time with your food processor and take a few minutes to press the crust in the pan.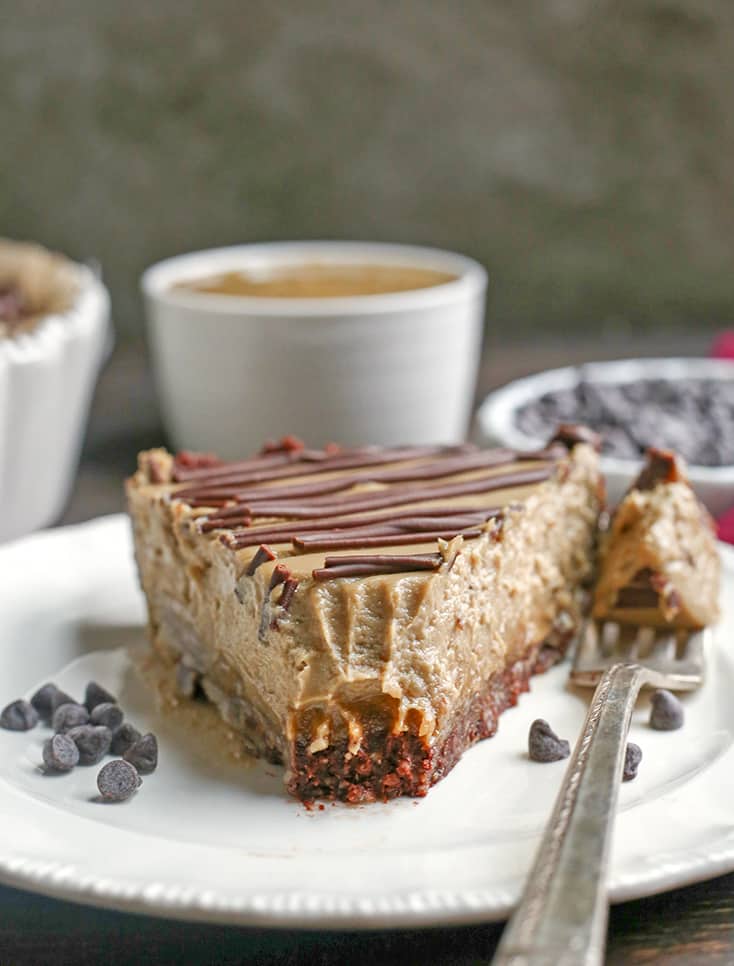 I'm not usually a fan of using my blender or food processor because I hate cleaning it, but this recipe is 1000x worth it. I will gladly do it again.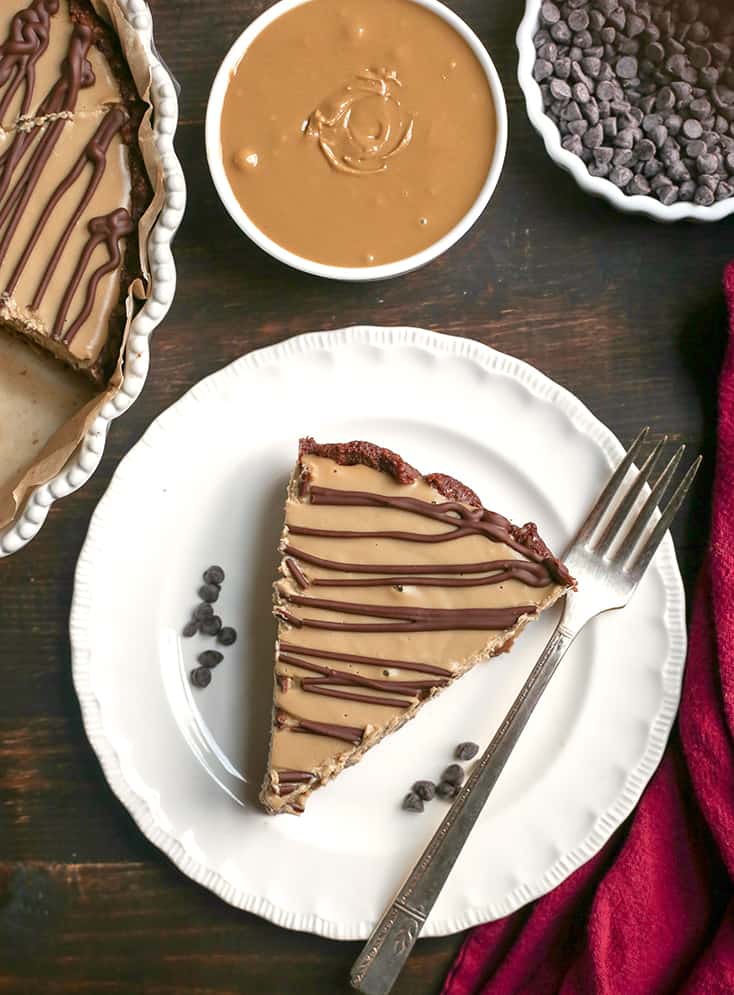 This has all the layers of a snickers, but made way healthier. The chocolate crust, date caramel and SunButter mousse. Of course traditional snickers is peanut butter, but we don't eat legumes so SunButter was the natural choice. The flavor and texture is so similar and it turns it into one tasty pie. And the No Sugar Added SunButter has only 2 ingredients – sunflower seeds and salt, which means you can control the sweetness yourself. 🙂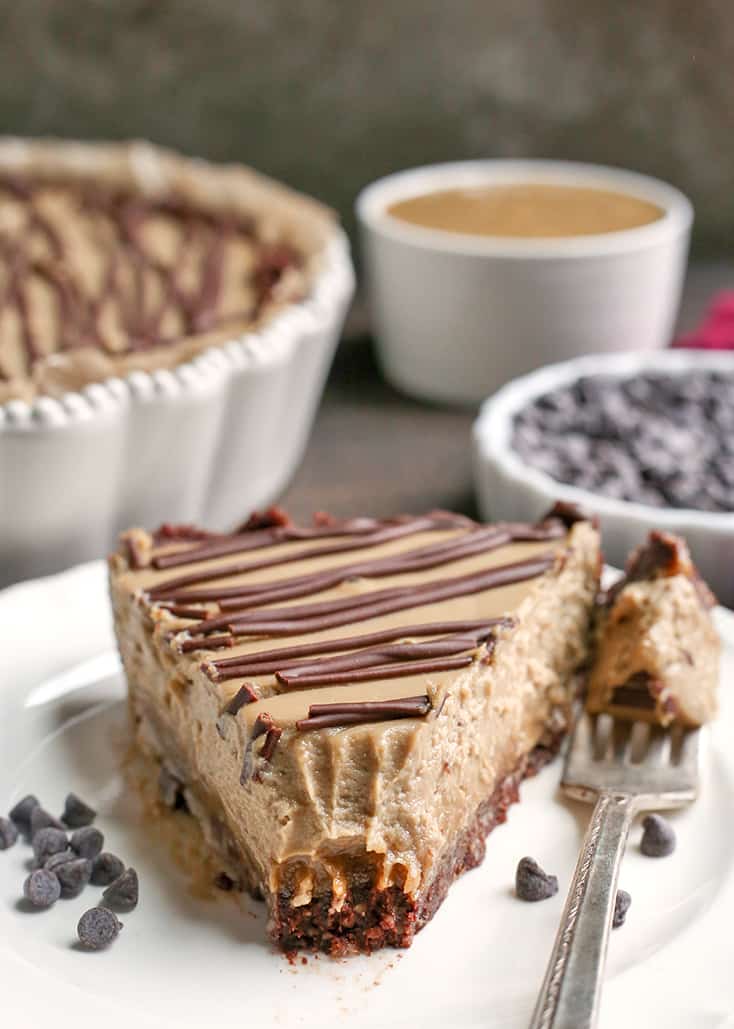 Making this nut free wasn't hard. I used raw sunflower seeds in the crust which not only taste great, they are the most affordable of all the nuts and seeds. For the caramel layer, dates and No Sugar Added SunButter is used. It blends to a magical mixture that tastes like caramel and is so sweet and creamy. Of course SunButter is used again for the SunButter Mousse layer. That also has some coconut cream and maple syrup and mixed together quickly to make a sweet, soft filling. The end result is a slightly chewy crust, smooth caramel and soft mousse. Yum! *A note about coconut cream. You can buy it in a can or you can buy 2 cans of full fat coconut milk, place them in the fridge, and use the top thick part.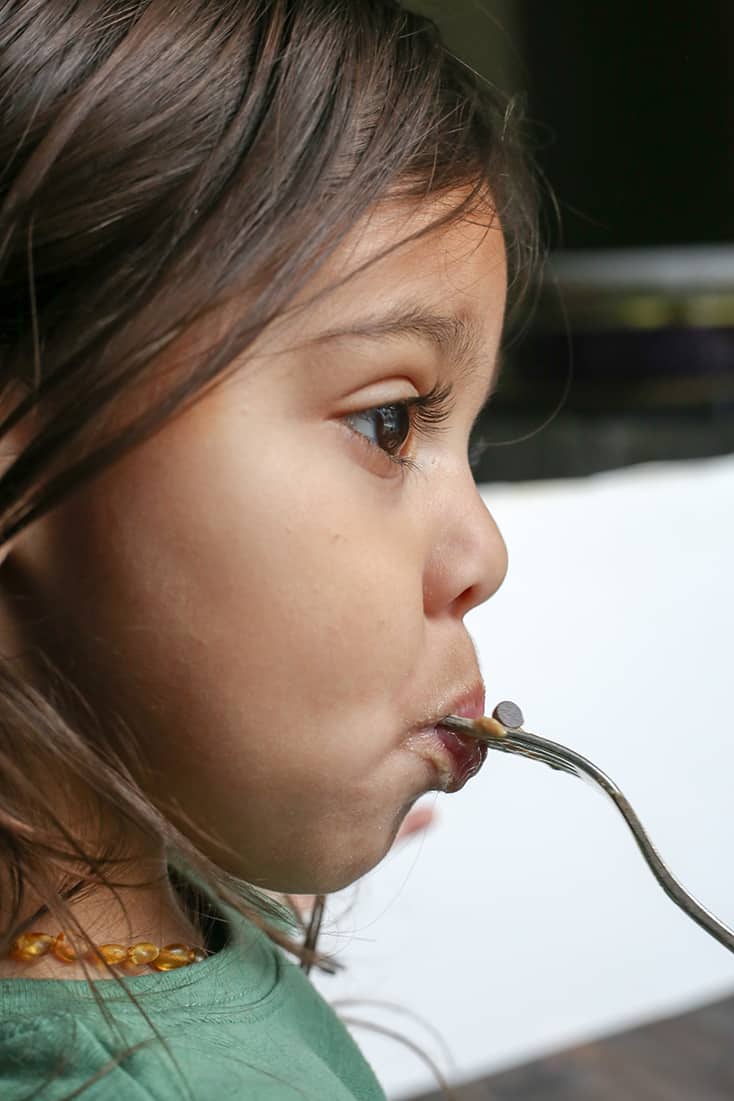 My daughter even loved it which is the real test!
This is hands down one of the best desserts I have ever made and definitely a favorite of mine. I hope you try it and love it as much as I do. Have I convinced you that you truly need this recipe in your life? You really do!
Hungry for more? Subscribe to my newsletter and follow along on Facebook, Pinterest and Instagram for all of the latest updates.
Nut Free Paleo Vegan Snickers Pie
Ingredients
Instructions
Line a deep dish pie plate with parchment paper. This is necessary as the crust can be sticky. Set aside.

In a food processor or high powdered blender, combine the dates, sunflower seeds, cacao powder and salt. Blend until combined. Mixture will be powdery. Add 2 tablespoons of water and blend again. Add 1-2 more tablespoons of water if needed. You want the mixture to be blended together, but also hold together and not be too sticky. Press this mixture evenly into the pie plate going up the edges as well. Place in the freezer. (I washed the food processor after this step, but it's up to you if you want to.)

(If needed, you can soak the dates in hot water for 5 minutes before making this layer. Use filtered water heated up and then drain it when finished) Add the dates, SunButter, vanilla and ghee to the food processor. Blend until smooth, scrapping down the edges as needed. Add a tablespoon of water if needed. Remove the pie crust from the freezer and spread the caramel over the crust, covering the bottom evenly. Place back in the freezer. (Again, I washed the food processor here, but you don't have to)

Combine the coconut cream, SunButter and maple syrup in the food processor and blend until smooth. Scrape down edges as needed. Remove the pie from the freezer and pour this mixture on top, spreading evenly. Place back in the freezer to set.

For the drizzle- combine the chocolate chips and SunButter together in a microwave safe bowl. Melt until smooth- 30 to 60 seconds. Drizzle over top and place back in the freezer.

Store in the freezer for a firmer pie or fridge for a softer pie. If frozen, let thaw 10-15 minutes before serving .
Nutrition Information
Calories: 583kcal (29%)Carbohydrates: 65g (22%)Protein: 15g (30%)Fat: 35g (54%)Saturated Fat: 6g (38%)Polyunsaturated Fat: 6gMonounsaturated Fat: 5gCholesterol: 5mg (2%)Sodium: 152mg (7%)Potassium: 592mg (17%)Fiber: 8g (33%)Sugar: 42g (47%)Vitamin A: 37IU (1%)Vitamin C: 2mg (2%)Calcium: 106mg (11%)Iron: 4mg (22%)