These Paleo Gyros are easy to make and just as delicious as any greek restaurant. Made with quality ingredients that you can feel good about. Gluten free, dairy free, and whole30 compliant!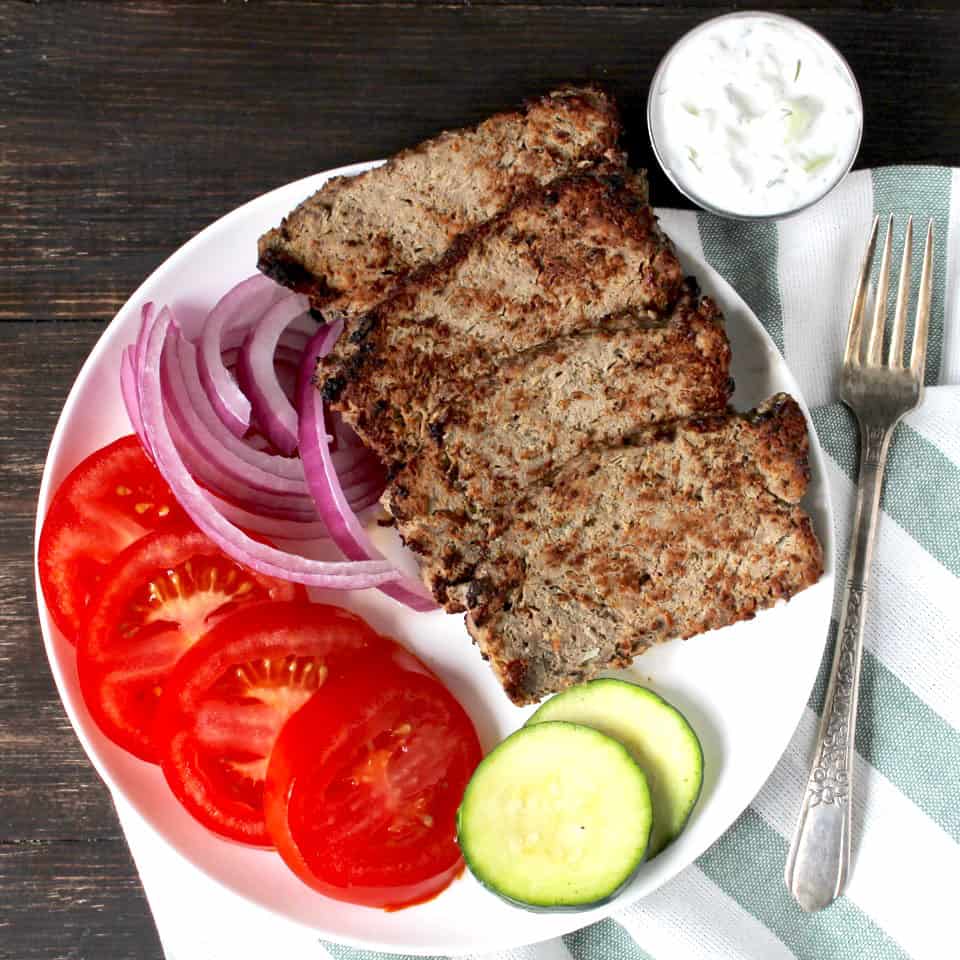 Wow- it has been crazy around here and I haven't been able to share as many recipes as I would like. My sister had a baby, I took a trip to Chicago, and a few other things have been keeping me occupied. But I'm glad to be back sharing this delicious recipe! It is a favorite in our house and I've made it so many times! I don't feel like the pictures do it justice- you'll have to make it yourself so you know how good it really is!
Gyros have been a favorite of mine for a long time. I grew up a picky eater, but gyros were the exception. Whenever my sister and I would go to the mall we would split one and it was always a treat. One thing I didn't love about getting them was how I would feel afterward. They were super greasy and always made me feel weighed down. Making them at home I can use high quality meat and fat to make them.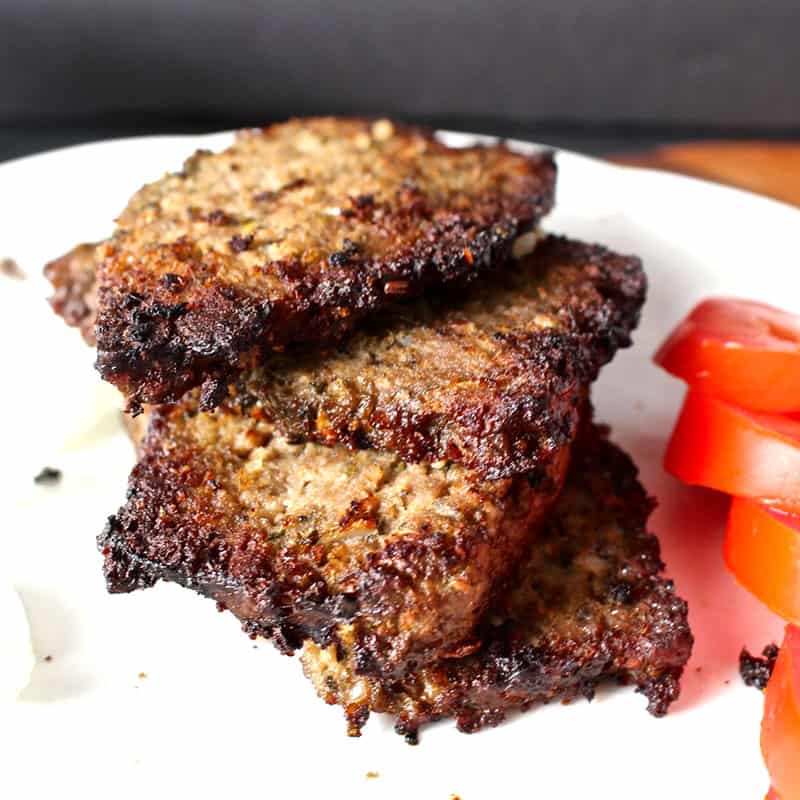 Oh, those crispy edges are the best!!
The original recipe called to make the meat mixture, refrigerate it overnight, cook it the next day and let it cool, then refrigerate it again. I was thinking that most people don't plan 3 days in advance and probably don't want to do that. I decided to cook two batches at once to see if that first step was necessary. I made both batches and cooked one immediately and refrigerated the other one. Cooked the other one the next day, let it cool in the fridge over night. I sliced both up and fried them and couldn't tell a difference! That's good news. That eliminates a lot of the prep time!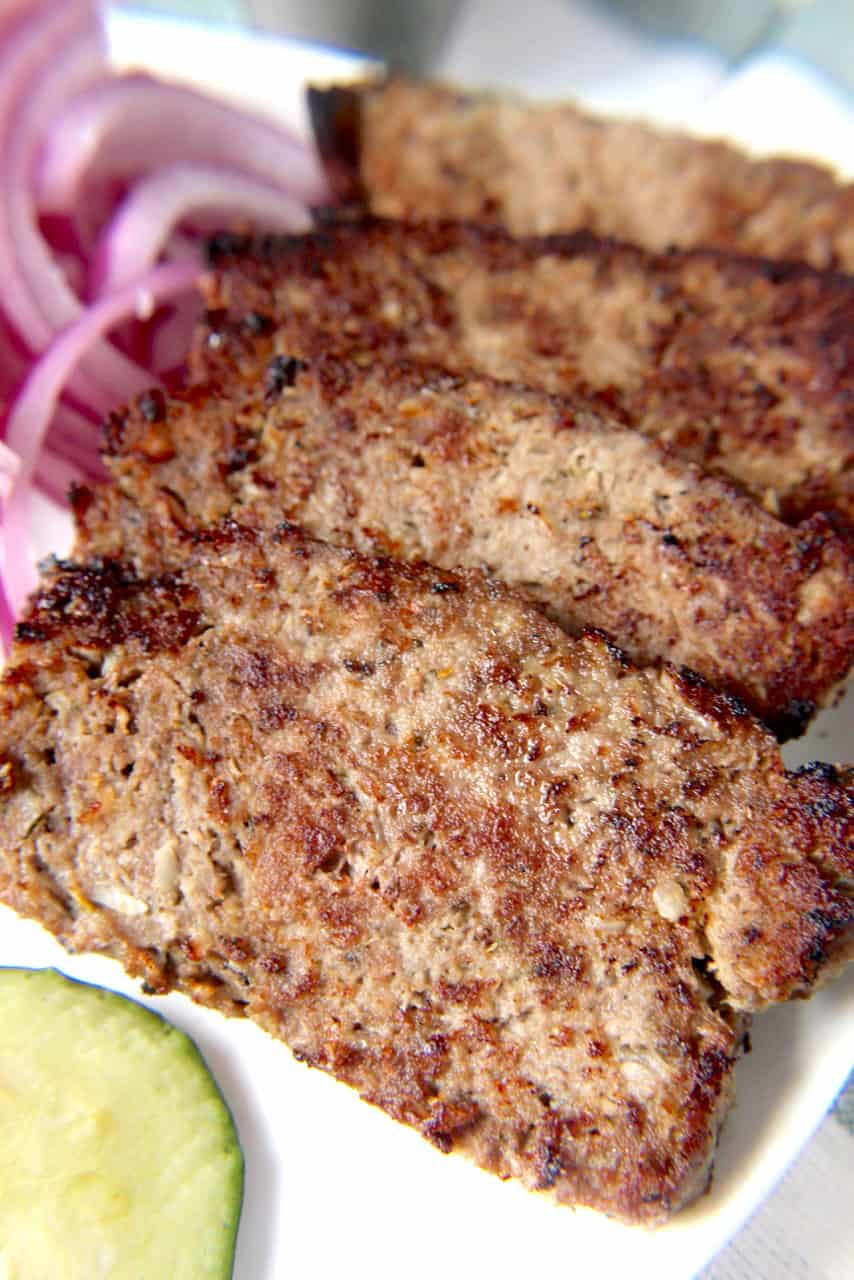 I have made these so many times and it is a recipe that never disappoints. My house literally smells like a greek restaurant while it's cooking- yum!
You will love being able to make these at home. So much simpler than you would think!
Serve them as a lettuce wrap or just eat them in their fried, delicious glory. Of course with some Tzatziki Sauce!!
Hungry for more? Subscribe to my newsletter and follow along on Facebook, Pinterest and Instagram for all of the latest updates.
Paleo Gyros
Ingredients
Instructions
Preheat oven to 325° and line a loaf pan with parchment paper. Set aside.

Quarter and peel the onion and place it in the food processor with the garlic. Pulse until chopped into small pieces.

Add the lamb, beef, cumin, thyme, oregano, rosemary, pepper, and salt.

Process until the mixture is evenly mixed and smooth. You may need to stop and scrap it down between pulses. The mixture will be very pasty looking and feeling.

Press mixture into the loaf pan, pressing it in tightly and evenly.

Bake for 55-60 minutes.

Pour off excess fat that cooks off. I always pour that into a bowl, let it cool, and throw it away.

Let cool on the counter and if possible, place a weight on it while cooling. I like to place another loaf pan on top and place a bag of beans or rice in there. This creates a dense loaf which is ideal for cutting.

Let cool in the fridge over night.

Slice into strips and pan fry in lard or coconut oil. Serve with onion, tomato and

Tzatziki sauce

.
Nutrition Information
Calories: 316kcal (16%)Carbohydrates: 3g (1%)Protein: 19g (38%)Fat: 25g (38%)Saturated Fat: 10g (63%)Polyunsaturated Fat: 1gMonounsaturated Fat: 10gTrans Fat: 1gCholesterol: 82mg (27%)Sodium: 509mg (22%)Potassium: 321mg (9%)Fiber: 1g (4%)Sugar: 1g (1%)Vitamin A: 24IUVitamin C: 2mg (2%)Calcium: 38mg (4%)Iron: 3mg (17%)